We were five minutes into our taxi journey to the station when my toddler began to squirm. Knowing the warning signs, I dived into my bag looking for a snack, a book, a crumpled old receipt…anything that might delay the inevitable wail and thrashing of arms that resulted from being made to sit still. Of course, it was too late. Much to the taxi driver's obvious discomfort, the screaming had begun. As I tried in vain to comfort my daughter, I resisted the urge to tease my husband about his grand plans to go on a European driving holiday in the summer – we couldn't even make it across the city without a meltdown, let alone out of the country. But then my thoughts turned to the four and a half hour train journey we had in front of us. I pictured the moment where my almost 18-month old daughter, like all toddlers, would get bored of sitting at her seat admiring the view and would instead insist on hurtling dangerously along the compartments crashing into refreshment trolleys and riffling through strangers' bags. I gave us maybe ten clear minutes. Because, what can I say – I'm an optimist. But then, my doomsday revery was abruptly interrupted by my five year old son upping the taxi decibel level with his own protest. Apparently all the noise was hurting his ears. The irony was not lost on me, although I must admit I wasn't in the mood to smile, even wryly. I have never seen a taxi driver so pleased to reach his destination and be rid of his passengers. I kind of envied him…
And so, how did it turn out? Well, other than the obligatory dash across the platform clutching suitcases, toddlers and teddies (even when we are early, we manage to almost miss the train), it all went surprisingly smoothly. In fact, I might even go as far to say, we actually enjoyed it. And although perhaps I'm now in danger over egging it, the return leg from Berlin to Prague was possibly a holiday highlight. And no, we didn't just have a terrible trip.
Anyway, just in case you too are thinking of braving train travel between Prague and Berlin with some little rascals in tow, I thought you might like to get an insight into some of the practicalities and a flavour of our journey.
Ticketing booking
There are lots of websites for booking European train tickets, but we found booking directly through the Deutsche Bahn website the best value and most convenient.  You can book tickets for either 1st or 2nd class, and children under the age of 15 travel for free (children aged from 6 – 15 need to be travelling with a parent or grandparent to get this rate).
You do not have to reserve seats – although if you want to be sure of sitting together it is probably advisable that you do, especially if you'll be travelling in the busier 2nd class.  Happily, making a family reservation is inexpensive (only 9 euros at the time of writing). It is also worth noting that if you are travelling on particular trains you can also reserve a family compartment on a 2nd class ticket.  From what I can tell, this is available on the 09:04 from Berlin & 14:28 from Prague (which use the Hungarian rather than Czech trains), although you might want to check this directly with DB, if you wish to make this booking.
We decided that because we were saving so much money by not flying, to splurge on 1st class, and get a little more space for our many bags, pushchairs and wriggly children. However, to save money we did make a specific train booking (Sparpreis Europa Tschechien), and so we could only catch the trains listed on our ticket – adding an extra element of excitement to our across station dash. For all four of us to travel with seat reservations in first class, the cost was around 180euros. Obviously, this is to just give you an idea of the cost, and exact prices will vary.
We also downloaded the DB navigator App which allowed us to store the ticket on our smartphone, although there is an option to print it too.
Prague's Main Station – Praha Hlavní Nádraží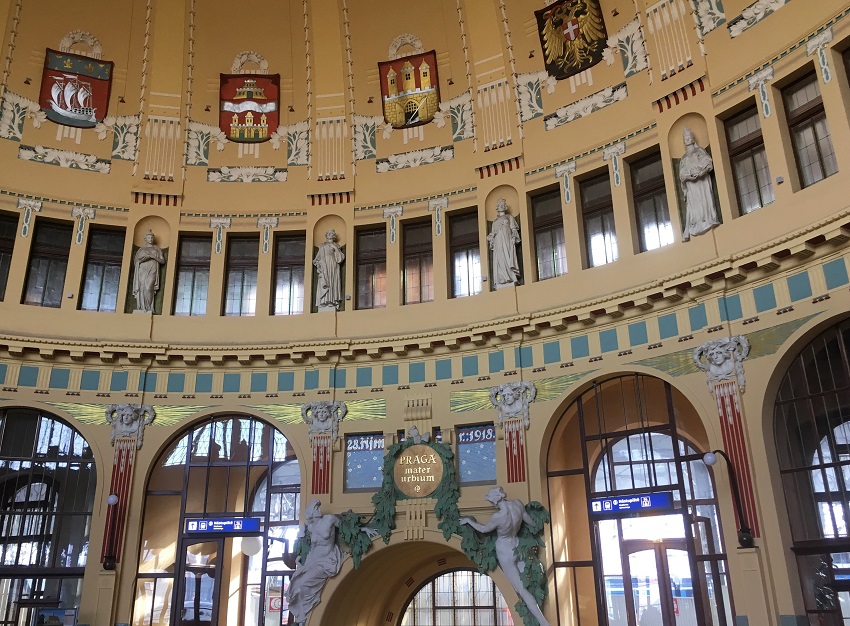 So, on my two visits to Praha Hlavní Nádraží, I have found it to be large, busy and fairly confusing. Of course, this isn't helped by my inability to speak Czech. Having said this, it does come with a fair few positives:
Lots of facilities, including an ATM, luggage and bicycle storage, and a fair few restaurants and coffee shops
We caught a taxi, but the station is also connected to the city's Metro system on Line C
If you head upstairs, you can get a glimpse of the historic station architecture and décor – which is rather lovely and away from the bustle of downstairs. The coffee shop Café Coffee Day also sells a range of drinks, muffins and light meals, if you want to have a bite to eat, whilst admiring the Art Nouveau building. Although do be warned, this is largely the reason behind why we found ourselves almost missing our train!
Alternative Prague Station – Praha Holesovice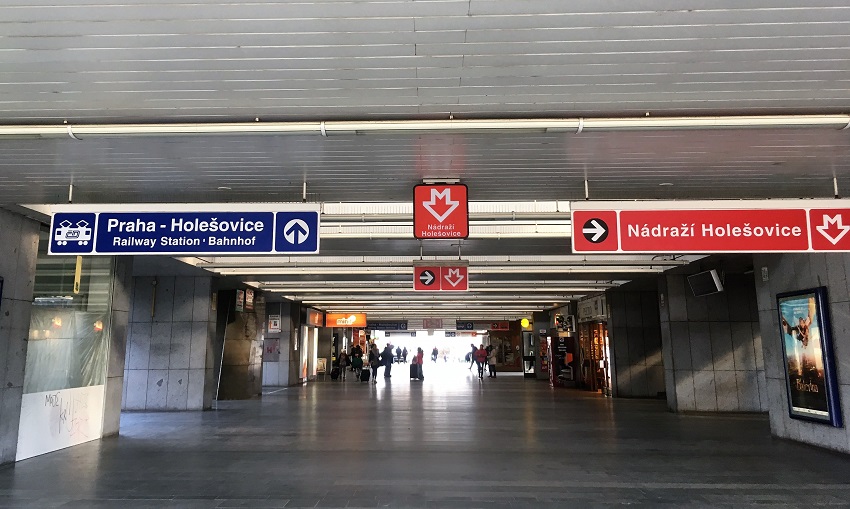 Although I enjoyed our glimpse at the historic portion of the main station, I was also slightly dismayed when ten minutes into journey, the train stopped at Praha Holešovice, a station just down the road from our house! We hadn't even thought to check whether a big international train would stop there. Anyway, as it is also on the Metro (3 stops away from the main station, also on red Line C), but is much less busy and confusing, you may want to consider starting or ending your journey there. However, if you want to travel by taxi on arrival, you probably would need to book one through an App or call a firm directly, as it would be unusual for one to be waiting. We usually use the AAATAXI App or Uber, and have no major complaints about either.
Prague to Berlin: All Aboard!
There are around six direct trains between Prague and Berlin each day. We caught the 10.28 from Prague, which was scheduled to take 4hr25 and it ran bang on time. As there is no need to check in beforehand, we just turned up and boarded, and although we of course traveled with our passports, no-one requested to see them.
Our train to Berlin was a Czech EuroCity, which I understand accounts for the majority of trains on this route, with the exception of the 09:04 from Berlin & 14:28 from Prague (more on this later). Our reservation was in the first-class, open-plan carriage – which was air-conditioned, spacious and pretty empty – the only slight problem being that we had requested four seats at a table, and instead had been allocated two lots of seats back to back, and all other seats of four had already been taken. Sit the kids together out of sight and put your headphones in, you say? Well, I can't say that it didn't cross our minds… But in the end, our seating arrangement  didn't turn out to be a massive problem, as with many other free seats around, we just changed our configuration depending on our mood. Once the train stopped at Dresden though, things did definitely get a little busier.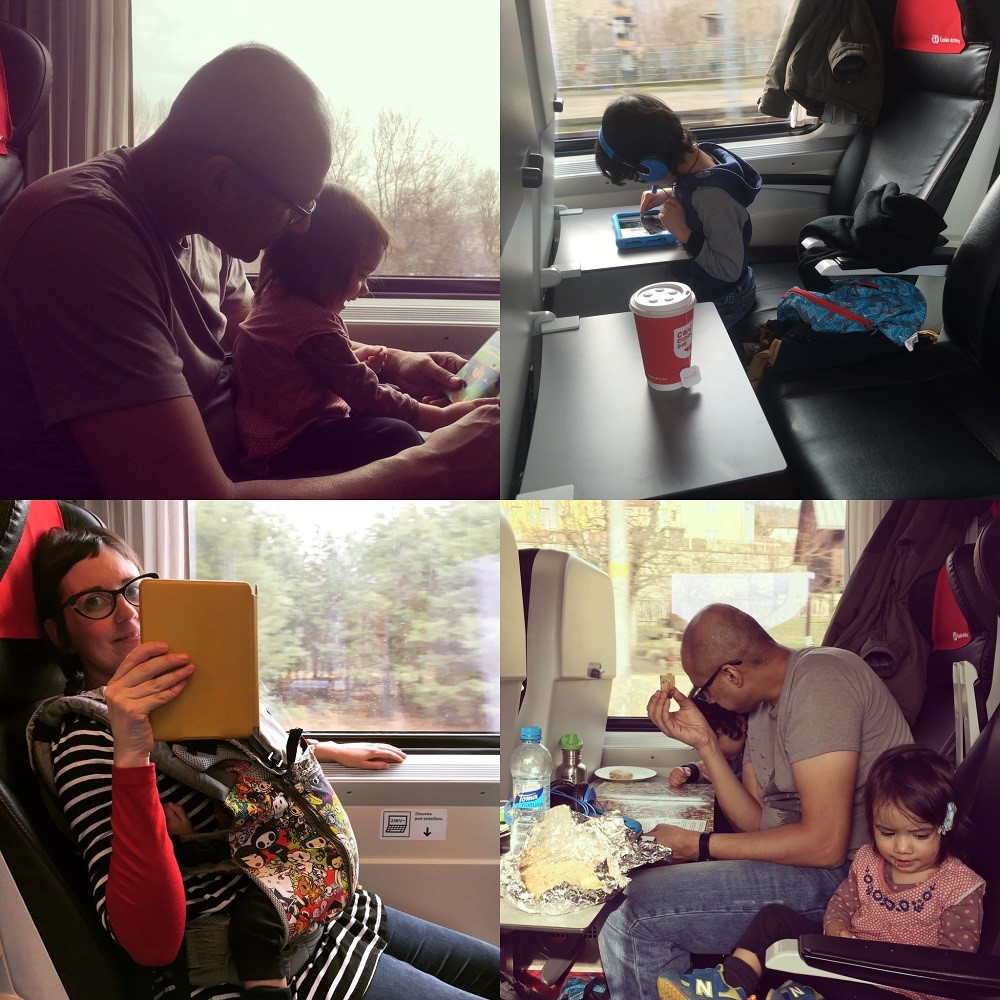 I didn't take any photos of the second-class carriage on this trip (for photos of the carriages on the return trip see below), but again it largely consisted of perfectly nice open plan carriages, with the main differences being slightly less room and more people. There was also a couple of six people compartments.
In terms of services and facilities on board, both classes had plug sockets at the seats to charge electronic equipment, and free wifi was available during the Czech portion of the journey. There are small toilets at the end of each carriage – which were all clean and contained a small baby changing fold-down table. In first class, complimentary bottled water was available.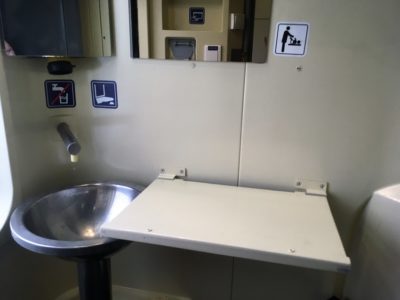 Prague to Berlin: Journey Highlights
Even on a grey day in February, the view as we chased the Vltava River out of Prague and through to Germany was wonderful. My toddler daughter was delighted at the opportunity to spot some ducks and horses, and we all loved seeing  the colourful little houses and towns on the green banks of the river.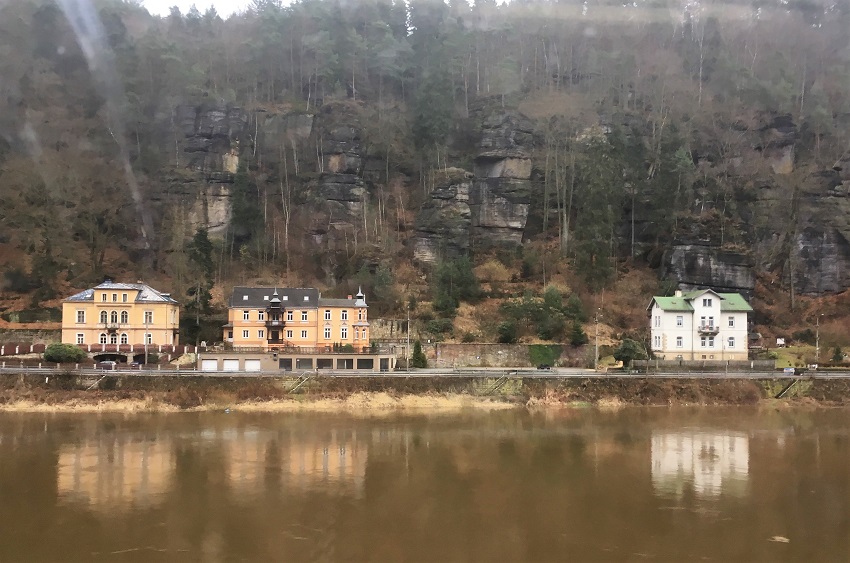 Not to say there weren't stretches of bleak, industrial landscape – although I found this interesting too. And to brighten the scene a little, we set my daughter to work with her post-it notes.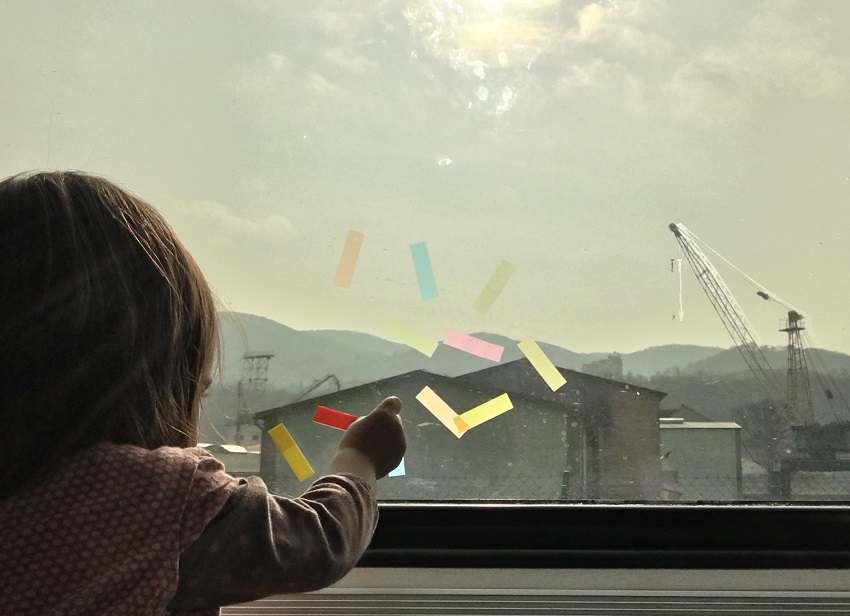 The scenery got a little less picturesque once we neared Dresden, but we enjoyed getting to have a peek at the  Victorian station here.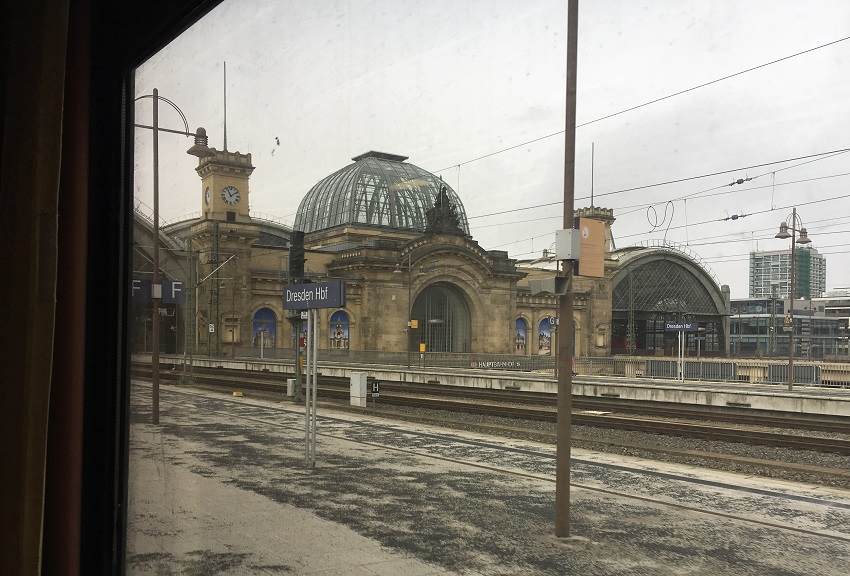 To get the best views out of Prague you need to sit on the right-hand side of the compartment (in the direction of travel). It isn't possible to reserve seats specifically on one side of the train, so you might decide to move if there are free seats available.
The space to spread out and move around was also great, especially for my toddler girl – and compared to driving or flying it won hands down. Happily, she didn't spend the journey careering around as I had dreaded, and I think just knowing she wasn't tied down to a seat was enough to please her. The space  also became particularly welcome when my daughter's nap time arrived, as I was able to walk her around in the baby carrier (without any pesky seatbelt signs flashing on), and once she was asleep, the seats were roomy enough for us to sit down comfortably.
It is also worth noting that as the armrests between the seats fold up, children could also nap across seats quite easily.
There was also lots of space to store our bags, suitcase and stroller – and this also would have been the case in second class.
Hunger Pangs
As we had been warned prior to our journey that the onboard catering was of mixed quality, and knowing that we had a picky eater to contend with, we brought a packed lunch on our journeys, which worked well.
Having said this, the restaurant car on the train, positioned between 1st and 2nd class, was a retro delight, and I was a little sad we didn't get chance to spend some time in it.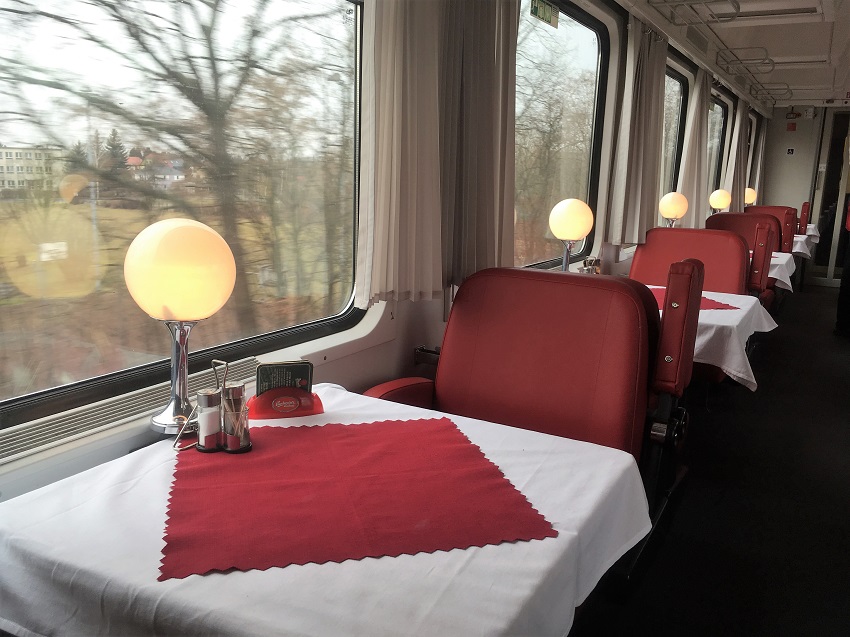 There were seats for couples, as well as bigger four-seaters, and all passengers were free to sit in the restaurant, although of course, around meal times, it got a little busy. The menu on our train ranged from the traditional fare of chicken with herbed dumplings (10,90 Eur/262 Kc) to a beetroot and quinoa salad (9,9 Eur/238 Kc). It was also possible to order child-pleasing food such as pancakes with vanilla sauce and raspberry coulis (3,90 Eur/94 Kc).
Coffees, teas, hot chocolate were also available, as well as a range of cold  and alcoholic drinks.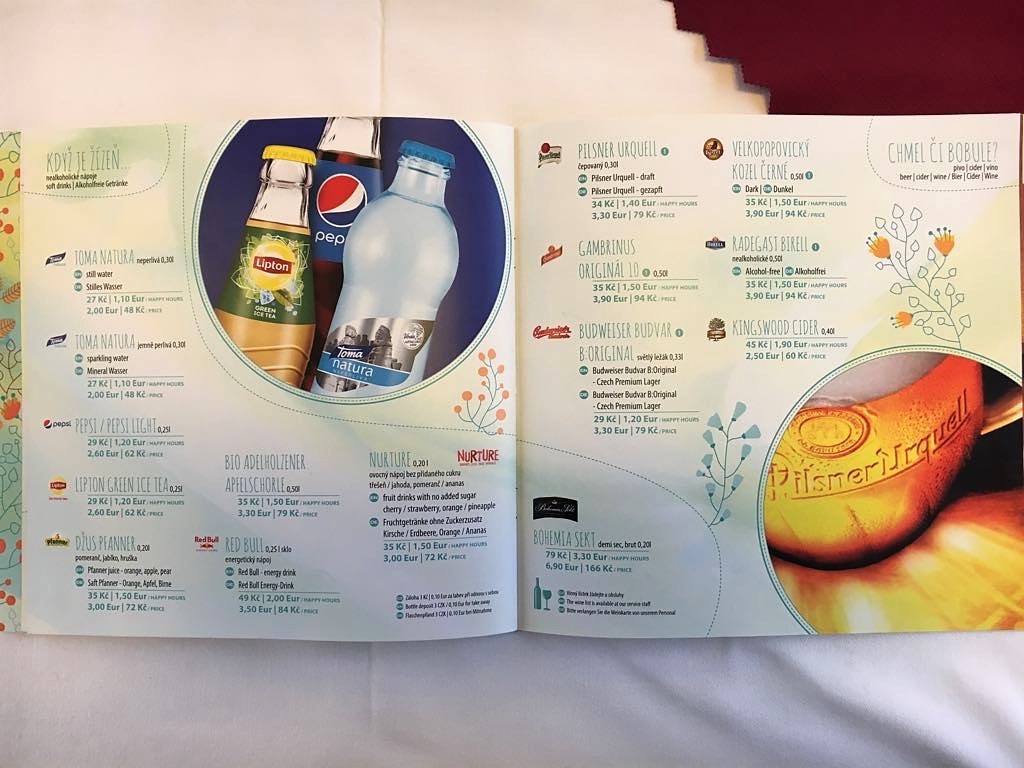 Happy Hours were also available on the trains, where all food and drink was half-price.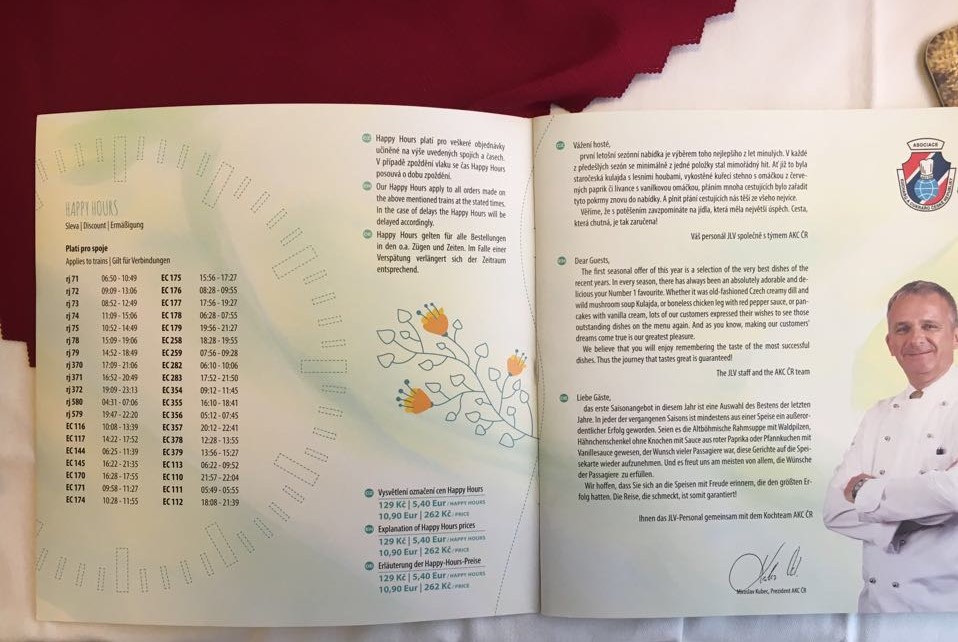 On-board kids' activities
Sorry, I didn't mean to get your hopes up there. Sadly, there is no playroom or nanny on this route (although I believe there are on some German routes). No, this is just a few ideas of what worked well to entertain our young children on the journey.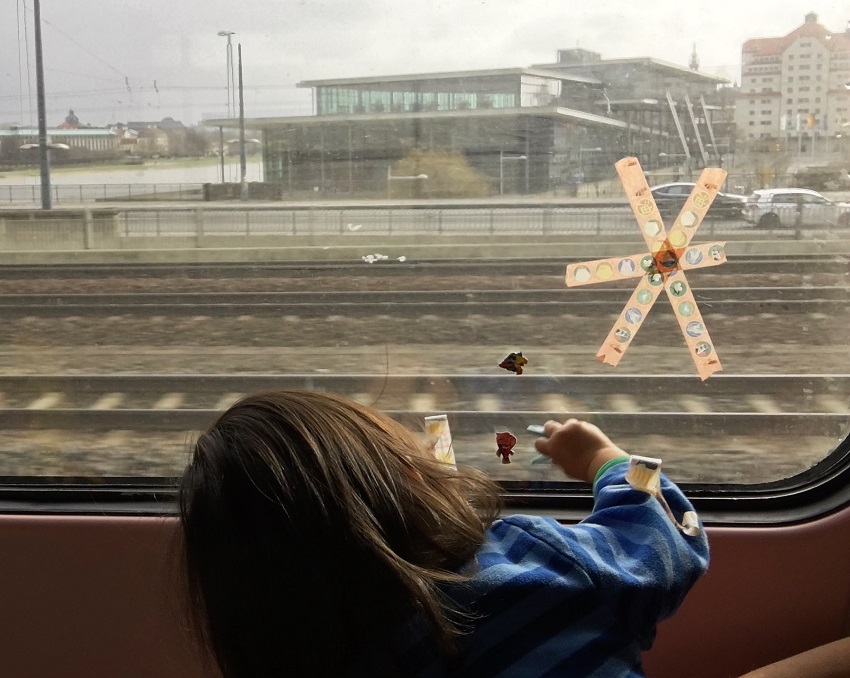 My toddler enjoyed:
sticking post-it notes and stickers to the windows and seats
peeling strips of criss-crossed washi tape from the window
looking at a couple of lift-the-flap books, both old and new (you can see a list of some of our favourites here)
eating snacks
watching a couple of downloaded episodes of her favourite programmes on our tablet.
My five-year-old enjoyed:
watching a film on our tablet
completing some new sticker and search and find activity books
eating snacks
So, my best advice – bring snacks – plenty of them!
Berlin's Main Station – Berlin Hauptbahnhof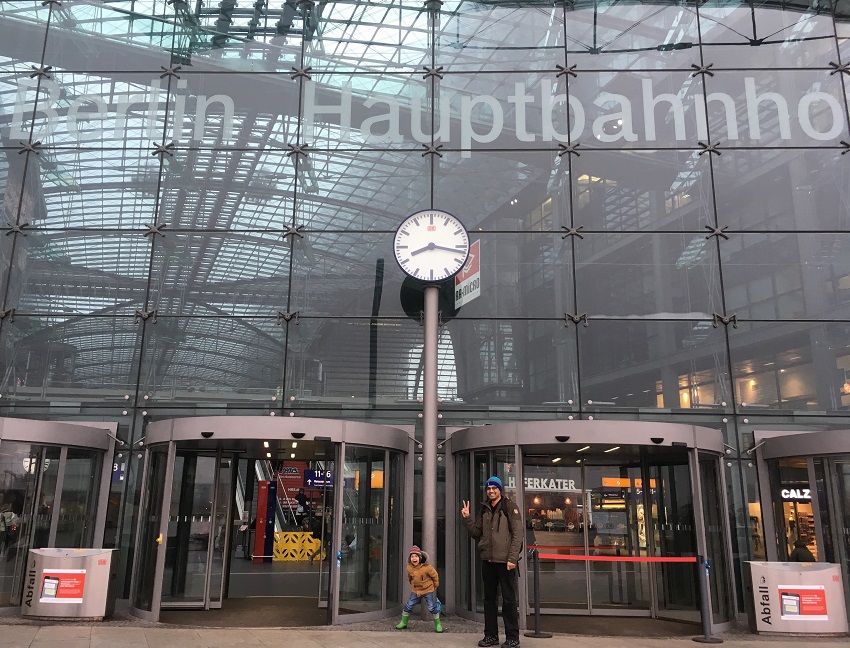 A large modern station, with lots of facilities, including a lounge for first-class ticket holders (serving complimentary drinks and snacks), ATMs, and lots of sandwich shops and fast-food restaurants. Although, it was obviously very busy, I found it easier to navigate than Prague's station. It is also well-connected to the city's transport system (with both S-bahn and U-bahn trains stopping here) and we had no problem in getting a taxi out the front. Arriving in the center of town was also much more convenient than having to make your way from the airport.
Berlin to Prague: All Aboard!
Just a brief word about our return leg, as unsurprisingly, it was very similar in nature to our outwards journey. Again, the train ran exactly on time and took 4 hours 20 minutes. The biggest differences being that this time the best views were on the left-hand side in the direction of travel, and because we had opted to travel on the 09.04 out of Berlin, we were travelling on a Hungarian train (with a destination of Budapest).
This train seemed older, and both classes had some open plan saloons.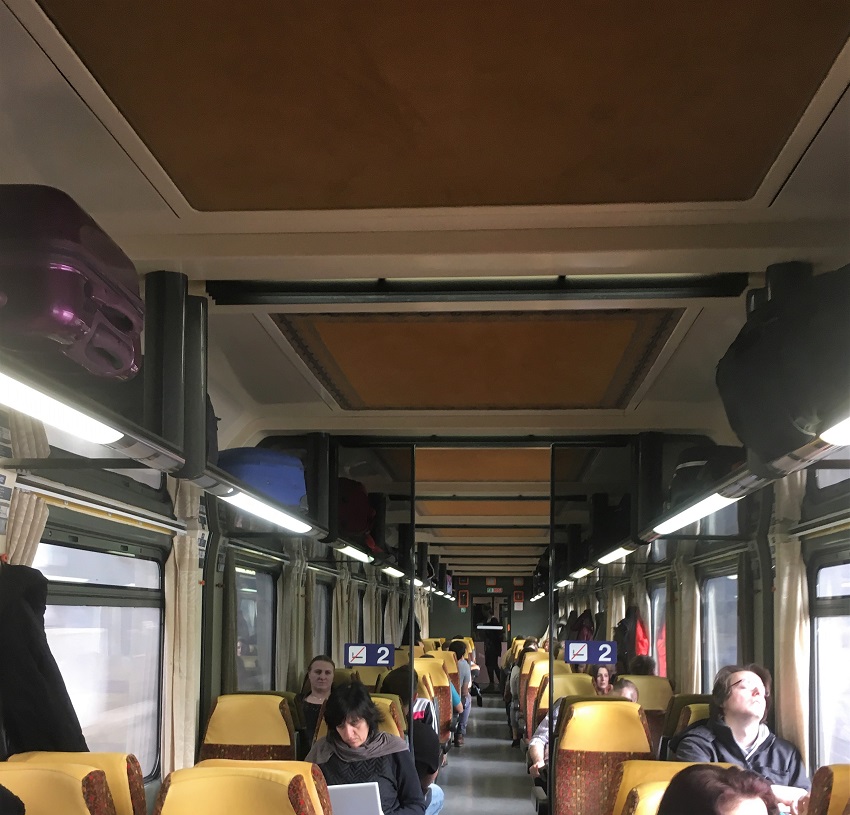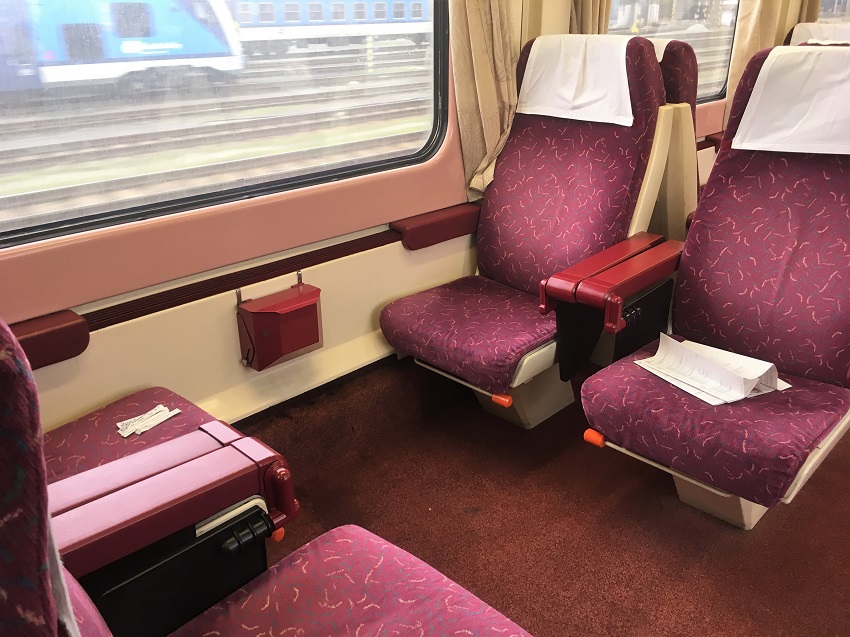 There were also many more private compartments in both classes too. This gave us the benefit of travelling in our own train compartment!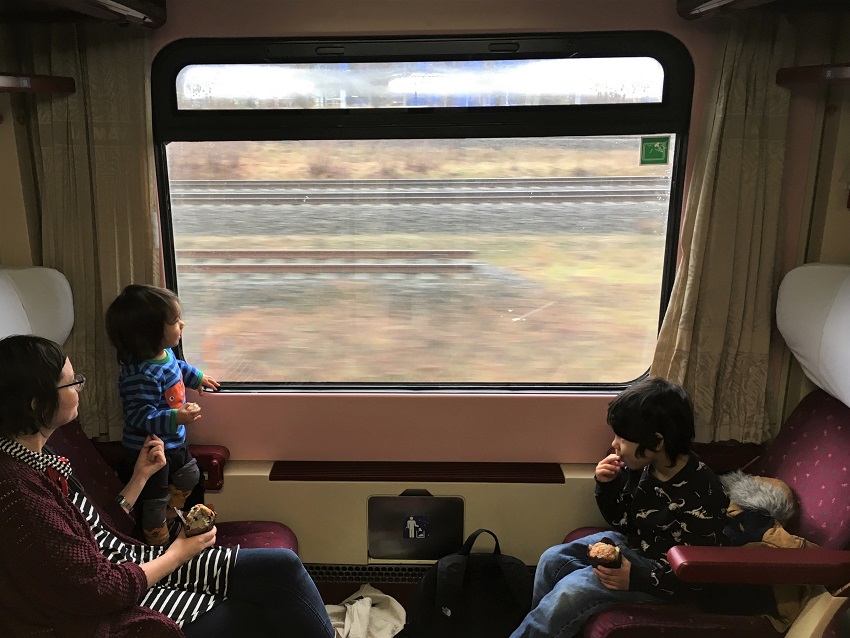 I honestly felt like I was in an Agatha Christie movie – except with the benefit of not actually being witness to a murder. It was just fabulous. The compartments contained six seats – although happily we didn't have to share (and quite frankly who would want to share with us?). So, we could truly spread out, kick our shoes off and relax about our children making a little noise. And much to my daughter's delight, we were even able to get the bubbles out!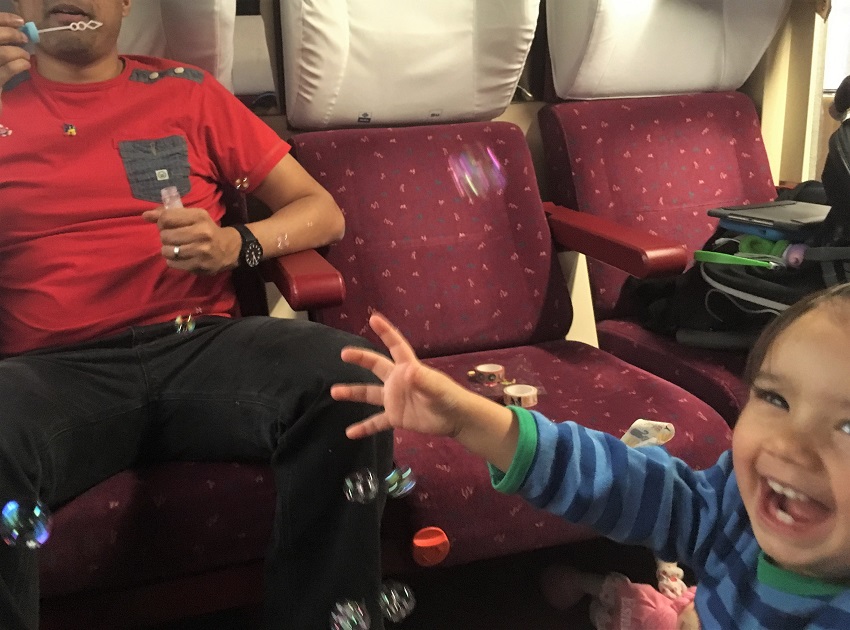 The second class compartments were a little less spacious, and a little busier, but on this train there was still one free.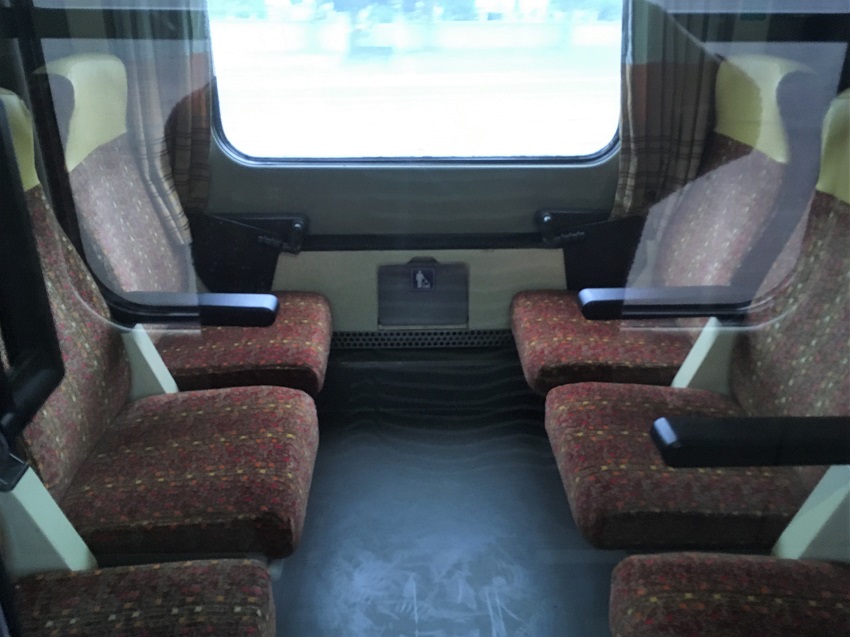 And so, although I know it always helps to go in with low expectations, our journey to and from Berlin really was the bonus surprise of the holiday. So much so, I'm now investigating where else we can reach by train. As being environmentally-friendly, comfortable, affordable and toddler-approved seems hard to argue with… Choo choo!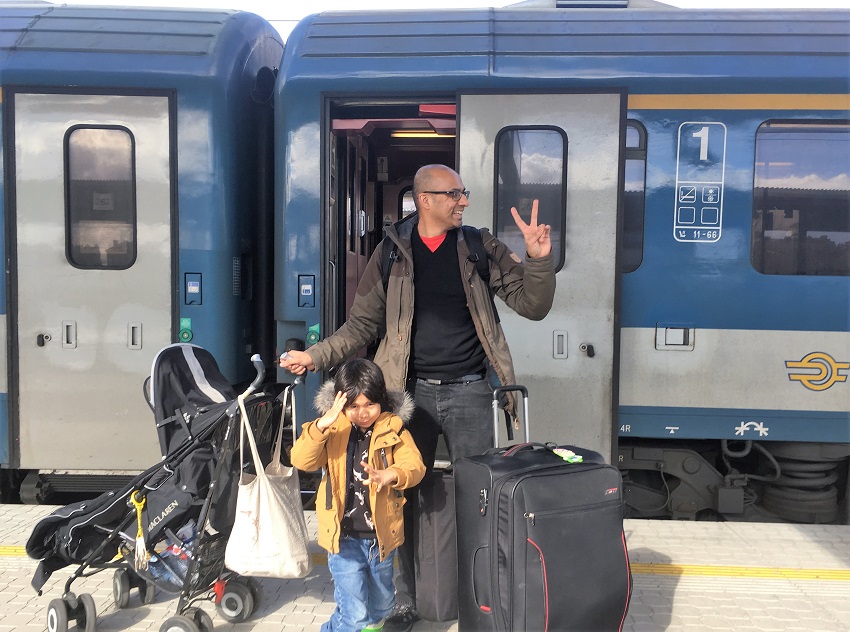 For more information about travelling by train, pretty much anywhere in the world, www.seat61.com is a fantastic resource. And if you want to get an insight into our Berlin trip itself, have a peek at this blog post. Oh and just to say, we paid for our own tickets, and this review is, as always, an honest representation of our experience.