I first encountered Wan Chai from the happy vantage point of the top of a tram; swinging onto Hennessy Road to be greeted by a plethora of Chinese billboards and signs hanging from shabby, pastel-coloured apartment blocks. Laundry hung out of windows, with baggy, misshapen underwear drying in the heat and traffic fumes – which before I understood how small most Hong Kong apartments were, struck me as both slightly foolish and, quite frankly, a little immodest. Alighting the tram by the MTR, I was lured, magpie like, into the wet market by the glare of the low hanging red lamps. Here I saw fruit that looked like you would need an axe to open them, pungent stalls containing polystyrene trays filled to the brim with struggling fish, whole roasted ducks hanging from hooks – I flinched and glanced away, only to be confronted by the head of a goat – an unexpected sight which I have never witnessed again here, and so I suspect that both me, and the goat, just got unlucky that day. And not for the first time since arriving in this city, I was thrilled by the otherness of it all.
But of course, this far from tells the whole story of Wan Chai. It is also the land of expensive car dealerships, fancy cupcake shops and new plush housing developments. At the border of Admirality, there are the cool little eateries and pubs of Star Street. Tiny, red temples squat in the shadows of glittering tower blocks. There are seedy bars, strip clubs and pawn shops alongside theatres, conference centres and 1970s Government administration buildings.  Proud, bare-chested, old men play epic games of keepy uppy in Southorn playground whilst young suits scurry past with their oversized spectacles, off to join some huge lunch queue. And of course, among all of this, are some great little play-areas, where you and your brood can catch your breath and relax for an hour or so.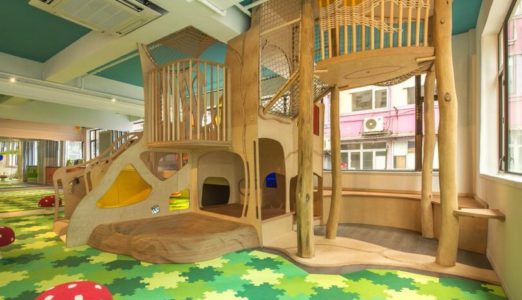 On the boundary between Wan Chai and Admiralty, you will find the lovely little haven that is Baumhaus. There is a small but beautiful play-area here, which is perfect for the three and under crowd, with wooden towers, slides and caves as well as a smattering of toys. For parents, there is also a welcome coffee lounge, selling hand-crafted coffee, tea and fruit juices, as well as a range of healthy snacks. Perfect for a post-shopping stop-off – just make sure you have some socks for you, and also for any over-2s, in your bag.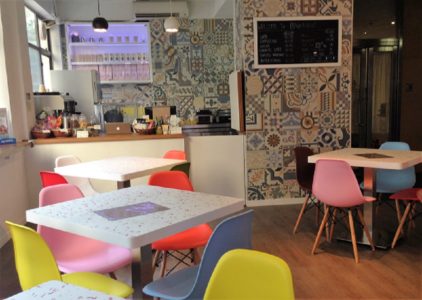 In addition to the playarea, Baumhaus runs popular Kindermusik classes. These usually need to be signed up for by the term, although over the coming summer (11 July – 2 September 2016) you can just buy a pack of 8, 12 or 16 classes and pick which ones you want to attend. On Monday mornings, there is also a relaxed 'meet-up' session for parents and their tots.
Rather handily, Baumhaus sits just above M&S Food, if you are in need of some supplies, and if you are after a meal in the area, Star Street offers you a whole host of options, many of which have high chairs.
Baumhaus, 1F Kar Yau Building, 36-44 Queen's Road East, Admiralty, Hong Kong Island (T +852 2321-5898)
Opening Hours: 09.00 – 18.00 everyday
Price: Daily playroom rate of $80 (sibling rates are available)
Age: 0 – 7 year olds, although the playroom is best suited to babies, toddlers and pre-schoolers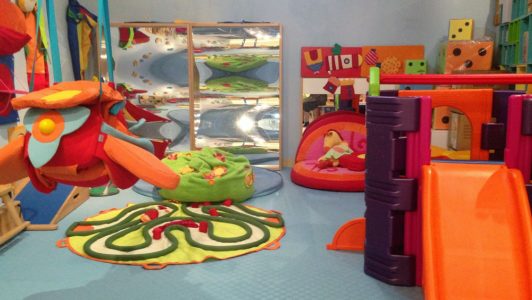 This cute little playroom, in the Hopewell Centre, is part of a larger shop, and is stocked full of gorgeous, high quality toys from brands like Haba. When my son was a toddler, we would often spend a happy hour here, whilst he dressed up as a fairy and explored the wooden kitchens, ice cream stand and puzzles. The space is on the petite side though, so you are probably best calling ahead and booking a time slot. Oh and again remember to bring socks for both you and your child.
Little Beetles, Shop 708, 7/F, Hopewell Centre, 183 Queen's Road East, Wan Chai, Hong Kong Island (T +852 2512 6353)
Opening Hours: 11.00 – 18.30 everyday, although you are best to call ahead
Price: $50 for half an hour, $100 for an hour
Age: No limit, but best suited for 9 months – 5 year olds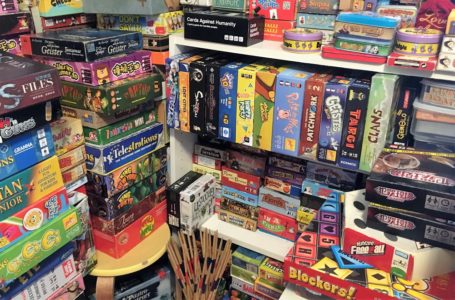 If the first two options were more suited to little people, then this board game café is one for bigger kids, teens and even their parents. Jolly Thinkers sells a whole range of amazing board games, but there is also a good stock available to test out whilst at the café. To ensure you well-sustained during your gaming session, you can choose a drink from the extensive menu – including coffees, milkshakes and smoothies –  and there is a range of snacks and light meals on offer too. Slots are usually for two hours, although if you go during the week when the café is a little quieter, you can normally stay for three hours at no extra cost. During the weekend, you'd be wise to phone ahead to make a reservation.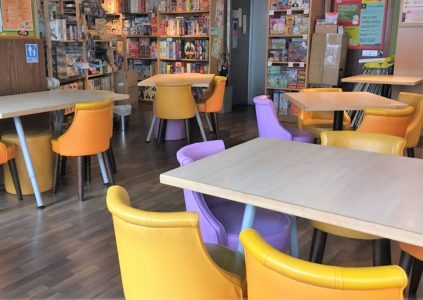 Jolly Thinkers, 11/F, Bayfield Building, 99 Hennessey Road, Wan Chai, Hong Kong Island (T +852 2527 2882)
Opening Hours: Mondays 12 – 19.00, Tuesday – Friday 12 – 23.30, Saturdays, Sundays and public holidays 14.00 – 23.30
Price: $65 per head for 2 hours (including a $30 drink)
Age: No limit, but games are suitable for 4 year olds +
Some bonus ones…
I am sure the shush-police that work here will be infuriated that I am including their beloved library in a list of children's play-areas, but Lockhart Road Public Library really does have a great little children's section, with books in both Chinese and English. As long as your child isn't in sing-at-the-top-of-their-voice mode, it can be a nice way to pass some time.
Alternatively, if you fancy a bit of noise and buzz, then a trip down Tai Yuen Street Market to peruse the toy shops, might be just the thing. Again, not strictly a play-area – although my son will happily while away his time here, inspecting all the goods on offer (although to minimise tantrums we have a clear no buying policy from the offset, unless he has some birthday money to spend).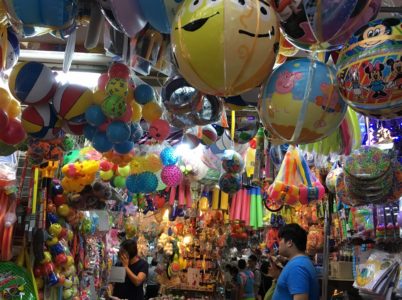 It is also worth noting that Hung Hing Toys, about midway down the lane, sells a good range of Lego, cheaper than many of the big name toyshops. And if the weather isn't too grotty, you can also pop around the corner to Spring Garden Lane Sitting-Out Area, where you'll find lot of people sitting-out, and a swing.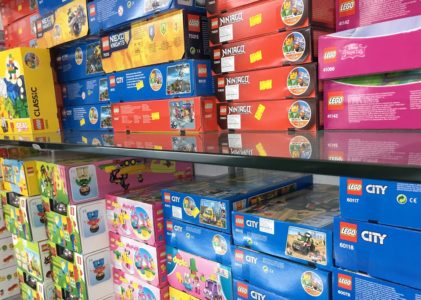 And finally, if you are looking for dining options with an element of play, then you probably should check out The Flying Pan on Lockhart Road. This all-day-breakfast diner is open 24 hours a day, and along with high chairs and a very child-friendly menu, has small buckets of toys and pots of crayons, thus enabling you to build a dinosaur castle whilst munching on your French toast. From here, you are also just one minute's walk from Lockhart Road playground, which although isn't the most beautiful or exciting of places, weather permitting, will allow your little ones to have a post-meal romp.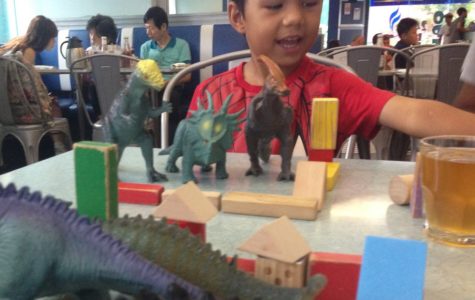 Also, worth investigating is Frites, which at the weekend and on public holidays, boasts small play-areas at all of its restaurants, including its Wan Chai branch.
And so, although we have spent many an hour wandering about the sky-walkways and alleyways here, I'm still certain that there are parts of this wonderful district I'm yet to find. If you stumble across any more play options in one of Wan Chai's nooks or crannies, I'd love it if you'd let me know. And if you are looking for more things to do close by, you might want to take a peek at my post rounding up the hidden play areas in Causeway Bay.
[instagram-feed]