When my son was 4 months old, my Auntie Hilary sent him the Christmas present of Dear Zoo by Rod Campbell. We opened it, I briefly looked through it, and then, distracted by my baby's determined consumption of the wrapping paper, I popped it on the shelf without too much further thought. I have never asked my aunt if this present was an idle choice, but I suspect, knowing her wily ways, she very much knew what she was doing. She understood that, when my son turned about 9 months old, his special lift-the-flap book switch was bound to flick on, and that she had not just bought us a simple book, but hours and hours of entertainment and pleasure – far better than any noisy, flashy toy.
Four years later, and sure enough, my one year old daughter is now demanding multiple daily reads; her strong, tiny fingers grasp and pull at the flaps to reveal the oh too tall giraffe, that cheeky monkey and, of course, the perfect puppy. And although I know all the words off-by-heart, and probably will be muttering them to myself as I sit rocking in an old people's home years from now, I still don't completely hate it – and as all parents will know, that is praise indeed.
However, whilst Dear Zoo has stood the test of time, it is fair to say that some of our subsequently purchased flap-books are now looking a little less, well…flappy. The enthusiasm of a toddler's touch has taken its toll and many of the flaps are either now forlornly hanging off, stuck down precariously with sellotape or have disappeared altogether (probably into the same vortex that has our finger puppet glove and my daughter's best winter hat). The following tough, little books though, have done us proud, and if you are looking to buy a gift for a special baby or young toddler in your life, I hope this may provide you with a few ideas.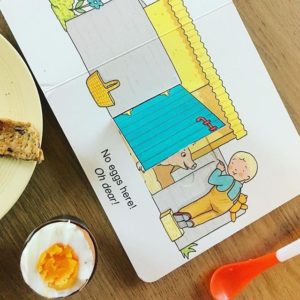 Perhaps not as well-known as Dear Zoo, this is still a popular choice in our house. Whist accompanying Buster around the farm – who is hunting for eggs for his breakfast – there are lots of animals to name and fairly indestructible flaps to open. The final page featuring a double flap, is a real treat.
Tales From Acorn Wood: Fox's Socks by Julia Donaldson and Alex Scheffler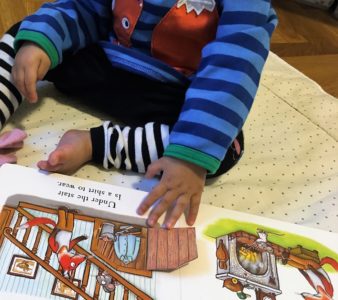 All of the Tales from Acorn Wood are undeniably charming, but our favourite is this thriller surrounding poor, old Fox and his lost socks (spoiler alert: it all turns out alright in the end, don't panic). The gentle humour conveyed by Donaldson's effortless rhymes and Scheffler's beautifully detailed pictures, makes this book hard not to love. The flaps are small but insanely tough, and both my children have adored prising them open and peeking into the various cupboards and chests.
Can you say it too? Quack Quack! by Sebastien Braun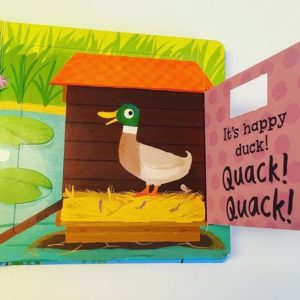 This short, simple, bright and beautifully illustrated book again takes us on a tour of the countryside to find some hidden animals, and encourages the reader to start practicing their animal noises. Croak croak! The big, strong flaps are particularly well-designed for the littlest flap-book connoisseur, and my daughter just loves the very cute, double flap ending.
Tucking In (Just like me!) by Jess Stockton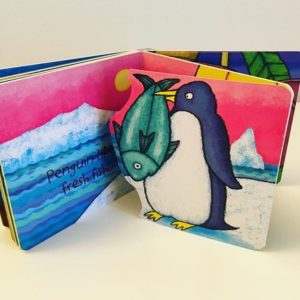 If you have a little one that has recently discovered the world of 'solids', this fun little book, showing animals and children enjoying all manner of healthy food, will no doubt appeal. Just like other books from this series, I like that this has an authentic feel – with children from a variety of ethnic backgrounds, self-feeding and getting messy. The flaps are of the large, fold-out variety, and are incredibly robust. The compact size of the book makes it a good one to pop in your changing bag.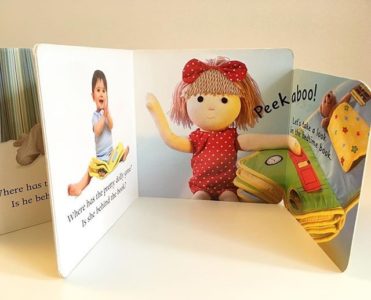 For a long time this book was my son's bedtime favourite, with lots of sweet toys hiding behind large, pull out flaps. It is the extra 'touch and feel' element to this book though, which makes it a real winner (and quite frankly who wouldn't want to give cuddly pig a stroke?). Mini transport enthusiasts may want to give Peekaboo! Beep Beep! a try too.
Counting (The Learning Garden) by Aino-Maija Metsola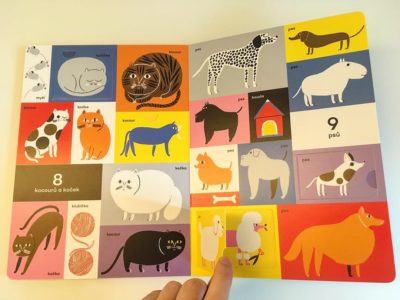 We have only just come across this wonderful book by Finnish artist Aino-Maija Metsola, and so to be fair, it hasn't quite been put through its paces compared to the other books on the list – although so far the flaps look like they will stand up to a good amount of tugging. The illustrations are bold, quirky and beautiful, and although my little one is drawn to the bright colours and plethora of flaps to peek behind, this is a great one for older children too, with objects to count from 1 -10 and inviting questions to answer. Oh and don't let my picture fool you – we've bought the Czech version from Baobab  Books (as I hope it will help me learn some Czech vocab!), but the book is available in English too. And if you want to have a taste of just how pleasing it is, here is a short video of me looking through a page (I do let my children occasionally play with it too – honest!)
Happy reading! And if you have a great flap-book to recommend, please leave me a comment and let me know.
Disclosure: There are some affiliate links in this post. These are links to products and services we highly recommend. We don't put anything on this site that has not been verified and/or personally used.
Pin it for later: