Asked to imagine a small exhibition about fire, housed in a 17th century water tower, you'd be forgiven for picturing something fairly uninspiring. Perhaps you are visualising rooms full of photographs featuring bushy-moustached firemen dousing flames, on top of their old-fashioned engines? Or maybe you've even added some film footage, a town model and a button or two to press. Certainly, when I persuaded my family to come with me to check out the new permanent Prague on Fire exhibition, I worked hard at keeping expectations low.
"Will there be any fun bits?" my son quizzed.
"Possibly not," came my reply, "but there is a playground across the road, and we'll go for lunch after".
My real reason for wanting to visit this newly opened museum was that this was the first time this historic water tower had ever been opened to the general public. The idea of being one of the first people to explore inside and peek through its windows, from its enviably position on the banks of the Vltava river, seemed reason enough to set aside a little time on a Saturday morning forecast for rain. The exhibition itself, was very much a secondary consideration.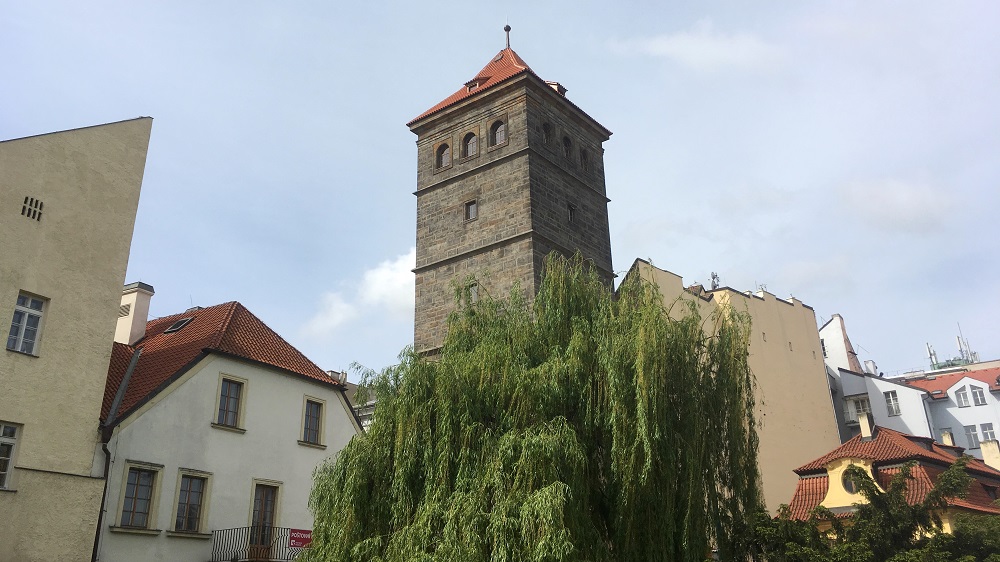 And so, of course, it will come as no surprise to hear that although pretty on the outside, the inside of the tower was fairly unremarkable. Unless you count the stairs – there were, of course, plenty of them. In contrast, however, the exhibition itself was totally surprising and almost entirely wonderful. A trade-off very much worth making.
Climbing the levels
When confronted with the problem of how to house an exhibition in a building consisiting of five small rooms on five different levels, the curating team, to their utter credit, decided to take a new tack. Throwing out ideas of photos, objects and information boards, they instead decided to take an approach revolving around striking video installations which tell of Prague's history with fire from different perspectives. As you enter each room, there is a powerful sense of becoming enveloped in each story.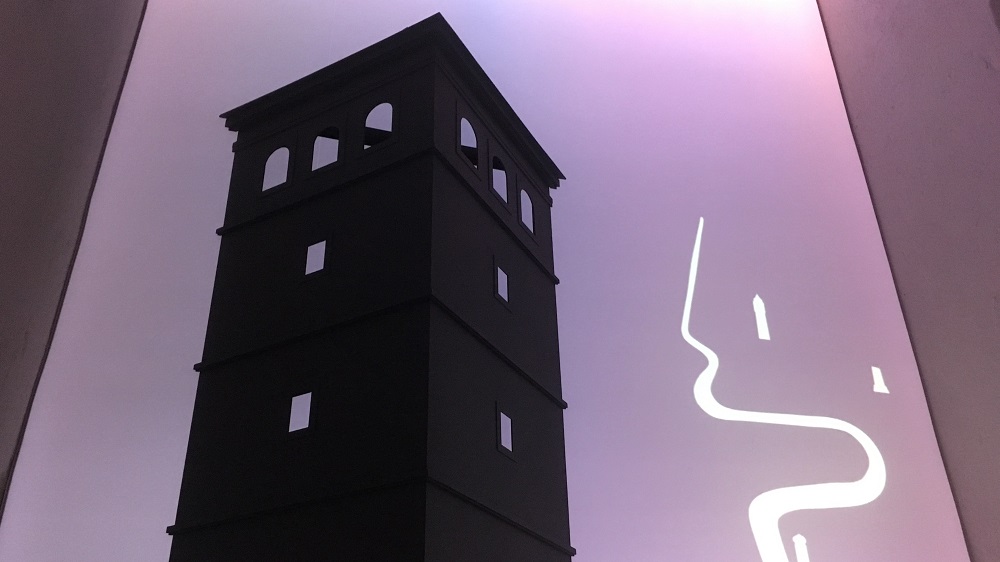 Level 1 gives a little history about the water tower's role itself in fighting fire, and talks you through the mechanics using a combination of beautiful graphics and narration. For Czech speakers, the narration surrounds you in the room, although you can also listen to an English version on the headphones.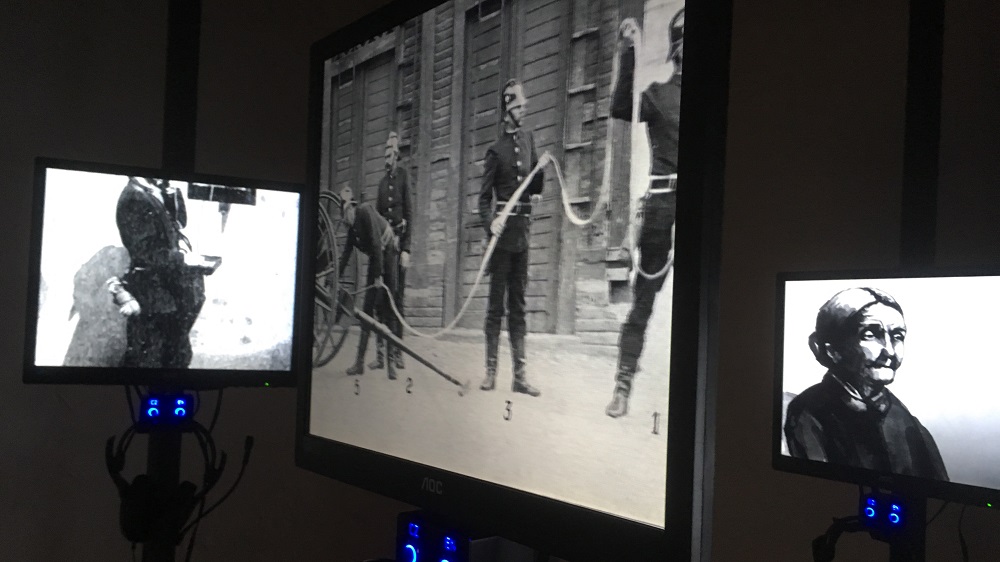 Level 2 consists of a room of videos recounting the different stories of firefighters – some animated, some using photographs. You can select either English or Czech on the headphones. When we were there, during one of the first days of the exhibition, the English version wasn't working, but they were looking to quickly fix this.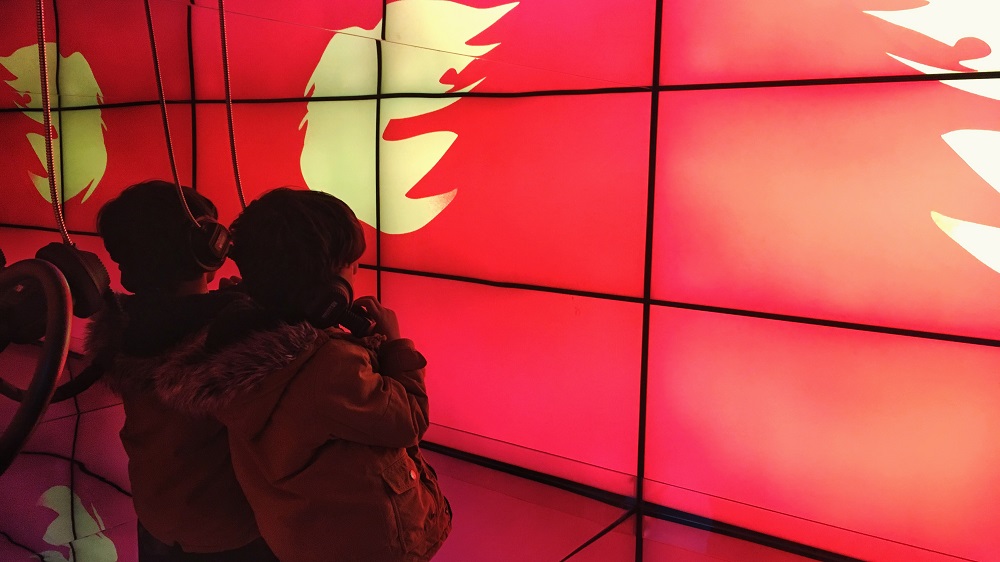 Level 3 is particularly special, as you step into a strikingly beautiful piece of animation. The mirrored floor and ceiling ensure you feel engulfed. Again, you can listen to an English version – narrating the history of fires in Prague and how they have shaped the city –  on the headphones.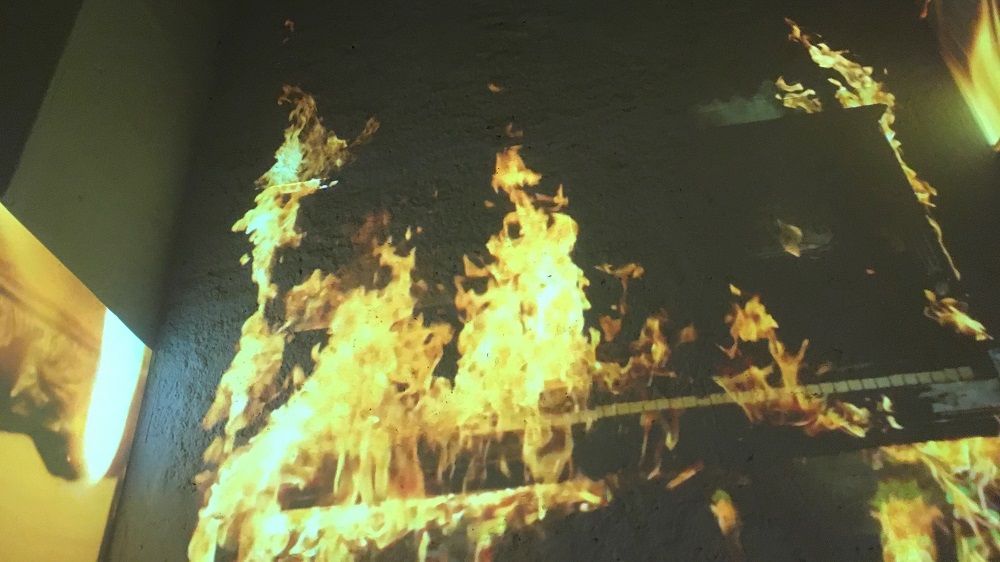 Level 4 puts you inside the National Theatre during the devastating fire of 1881. Probably the only the time you won't run from a burning building.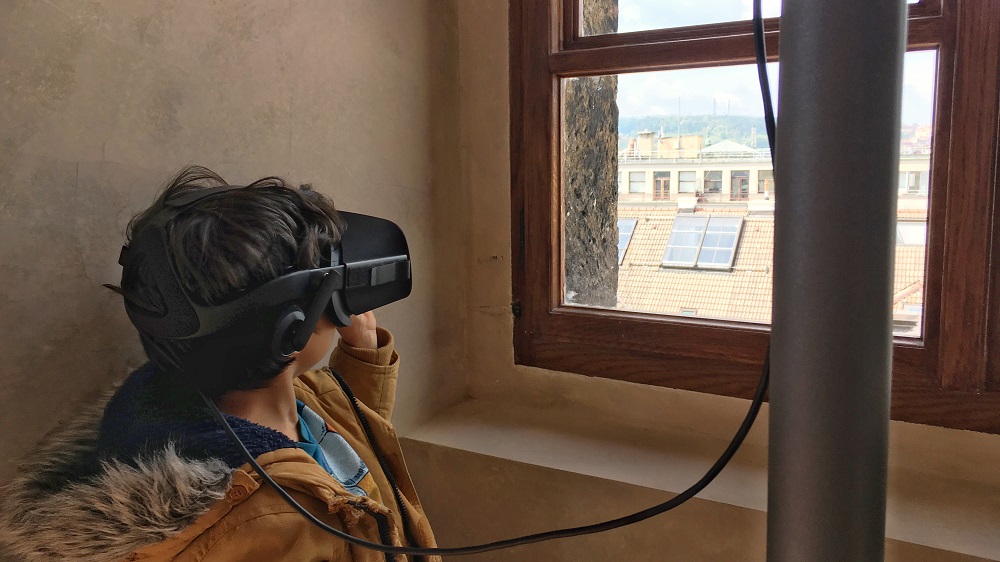 Level 5 is the very top of the water tower – the Lookout Point. During the 17th century, the city's elite would gather here to take in the beautiful views of the river and surrounding buildings. The curator has cleverly taken the knowledge that everyone will of course want to follow their example, and has placed virtual reality goggles at each window. These allows you to see the serene view somewhat differently. Suddenly you are transported into the Prague of the future, where drones help fire-fight burning skyscrapers, and where fire monsters loom large. Also in here is an animated timeline charting the fires in Prague.
This short video gives you a further sense of each level, in its full animated glory:
Extra information
The exhibition is interesting and engaging, but small – expect to spend under an hour exploring, but a great little stop off if you find yourself by the edge of Prague's New Town.
The many steps here mean that the museum is not pushchair or wheelchair friendly.
If the weather means you are looking for more inside diversions, you are just across the road from the Postal Museum, which depending on your interests, might be worth a peek for the pretty building itself and sometimes houses small child-friendly exhibitions. Another tourist attractions within easy walking distance includes the Jewish Museum in Prague, which older children and teenagers should find very moving and interesting.
Another indoor option is to head to Palladium Shopping Centre, a 10 min walk away. Here you'll find high-street shops, cafes and a food court, as well as a small but fairly well-stocked children's playroom.
On a fine day, you can cross the road and wander the riverbank, or stretch your legs in Park Lannova, which is remarkable mainly for its good children's playground and basketball court. Alternatively, a 20 minute walk acorss the river and up hill would bring you to lovely Letna Park, with its stunning views across the city.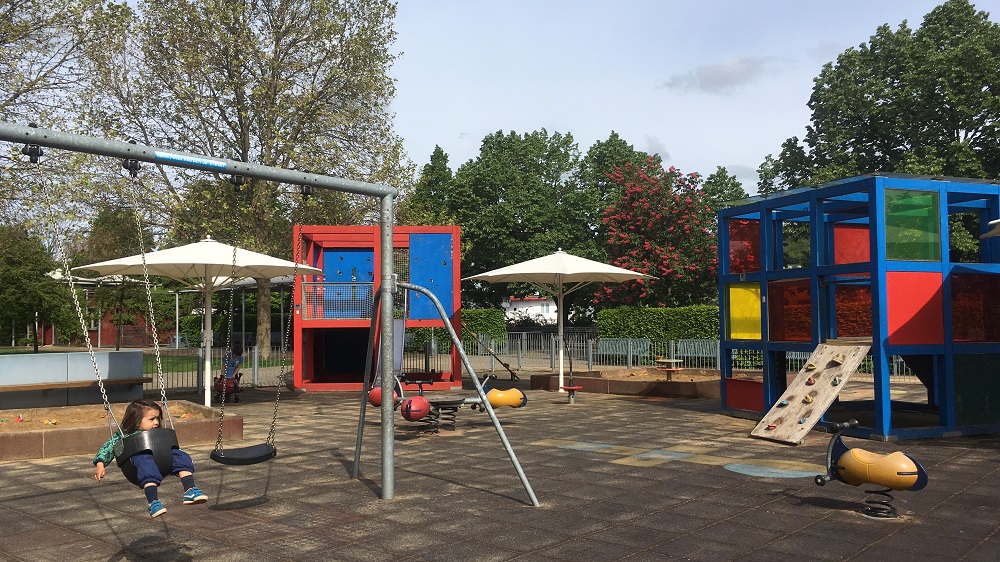 Hunger Pangs
If you are in need of a child-friendly restaurant with a good side-helping of play for younger children, it is worth walking for ten minutes to Pizza Nuova, a modern Italian restaurant with a play area. Alternatively, if just a high-chair will suffice, we all enjoyed the food at Hanabi Sushi House, just a five minute walk from the museum. The nearby K The Two Brother's Indian restaurant also gets good reviews.
If you are just looking for snack, older kids might well be happy to head to Cafe Zetko, which does a good line in coffee and donuts, and has free-to-use gaming stations.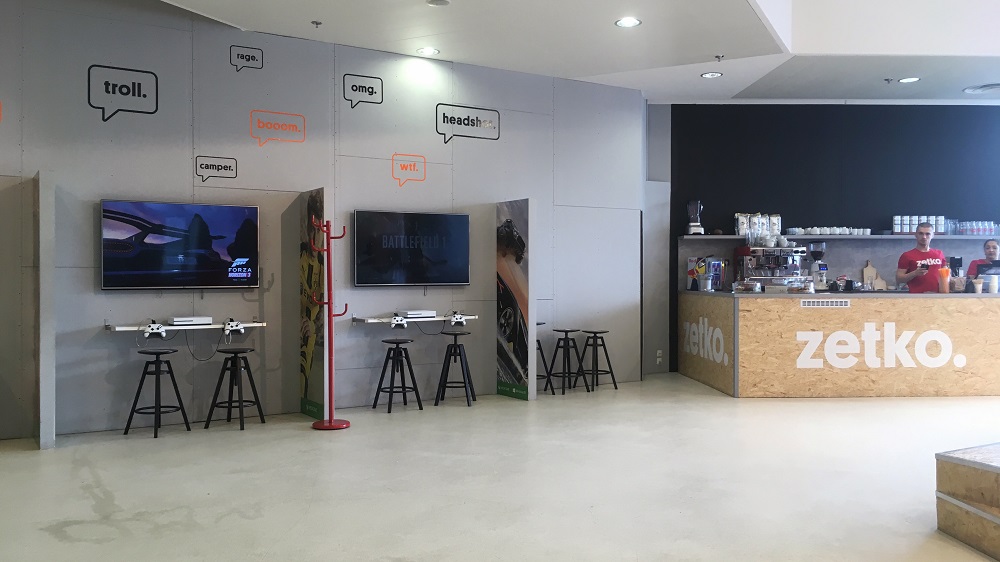 Getting There
The museum is on the edge of the New Town, with the closest tram stop being Dlouha trida (trams 6, 8, 9, 12, 15, 17, 26). Alternatively, the metro station Namesti Republicky is a 10 minute walk away.
Prague On Fire
The New Mill Water Tower
Nové mlýny 827/3A
Praha 1
Open Tuesday – Sunday, 09.00 – 18.00 (closed for lunch 12.00 – 12.30). Last Wednesday of the month, open until 20.00
Admission is 100 CZK, with reduced price and family tickets available
If you are looking for some other child-friendly museums in Prague, you may want to read my round-up here.
Pin it for later: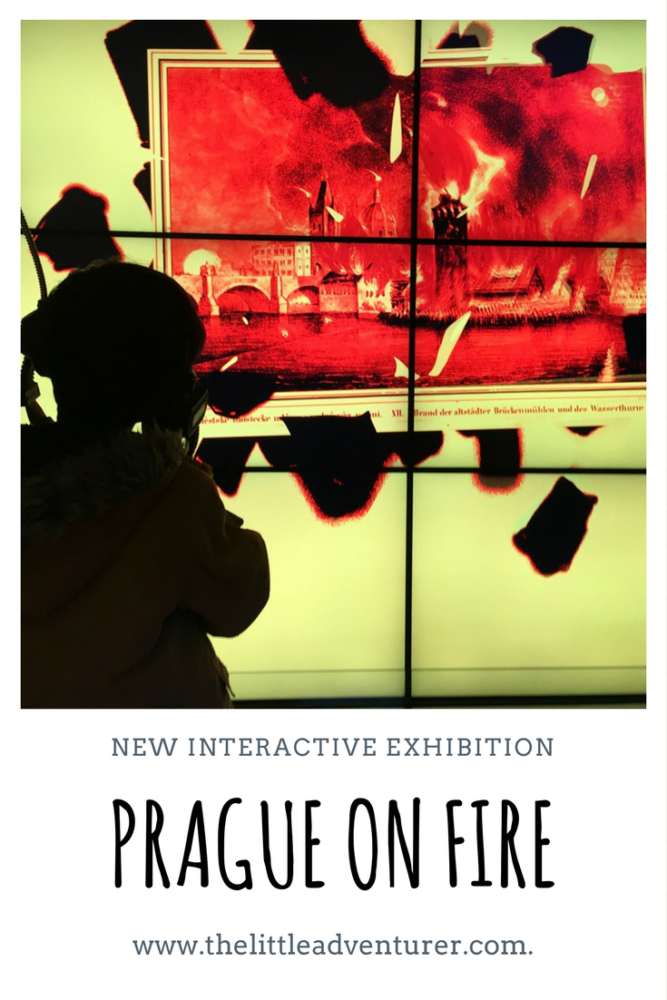 As seen in: