We were still living in Zambia, and our son had just turned 4 months old, when we decided it would be fun to take our first family holiday and drive down to Livingstone to see the Victoria Falls. A change of scene would do us all good. The Falls were astounding, and ooh, we'd get to show our little lad his first African elephant! What an adventure! And so, a few weeks later, there we were: smiling for the camera in front of one of the most breath-taking natural wonders in the world. This was one for the family album.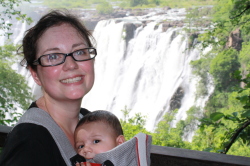 Except those smiles were masking the abject misery and exhaustion we all felt. Packing up the car had been an escapade all of its own – even a misspent youth of playing Tetris hadn't prepared us for the challenge of fitting travels cots, changing mats, toys and bath inserts into the boot – and that was saying nothing of 8 hour drive down there, stopping to use grotty service station toilets and breast-feeding whilst awkwardly smiling at my growing audience, who did not share my British sensibilities about not staring at strangers. And then there was the heat, and the fact that my son decided he simply did not want to sleep in this new room, oh and did I mention the constant buzz of malarial mosquitoes? The monkey stealing our food was quite simply the final straw. And so, we checked-out a day early, to begin our epic drive back home. We were tired and snarky, but we were also wiser. We would never do that again.
Since then when we've decided to take a trip away (a wise friend advised me that it is best not to think of this time as a 'holiday') things have gone more smoothly. We have no longer considered where we would really like to go, but have instead opted for fairly safe, child-friendly options that give us at least a shot of coming home not massively more tired than before we went away. But then, in a moment's madness, I persuaded a friend and her family to meet us in Kyoto. It was just that I had always wanted to visit Japan, and Kyoto looked so beautiful, and hey it was only a 3.5 hour flight away (at that point I hadn't really twigged about the subsequent train then taxi journeys). I knew it probably wouldn't be such an epic fail as Livingstone, but I still suspected it was foolhardy. Toddlers and temples? Surely, this was never going to work…
Well, I'm afraid there is no big happy ending here. Turns out that Kyoto really isn't as easy with a small child in tow, as say the likes of Singapore or even Bali. Was it worth it? Yes, absolutely. It is truly a wonderful place, and as long as you pick your cultural outings carefully, it would seem that little people can enjoy it too. Win, win. Here were five of our favourites:
The park here is immense: with lots of room to romp around, play with sticks and kick a ball. The Palace itself (which is open to the public during the Spring and Autumn without having to book a formal tour) is well worth a peek, although you'd be as well to get there before 10am if you want space for the kids to roam without getting entangled in coach parties. There is also a pretty, secret playground to the north of the park (I say secret as it is hidden behind trees and doesn't even feature on the park map), which sports slides, swings and a good-sized sandpit and digging equipment, as well as a covered picnic area.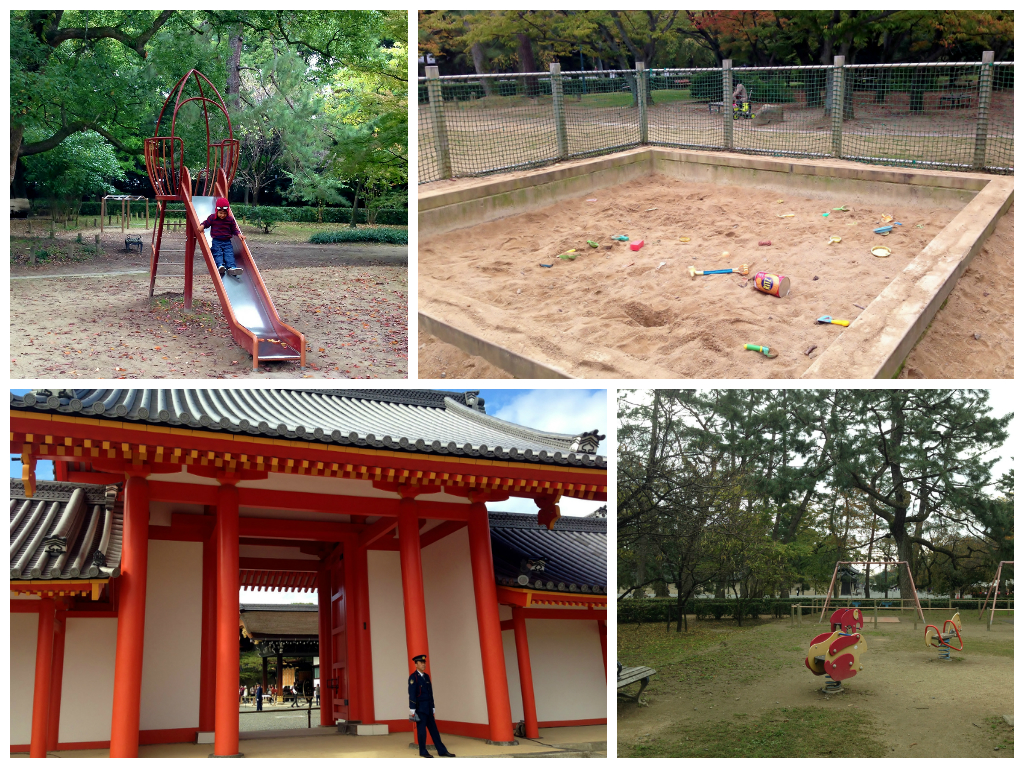 As we were feeling energetic, we decided to coincide this with a trip to number 2 on our list. This is fairly easily done, as if you exit from the North East of the Park you can take a 10 min stroll to Demachiyanagi Station and then catch the Keihan Main Line (towards Yodoyabashi) to Fushimi-Inari Station. The bonus of doing this is, instead of crossing the bridge to get the station, during the autumn/ winter at least, you can choose the more reckless option of crossing the Gamo River using the large stepping-stones, some of which are shaped as turtles. Our boys were delighted.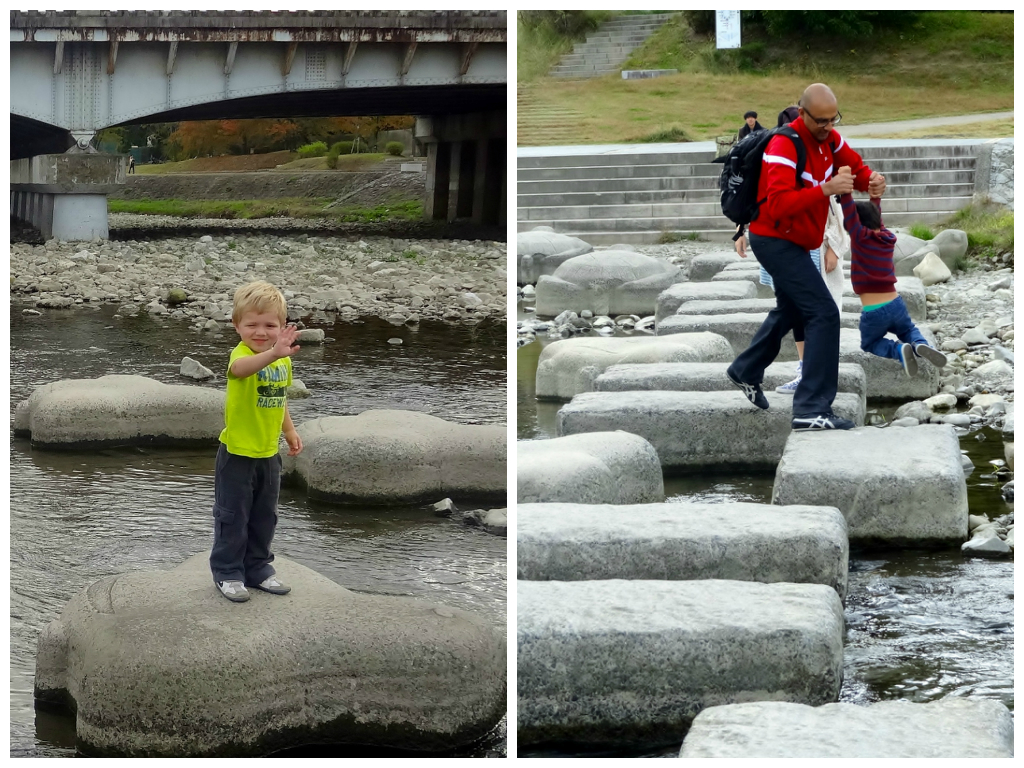 Probably the most arresting of all the places we visited; we all loved following the path of vermillion torri (shrine gates) up the mountain. Our boys instantly 'got' that this was somewhere special, and instead of dragging their feet due to an enforced walk around a shrine, they happily dashed through the gates on a giddy uphill adventure. Maybe it was because we were there in the late afternoon, but the lack of crowds gave everyone a little space and freedom, and dusk brought with it its own special atmosphere. We only walked a tiny portion of the 4km walk to the top of the mountain before circling back down, although we were told that if you can make it half way up to the Yotsutsuji intersection (which takes about 45 minutes), there are some much-needed benches and a fantastic view.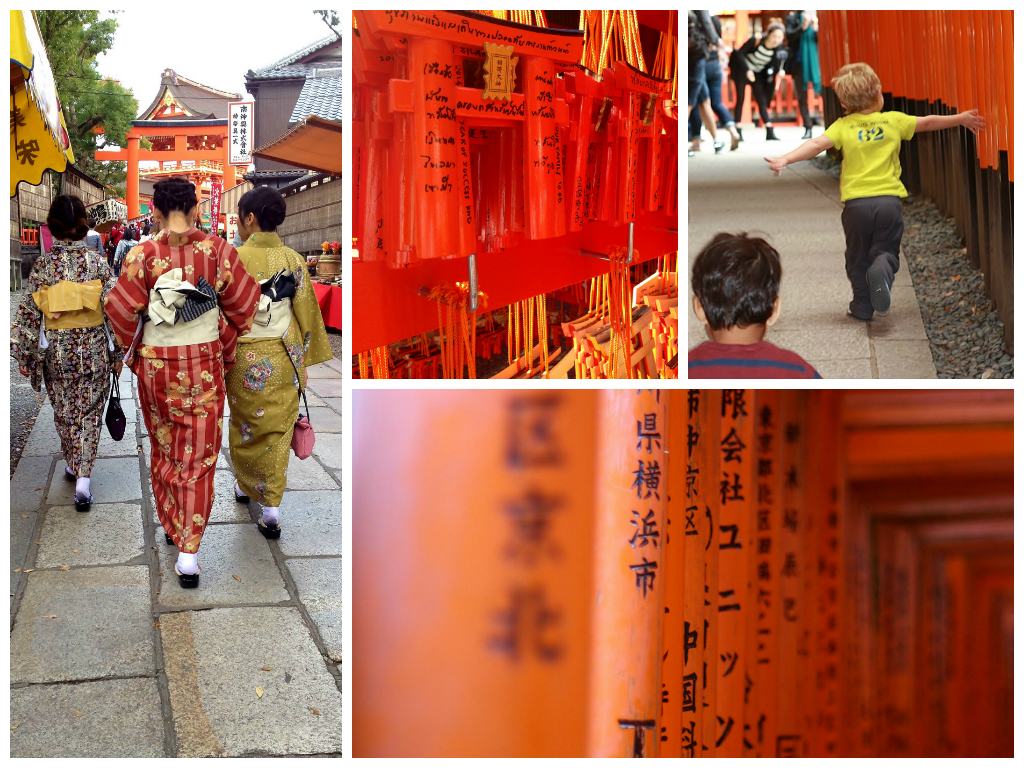 On the walk to and from the station, you can stock up on tourist knick-knacks, as well as yummy looking snacks. We were particularly happy with our purchase of a Hello Kitty key-ring and a fish-shaped cake (or taiyaki) filled with chocolate. Result. And if your little ones are train enthusiasts, they may also get a kick out of seeing the level-crossing just by the station.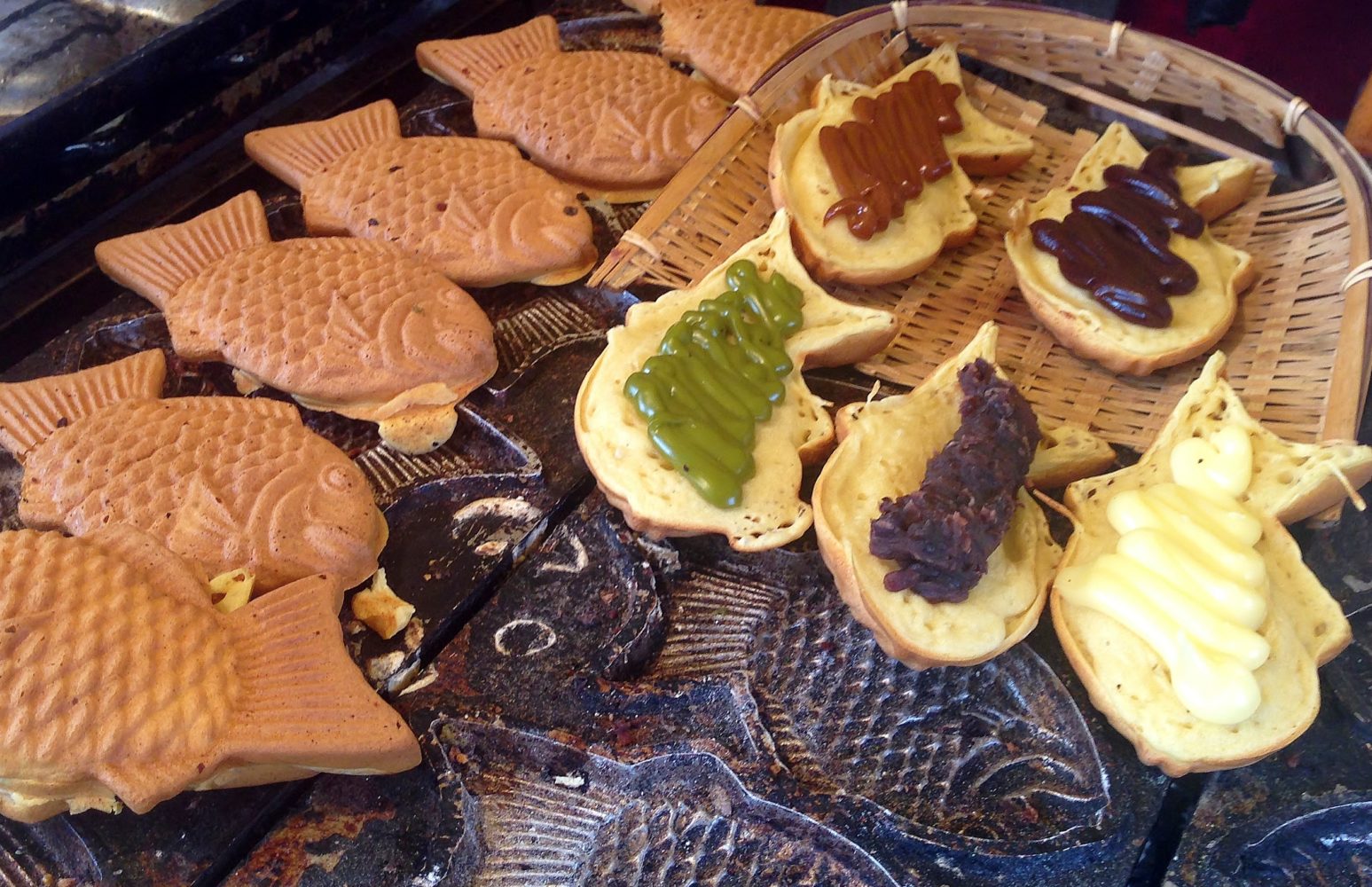 Maruyama Park
This very pretty park on the edge of the Gion district, offers space to run off some steam and is a lovely spot for a picnic. No playground here, I'm afraid, but there is space to kick a ball or blow some bubbles, if you've been organised enough to bring them. The pond at the centre of the park offers the opportunity for a little carp-watching too. Due to the huge cherry tree, the park loses its relaxed atmosphere during early April though, as crowds come to admire the blossom.
The park is perfectly placed for a stop off, before or after exploring the famous Buddhist Temple of Chion-In and/or the spacious shrine of Yasaka-Jinja. When we were there, Chion-In was undergoing some renovations, so we opted instead for a quick wander around Yasaka-Jinja. Maybe it was because we happened upon it at dusk, but again there was something about the fading light, striking red shrine gate, the rows of beautiful paper-laterns, and the clanging of bells, that made this place very memorable.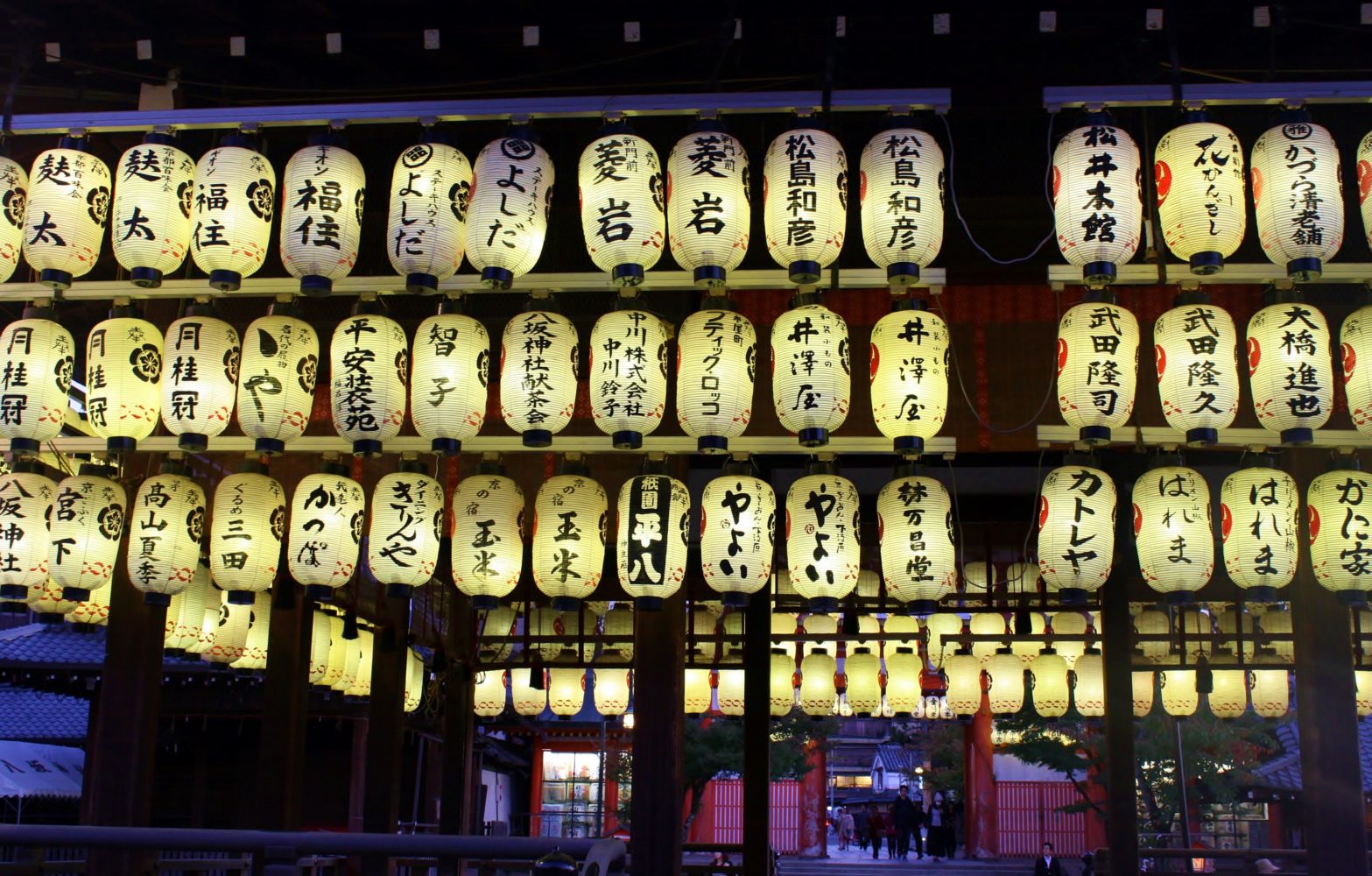 The Arashiyama area is well worth a visit – a walk through the Bamboo Grove and then along the picturesque riverbank is reason enough to take the trip out to the far west of the city – but the real highlight, possibly for all of us, and most certainly for our boys, was the Monkey Park. This was surprising, as our earlier monkey debacle in Livingstone had ensured that I was no monkey enthusiast, and the signs on the way in, warning us not to look the monkeys in the eye, didn't really help curb our skepticism – but I'm pleased to report it really was something of a treat.
The cool day and the promise of monkeys, made the 20-minute walk uphill a bit less of a slog than it perhaps otherwise would have been, and it was one of our 3-year olds who made it to the top first! The view down over Kyoto was fantastic, as was watching the monkeys frolic freely, and a pleasing change from seeing them in a zoo. Our boys got a massive kick out of feeding the monkeys, from the safety of the hut, and we got some great videos of all involved whooping with delight.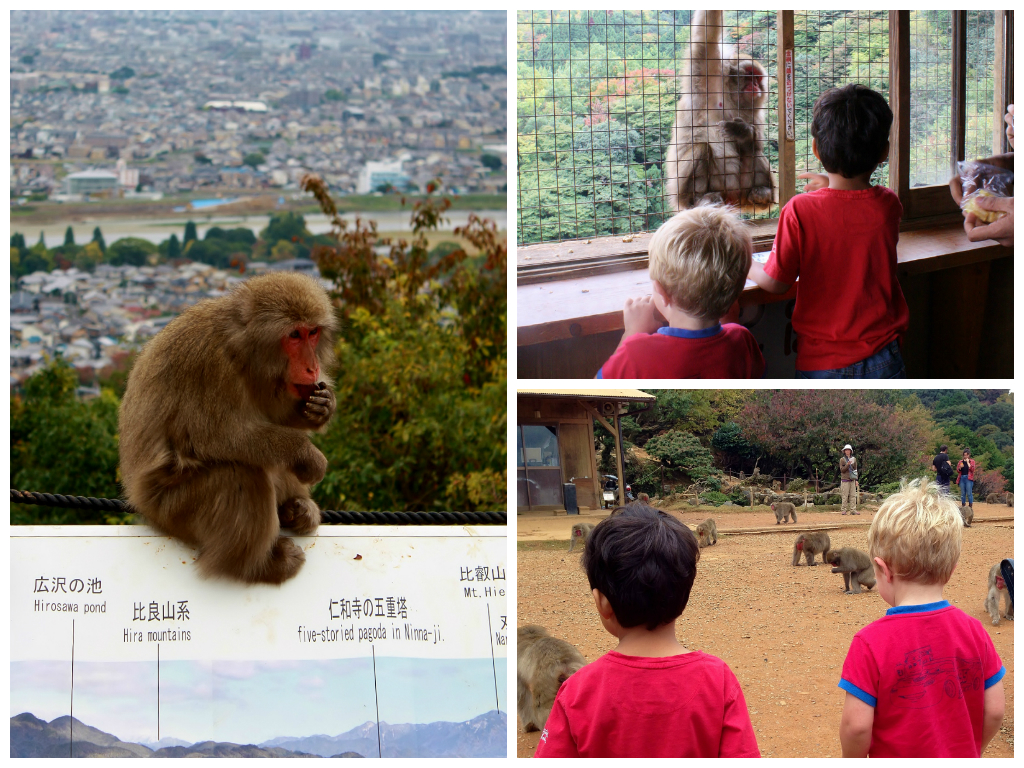 If this wasn't excitement enough, on the way back down the hill, there was a small playground, with a slide, zip-wire, sea-saw and swings, to let our toddlers get in a bit of their own monkey practice. To be honest, the playground was a little old and muddy (at first we thought it might actually belong to the monkeys until the signs reassured us otherwise), but since when did that matter to a small child? Eventually, our boys had to be dragged away, as we went in search of lunch, and happily chanced upon the rather lovely Arashiyama Nomura serving okonomiyaki  (Japanese savoury pancakes) and Japanese sweets, with the added bonus of booster seats.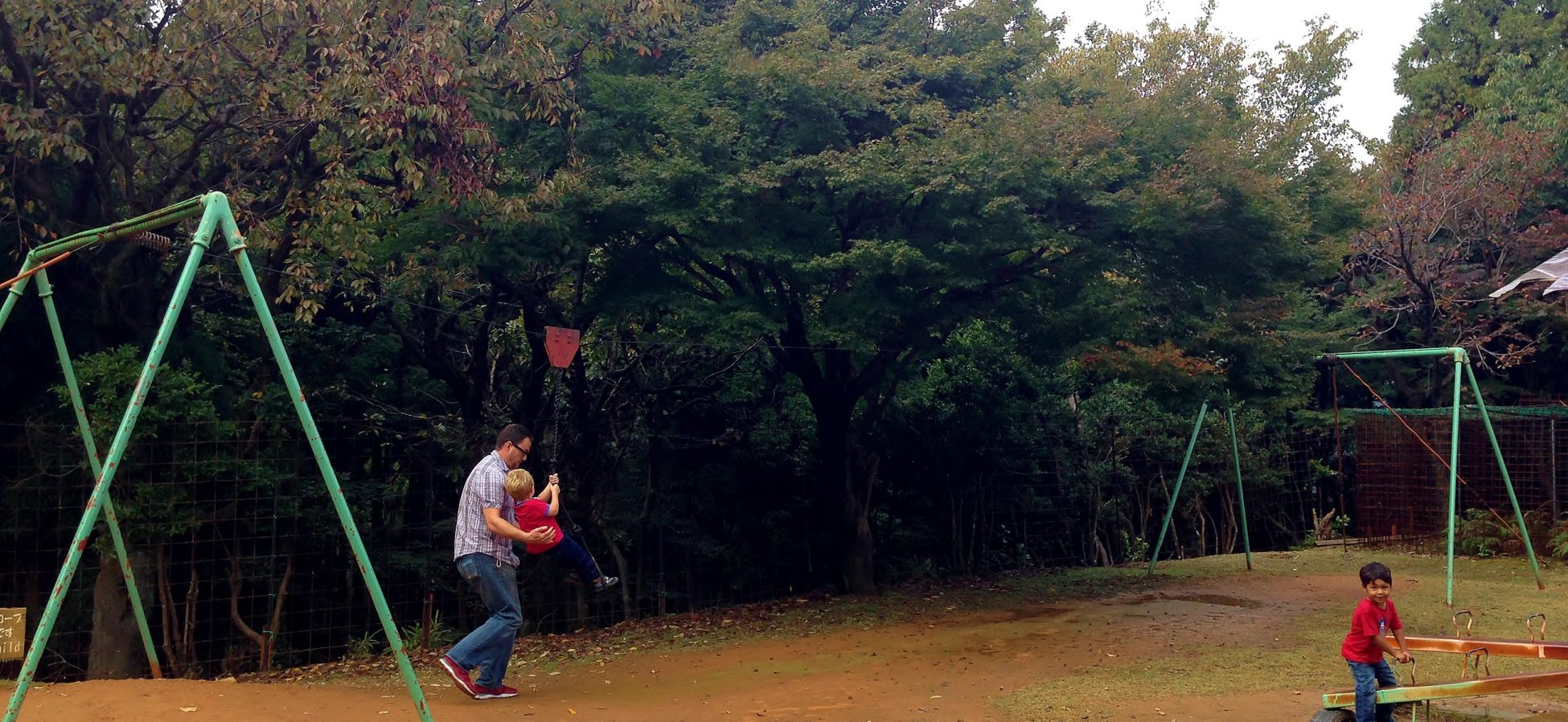 5. Nijo Castle
We sold this to our boys as a trip to a 'Samurai Castle' which was probably stretching historical accuracy a little far (it was actually home to a Shogun, so perhaps there would have been some Samurais knocking about), but either way, we all enjoyed exploring the impressive grounds and interiors. The big hits were: digging in the gravel with sticks, fiddling with vending machines, photobombing Japanese school children, tip-toeing with stocking feet on the 'nightingale' floors (designed to creak to warn of intruders) and spotting the concealed chambers where bodyguards would hide. Oh, and of course, those well-deserved ice-creams at the end of our walk.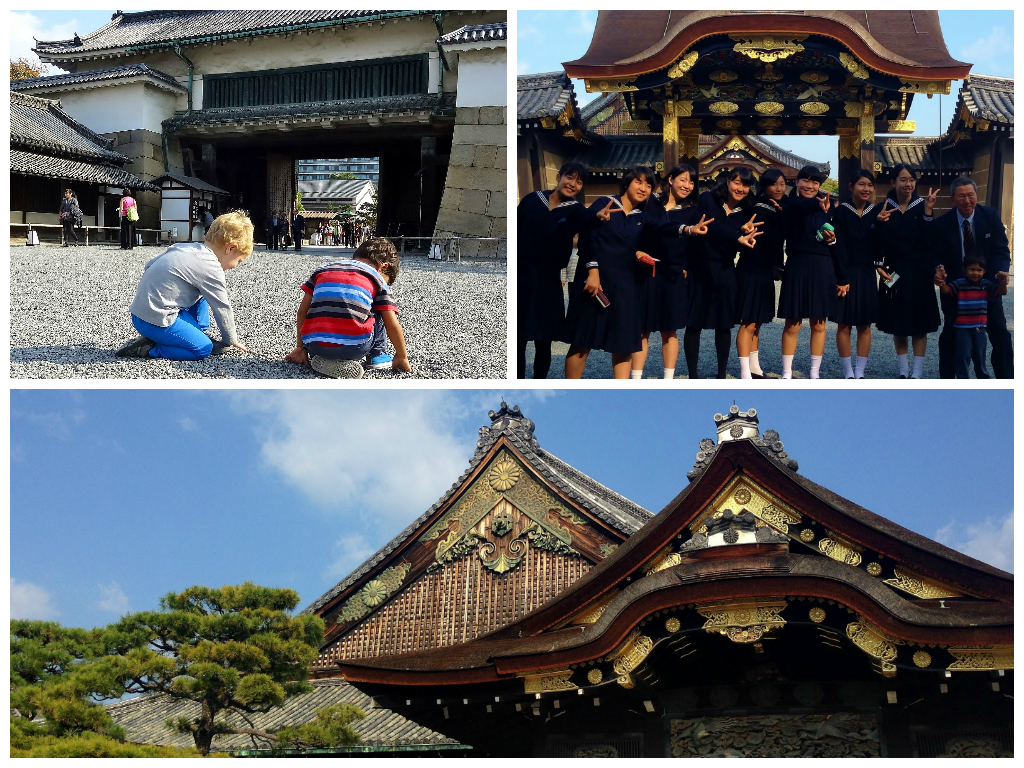 The gardens here are beautiful, although sadly this does mean that much of the grounds are roped off from further exploration. That being said, there was still plenty of space to run and chase, and hide from dragons – so a good morning out.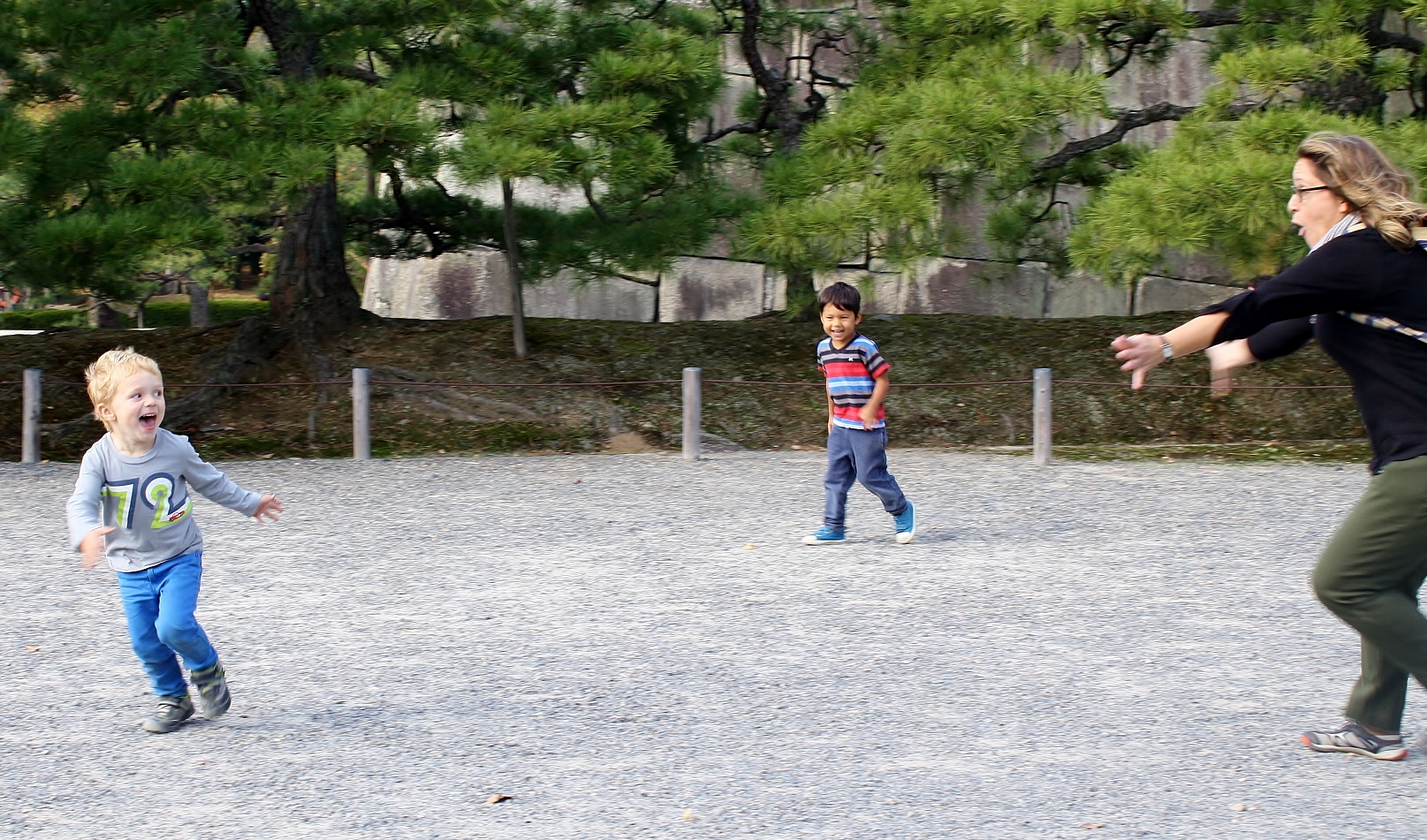 Other kid-friendly stuff
Had we a little more time, we were told that a day trip out to Nara to feed the tame deers and enjoy the park was well worth the journey of just under an hour from Kyoto. Also, Kyoto Botanical Garden is supposedly beautiful, and features a large lawn and a children's playground.
If you got a little less lucky with the weather, or your little ones really needed a change, you also might want to check out these options:
Umekoji Steam Locomotive Museum (which is close to the aquarium, and apparently features a good-sized outdoor playground too)
Kyoto International Manga Museum (surely a big hit for older children, and is a walkable distance from Nijo Castle)
Kodomo Mirai Kan (I stumbled upon this information about a free indoor playroom after our visit. If you do manage to check it out, I would love to hear what it is like. It is located just south of the Imperial Palace Park)
Yu Kids Island (a small soft playroom on the 4th floor of the Aeon Mall, close to Kyoto station. On the same floor there is also a large food court with children's seating area, and a baby changing room).
And, of course, you are not too far from Osaka, if you fancy a day-trip and a visit to possibly the world's coolest children's museum, Kids Plaza Osaka.
Practical stuff
Pushchairs – Our friend brought with them a light-weight pushchair/stroller, whereas we chose not to, and in retrospect it was probably us that most regretted our decision. There was a lot of walking, and if our son wasn't such a bundle of energy, coupled with him being happy to ride on Daddy's shoulders from time to time, I think we would have struggled. Much of Kyoto is pushchair-friendly, although you may need to leave it from time to time at the entrance of attractions, such as the Monkey Park.
Highchairs – Happily our sons don't really need to use these anymore, as they were only occasionally available, so if this is something you really rely on, you might be well to invest in one of those fabric travel booster seats. However, at Japanese restaurants, you will often be given the choice to sit on pillows the floor – a great option for little people, although our creaking joints struggled a little.
Toilets –Lots of clean, public toilets, mostly featuring a 'western' style toilet. Normally there were changing facilities, and sometimes even a mini child's toilet.
And finally…
Having a playmate along definitely made things easier for our son, and therefore us. Perhaps if we had been travelling with a single toddler this might have been a slightly different review, but I like to think we still would have risen to the occasion.
Kyoto with kids? Yes, do it! Although, perhaps for our next trip we'll try and find something with a Kids Club…
Pin it for later: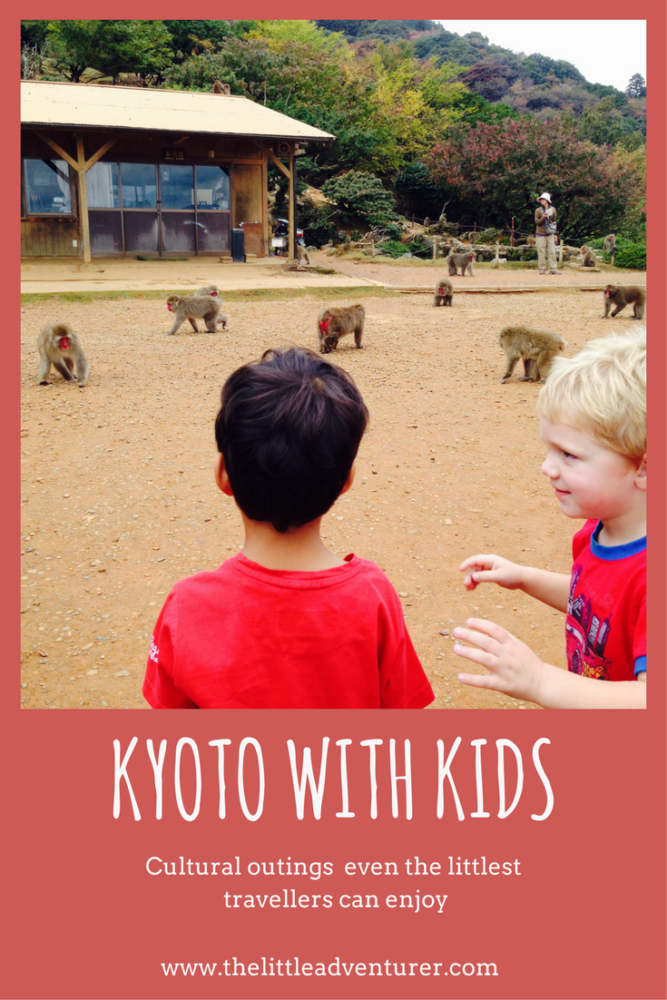 As seen in: