Just in case you were in any doubt – and I daresay you weren't – but just in case you were; when someone excitedly informs you of their upcoming holiday plans, the best response normally isn't to pull a face and inform them that their said destination is something of a dog-hole. It just, you know, somewhat ruins the holiday mood.
And although you would think this piece of social etiquette should perhaps be a given, so was the general gist from many of the people we told that we were going to end our trip to Japan with a weekend in Osaka. Well gee, thanks guys! Perhaps you can add in something about Japan being ruinously expensive too? Oh wait, you did.
But despite the fact that Osaka really is something of the uglier, big step-sister to little, pretty Kyoto – or perhaps in part because of it – I couldn't help but like it. The food, of course, was outstanding, and I was also quite taken with their efficient and yet retro subway system complete with green velvet seats.  But, what I really liked, was getting to see a little more of the peculiar, kitsch and slightly grubbier side of Japan.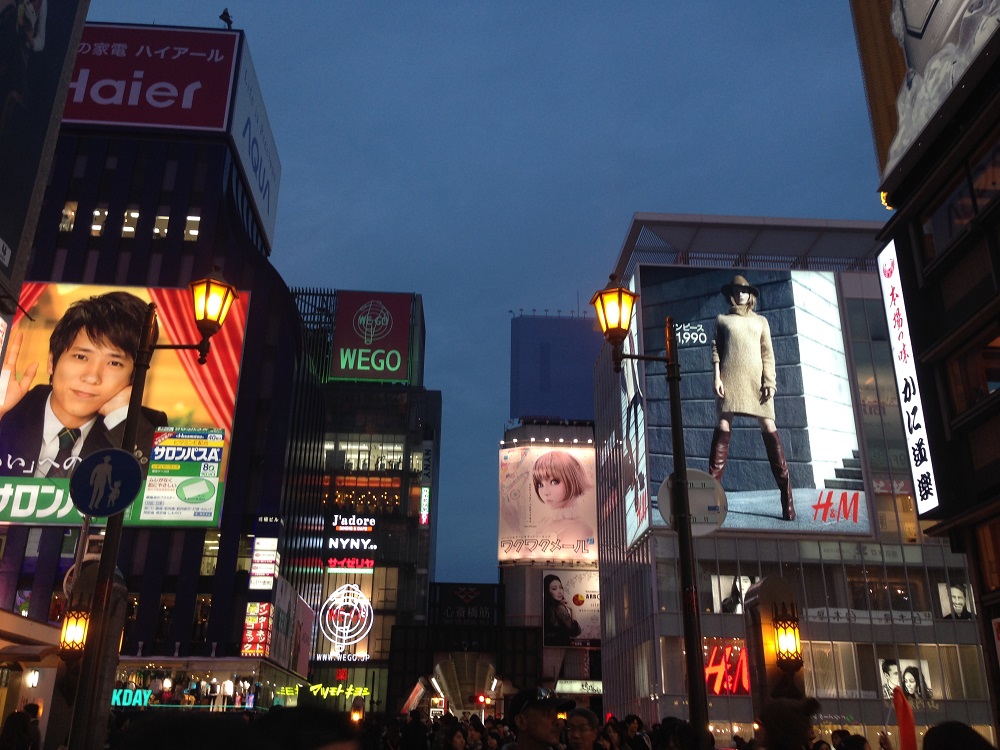 After the tranquil beauty of Kyoto's gardens and temples, I loved soaking in the light pollution of Dotonbori, with its neon signs and Hello Kitty tat-shops. I watched transfixed at an arcade shop entrance as a grown man danced – like he really meant it – in perfect synchronisation with sexy, anime characters in order to reach the next level of Dance Evolution (a voyeuristic pastime that I ensure you, for me anyway, would never get old).
I also loved the fact that someone had considered cat cafes to be a little too passé, and had gone out and opened an Owl Café instead. Yes, there was much to recommend Osaka. But on top of all of this, and what probably sealed this city a place in my heart, was the fact that is was home to possibly the coolest children's museum ever: Kids Plaza Osaka.
Being something of a fan of unexpected beginnings, I was delighted on first entering the museum to be confronted by a giant black crow guarding a huge marble run, complete with wheels, ball jumps and tipping barrels. Both me and my son thought this was wonderful, although aware that we had three whole floors of museum to investigate, I reluctantly dragged us all away to take the lift up to the Discovery area on 5th floor.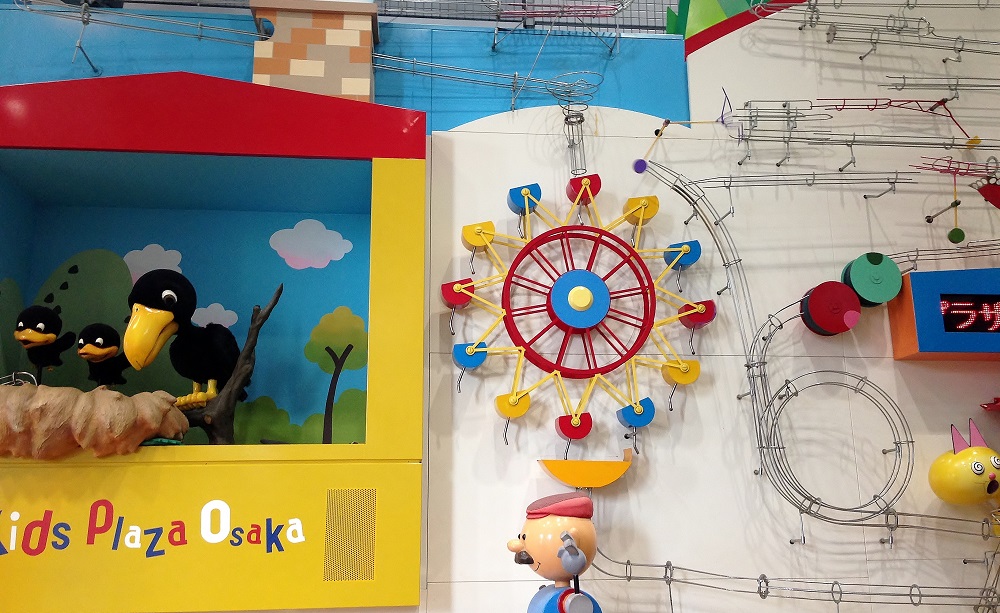 And rather pleasingly, there was no anti-climax here. From a TV studio, where you could operate the cameras or have a turn at presenting, to the cultural section where there were musical instruments and sports to play and models to manoeuvre – everything was perfectly pitched and sized for fidgety little hands.
What we all loved most of all though, was the Science section – with puzzles to solve, more balls to roll, an amazing water-play area and a bubble station.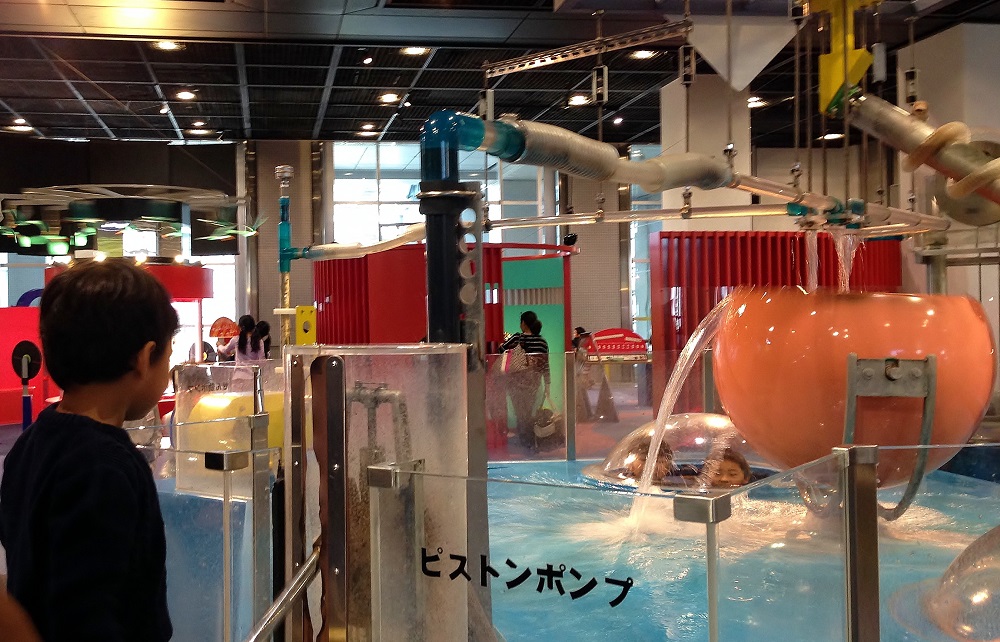 And, although it didn't seem quite possible, things on the 4th floor got even better. Here, as an extraordinary centre-piece to the museum, was the Kids' Town playground, designed by artist Friedensreich Hundertwasser.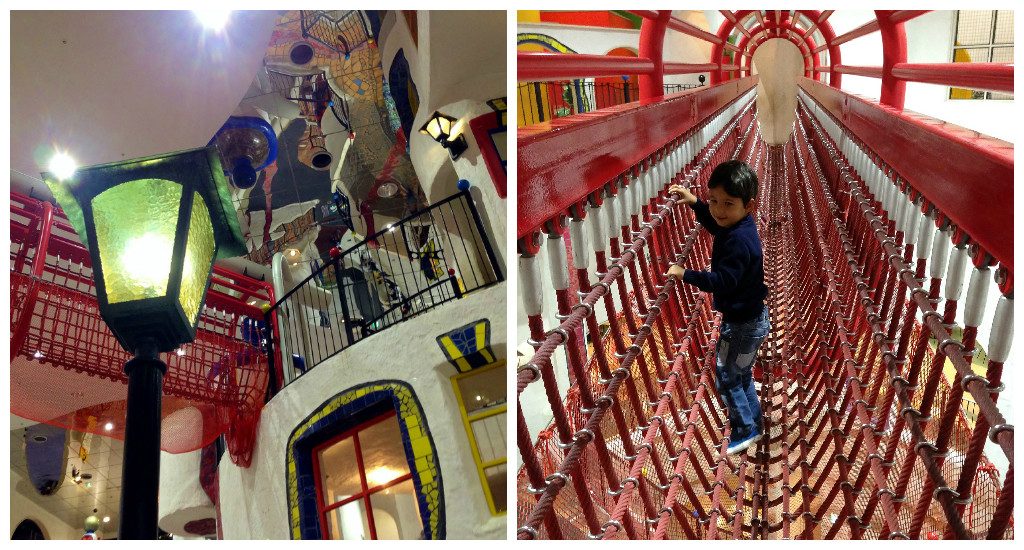 Reminiscent of the Gaudi architecture of Barcelona, with an injection of some of the wackiness from a Roald Dahl book, I would challenge even the most reserved or cynical of children not to want to explore this. And in fact, it begged the question why architects haven't thought to build more marvellous and strange playgrounds in children's museums before. The only slightly unnerving thing, if you have a fast-moving toddler or pre-schooler that is – is ensuring that you don't lose them among the bridges, slides and climbing walls and the other children having fun.
If the excitement of Kids Town is all too much, and you fancy a little sit down, off from the playground is a more relaxed play-area which is perfect for babies and toddlers. Here you will also find  a small library, which offers a little quiet-time, and a chance to brush up your Japanese reading skills.

On the same floor, you can also take a leisurely walk down 'Kids Street', where children can role-play at shops, hairdressers, the post office, as well as a building site. My little boy and his daddy were gripped.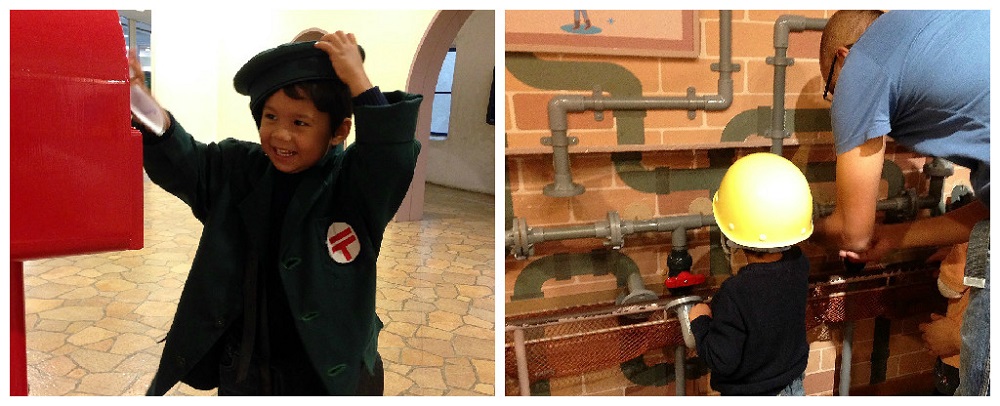 And then finally down to the Creativity section on the 3rd floor. This was probably where we spent the least of our time, although the stuff on offer was still pretty top notch – including huge interactive touchscreen and arty workshops.  Until eventually, having played, climbed and even learnt a little something, we found ourselves heading toward the exit, although we couldn't resist sneaking back to have one last stare at that crazy crow's marble run….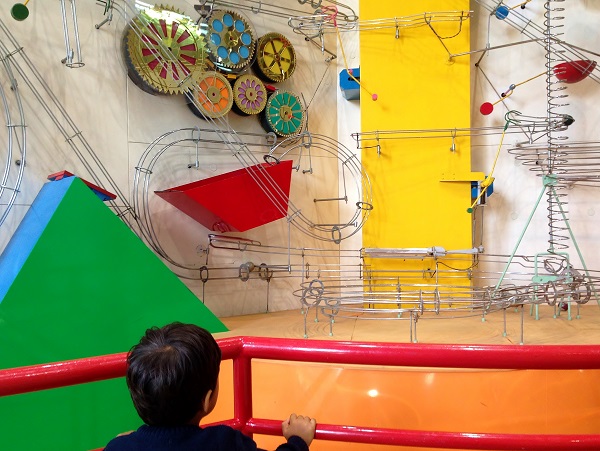 Hunger pangs?
On the 4th floor of the museum is a large seating area, which is perfect for picnicking, if you've been organised enough to bring your own food (and this being Japan, of course, even the sushi from the local 7-11 is of pretty good quality).
Alternatively, you can leave the museum (hanging on to your ticket, if you want to re-enter later on that day) and make your way to the ground floor of the building to grab a table at Mouton Otto, a reasonable café that serves Italian food, as well as some Japanese dishes. If the weather is good, it also boasts a good sized outdoor terrace, which is always great option if you are eating with a small, restless person.
Extra stuff?
Well, where to even start! If you are travelling with a baby, there is a nursing room on the 4th floor, which is also equipped with a water heater and sink to allow you to prepare a bottle of milk. The toilets are kitted out with baby chairs and changing facilities, and although I didn't see them, there is even the promise of baby showers (!?). Pushchairs can be borrowed free of charge from the information counter on the 1st floor, and if you don't want to drag around all your stuff, there are lockers available that accept a 500 yen coin refundable deposit. Also, on the way out, there is a great little museum shop as well as some super cool vending machines (something, it would seem, of a Japanese speciality).
But more than all this, you are in for a fantastic treat if you make your way just behind the museum to Ogimachi Park.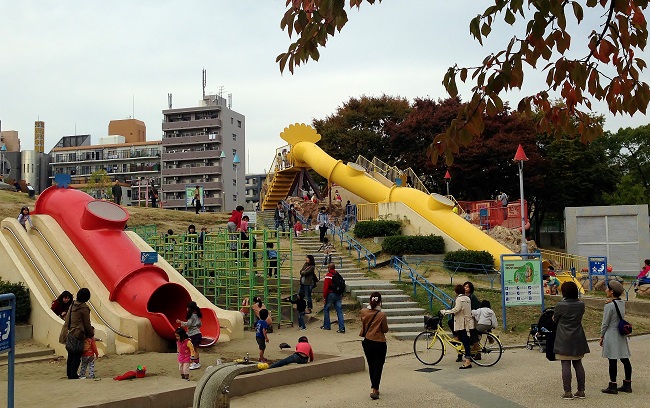 Although it isn't going to win any beauty contests, the playground here is truly great. There is a huge climbing wall, lots of space for running around, a small sandpit and some of the best selection of slides that I've ever come across (and sadly I am something of a connoisseur). We simply loved it – and for my son it couldn't have been a better ending to already pretty memorable day.
And if this wasn't all enough – and if it isn't, can I respectfully suggest that you are pretty high maintenance – there is apparently a large municipal swimming pool in the park too, with both indoor and outdoor pools. We didn't have chance to visit it, and having trawled the internet I can't find a huge amount of information about it in English, although this Japan Times article does give opening hours and a telephone number. If you get a particularly hot or wet day, and fancy taking a chance and packing your cossies and towels in your bag – it might just turn out to be a winner.
Getting there
The museum is just next door to Ogimachi station on the Sakaisuji subway line (exit #2) or it is 3-minute walk from the JR loop line's Temma station. There is a helpful map and driving instructions on the museum's website.
The only thing I would say, is that unless we were being particularly unobservant (which is not beyond question), we didn't see any signage on the outside of the building housing the museum. However, if you spot the colourful triangular sculpture, you've come to the right place.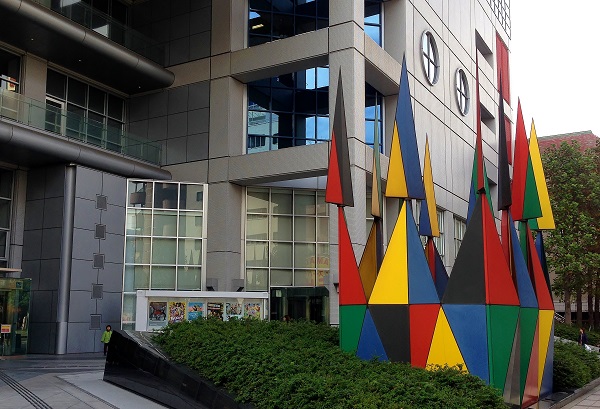 Kids Plaza Osaka, Ogimachi 2-1-7, Kita-ku, Osaka, 530-0025 Japan
Open 09.30 – 17.00 weekdays, 09.30 – 19.00 weekends and public holidays, closed Mondays (unless it is a public holiday, in which case it will close the following day).
The museum is also closed from the 28 December – 2 January, and on occasions in April, September and December, so you are best to check the website before going along.
A standard adult ticket costs 1,400 yen, whereas school-aged children cost 800 yen and pre-schoolers cost 500 yen. Children under 3 are free.
Pin for later: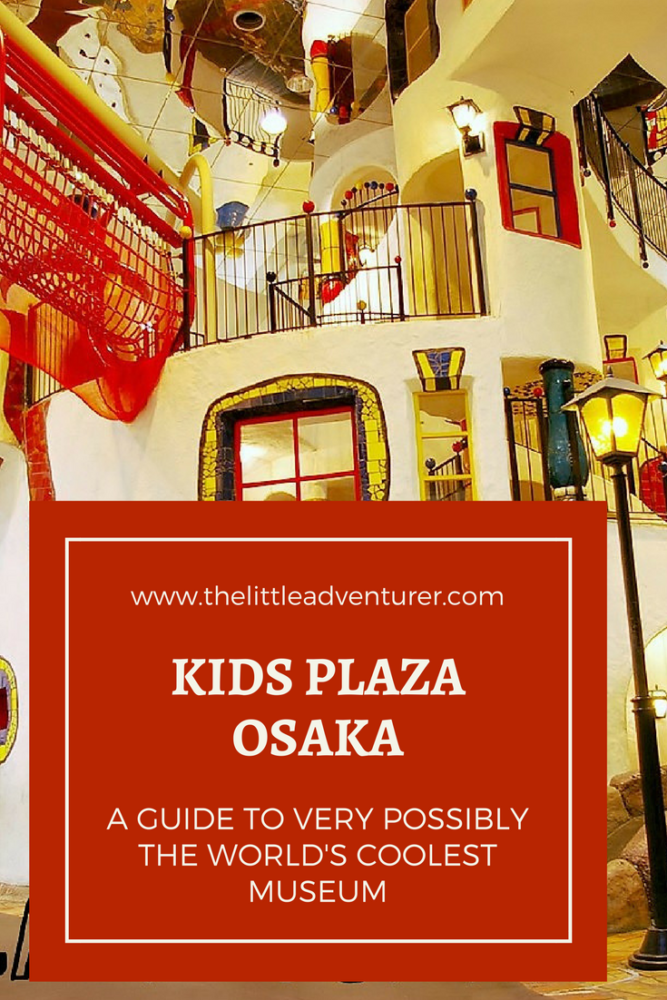 As seen in: