Being from the north of England, I was taught from an early age that one of life's great challenges was not to let a single sun beam go to waste. It's 16°C in May? Then what are we waiting for? Let's grab that bikini and get the deckchair out! The sun is shining at 7 in the morning? Get out there and play! Quick! Quick! Before it goes behind a cloud…Oh, you're right, it does now appear to be raining…
As Noel Coward observed, it is only Englishmen and mad dogs that can be found basking in the midday sun. We know we're ridiculous, sporting our red and white tan-lines, we just can't help ourselves – we've been brought up that way.
All of which is why Hong Kong summers have been one of my biggest culture shocks. What do you mean it is 32°C and clear blue skies, let's go do something inside? Has the world gone mad? But despite my most outlandish attempts, I'm ashamed to say that the head-boiling heat, humidity and mosquitoes of Hong Kong have combined to defeat me. I am a changed person. Now, I long for autumn and winter. And as soon as the temperature drops below 28°C, I'm pulling my jeans on, optimistic that there might be a slight chill in the air…
And so, having learnt the hard way that the only viable way to enjoy the Hong Kong summer sunshine is to immerse yourself in some water, I expect to be spending a lot of upcoming summer in the public pools with my son. The good news is that many of the pools here are clean, cheap and super child-friendly. I recently wrote a post expounding the delights of Hammer Hill Road Swimming Pool over in Kowloon, well, here is a roundup of our favourite Hong Kong Island swimming spots:
The Huge One
Pao Yue Kong Swimming Pool, 2 Shum Wan Road, Wong Chuk Hang, Hong Kong
T +852 2553 3617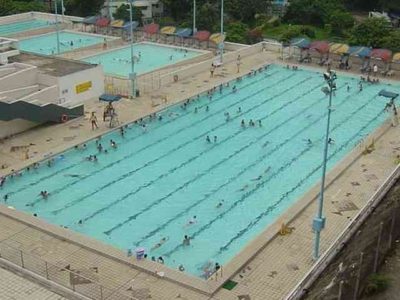 Otherwise known as the 'Aberdeen pool', there is almost everything you could want from a swimming complex here: from a serious swimmer's pool to a large family pool. Beginners can also gain confidence in the three, small training pools where the water depth ranges from 0.60m to 1m. And then, on top of all this, there is a small diving pool, and two good sized kids' pools.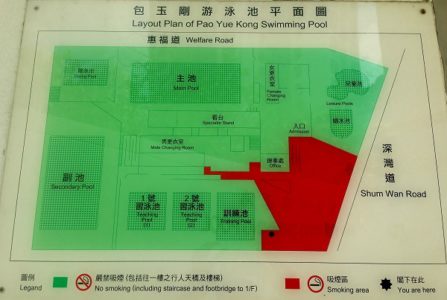 Hits: The kids' pools are really great fun, and the ankle deep water means that even little ones can safely splash around. The smaller 'toddler' area features a small crocodile slide, a couple of ride-ons, and a big, splashy mushroom fountain. The bigger kids' pool though is the real draw. Kids of all ages and sizes love the main climbing frame and fairly fast, splashy slide; and the water shooters and small slides are also popular. Another plus is that the size of the complex means that it rarely feels crowded, and although the changing rooms aren't plush, they are spacious and clean.
Misses: Not much to grumble about here – only that things might be even better if there was a small shop selling snack, drinks and supplies – so don't forget your towels or your armbands!
Opening Days: Wednesday – Mondays (closed Tuesdays for cleaning, unless Tuesday is a bank holiday and then it will be rescheduled for Monday on the same week). The whole pool closes for winter, between 1 November – 31 March.
Opening Times: 06.30 – 12 noon, 13.00 – 18.00 and the 19.00 – 22.00
Hunger Pangs?: You are within a five minute walk to One Island South, where there is cute, independent vegetarian café MUM and also a spacious Starbucks. If you fancy something a bit more substantial and meaty, you can walk ten minutes to the Butcher's Club Deli, where there are booster chairs, a small kids' menu and crayons.
The Cute One
Chai Wan Swimming Pool, 345 San Ha Street, Chai Wan, Hong Kong
T +852 2558 3538
Okay, so the title I've chosen for this colossal swimming complex out to the east of the Island, may be deceptive. Like the Aberdeen pool, there are two large swimming pools here, plus a diving pool and three small teaching pools (with water depth ranging from 0.70m to 1.05m). The 'cute' bit is the three children's leisure pools, which are small, but perfectly formed, and are ideal for toddlers.
Hits: If you have small children, they will love the play equipment in the kids' pools here – from the small turtle slide to the cute mushroom fountain. The water depth is around 0.50m, making it great for walking tots to wade through. In one of the children's pools, there is also a slightly faster yellow slide, which if you time your trip down it correctly/incorrectly (depending on your point of view), you'll get a good splash from the overhead tipping bucket. The real novelty of this pool though is the very shallow, warm fountain area – which is perfect for crawling and running through, as well as lying around and relaxing in. If you can fit it in your bag, a bucket or a watering can, is always a big hit here.
There are toilets conveniently positioned right next to the children's pool (although no nappy changing facilities) and again the changing rooms are spacious and clean, with private changing cubicles positioned opposite the shower cubicles. And as a little added water-based entertainment, children will be happy to gawp at the little fish tank in the main foyer.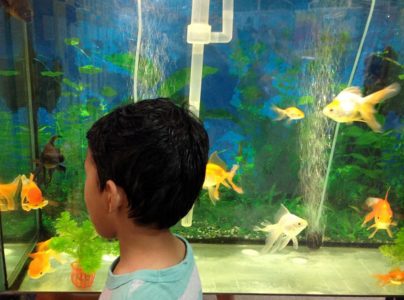 Misses: No real thrills on offer for children over five here, although everyone will probably enjoy the fountain area, and the training pools are great for novice swimmers. Also, unlike in Aberdeen, the children's pool often gets pretty busy on a hot weekend. This seems to be exasperated by the number of grown men in speedos that seem to congregate in the shallows of the children's pool to sun themselves. Ick. Luckily, the children always seem oblivious to this slightly unsavoury spectacle.
As well, unless you live very locally, this is also probably the most difficult of the Island's swimming pools to reach using public transport – as the pool is a good 10 – 15 minute walk from Chai Wan MTR, with the last bit up a fairly steep hill; never a huge amount of fun in 30C heat with small children (and my tip is to tackle the hill next to the swimming pool, rather than climbing the stairs). Lots of buses do drop you fairly close by though.
Opening Days: Wednesday – Mondays (closed Tuesdays for cleaning, unless Tuesday is a bank holiday and then it will be rescheduled for Thursday on the same week). The whole pool complex closes for winter, between 1 November – 31 March, and the main swimming pool and diving pool do not reopen until 30 June.
Opening Times: 06.30 – 12 noon, 13.00 – 18.00 and the 19.00 – 22.00
Hunger Pangs?: So, you aren't in the most convenient location for an easy post-swim meal. If you are heading back to Chai Wan MTR, you can head into New Jade Shopping Arcade, above the station, where you will be able to get a good value bowl of noodle soup at Viet's Choice. Or you could pop into one of the branches of Genki Sushi, Starbucks or KFC, which you'll find there. Alternatively, if you are going that way, you can grab a taxi or jump on the 8P bus back into Causeway Bay and eat at one of the child-friendly restaurants there – such as Ding Tai Fung, Jamie's Italian or the new branch of La Creperie (read The Accidental Tai-Tai's review here).
The Indoor One
Island East Swimming Pool, 52 Lei King Road, Sai Wan Ho, Hong Kong
T +852 2151 4082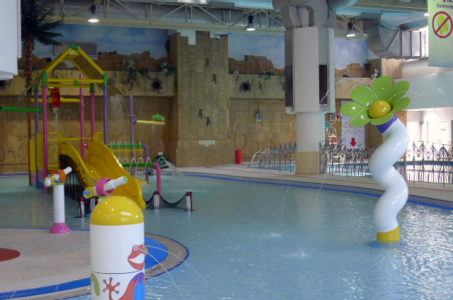 If there is another torrential downpour, but you still fancy a dip, Island East Swimming Pool is a great indoor option. Although it is the smallest of the featured swimming pools, there is still a fair sized swimming pool for practising your strokes and a children's fun pool.
Hits: The children's pool here will again be a big hit with the toddler and kindergarten crowd, as it features largely ankle to knee high water, and a few gentle slides. There are a couple of water blasters here too, and a slightly bigger yellow slide and some squirty toys to play with.
The location is pretty good as well – you are about a five minute walk from Sai Wan Ho MTR, and if you cut through Lei King Wan Sitting Out Area, there's the chance to have a climb on the small playground there, if the weather permits. You are also just across the road from Sai Wan Ho Playground, and a pleasant ten minute walk from the pool, along the harbourfront, will bring you out at the Sir Alexander Grantham Fireboat Exhibition. And if you really want to make a day of it, from there you can chose the cut back in towards the wonderful Quarry Bay Park Playground, before heading to Tai Koo MTR and heading home.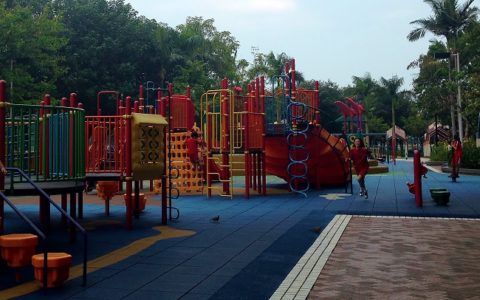 If the heat or rain means that post-swim outdoor options are off the cards, in the same building as the pool, is a small free government playroom, which is great for young children. I like this one as it has lots of natural light, as well as a couple of slides.
Misses: Again, older kids will probably tire of the play equipment here fairly quickly – although there is still the chance to splash around, as well as take a dip in the bigger pool. As the complex is fairly small though, the proper swimming pool can get pretty busy, especially in the afternoon, and on our first trip here there was actually a queue for admission. The changing rooms are also a little cramped – although they are clean and feature lockers and private shower cubicles.
Being indoors, the pool should be an excellent winter option too – although unless you've brought your wetsuits, you might not last that long. The water temperature is normally fine, but outside the water, the aircon is normally blasting, making the kid's pool particularly uninviting. Brrr! The upside of this slightly frosty experience is that the hot showers are very welcome!
Opening Days: Thursday – Tuesday (closed Wednesdays for cleaning, unless Wednesday is a bank holiday and then it will be rescheduled for Friday on the same week). The whole pool complex closes for maintenance from the 11 September to 31 October.
Opening Times: 06.30 – 12 noon, 13.00 – 18.00 and the 19.00 – 21.00
Hunger Pangs? If you are a fan of the classic Hong Kong snack – the egg waffle – then you might very well want to check out Hung Kee Top Quality Egg Waffles close to the MTR. After all that swimming, you surely deserve a treat, right?
The Splashy One
Kennedy Town Swimming Pool, 2 Sai Cheung Street North, Kennedy Town, Hong Kong
T +852 2817 7973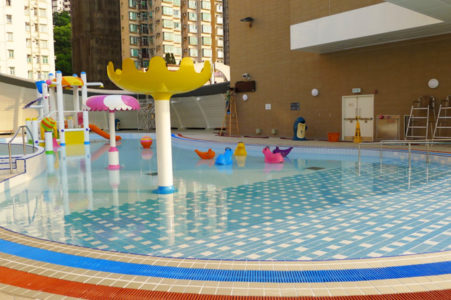 This is a bit of a love it or hate it affair, and I think on balance, I fall into the second camp. Having said that, a friend of mine says that the pool in Kennedy Town is her ideal family pool, and although I don't agree with her, I can see why. There is a huge outdoor, family swimming pool here, as well as a good sized children's pool (with water depth ranging from 0.10 – 0.65m), and then, just off to the side of this, is a small plunge pool which is 0.85m deep.
Hits: The complex here is in no way as big as Aberdeen or Chai Wan, but in a way, that's one of its charms. You can easily move back and forth between the pools without long, slippy walks, and if you have more than one child, you can keep an eye on both fairly easily, even if they head off in different directions. The plunge pool is great for young children just beginning to swim, and the kids' pool features some fountains, a couple of small ride-ons, as well as a climbing frame with small slides. The shallow water here makes it a really great options if you have very little ones. Also, as the whole complex has been fairly recently renovated, the changing rooms are clean and spacious and even feature a children's toilet.
To reach the pool, you have many options: with buses, trams and the MTR all stopping close by. You also have a plenty of post swim choices too. If the humidity isn't too oppressive, you are just across the road from the fun playground at Belcher Bay Park, or if you are travelling by MTR, you could choose to stop off at Forbes Street Temporary Playground, just by Exit C.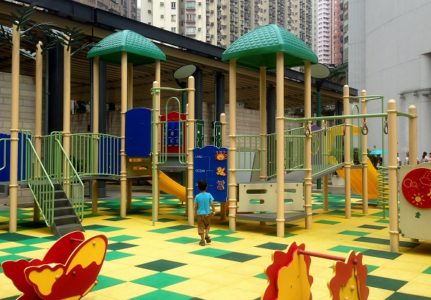 Alternatively, if you want to head indoors, Smithfield Public Library, near the MTR, has a great children's section, and in the same building there is also a small free government playroom. Then, of course, you are also a stone's throw from Funzone, if you really have energy to burn.
Misses: Okay, so this might be a very personal thing, but I find the children's pool here unbearably splashy. To get close to the climbing frame with slides, you have to deal with torrents of water being sloshed in your eyes and face, and then going down the slides will really soak you too. Even my very gun-ho toddler couldn't bear it in the end. Well-prepared kids come bearing floats as makeshift hats – so perhaps this is the way forward… And then, apart from this splash-fest, the rest of the children's pool is pretty tame, and is best suited for younger kids.
Also, probably because of the convenient location and the smaller size, if you do turn up on a weekend – especially in the afternoon – expect it to be busy. In fact, it is not unheard of that there are sometimes big queues to get in.
Opening Days: Thursday – Tuesday (closed Wednesdays for cleaning, unless Wednesday is a bank holiday and then it will be rescheduled for Thursday on the same week). The whole pool complex closes for maintenance from the 1 December to 31 March.
Opening Times: During the summer (April – October) the pool is open 06.30 – 12 noon, 13.00 – 18.00 and the 19.00 – 22.00. During the winter (November) the pool is just open for the 06.30 – 12 noon slot.
Hunger Pangs? I think the correct term is: spoilt for choice. K Town Bar and Grill, Jaspa's and Kinsale are all popular choices with families. Alternatively, if all that water has put you in the right frame of mind for a hearty plate of fish and chips, you'd be very wise to check out Fish and Chick. The only trouble here is, if you are dining with small children, there are no highchairs or room for pushchairs. However, if your craving for this British classic won't be thwarted by such practical considerations, you can always get takeout.
Extra Stuff
Adults pay HK$19 on the weekends and bank holidays, whereas children pay only HK$9 to get entrance to one of Hong Kong's public pools. On a weekday, the price drops to HK$17 and HK$8, respectively. Children under the age of three are free!
All the swimming pools have refundable coin lockers – just make sure you bring your $5 coin with you.
You can pay for the swimming pools on your Octopus card, should you not have change.
If you are not too bothered about having slides or water toys to play with, the indoor swimming pool at Victoria Park in Causeway Bay is a good size, and all the facilities are clean and new. Similarly, Morrison Hill Swimming Pool in Wan Chai has both indoor and outdoor pools, and a shallow toddler paddling pool, which is open in the summer. Just be careful you check the websites for details of cleaning days and annual closures.
Again, apologies for the lack of quality photographs of the actual swimming pools – as there are rules prohibiting taking photos inside the pool, I had to rely on what the LCSD had to offer.
As seen in: