One of the things I found most baffling on moving to Hong Kong was all the tall buildings. I know, stupid right? What else did I expect from a city famous for its skyscrapers? But I suppose the thing I hadn't really bargained for, until confronted by it head-on, was how difficult it made finding anything. I mean to say, in Europe, all the shops, restaurants and cinemas are generally at ground level; a quick stroll around a town centre and you can mark out what is what.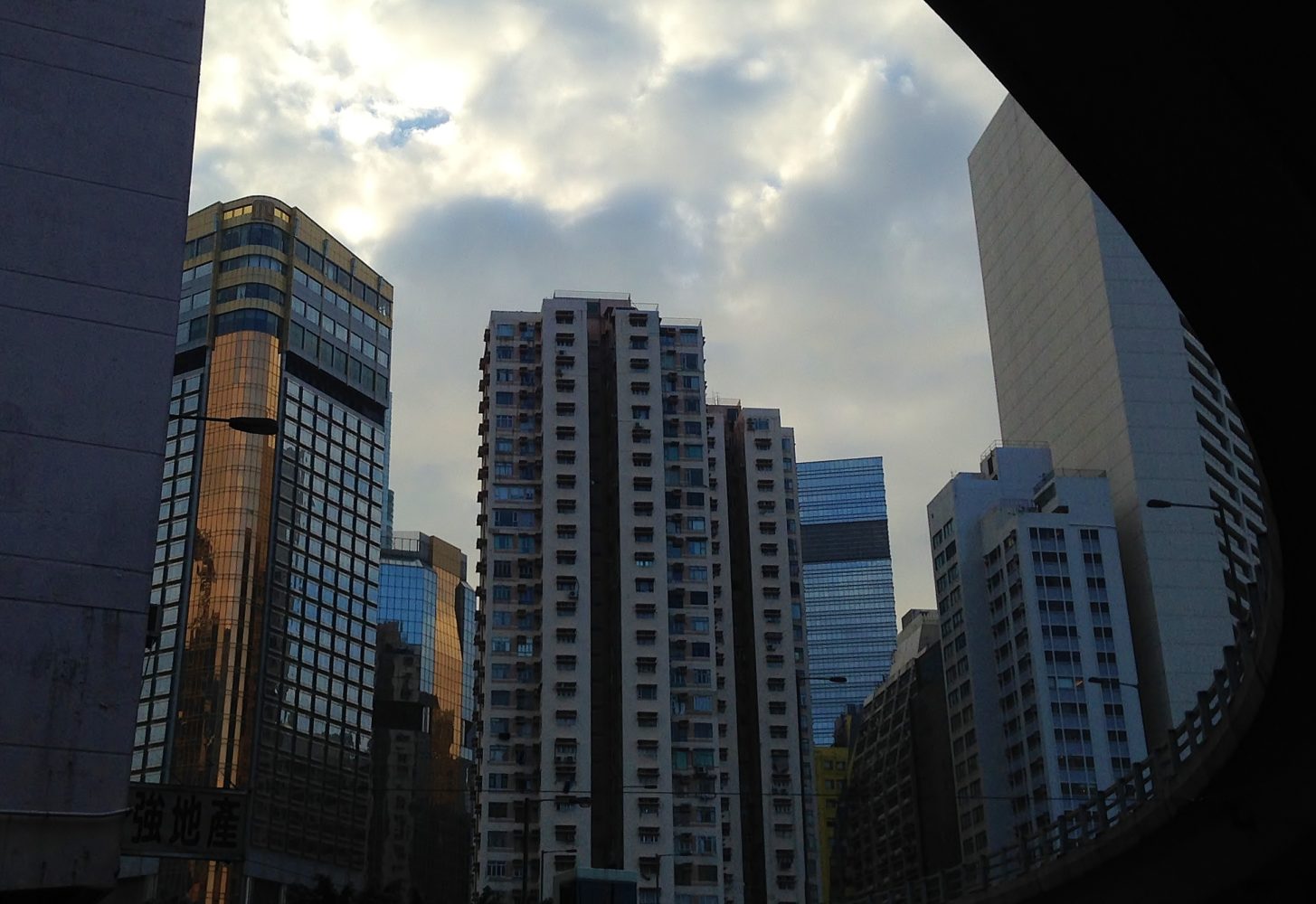 Not so, in Hong Kong. Here, shops hide out on the 19th floor of tower blocks or lurk in the basements of shopping malls. Even if you do have the astounding good fortune to find the building that contains that fantastic swimwear shop, once inside, you find that things are designed to befuddle you even more: lifts that only take you to certain floors, hidden stairwells, escalators that only seem to run in one direction (and, of course, never in the direction you aspire to travel). I once got so lost for so long in a shopping mall in TST that I almost gave up and decided to live in a plant pot. And, if you do at last stumble across what you were looking for, and feel overcome by a joy that hasn't been experienced since Jason got his hands on that fleece, don't take it for granted. The exorbitant rents in Hong Kong mean that shops are constantly closing down or moving. Three times now I have been delighted to find a great new playroom, only to return a couple of weeks later to be faced-with a locked door, a disappointed toddler and that slightly unsettling feeling that perhaps I've come to the wrong building, or in fact, more worryingly, imagined it all.
And so, not being able to easily look for yourself, you quickly learn to rely on word-of-mouth, your online sources and a bit of trial and error to help you navigate Hong Kong's shopping districts. And having spent a couple of years now getting lost in Causeway Bay, I thought I'd share the little bit of knowledge I've gleaned, one way or another, about the play-areas there (both free and paid). I hope that they may allow you a little rest-bite if you ever find yourself, like me, child in tow, lost amongst the tall buildings:
1. Lee Gardens Two Play-Areas
Probably most Hong Kong mums know about the cute little play-area nestled in-between the children's shops on the second floor of Lee Gardens Two. You know, the one with all the really sweet toys that your child will choose to ignore in favour of gluing themselves to the large TV that shows Seasame Street and Sponge-Bob?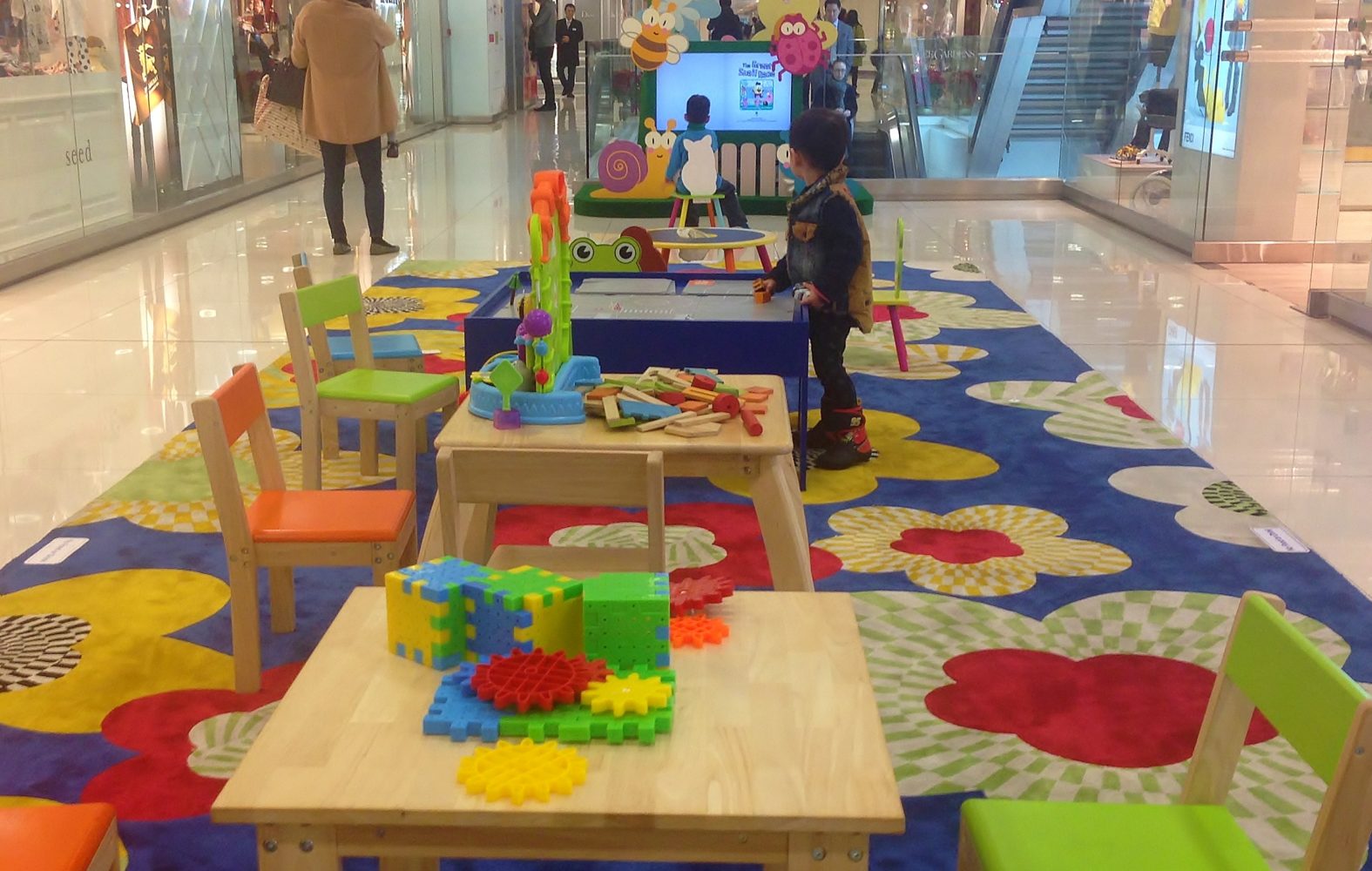 Well, what you might not know unless you've been recently, is there is now another little play-area on the 3rd floor too, courtesy of the new WiseKids Toy Shop. It isn't huge by any means, but as you would expect from Wisekids, there are some great quality toys here that appear to change fairly regularly.  The fact that it's all free, in addition to the child-friendly toilets, feeding and changing facilities on the 2nd floor, makes this a great little pit-stop if you are running errands with your baby or toddler. The Pret-a-Manger on the ground floor, complete with highchair, also gives you an option if you're in need of a snack or a drink.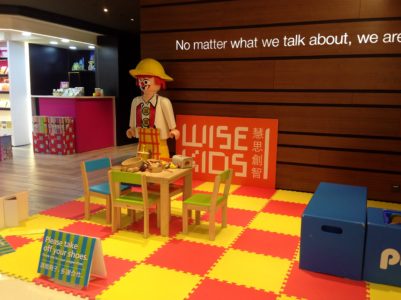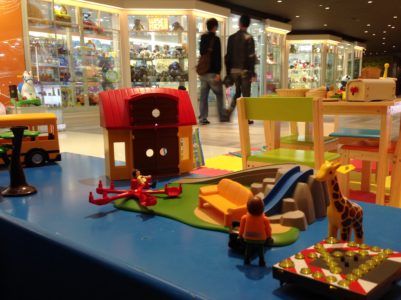 Lee Gardens Two, 28 Yun Ping Road, Causeway Bay
Opening Hours: play-areas are usually open and stocked between 11.00 – 20.30 everyday
Price: Free 
Age: No limit, but best suited for 9 months – 5 year olds
* Update July 2016  – Sadly this play-area has just closed its doors. The shop is moving to Sheung Wan soon, although at the moment it is unclear if they will keep the playroom. I shall try to update the blog with more details, but I just didn't want anyone to have a wasted trip.*
A Lego playroom in  the heart of Causeway Bay? Who knew?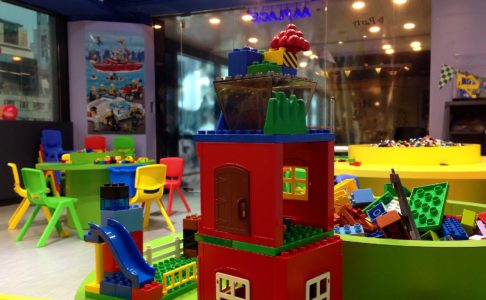 I'd like to take all the credit for finding this cool play-area, but in truth, I actually heard mention of it in the Accidental Tai Tai's excellent article about specialist Lego shops in Hong Kong. The play-area is tucked away at the back of the shop on the 9th Floor of Lee Theatre, and features (surprise, surprise) Lego of all shapes and sizes. When we visited recently, an hour of free play was HK$50, which I thought was fair value for Hong Kong. My 3-year old enjoyed his time here building forts and houses from giant Lego and Duplo blocks. There is also a great selection of standard blocks too and the chance to create Lego art on the walls. My only slight criticism is that it would be nice if they had more figures out to play with, although in fairness, perhaps they did and they just kept on making their way into small children's pockets…
If you do what to gawp at some cool figurines, however, you can pay to enter the small Miniatures Museum (currently $HK10), and if all that Lego action has exhausted you, there are also hot and cold drinks for sale which you can enjoy, along with the free wifi, at the small seating area outside.
AA Place, Shop 9B, Lee Theatre Plaza, 99 Percival Street, Causeway Bay, Hong Kong (Tel: +852 2374 3988)
Opening Hours: 10am – 10pm every day
Price: $HK50 for an hour's free-play
Age: No age limit, but probably best for 18 months – 8 year olds
This flashy, noisy games arcade on the 2nd floor of Windsor House, isn't really my thing. Even standing near the entrance way is enough to give me sensory overload. That said, I think my son would be happy to spend the rest of his childhood there. Other branches of Jumpin Gym (Cityplaza, Whampoa Garden, Hang Hau) feature full-on fairground rides and soft play-areas, whereas this one mainly has slot-machines. However, there are a few fun things in there as well: primary and high-school kids will love the air-hockey tables and the basketball games, and little ones will get a kick out of the couple of ride-ons at the back. There is also a fire-engine game where you get to squirt actual water. Brilliant.

Being a mean mother, I have never actually allowed my son to put money in any of the games (thankfully he is still at the age where he will sit on the motionless ride-ons and actually think that he's had a go, although no doubt I'll be rumbled sometime soon), but if you do decide to part with your hard-earned cash, the games generally cost between $HK10 – 20 a go, and you have to buy tokens from the cashier.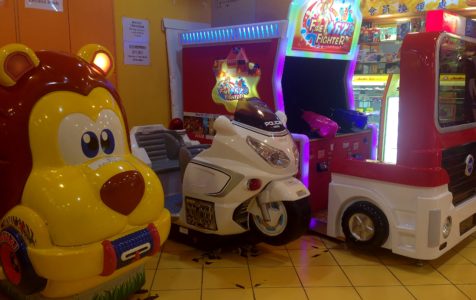 As I say, not for everyone, but still a good one to have up your sleeve, especially if you get caught in the rain outside. As well as the Jumpin Gym, Windsor House often has child-friendly exhibitions on the ground-floor, as well as lots of kids' clothing and toy shops to browse, such as Toys 'R' Us and Its Magical.
Jumpin Gym USA, 215 & 216B, 2nd floor, Windsor House, 311 Gloucester Road, Causeway Bay
Opening hours: 11.00 – 22.00 every day
Price: free to watch and take in the crazy ambience, around HK$20 a game
Age: No limits, but probably best for 3 year olds through to teenage
Number four on my list, until very recently, belonged to Rolly Pollies – a great kid's gym that had free play sessions – but sadly the exorbitant Hong Kong rents claimed it as yet another victim, and it closed at the end of last year. However, where one door closes and all that, and now there is a new place for little ones to jump around in the heart of Causeway Bay.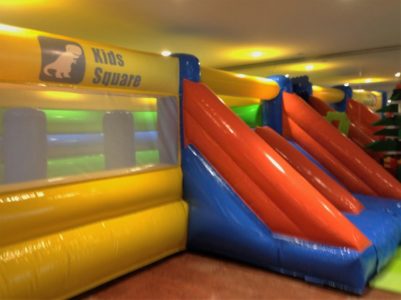 This free bouncy castle can be found by going up to floor 13A of Times Square, and has no doubt been set up to try and encourage footfall for the new Kids Square area, which features a range of children's shops. The castle is normally open in the afternoon, although occasionally on weekend and bank holidays it gets deflated to make way for special workshops and events, so if you are making a special trip you might be best calling the hotline number below before you set out. During the week, I've never seen it be particularly busy, although weekends no doubt may involve more of a queue. Conveniently, there is also a spotlessly clean changing and feeding room close at hand too.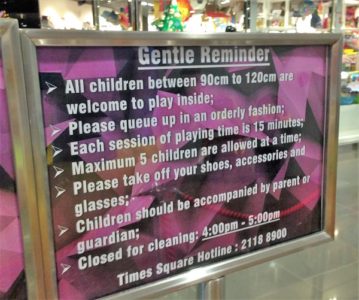 Oh and if all that jumping has made your little one ravenous, there are of course many food options here, including the child-friendly Pizza Express and a fairly spacious Starbucks. And on top of that, there are often child-pleasing exhibitions outside the Mall and the cinema here often also shows family-friendly films.
My favourite thing about coming here though is that we also get to sneak in a visit in Donguri Republic, a rather wonderful shop on the 9th floor, full of cute, character-themed goods from Studio Ghibli's films. Even if your kids haven't seen My Neighbour Totoro (and if they haven't, then quite frankly, you need to get to it), I don't think they could help but be impressed by the huge Totoro welcoming them at the door, or the magnificent Cat Bus inside. Quite simply, both me and my son love it here.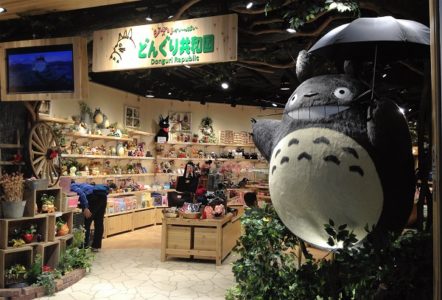 And then, if you aren't all played out, you can also make your way around the corner and up the small escalator to the mysterious 9² floor, where you'll find MetroKids. I only very recently found this excellent children's bookshop (thank you, Jennifer), and truth be told, I've have hesitated to share the information – it is such a lovely find – except I don't want it to close down from lack of business. There are tonnes of books, games and toys up for grabs here, as well as a nice little seating area for browsing, which also contains a few fun toys.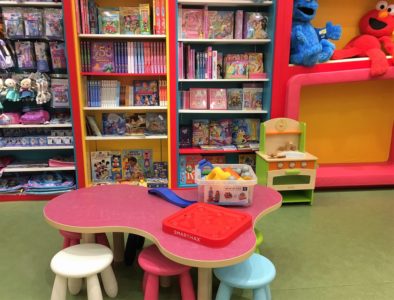 Kids Square @ Times Square, 1 Matheson St, Causeway Bay (+852 2118 8900)
Opening Hours: Weekdays 13.00 – 21.00, Weekends (if no special event) midday – 21.00
Price: Free
Age: No age limit, but children must be between 90 – 120cm tall
5. The Toy Library in Hong Kong Central Library
Situated on the 2nd floor of Hong Kong Central Library, just opposite the wonderful Victoria Park, the Toy Library is one you must book in advance, but if you've been organised, it is a lovely way to spend 45-mins away from the hustle and bustle of Causeway Bay.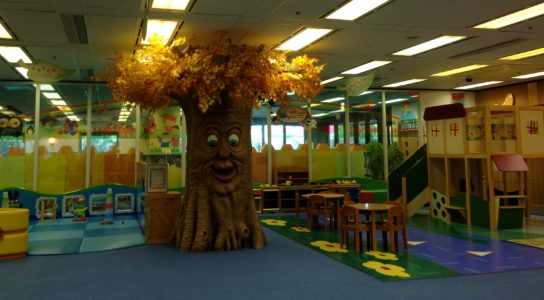 These free sessions are open to children aged eight and under, accompanied by an adult, and during that time each child can borrow up to two toys from the counter to play with. The range of toys on offer is vast, but the stalwart favourites are the Thomas the Tank Engine train sets, Tomica car garages, marble runs and the baby and pushchair sets. In addition to being able to borrow specific toys listed in the catalogues, there are also lots of toys out to share (which makes for some interesting toddler negotiations), an 'imaginative play' area which changes regularly (sometimes a kitchen with pretend food and sometimes a construction area with blocks and tools) and a padded soft play-area with toys for babies (which my 3 year old still sneaks into). The years of hard play have taken their toll on some of the toys, but my son and his peers never seem to notice.  And if all the toys weren't enough, some sessions even include craft activities and games.

If you want to make an afternoon of it, there are of course hundreds of lovely children's book in the library here, including a large picture book section, and publications in both English and Chinese. On the ground floor there is a small but rather wonderful shop, selling children's books, toys, stationery, postcards and some unusual Hong Kong themed knick-knacks. And on top of all this, the toilets have changing facilities, there is a DeliFrance café with both indoor and outdoor seating, and a public terrace which is a favourite amongst toddlers who want to eat some snack and chase the little birds that unwisely choose to congregate here.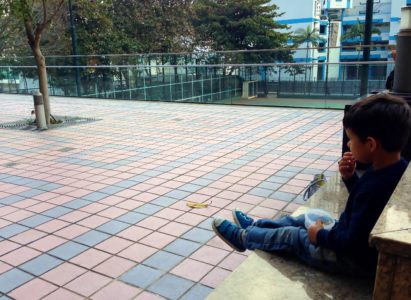 Toy Library, 2/F Hong Kong Central Library, 66 Causeway Road, Causeway Bay
Opening Hours: 10am – 9pm daily, except Wednesdays when it is open 1pm-9pm, but do call in advance to book a slot.
Reservation hotline: +852 2921 0386, you normally need to book one week in advance.
Special Craft/Game sessions: 5pm session on Mon, Wed, Fri, 6pm session on Tues and Thurs, and 11am and 4pm at the weekends.
Price: Free
Age: 0-8 years
       6. Some bonus ones!
The branch of IKEA, opposite Windsor House, is a favourite haunt of my son, and he would happily spend a couple of hours here – opening cupboard doors, playing at the children's activity stations scattered across the store, and checking out the toys on display in the children's section –  if I could bear it. There are also child-friendly toilets and changing facilities.
I had always admired the cool rocking chairs in the window of The Bonfire Café on Leighton Road, but had never ventured in. Then following a rather trying shopping trip with my son, we stopped off for a well-deserved drink and a sit down – and I was very glad we did. Tucked away in a corner is a little stash of toys, consisting of a tub of wooden building bricks, some play-food, a little assortment of bits and bobs and a Thomas the Tank Engine book thrown in for good measure. Not a huge selection, but certainly enough to keep my son happily amused whilst I enjoyed my drink. The big hit though was the children's electric keyboard and mic – which happily didn't produce enough noise to drive any of the other customers away. The café also serves snacks and hot meals.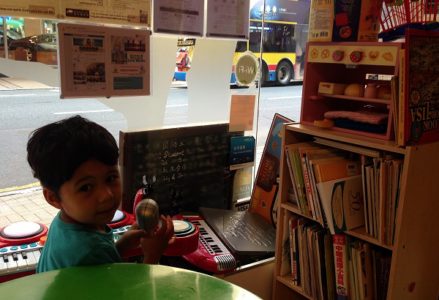 If you are with slightly older kids, from around 6 years and up, then they may well like to while away a little time at the Puzzle Bar within the Fashion Walk branch of Log-On. The puzzles change from time to time – when we were last there, there were lots and lots of Nanoblocks to get fingers and brains working. And of course, Log-On also sells a range of kid-pleasing stationery, gadgets and cute little cars.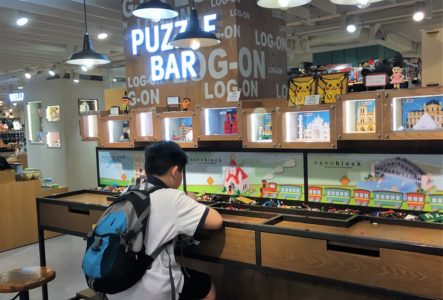 Had enough of the indoors? You can also check out the partly-covered 'Sky Garden' on the 4th floor of Hysan Place, just next to GAP Kids. Don't let the name fool you though – this is no green oasis – but there is  some space to let your little one charge about for a bit, especially if you have a bubble wand in your bag, or if, like us, you've managed to snag some balloons off a promotion stand outside. Just a word of warning though, there are some open water features (thank you helpful architects) so close supervision is required!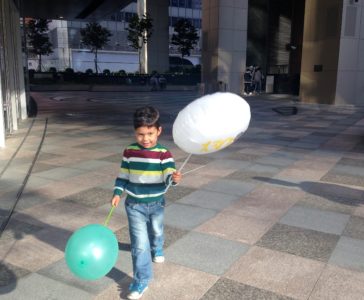 And like Windsor House, Hysan Place and Times Square often have child-friendly exhibitions outside and on the first floor.
So, that's me done. If you know of any more play-areas in Causeway Bay that I've missed, please do leave me a comment – I'll be delighted! And although I can't hand-on-heart promise you that, in this ever-changing place, all of the listed options will be there in a year, or indeed by next week, I hope one of them may offer you and your kids a little salvation amongst the skyscrapers.
Oh and if you want to know about more play options closeby, have a peek at the hidden play-areas in Wan Chai.