Forget the French Riviera or the Italian Lakes – last summer, me and my little lad embarked upon a grand tour of Hong Kong's public swimming pools. And I am pleased to report, it did not disappoint. And so, with the summer almost upon us again, I thought now would be a good time to begin to write about some of the best pools we found, starting with, very possibly, our favourite: Hammer Hill Road Swimming Pool near Diamond Hill.
Hits
This amazing place is more waterpark than swimming pool. The huge outdoor pool here has a paddling pool – with cute mushroom fountain to splash in – and a wide, gentle waterslide, which is great for little people. Older children, on the other hand, can have a blast running through the large fountain as well as racing down the two side-by-side faster slides. And if this wasn't enough, there is a climbing frame with twirly slide, water blasters and a floating sea serpent to climb on, and fall off. Still not convinced? Well, pop your head indoors and check out the other kid's pool! This features another climbing frame with slides, and to top it all off – a pirate ship complete with water cannons! Raha!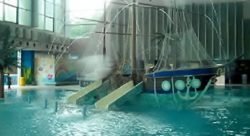 The water level here ranges from ten to sixty centimeters, making it great for kids of all ages to wade in. The changing rooms are clean and spacious, with lots of benches, lockers, private changing cubicles and even a child's toilet. The showers cubicles are a good size too – with an outer 'dry area' where you can store your bag and towel.
Misses
There is very little to complain about, but if pushed, I would say that it isn't the greatest pool if you are a serious swimmer, as the small indoor training pool can get pretty crowded during the peak months. Likewise – as there are no seriously big slides – it probably isn't the best pool for teens.
Even though the indoor pool is actually open in the winter months, somewhat disappointingly, you'll probably want to give it a miss – unless, that is, you actually enjoy being blasted by air-con whilst knee high in lukewarm water. I packed my husband and son off here one Saturday morning in December and they came back having turned a worrying shade of blue and in a state of shock. Oh and although the pool map features a cafeteria, in all my visits there, I never once saw it open.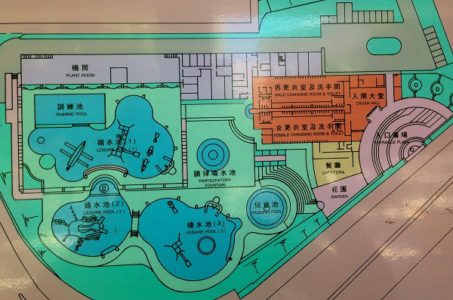 Opening hours
Summer sessions (15/04 – 31/10) run from 06.30 – 12 noon, 13.00 – 17.30 and 18.30 – 22.00, Tuesday to Sunday. In the winter (November – mid April), the pool closes an hour earlier in the evening, and at this time, just the indoor pools open.
The entire pool is closed on Mondays for cleaning (unless Monday is a public holiday, in which case the cleaning day will move to Tuesday).
It is worth noting that the indoor pool (so the one featuring the pirate ship) is currently closed for annual maintenance until the 15 June 2015. Although, you will still have access to the large outdoor pools, if you choose to go before then.
Price
Adults pay HK$19 on the weekends and bank holidays, whereas children pay only HK$9. On a weekday, the price drops to HK$17 and HK$8, respectively. Children under the age of three are free!
Hunger Pangs?
My son loves coming here for 'the pirate ship' pool, whereas one of my key motivations for coming back is the fact that you are just across the road from the beautiful Chi Lin Nunnery and Nan Lian Garden, which means that you are a stone's throw from one of my favourite Hong Kong restaurants – Chi Lin Vegetarian. Nestled in a corner of the gardens, just by the big waterwheel, this lovely wooden restaurant serves simple but delicious vegetarian dim sum and Guangdong dishes, which can be washed down with one of the selection of fresh juices. There are booster chairs here, and if you get a table by the window, the added bonus of watching the waterfall cascade over you. If you plan to eat here on a Sunday lunchtime, it might well be worth reserving a table (+852 3658 9388), and can I heartily recommend you try the fried rice with chanterelle and beancurd – far more delicious than it sounds!

If you're after something a little quicker and cheaper, there is also a little snack shop in the gardens, which sells sandwiches, toasties, noodles and a small selection of veggie dim sum.
To get to the gardens from the swimming pool, just cross over Hammer Hill Road, using the footbridge, and then once outside the high walls of the garden, turn right and follow the path around until you reach the garden entrance. Once inside the gardens, you then need to walk back on yourself towards the restaurant. All-in-all, the walk should take you around 10 minutes.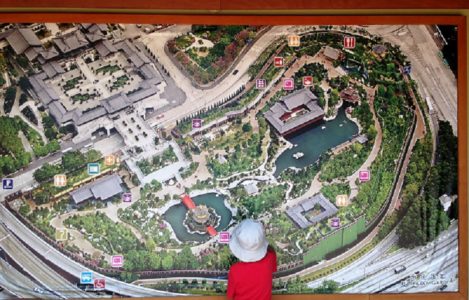 Also, just a word of warning – although the restaurants are child-friendly, the gardens are less so, as watchful security guards patrol the grounds ensuring the serenity goes unspoilt, and the many rules are followed. So, be careful you're not caught frolicking!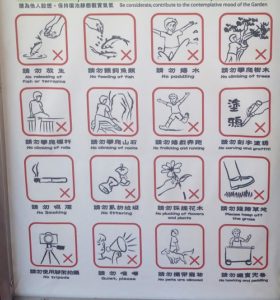 Having said that, if it's hot enough to swim, it's probably too hot to spend very long in the gardens anyway.
If a vegetarian lunch isn't for you, you can also walk back towards Diamond Hill MTR and stop off at the Plaza Hollywood shopping mall, where the eateries range from sushi restaurants to Pizza Hut. And if all that water play has left you feeling like you've earned a treat – there's a Haagen-Dazs outlet too.
Extra stuff
Forgotten your armbands? No worries; there is a small shop near the pool entrance selling swimming costumes, floats and pool toys, as well as drinks.
If you intend to use the lockers at the pool, remember to bring a $5 coin.
Plaza Hollywood also is a good option if you are looking for some post-pool entertainment for older kids. The 6-screen Broadway Cinema shows all the latest blockbusters, often including family movies, and there is also a small branch of Jumpin Gym USA on the 3rd floor, which has all the usual noisy, flashy arcade style games, if you can bear it. There is also a good selection of high-street brands available here, including a M&S (with food section), H&M (which sadly doesn't stock their maternity range), Cotton On and a good couple of kid's shoe shops.
If you are heading back towards Choi Hung MTR, and you're after a post-swim activity away from the beating sun, you might want to head into Ngau Chi Wan Public Library, which has a good children's section.  
Getting There
The pool is about a 10 minute walk from Diamond Hill and Choi Hung MTR stations (both on the green Kwun Tong line). Depending on where you are coming from, you may well find it easier to catch one of the many buses that stop in the area (from Causeway Bay the 116 bus takes us about 20 – 30 minutes and stops just opposite the pool). Google Maps will normally give you some good advice.
If you are driving, some limited parking is available at the Nan Lian Gardens, and there is also parking available at Plaza Hollywood near Diamond Hill MTR, and at Choi Hung Park & Ride MTR Public Car Park (which you can see marked, along with the swimming pool, on this useful map).
Hammer Hill Road Swimming Pool
30 Lung Cheung Road, Wong Tai Sin, Kowloon
T +852 2350 6173
 
Apologies for the lack of quality photographs of the actual swimming pool – as there are rules prohibiting taking photos inside the pool, I had to rely on what the LCSD had to offer.