Very early on in our lives as expats, me and my husband made a pact – we wouldn't buy any ornaments, pictures or trinkets from our travels that we didn't truly love. If we couldn't imagine smiling, as it peeked out from its bubble wrap in our new home, then we must walk away with our wallets intact. And although we have not been so successful when it comes to accumulating kid-related paraphernalia (because what would life really be without two singing turtles?), this rule in relation to accumulating tourist knick-knacks has done us proud.
Not to say that we left Hong Kong without our fair share of memorabilia. The ninety-three boxes that burst into our apartment in Prague are testament to that. But the stuff we have, we hold dear – as cheerful reminders of our life there and the vibrant city we loved. Here is a little glimpse of our Hong Kong treasure, which I hope will provide a little inspiration should you ever need to buy something from Hong Kong with love…
Stackable teacups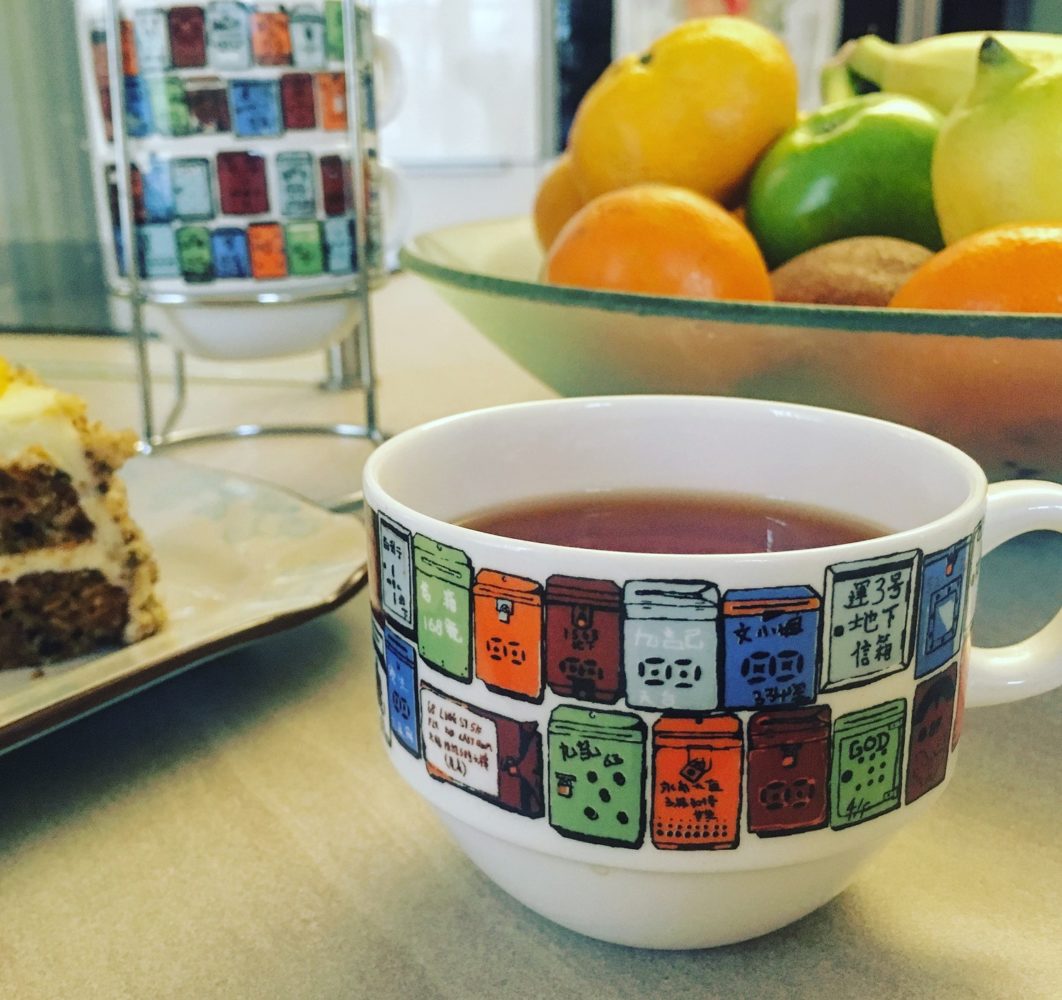 Ah, colourful Hong Kong letterboxes coupled with hot tea. Could there be a better way to lift your morning mood? These pretty cups are from Goods of Desire, who sell a fabulous range of Hong Kong-themed gifts, including rather snazzy underpants.
HK$295 for four stackable cups, available at G.O.D. branches across Hong Kong, including the airport
Hong Kong tram tote bag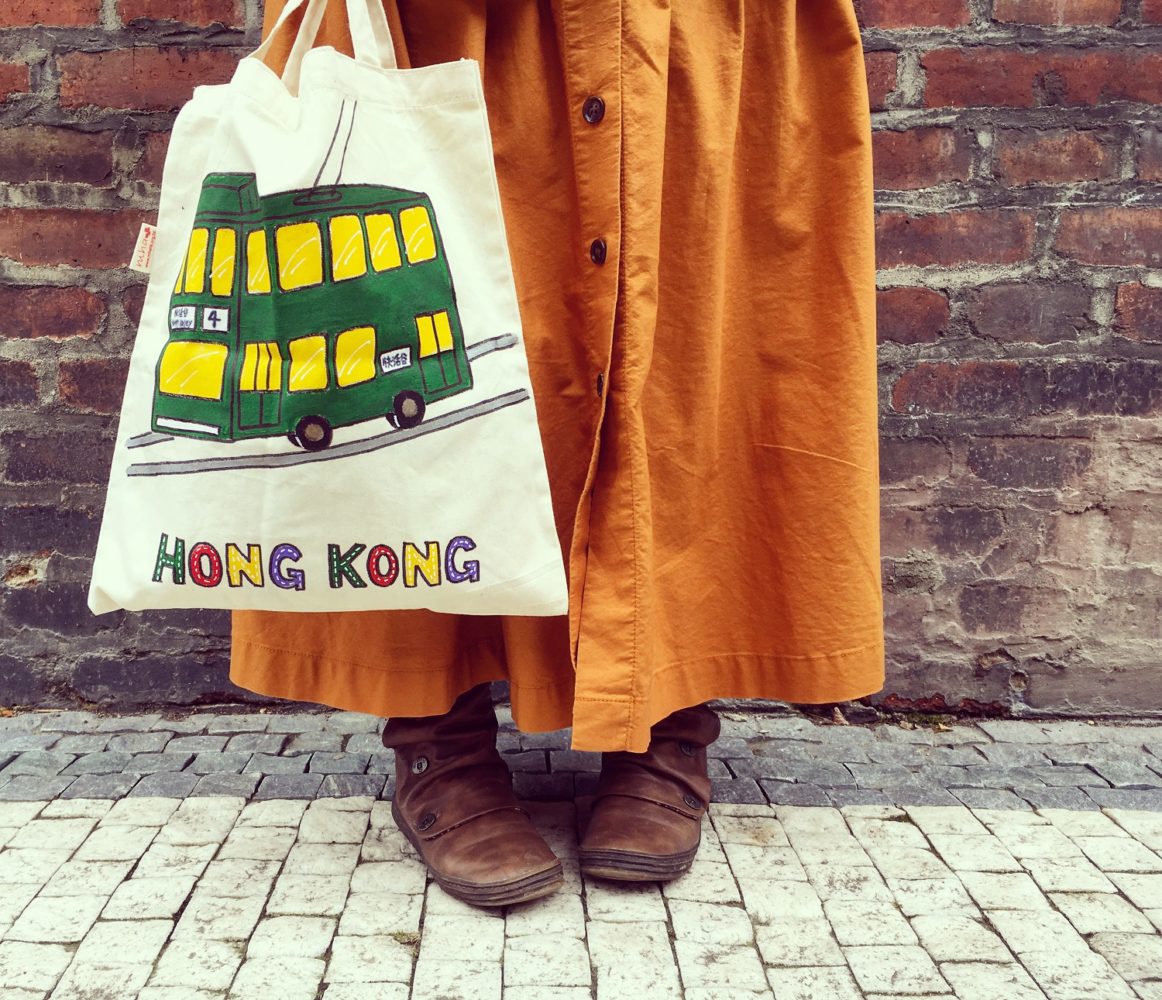 Fancy swapping your supermarket shopping bag for a rather adorable alternative? Well, this tote bag featuring the iconic 'ding-ding' maybe just the thing.  Bags are available with different destinations – and so you can pick the one that has the most meaning for you (having lived there for four years, I love my Happy Valley tram bag). And not only are these bags an environmentally friendly choice, they are produced by Lei Cheung UK Handicraftsman Workshop, a mental health charity that supports people with disabilities by giving them training and an income.
HK$90, available at the Kowloon Visitor Centre at the Star Ferry Concourse, TST
Helen King handmade purses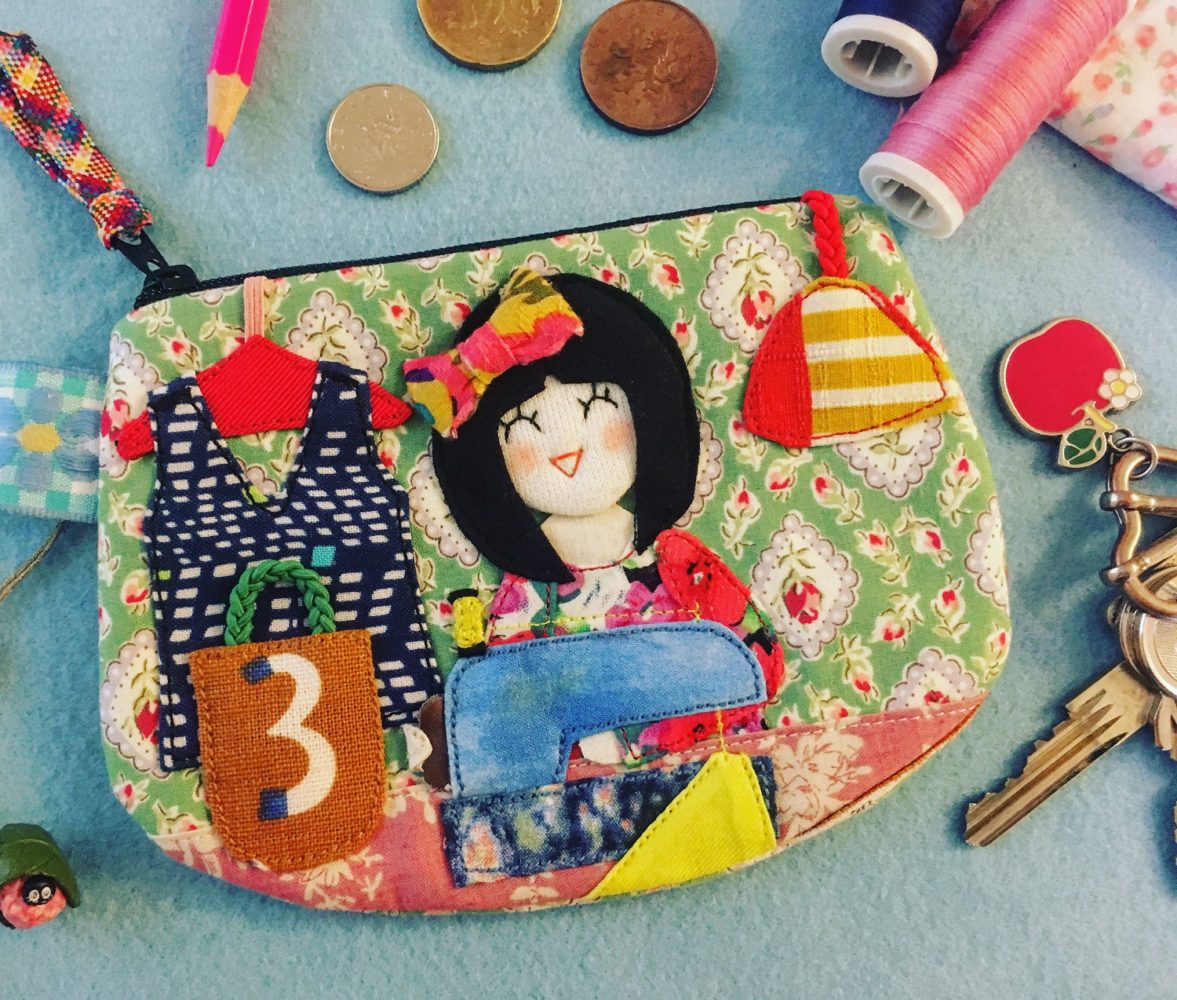 In the land of designer boutiques and big brands, I sometimes struggled to find things that felt authentically designed and made in Hong Kong. Then I stumbled on Helen King's gorgeous stall at one of the Handmade Hong Kong fairs, and I fell in love… Helen makes a range of beautifully finished purses and bags. The very cute camera bags are also worth looking out for.
Prices vary depending on size and style, to contact Helen to find out which fairs she is attending, or to order from her online, message her Facebook page.
Arteflo Design paintings and prints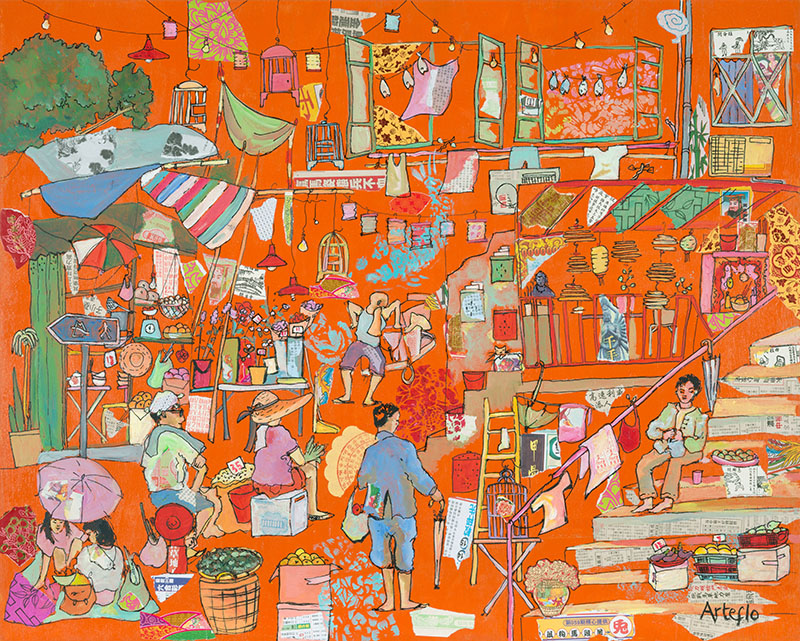 Florence Traissac, having lived in Italy, France and Australia, moved to Hong Kong and started depicting the stories and details of city life there, in her wonderful, colourful paintings. Sadly, I don't own one of these yet, but it remains very firmly on my wish-list (you know, just in case my husband happens to be reading this…hint hint…)
Prices vary, for full details visit the website.
Hong Kong birdcage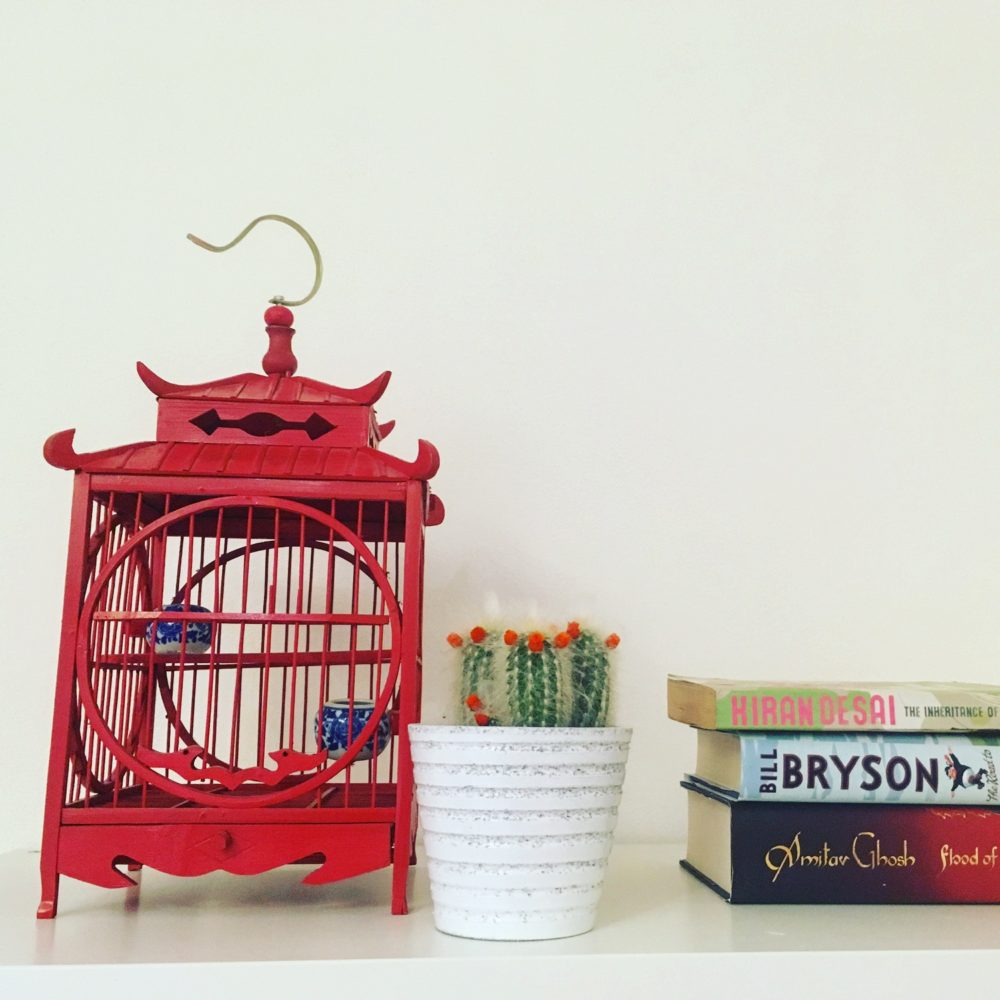 If you are looking for a cheerful, quirky piece of home decor at a great price, then you need to head to Yuen Po Street Bird Garden, and snag one of the cute bird cages on sale there. You could even drop by the close by Flower Market and pick up a plant to live inside! Oh and if you want some tips for visiting the garden and market, you may want to have a peek at my guide.
Prices vary depending on size and design, I seem to remember mine costing in the region of HK$120
Hong Kong pairs games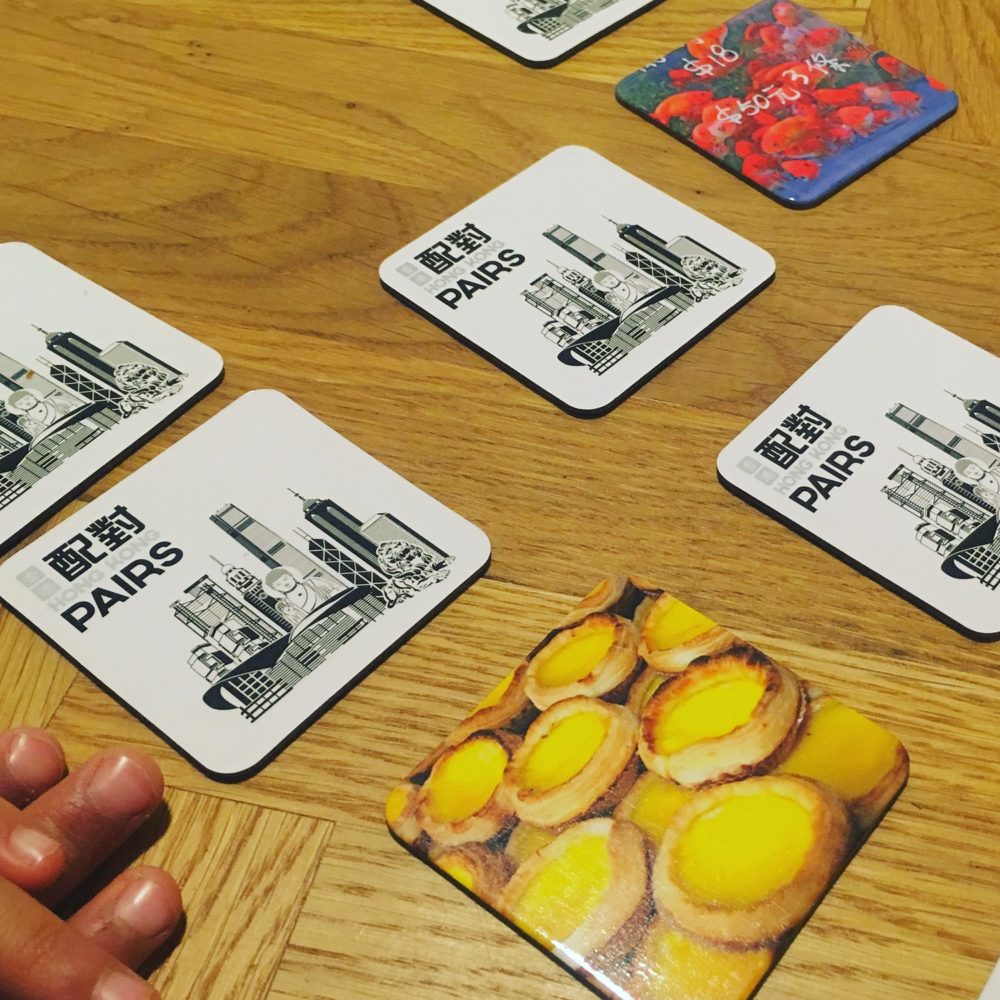 If you have kids to buy for, this is a fabulous choice. Not only does my son love playing this classic game, it provides us all with some wonderful memories as we go. Thinq also produces Hong Kong themed baby books, as well as fun fridge magnets and bath toys.
HK$200, available at most major Hong Kong bookstores, for a full list, visit the website.
The Lion Rock Press peg puzzle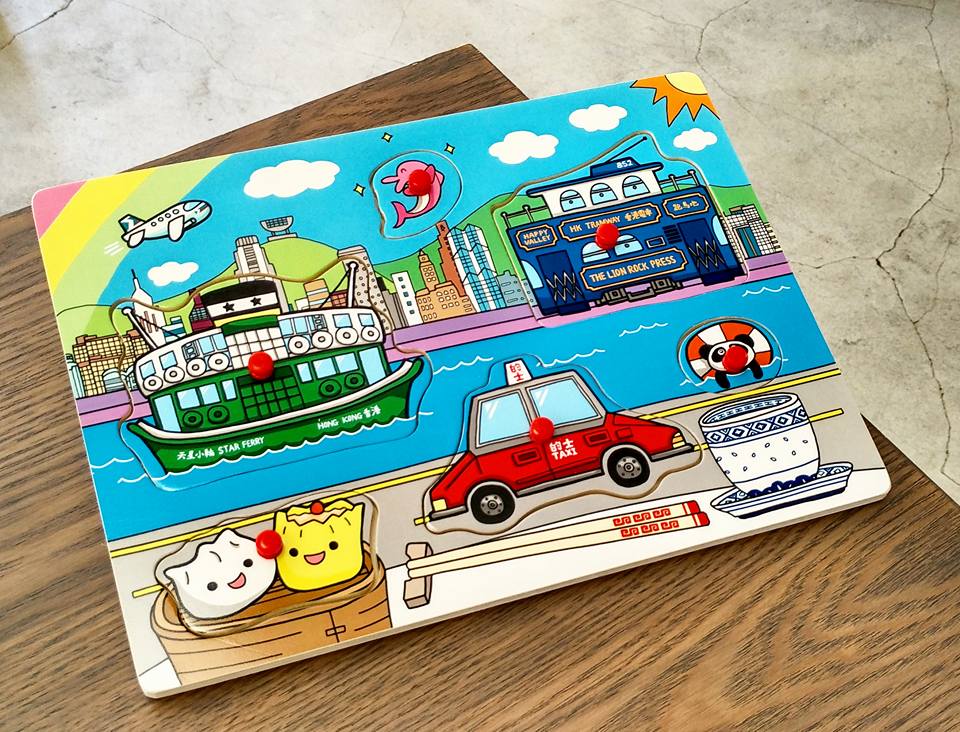 Another one for little Hong Kong enthusiasts, this truly adorable, chunky wooden peg puzzle is just the thing for little hands. The Lion Rock Press also produces puzzles for slightly older children, as well as beautiful Christmas decorations and lots of Hong Kong-themed gift wrapping for all your Hong Kong loot!
HK$100, to shop online, visit the website.
And if you happen to be one of the kind people who gave us one of these items as a leaving gift – thank you! And look we do really like it!
As seen in: