So, here's a confession for you. For a professed family travel writer, I had decidedly gone off family travel. The packing, the airport queuing, the putting up and down of travel cots. Not to mention returning home to a laundry pile that even Sir Edmund Hillary would find a daunting climb; I was done with it all. So, when we impulsively booked cheap tickets to Stockholm for an Easter break, I wasn't entirely sure that we had done the right thing. Going anywhere in Scandinavia, as everyone knows, will likely bankrupt you within an hour. And then, of course, there was the almost guaranteed not-so-clement April weather.
And yet, on that first afternoon, as we emerged from Gamla Stan's metro station with our hats pulled down hard, squinting into the Scandinavian light – it clicked. Just these few moments of breathing in this new city had made all the work of travelling with two young children feel entirely worthwhile. And, it must be said, Stockholm was quite the city to see: all water, pointy spires and wonderful, earnest colours. As we started wandering the cobbled, wonky Medieval lanes of Gamla Stan, I felt slightly giddy with the excitement of being happily lost. I'm not sure I'd ever seen a city I liked so much on first acquaintance.
And happily, the ensuing days didn't disappoint either. Here is why we fell in love, and why I think you might too.
Old Town Charm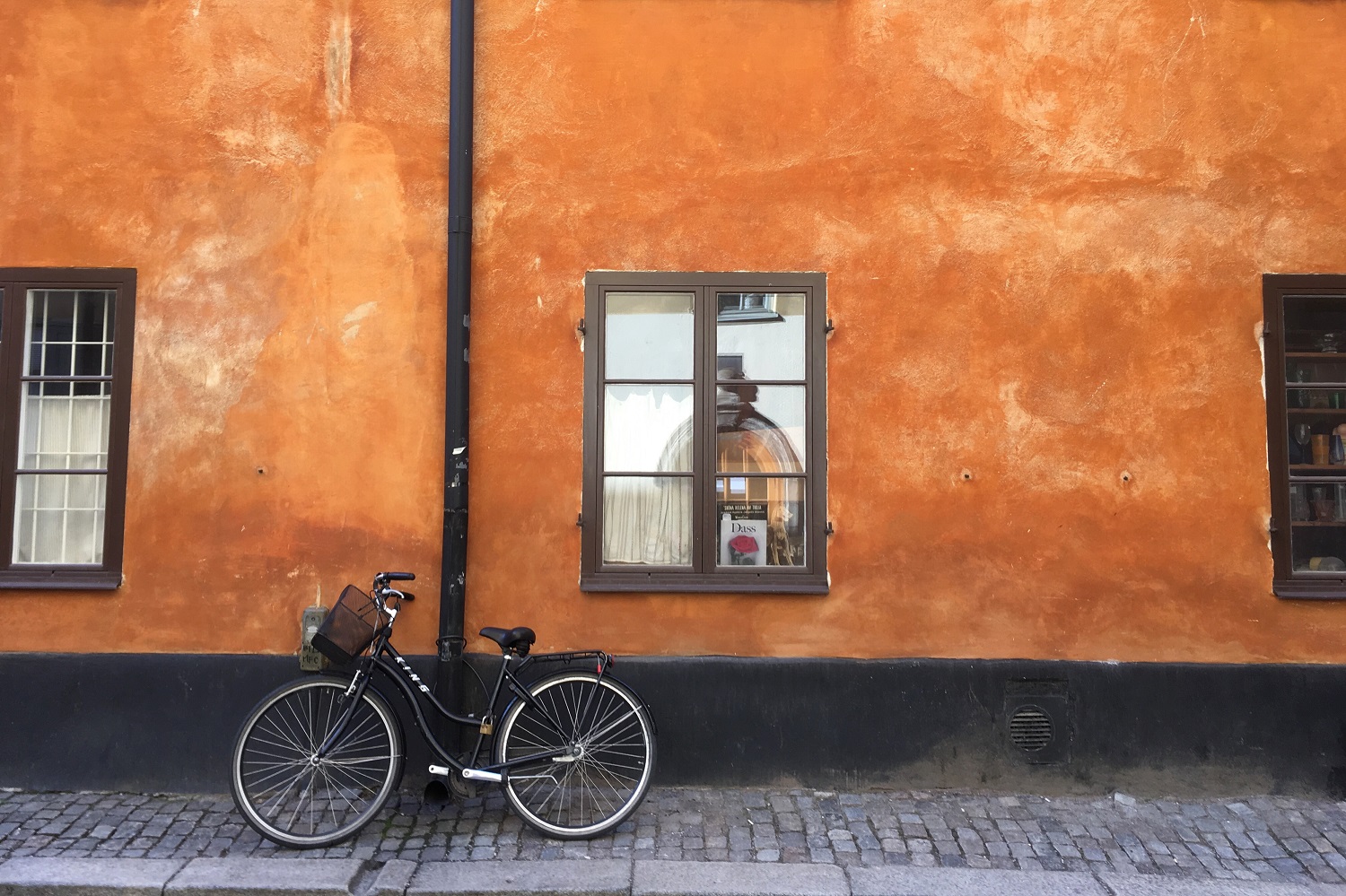 Any Stockholm itinerary must include some time spent wandering Gamla Stan, Stockholm's Medieval old town centre. In fact, during our short trip, we went back twice. Our first visit was in the afternoon, where we joined the gaggle of tourists in our exploration of the little lanes and beautiful squares, picking up a couple tourist knick-knacks enroute. The second time we arrived just before 9am on a bank holiday, where we encountered a very different atmosphere. All quiet beauty: with just the sound of our own shoes on the cobbles, and the distant rumble of an early morning rubbish truck.
This isn't an outing specifically for children, and the cobbled streets here are probably the only part of Stockholm that isn't particularly stroller-friendly, but a good carrier will save the day, and most kids will delight in roaming the passageways and lanes, pausing to admire some of the fun window displays, and maybe even indulging in a pastry or two. As we were there during a bank holiday weekend, we also found the gates to the Junotappan playground were open, and so our children delighted in a quick gambol before we carried on with our aimless wanderings (we were ensured by Swedish families that out-of-hours visits to community and school playgrounds were entirely fine, as long as the gates were open and you treated them with respect).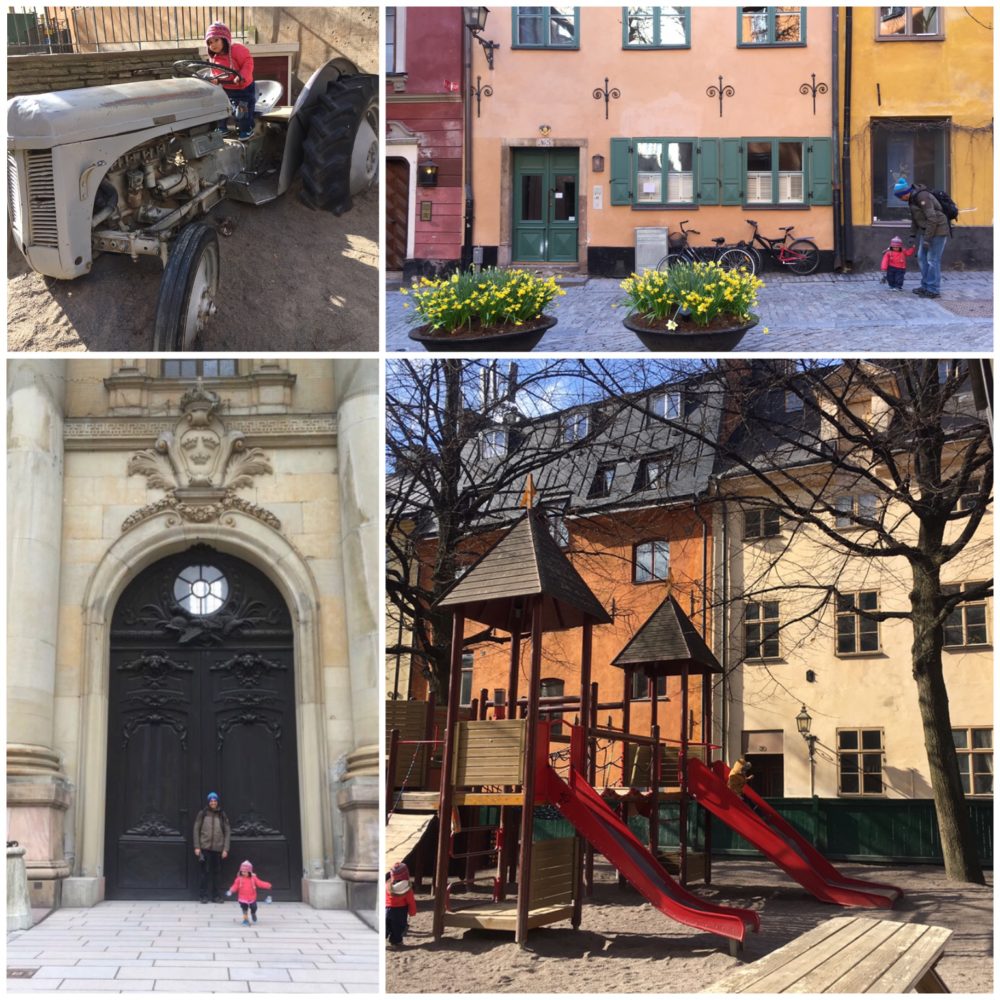 Magical Museums
There are so many child-friendly museums in Stockholm, it is hard to know where to start. In the end, we opted to begin at Junibacken, a magical place for young children, where you can step into storybooks, and play in colourful make-believe worlds. If you fancy a little more adventure, you can catch the story train – a ride that lasts around 10 minutes and takes you through some of the books created by beloved Swedish author, Astrid Lindgren, before you finally step off at Pippi Longstocking's house, for a rummage through her cupboards and a chance to sit tall upon her horse. My son, who had just finished reading Lauren Child's beautifully illustrated version of the book, adored it all. The canteen style restaurant here is a joyful gem too, although if the weather is on your side you can choose to leave the museum and have a picnic on the grass outside, before showing your ticket and going back indoors. Top tip: On a weekend or bank holiday, it can be busy, so you might be best arriving for opening at 10am, or late in the day.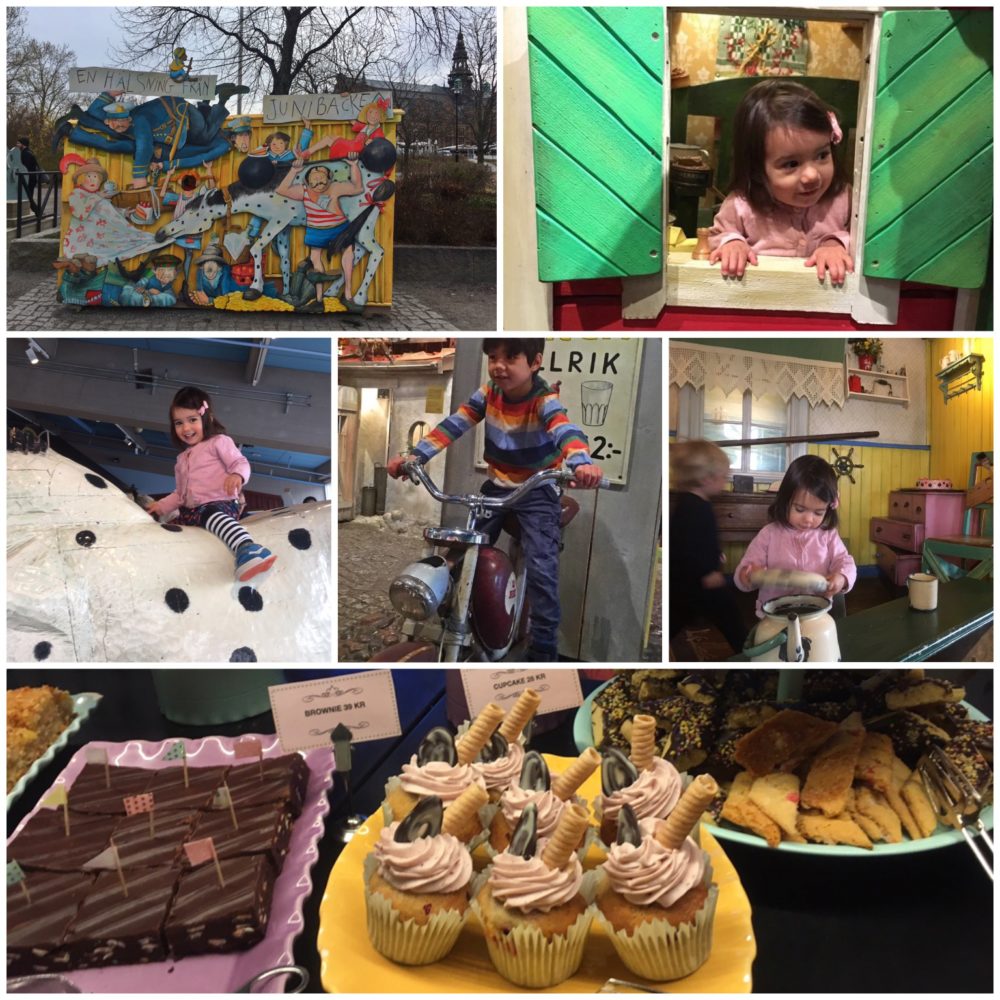 We also decided to visit Skansen, the world's oldest open-air museum. The attractions here are numerous and include: a children's zoo, a fun playground, a small fairground, an aquarium and funicular railway. You can also spend sometime exploring a reconstructed town of historic Swedish houses (with actors in period costume on hand to explain a little more) as well as join in the frequent children's workshops and activities. This place is vast, and although best on a sunny day, there are still lots of things to do inside should you get a few showers (although on a very wet or cold day, it is probably best to opt for a trip elsewhere). We were lucky enough to be there for the traditional Easter market, and the Christmas markets are meant to be a very special too – with handmade goods, and warm food and drink aplenty. There are also a good number of restaurants and places to picnic. Oh and if you have a toddler who is ready to give up their pacifier, you might want to use the wonderful mechanical contraption in the children's zoo, to donate it to the kittens there. You can reach Skansen from Soldermalm by ferry, followed by a five minute walk, or by bus or tram from the center of town. If you time your trip correctly, you can even catch the vintage cafe tram, if you want a snack enroute. Top tip: This is a full day out, so if you have limited time you might be best looking at the map and calendar of events on the website and plan out your priorities and route beforehand. A stroller for little ones is helpful here, and outside the summer months, when fewer of the attractions are open, wrap up warm – it can be chilly up that hill!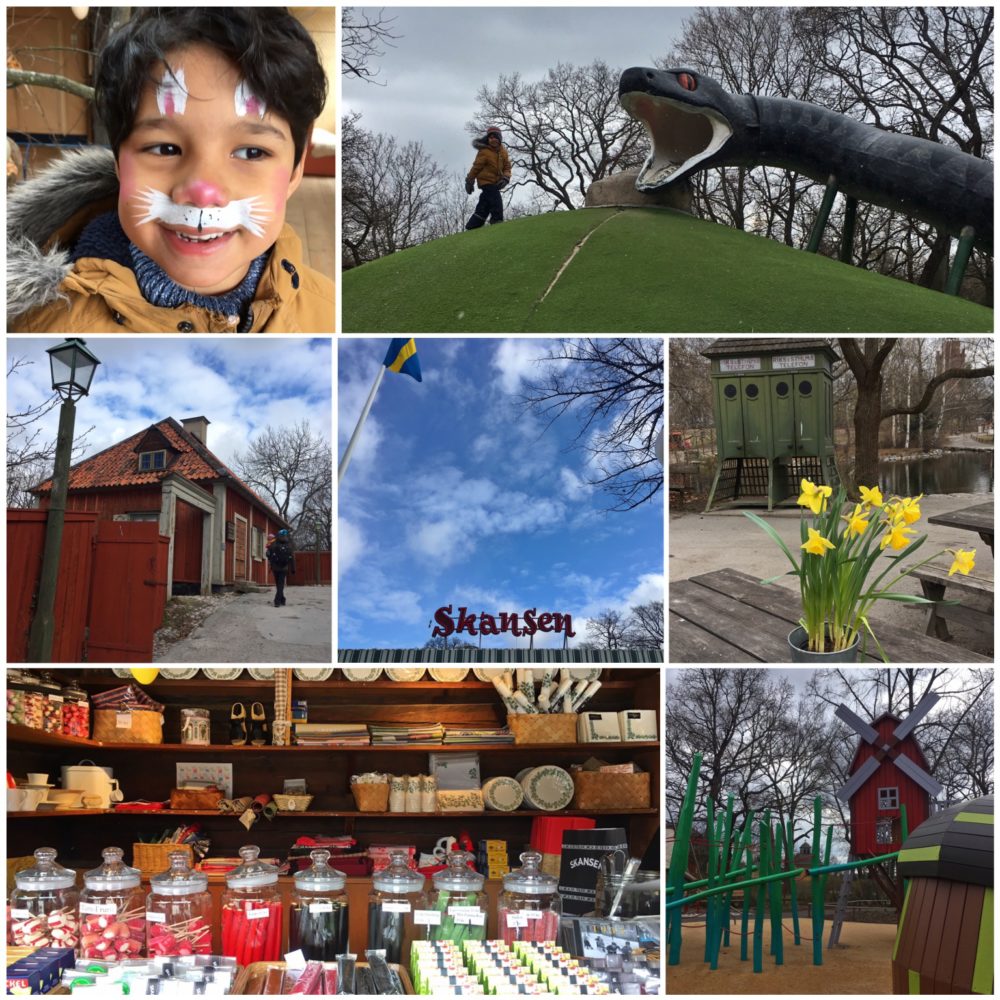 Gorgeous Galleries
We've had a couple of disasters recently taking our young children into art galleries, but happily our trip to Moderna Museet did not fall into that category. This large museum of modern art has a philosophy of openness and inclusivity, so it was unsurprisingly a welcoming place for children – with stroller parking, a reading corner, changing facilities and a child-friendly cafe. Although we only skirted around some of the free exhibitions for an hour or so, there was plenty of hands on stuff to keep our two amused, and their grubby mitts well away from priceless masterpieces. The big hit though was the children's holiday workshop. A similar event is held each Sunday, with sessions for 2-6 year olds and then a later one for 7 -14 year olds. This involves an initial tour in Swedish, followed by art activities led by friendly English-speaking staff. Older children may well enjoy the family audio guide that you can download here.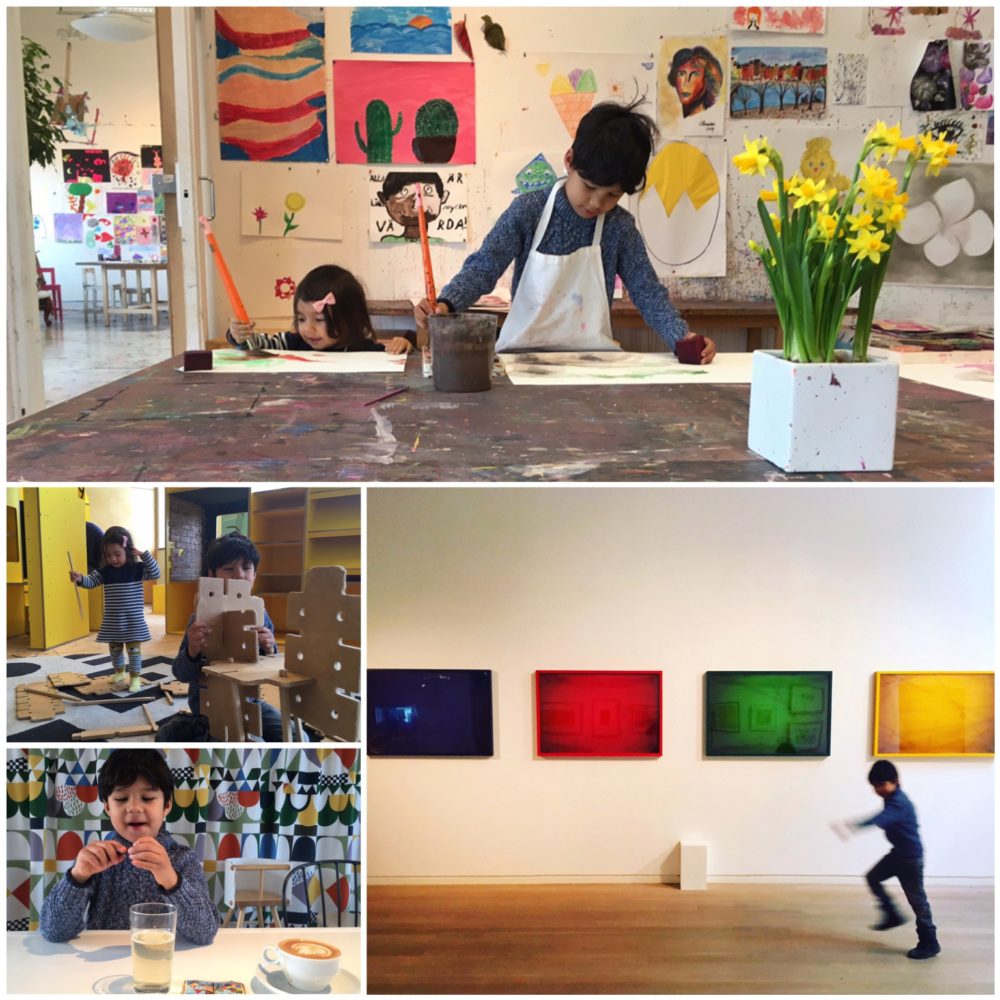 We also visited Fotografiska, just close to the Slussen ferry terminal, in Sodermalm. It has to be said that this popular photography gallery is not so great for small children, although the 1920s art nouveau building is accessible with a pushchair. That said, older children and teenagers may well love the beautifully curated exhibitions here, and we all heartily enjoyed the weekend brunch that is served in the restaurant here.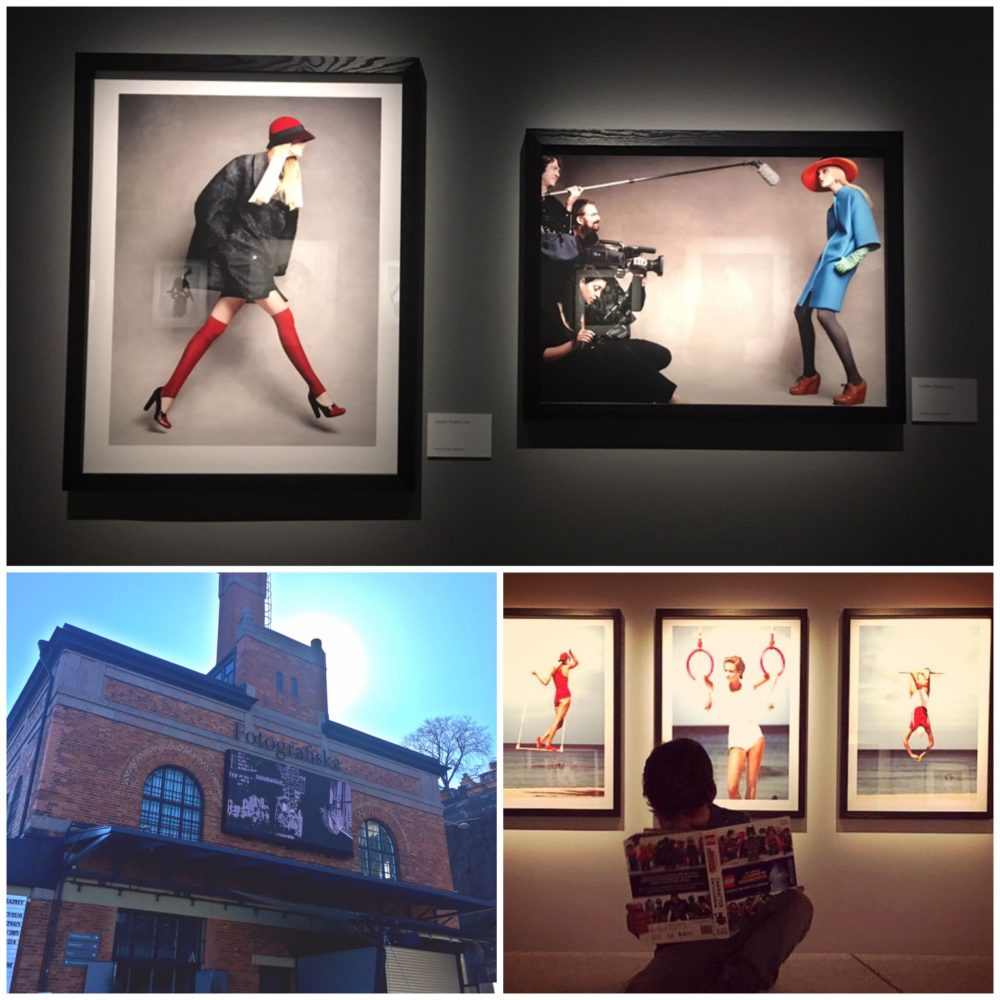 The Island Hopping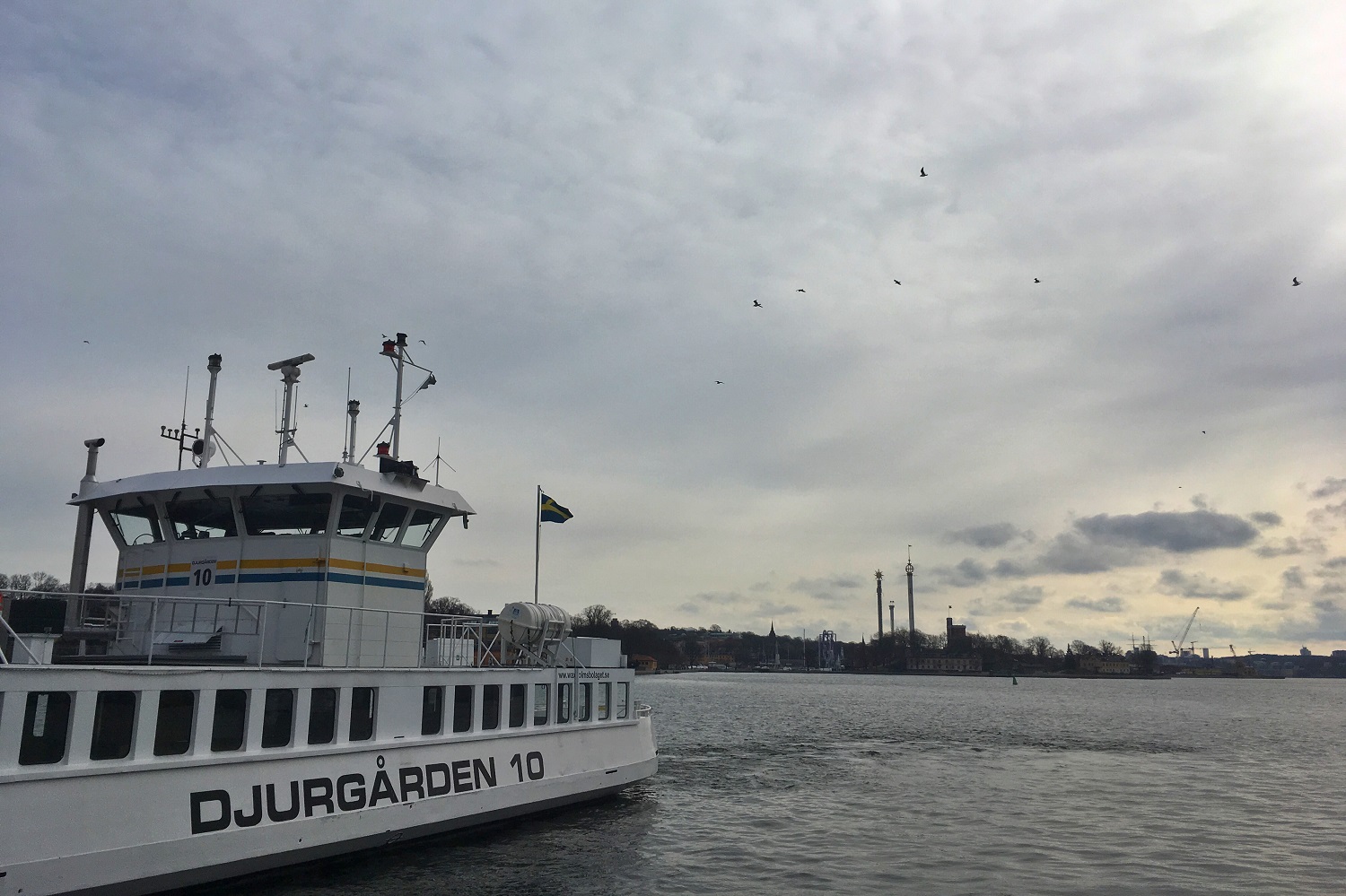 Maybe this was a result of living in the land-locked Czech Republic, but the chance to explore a city built on islands felt like an enormous treat. Our base on the relaxed, cool Soldermalm meant that we were an easy distance each morning from the Slussen ferry pier, where you can catch a public ferry to Djurgarden and Skeppsholmen, the islands that house many of the museums and attractions. You can choose to sit inside the ferry or venture out onto the deck. It was fairly icy standing at the front of the boat during an unseasonably chilly April, but the views were definitely worth the cost of not being able to feel my nose for a little while after. Alternatively, you can travel about on the water using one of the privately operated  hop on-hop off boat tours.
Picturesque Playgrounds
As I've mentioned, many school playgrounds are kindly left open during the weekend and holidays, so you are never too far from a swing or slide. During school hours, there are lots of community playgrounds too. This great article rounds up many of the bigger ones, but we really enjoyed our stop at the Ivar Los Park, which featured not only a good little playground, but also a stunning view down over Stockholm.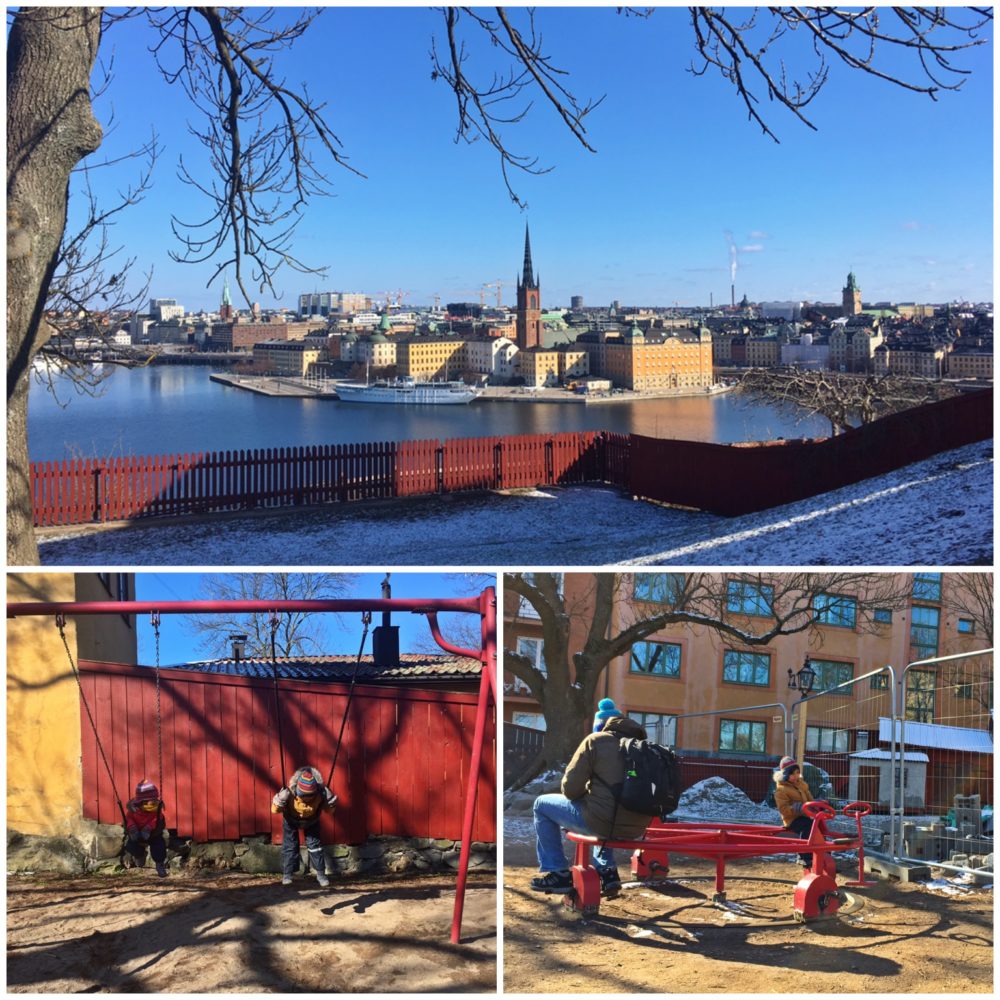 From here you are an easy walk back to Mariatorget, a lovely square where there is another small playground, as well as lots of hipster cafes and cute shops by the Metro station.
Fantastic Food
From eating cardamom buns on a vintage tram to scoffing pizza in a motorcycle repair shop, the food in Stockholm was certainly one of our highlights. Nearly everywhere we visited had a high chair and the service was always welcoming and timely. If you are interested in seeing our favourite Stockholm eateries, you may want to take a peek here.
Lack of Practical Grumbles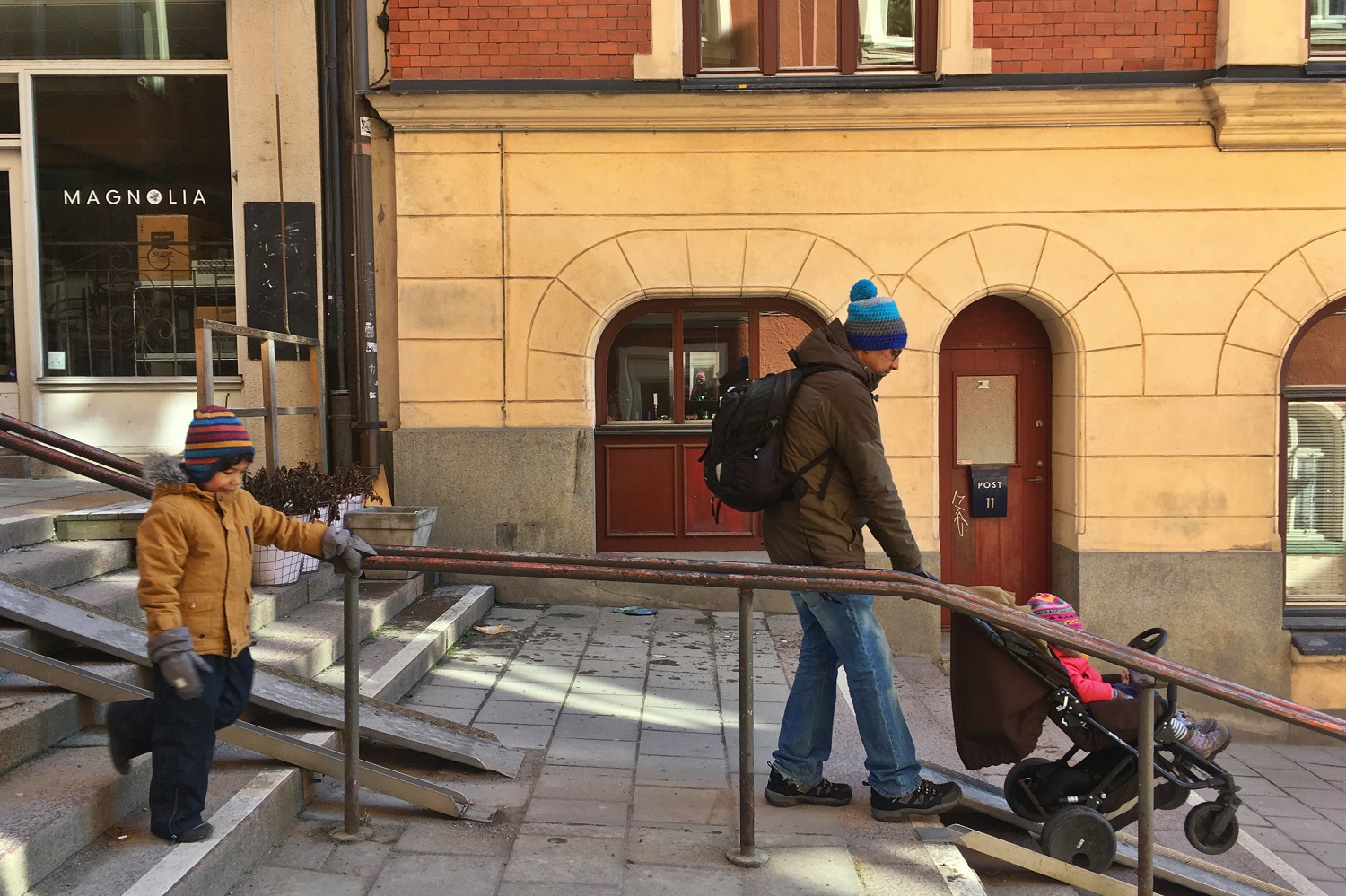 I am sure there are many rude people in Stockholm, it was just that we did not meet a single one. The city felt diverse and friendly, and other than one woman who was clearly having a bad day at Arlanda Airport, customer service was excellent. It was also an easy place to travel with young children; metro stations and buses are stroller-friendly, and most old stairways in the city have been adapted to make them entirely workable with a pushchair. Arlanda airport also has a good array of play options in both departures and arrivals. The lack of those little hassles that can mount up to make city breaks with kids a fairly exhausting escapade, was the cherry on top.
Final Thoughts
Was it as expensive as everyone says? Well, yes –  there is no denying that it would be hard to travel to Stockholm on a very tight budget. That said, our low-cost flights, our reasonable and lovely Airbnb apartment, and our decision to buy 72-hour transport passes – meant that it wasn't substantially more expensive than many other European city breaks, although we did have a bit of a splurge on food. However, in the summer months, a picnic would also be a good way to avoid expensive restaurant costs, as would a trip to one of the many food trucks. Obviously though, with a pint of beer costing around $6USD, if you want to binge-drink, you may need to take out that second mortgage.
But even though we might need to save our pennies, I want to return. Both me and my son are desperate to visit the amazing looking Grona Lund Amuseument Park, which opens over the summer (normally from May  – September), as well as the Vasa Museum, which houses an almighty salvaged warship from the 17th century, and is open all year round.  The National Museum of Science and Technology is also on our future itinerary, and I would love to spend some time during the summer months drifting around the archipelago as described in Slow Travel Stockholm.
And so, I owe Stockholm a debt of gratitude, for reminding me why I love to travel. I almost didn't mind doing the holiday unpacking. Almost.
Pin it for later: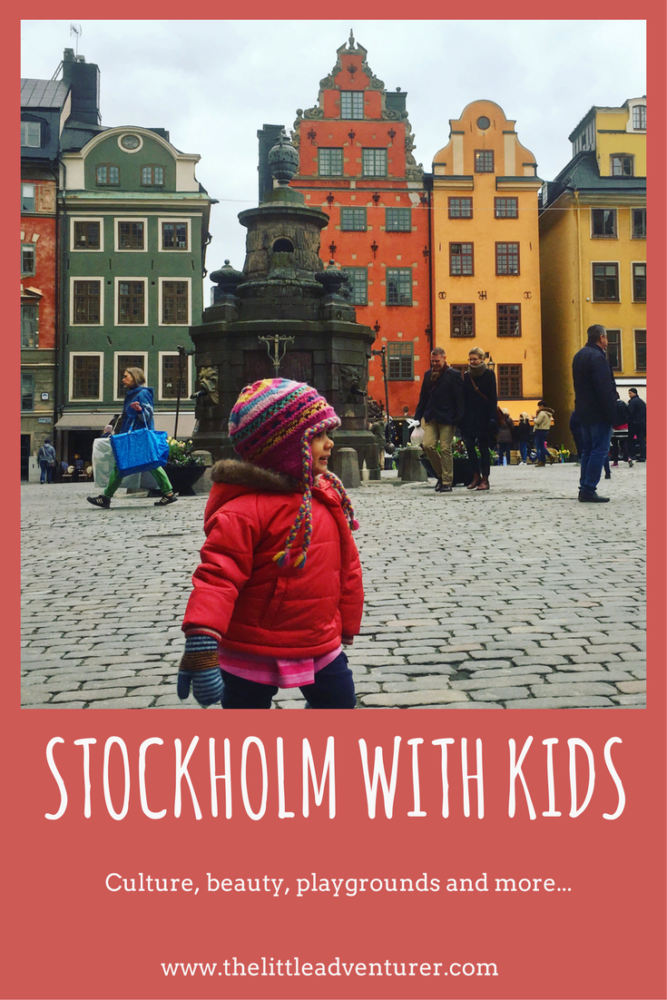 Disclosure: There is an affiliate link in this post. This is a link to a product we highly recommend. We don't put anything on this site that has not been verified and/or personally used.
As seen in: