Just after my son turned one, a woman sidled over to me in the playground and informed me (with a certain amount of inappropriate glee) that, of course, it was all about to get much harder from this point in. I smiled and gave a faint nod, but my internal response was slightly less polite. Quite seriously, how could things get any tougher than these last 12 months spent wading through muslin clothes, unfathomably complicated parenting manuals and tortuous sleep deprivation? And honestly, for me, nothing else so far has come close. In fact, the older my son gets, the more there has been to relish and enjoy. I love exploring the world alongside him, seeing it afresh through his eyes. But I do begrudgingly accept that the tactless stranger did have something of a point. Along with the wonder, inquisitiveness and growing independence has come a universe of complex emotions; that feeling of powerlessness that is particular to childhood, the new worries and uncertainties that come with starting school, the jealousy bound up with a new sibling muscling onto the scene. And it must be said that sometimes my son's emotions overwhelm not only him, but us all. So, I'm always on the lookout for new books that might help us talk about big emotions. These are just five that we have found not only very useful, but also excellent reads.
Today I Feel… An Alphabet of Feelings by Madalena Moniz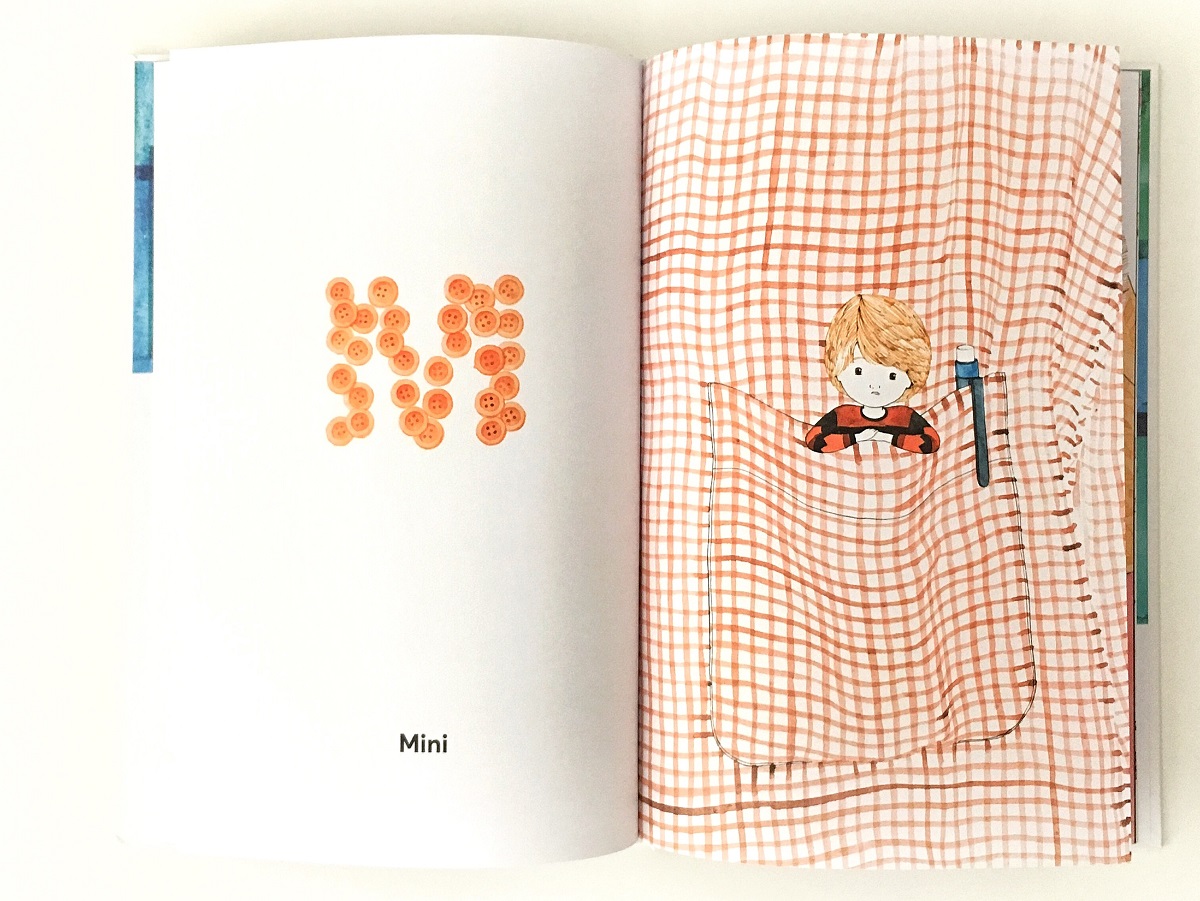 This isn't a storybook – but more a picture dictionary in watercolour – that helps young children find the right words to express a whole arc of emotions. Having said that, all children will be able to relate to the stories told by the beautifully-observed illustrations. Looking through it, particularly after a tough day at school, has become almost a ritual for my son, and has often been a catalyst for conversations about a whole host of events and feelings. A bit of an improvement on our usual exchange where I elicit the response, 'Yeah fine' – and  that's surely as good a start as any.
Virginia Wolf by Kyo Maclear and Isabelle Arsenault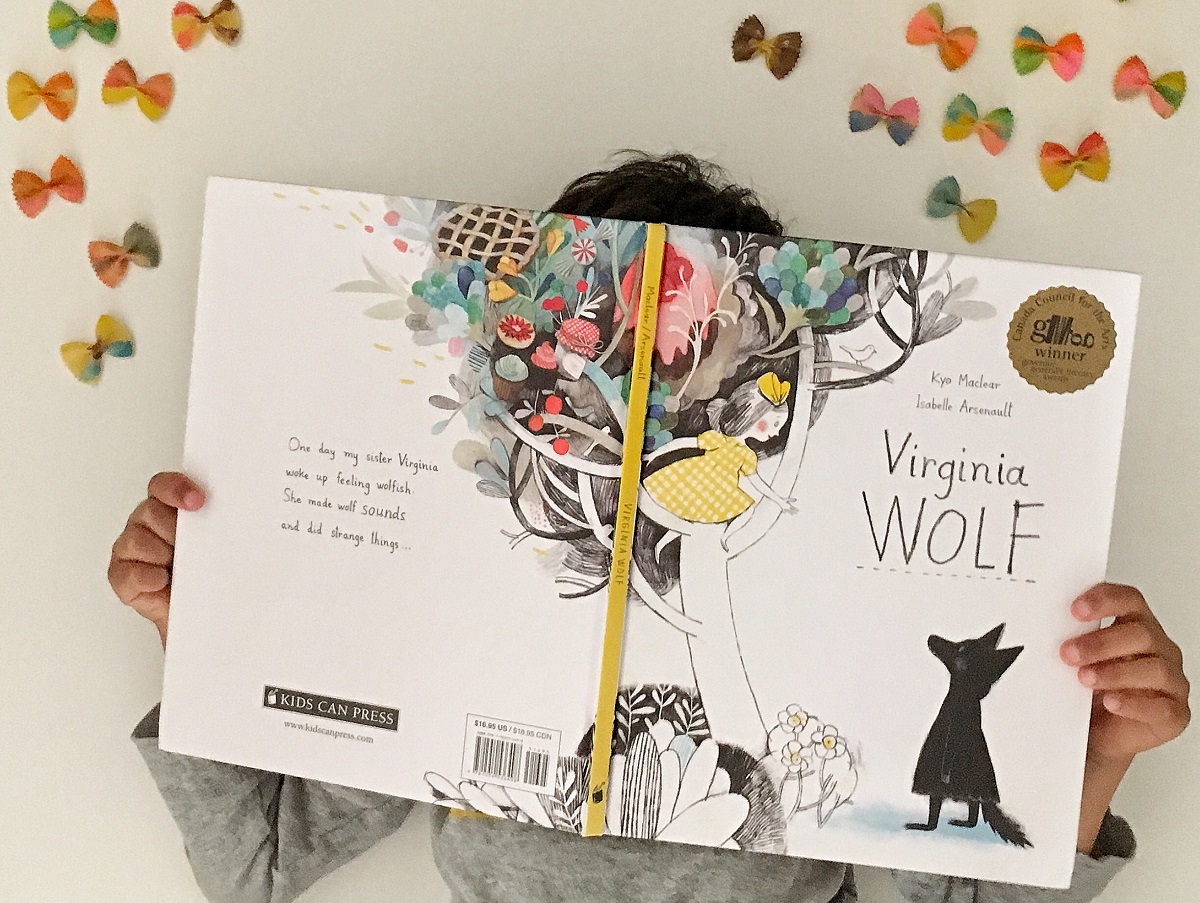 We all wake up feeling a little wolfish some days, don't we? Well certainly Vanessa's elder sister – Virginia – does, in this tale of two sisters struggling through a day of frayed tempers and serious doldrums.  Told from the younger sibling's point of view, we get to see how frightening and isolating a bad day can feel – but we are also shown how kindness, listening and a big dollop of imagination can be used to lift the spirits and to find beauty in the world once more. The illustrations are both delightful and comic: gradually transporting us from the dark world where 'up became down' and 'glad became gloom' back to full, glorious colour. Of course, the pleasing nods to the real Virginia Woolfe's life and mental health, are lost on my little boy, but that is of little matter, as since the age of four he has been fascinated by this book where characters feel angry and hurt and yet obviously continue to love one another.
By the way, we all really enjoyed painting the farfalle pasta with watercolours for this photo – definitely a creative project that can sweep the doldrums away!
The Huge Bag of Worries by Virginia Ironside, Illustrations by Frank Rodgers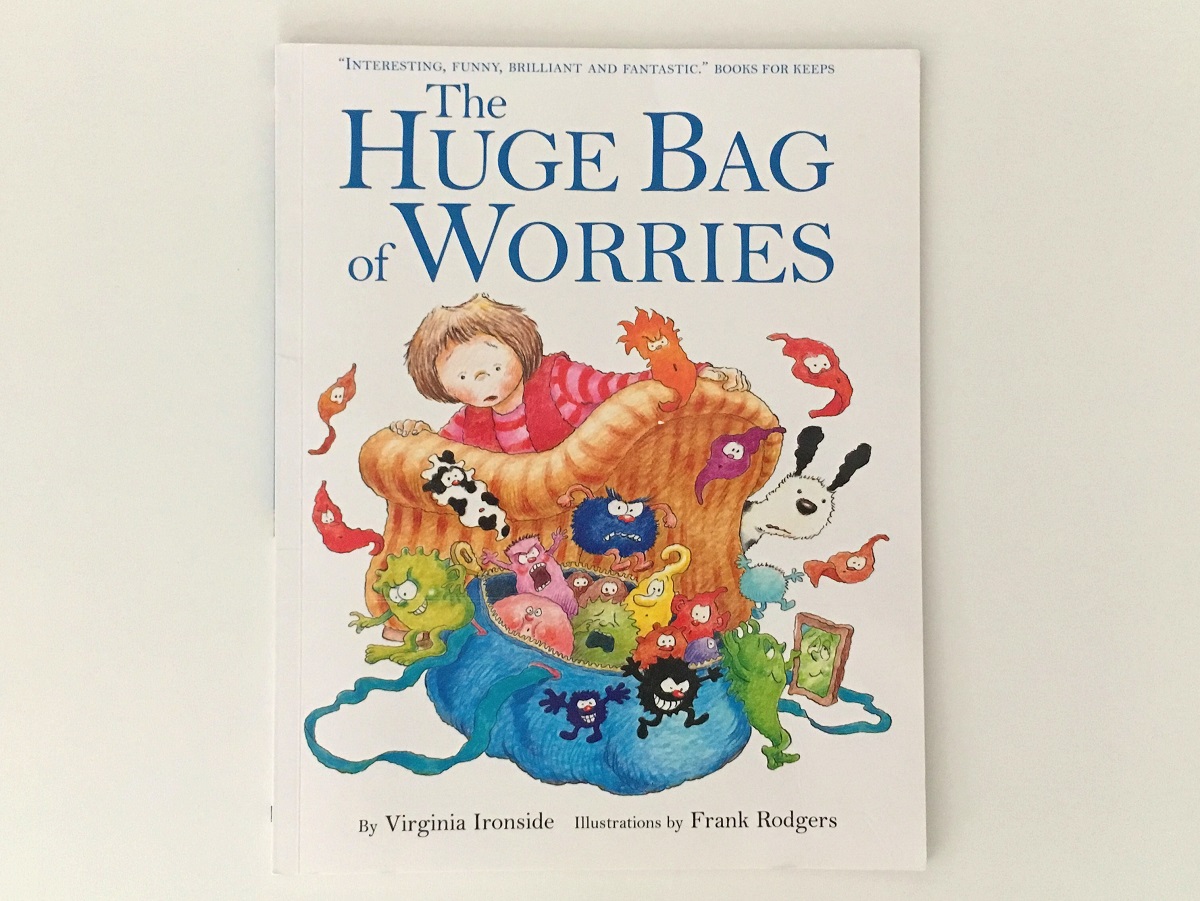 Perhaps not quite a visually stunning  as the other choices  – but that seems somewhat irrelevant, as my son has found this book incredibly helpful, and when he first began school it was read over and over again. Filled with gentle humour, this story shows us how it can feel to be overwhelmed by worries, and the importance of talking about concerns with a trusted adult. As the little worry monsters begin to be sent packing, we get to share in the little girl's relief.
Where the Wild Things Are by Maurice Sendak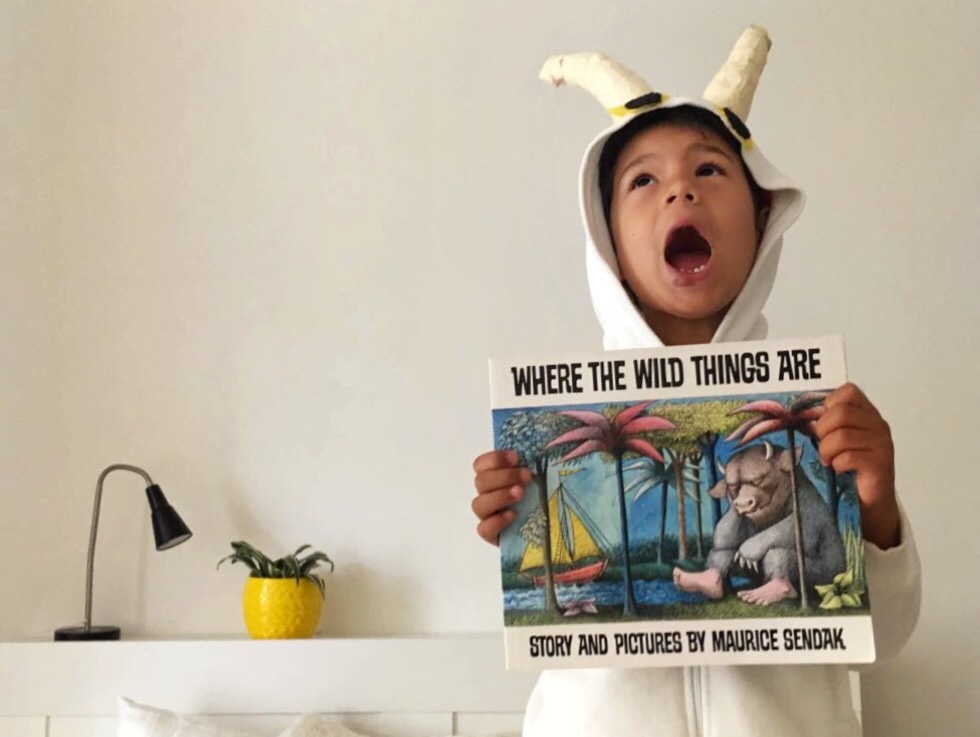 I loved this book as a small child, and revisiting it again as a parent, I love it even more. It captures so perfectly the uncontrollable and big emotions of childhood, and the wild rumpus that can often ensue. The illustrations are bold and moving, with the Wild Things themselves striking the perfect balance between beautiful and frightening. The little boy, Max, is also wonderfully captured –  with his face full of mischief and glee, followed by sorrow and then the exhausted contentment of someone who has come home 'to where someone loves him best of all'. The story not only shows us how encompassing and intoxicating children's wild moods can feel to them at the time, but also reminds us as parents how kindness and love can provide the best resolution. This is a book me and my son often read together after a big falling-out.
On Sudden Hill by Linda Sarah and Benji Davies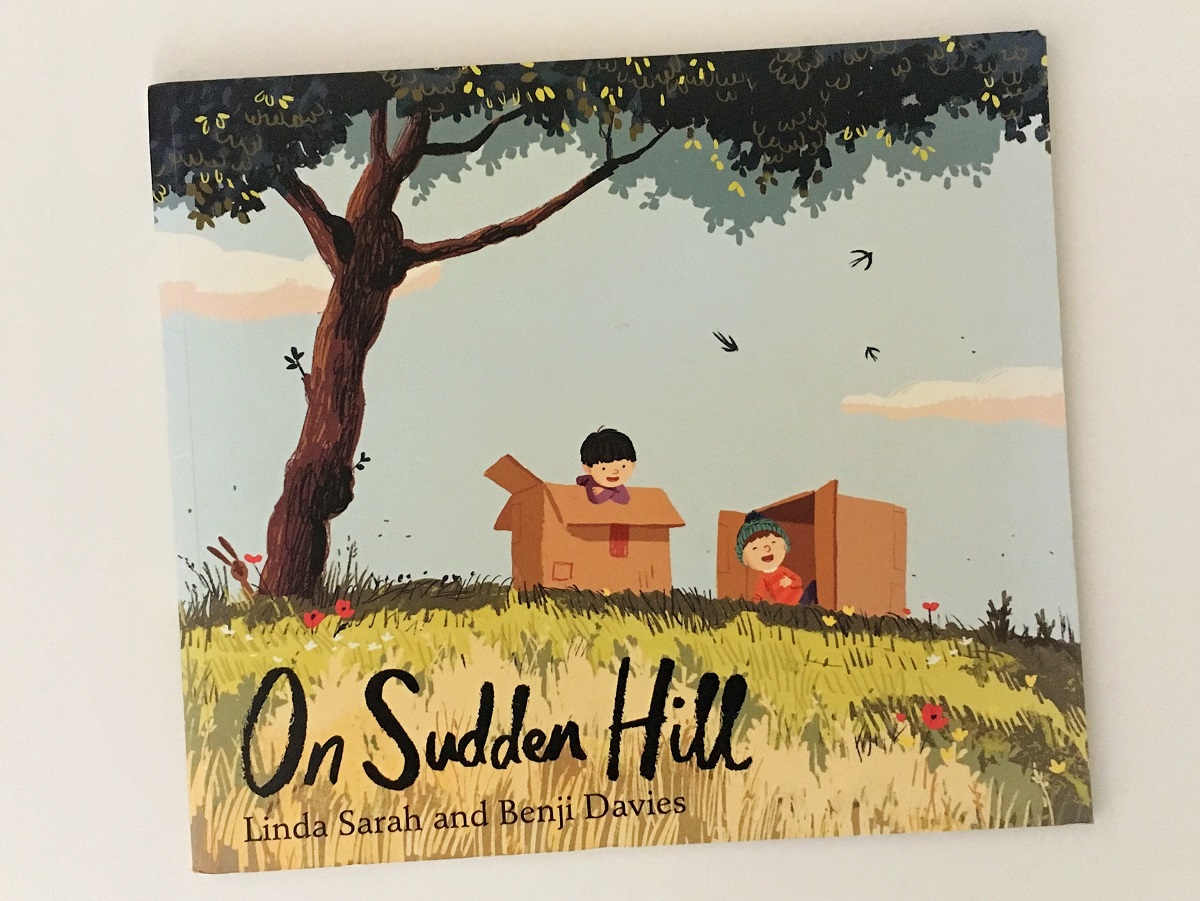 After the birth of my baby daughter, my son was given many books to help him come to terms with the difficulties of being a big brother, but I'm not sure any captured the feelings of being pushed out by a tiny and lovable newcomer quite as well as this gorgeously illustrated story. Not that it is an account of sibling rivalry, but rather a tale of a young boy's difficulty to accept someone new encroaching on his close friendship. Emotions are not eloquently named, but rather we see Birt struggle to be able to recognise or communicate the difficult feelings he has. No adult comes to the rescue here, but with kindness and persistence, we see how the boys eventually find the perfect 'three-by-three rhythm'.
So, of course, by no means a comprehensive list, but I do hope it provides you with some ideas if you are too are looking for helpful books about feeling and emotions to share with your young children. Please do also leave me a comment if you have a good one to recommend!
Pin it for later: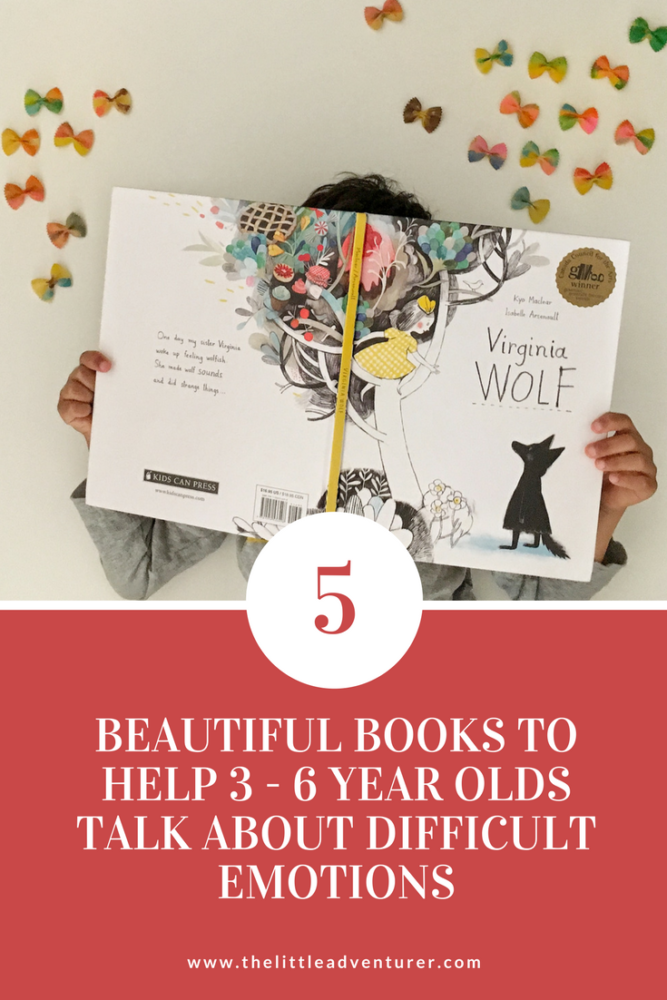 Disclosure: There are affiliate links in this post – this means that if you choose to use this link a small amount of money will go towards supporting the blog, at no extra cost to you. Also, 'Today I Feel…An Alphabet of Emotions' was kindly provided by Abrams and Chronicle for review purposes: all opinions expressed are entirely my own. 
As seen in: