Back in October, as Prague started jauntily wearing the most fabulous autumn colours, I must admit that I had already started feeling a little nervous about our first winter here. My interrogations about what clothes I should buy to see us through the upcoming deep freeze, however, were met by my new friends with reassuring smiles. Prague really doesn't get that cold, I was told. Even the woman in the outdoor-wear shop laughed, and turned me away empty handed, when I asked if my children would need snowsuits for the city. "No, no", came the answer, "only for the mountains. The last several years it has barely snowed here in Prague". In retrospect, I should have known then that we were about to get one of the coldest and whitest winters on record…
And so, although I can smile about it now, as Prague enters a glorious Spring, as I found out during that long hard January of sub-zero temperatures and slate-grey skies, on a bad weather day, finding things to do can get a little tricky. And this is especially true if you have restless hooligans to entertain. There are, of course, a fair range of soft-play rooms to be found in the shopping malls – but if you simply can't take other morning spent wading through a ball pit, where to turn?  Unlike other European capitals, say like London and Berlin, Prague doesn't have any of those iconic, child-friendly museums, like a big Science or Natural History Museum. However, if you know where to look, there are some fun museum mornings to be had. Here are some that we all most enjoyed.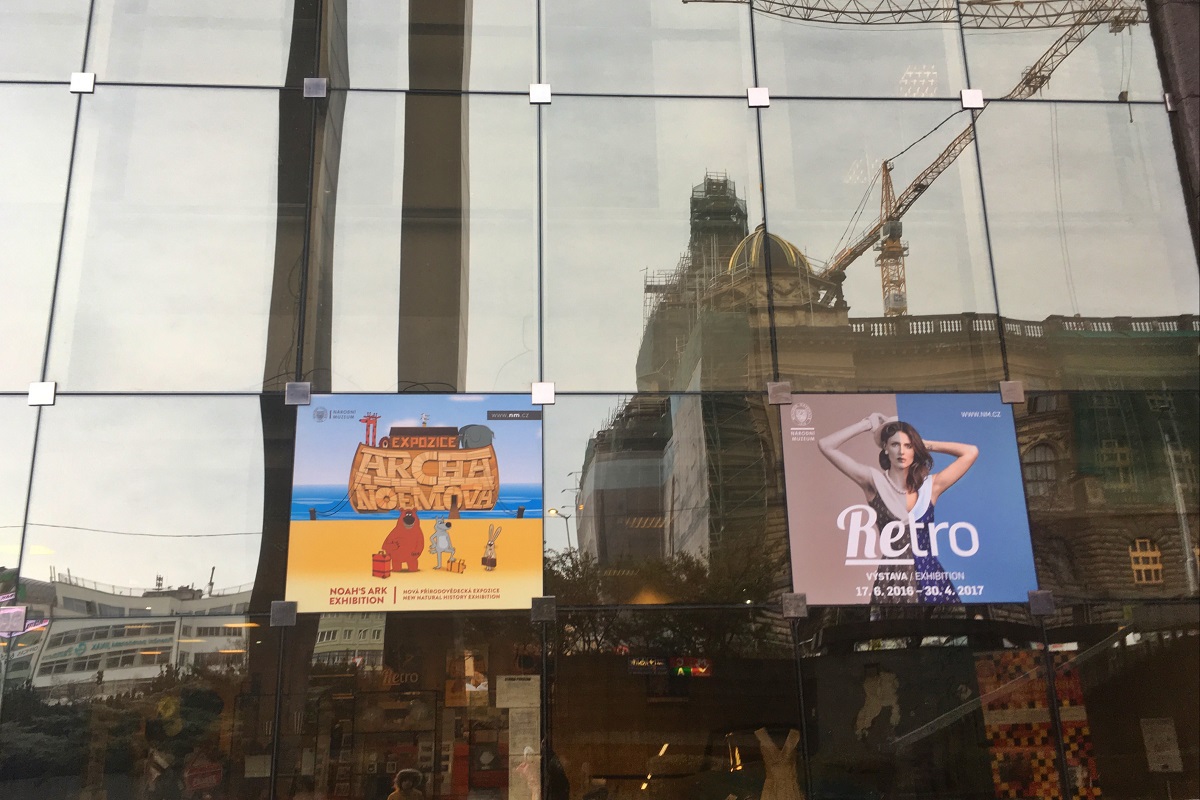 The beautifully grand National Museum that stands at the top of Wenceslas Square is currently undergoing a major refurbishment, but fear not – the new building next door is ready to welcome you and your brood. The museum often houses temporary child friendly exhibitions, but the permanent Noah's Arc exhibition has also proven to be a winner with my kids.
The exhibition aims to impress you with the beauty and range of animals around the Earth, as well as educate you about the dangers these animals now face. On paper, an exhibition largely consisting of dioramas featuring stuffed animals might sound a bit creepy, but of course, all the children there found it utterly fascinating. The small play area, which included hands-on puzzle and activities, was a highlight for both of my two, as was the small cinema showing footage of animals in their natural habitats.
Things to know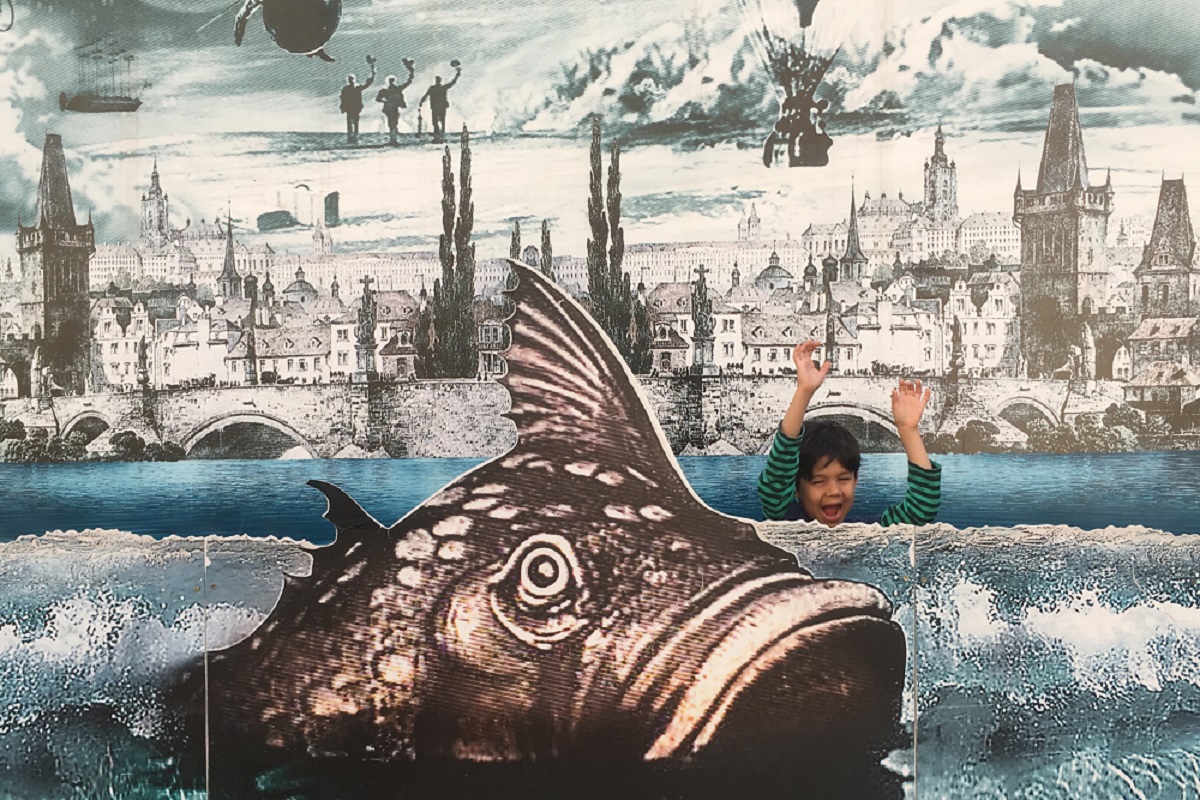 When I first saw a poster advertising a 'special effects museum', I thought it was just going to be one of those eye trick museums that seem to be springing up everywhere of late. But how wrong I was. This quirky, beautiful and totally interactive place showcases the ground-breaking work of Czech film-maker Karel Zeman. If you don't know the name, you will probably recognise  some of his iconic work, and even if you don't, it really doesn't matter, as you will soon become spellbound by the clips of his whimsical, fantastical work  shown throughout the museum. The museum itself not only encourages you to watch Zeman's films, but become a part of them – from riding on a flying machine to taking the controls of a zany submarine. This is a museum where taking photos and video is actively encouraged, as is touching the exhibits.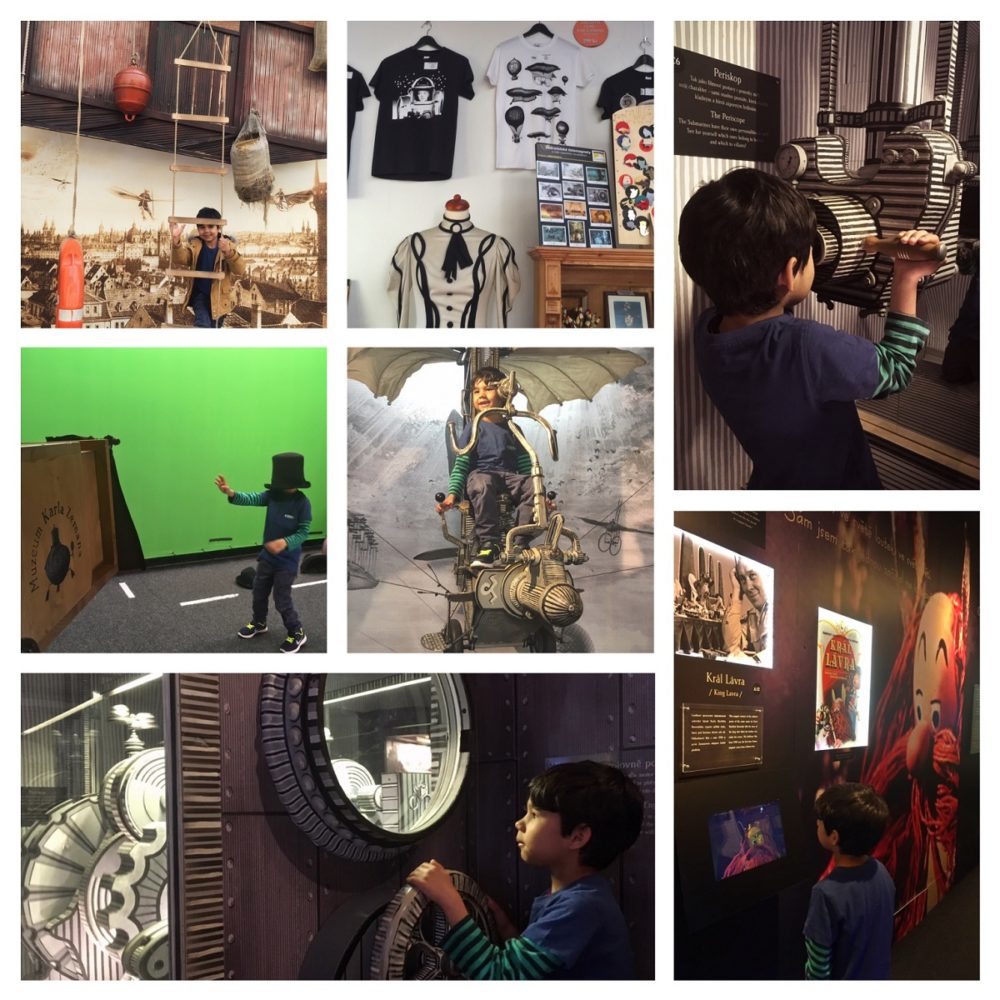 Things to know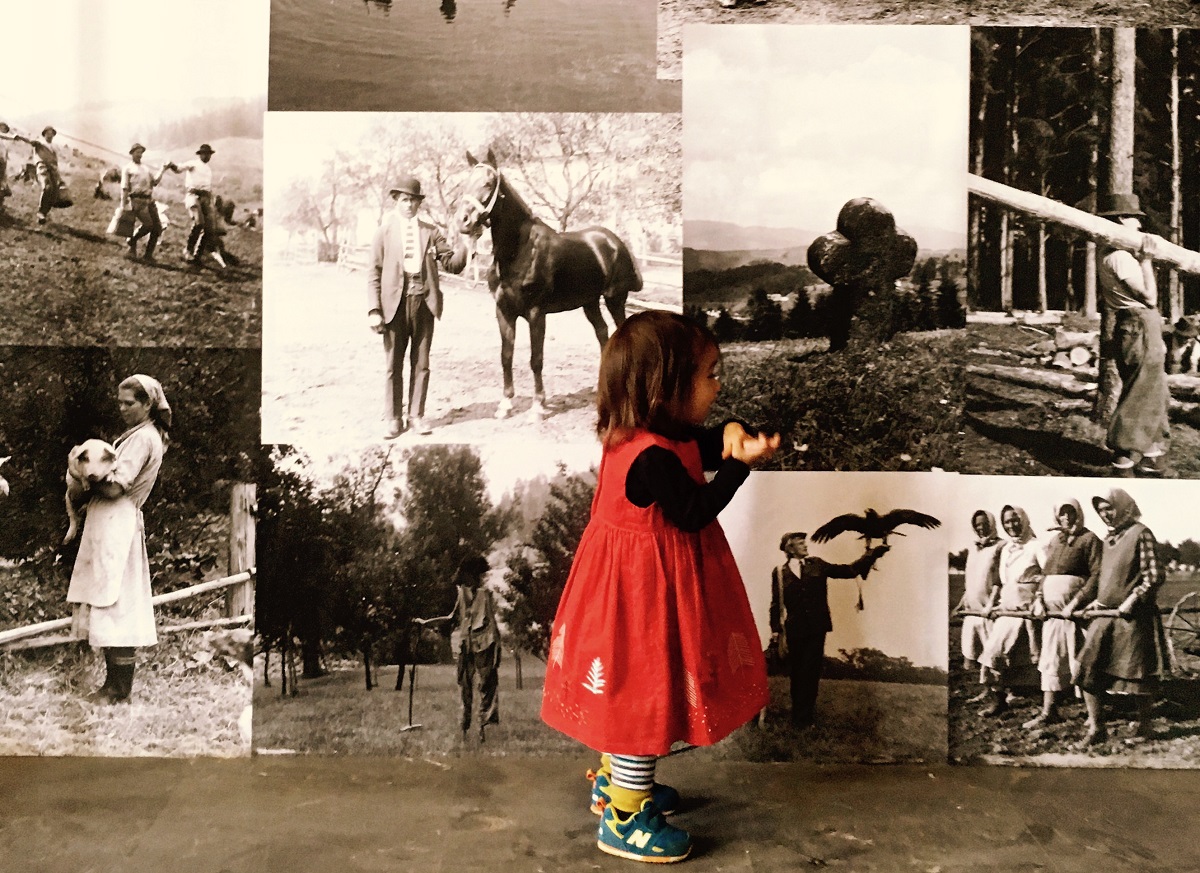 We went here on a desperate whim, one cold, wet day, and we were so very glad that we did. The museum has just undergone some major renovations, and many of the galleries are fully interactive and have lots to appeal to little minds and hands, including a small playground, a play kitchen and shop, tunnels to explore and dressing up opportunities. The roof of the museum  has also now been opened, allowing views over to Prague Castle and a chance to play and picnic on the good sized lawn, weather permitting. The basement, which is the only part not to be updated, features a huge collection of impressive tractors, including some mini ones to ride on. There are also some computer games here which will please older kids. Outside the museum, a small number of animals are there to greet you on your way in and out, and there is also a small garden and some more agricultural machinery to climb on and admire.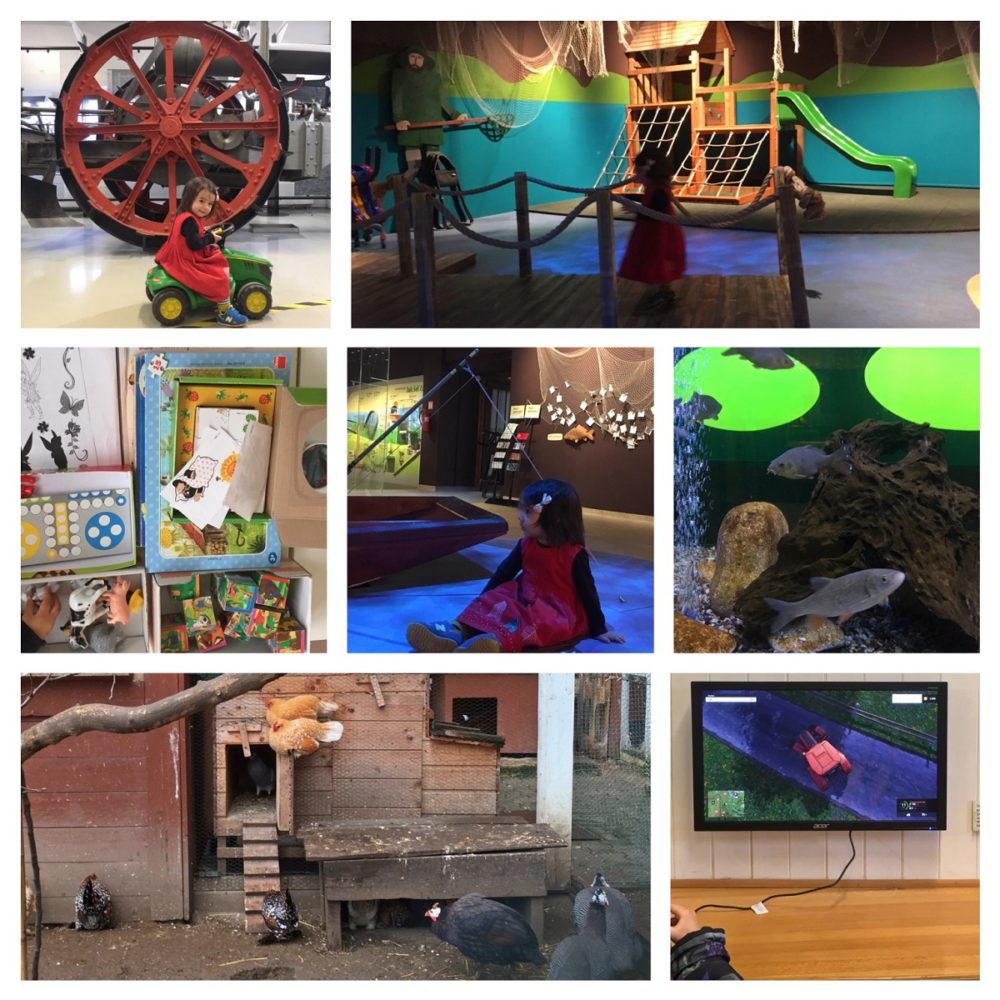 Things to know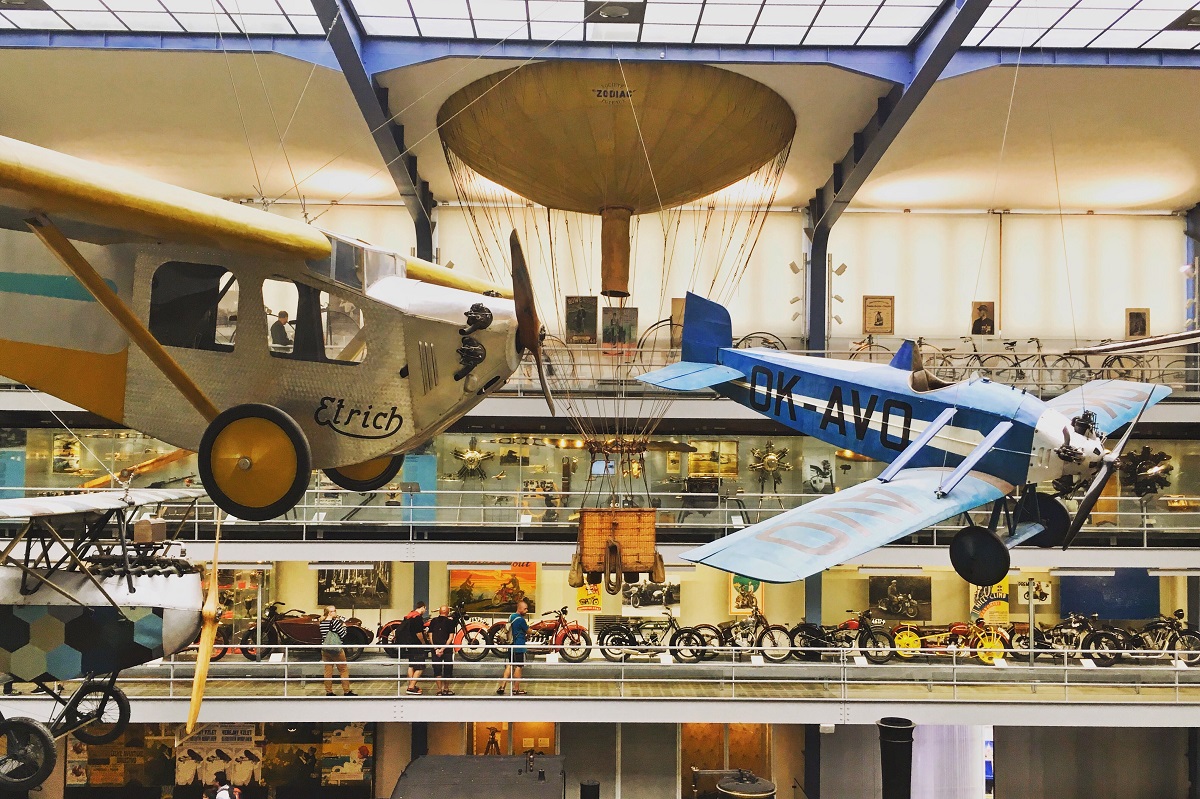 So, this very good-looking museum, was initially something of a disappointment to me and my son. Sure, the aircraft hanging from the ceilings and huge steam trains and beautiful displays of cars and motorbikes all look great, but as you can't touch anything in the main transport hall, we were left feeling a little frustrated. However, if you know where to look, you can find a bit more interactive fun. For example, if you hunt down the Medieval exhibition (located next to the café downstairs), there is a fun little play-area located right at the back, behind a curtain (!), with both mini and giant blocks to build with, as well as an animated film giving an insight into life in medieval times. Then upstairs, next to the Technology in Toys exhibition (which is currently out on loan in Taiwan) there was some Merkur to play with (the Czech version of Meccano). Older kids might also get a kick out of the guided tour of the TV studio and dressing up in the photography exhibition. If you book a ticket on arrival, you can also have a tour of mocked-up coal and ore mines from the 1950s.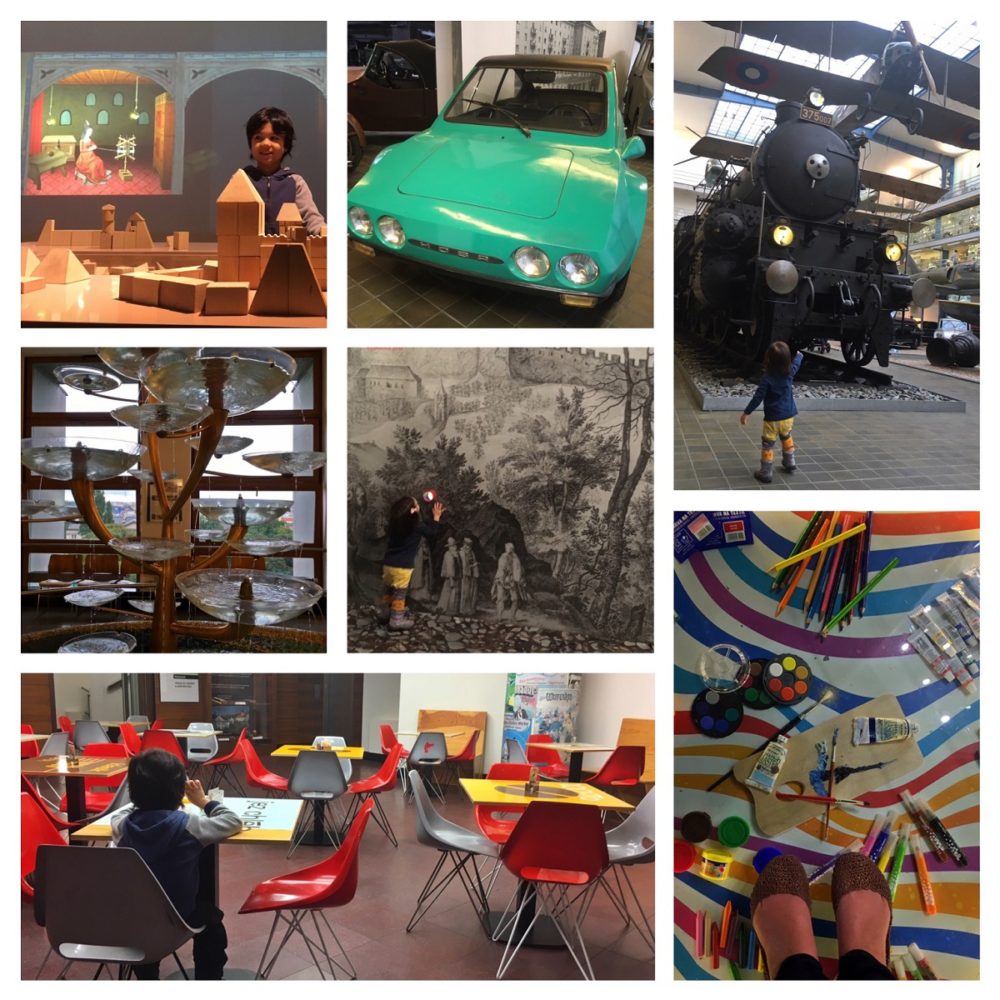 Things to know
Museum of Prague City – Main Building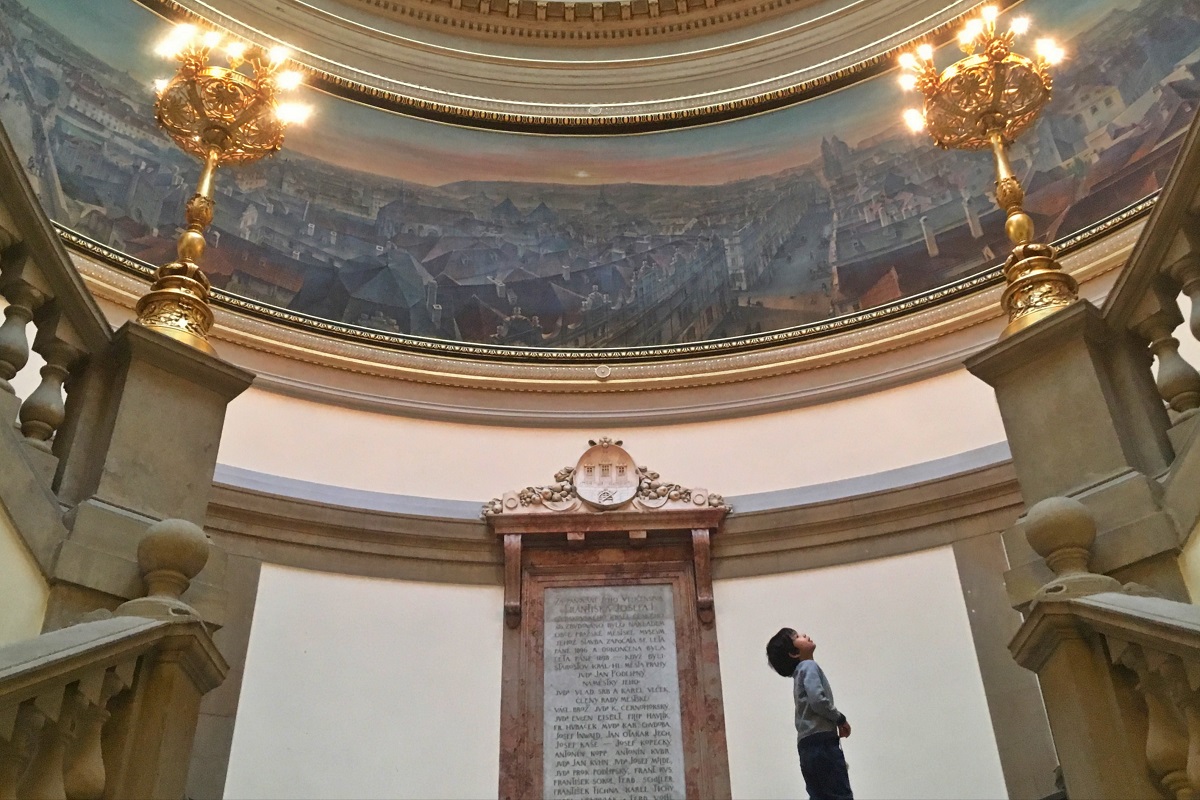 It is possibly worth coming to this museum for the beautiful building alone, although no doubt most children won't see the architecture as a major draw. Happily though, there is plenty inside to delight too. The Medieval House exhibition, featuring puzzles, puppets and even a medieval toilet, is sure to please primary aged kids, whereas even the littlest of ones will enjoy the soft play area, where you can build a city of your own. The highlight for me though, was discovering the Langweil model of Prague – a wonderful miniature model of the Old Town, loving created by hand from cardboard, at the start of the 19th Century, by a librarian who devoted all his free time and money to his unusual hobby.  The model itself is lovely to see, but the short 3D cinema show that flies you up close to the narrow lanes and over the beautiful gardens and rooftops of the model was the real treat for us all (well, excluding my toddler, who to be fair was probably more interested in eating her 3D glasses). The museum also houses a traditional exhibition about Prague's history, as well as some temporary exhibitions. To see what is currently on, you can check the website.
Things to know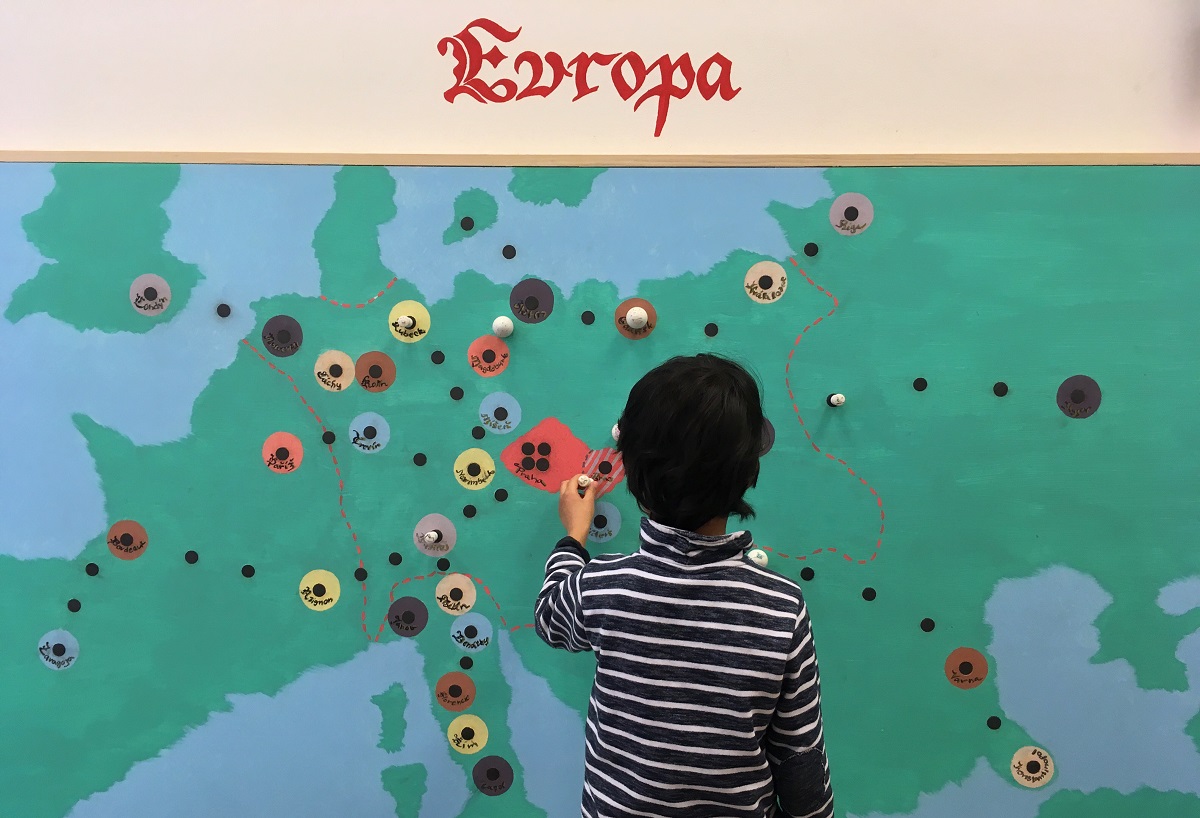 Just off the Old Town Square, this very sweet art museum is designed specifically for children. The exhibitions change from time to time, but when we were there, we all really enjoyed learning about life in the court of King Karel IV through games, art, puzzles and costumes. As all the exhibits have been designed with children in mind, you can relax and let your little ones really explore.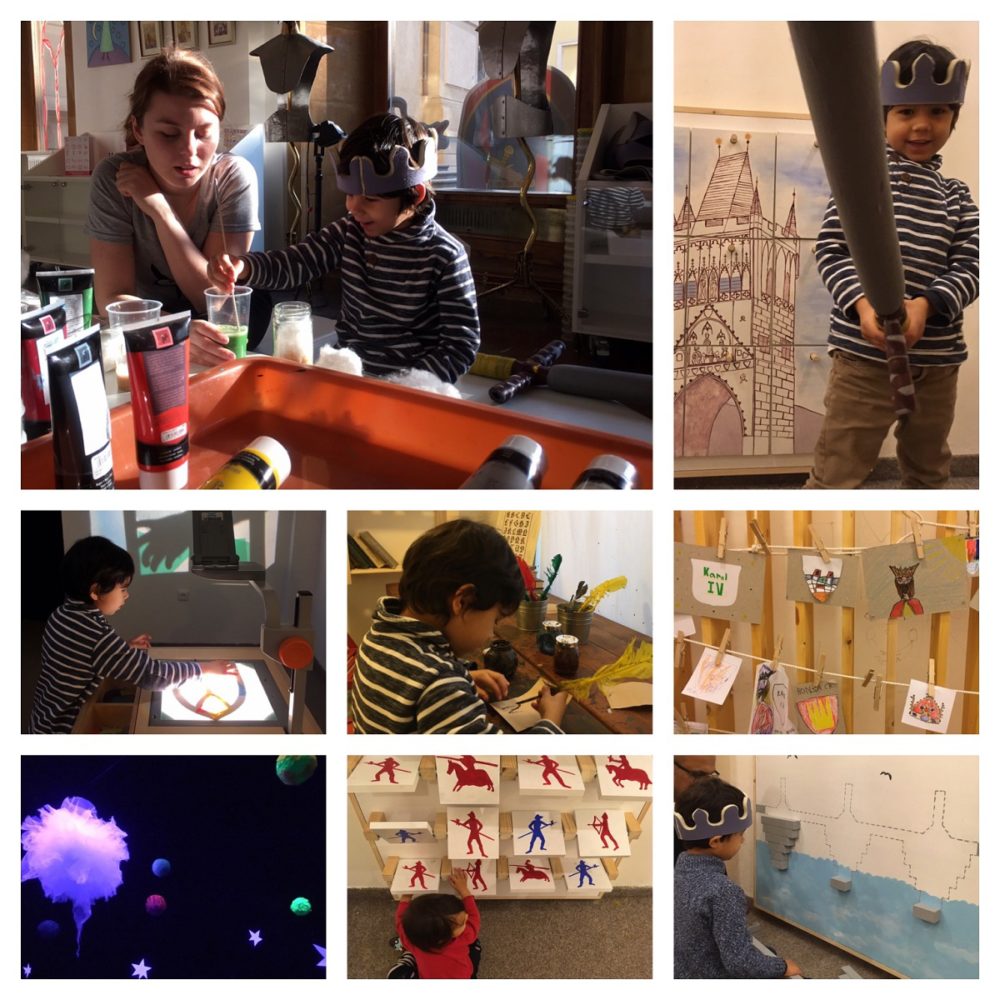 Things to know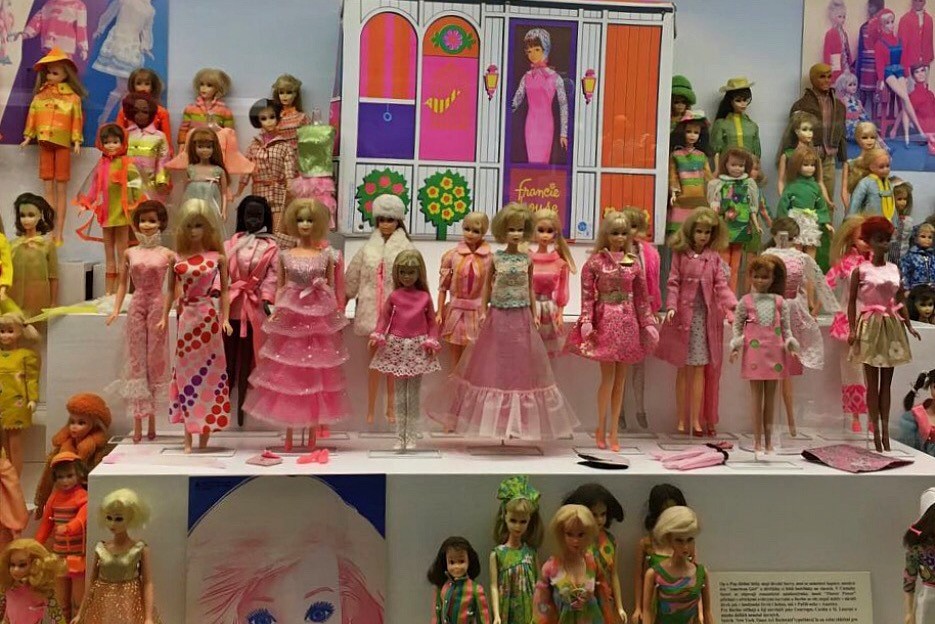 I mention this place, as on paper it sounds a promising  place to spend an hour or two with kids – but sadly as the museum is on the small side and isn't at all interactive, it might be better for older children. That said, my son still enjoyed admiring all the Star Wars figures and robots on display, and I rather enjoyed all the Barbie fashion through the decades (although I was slightly concerned for the Barbies' safety once I spotted Donald Trump in their midst – see the photo below). My toddler, on the other hand, was just happy pottering about – although we were all done in about half an hour. A good little diversion if you get stuck in a rain shower whilst around Staré Město.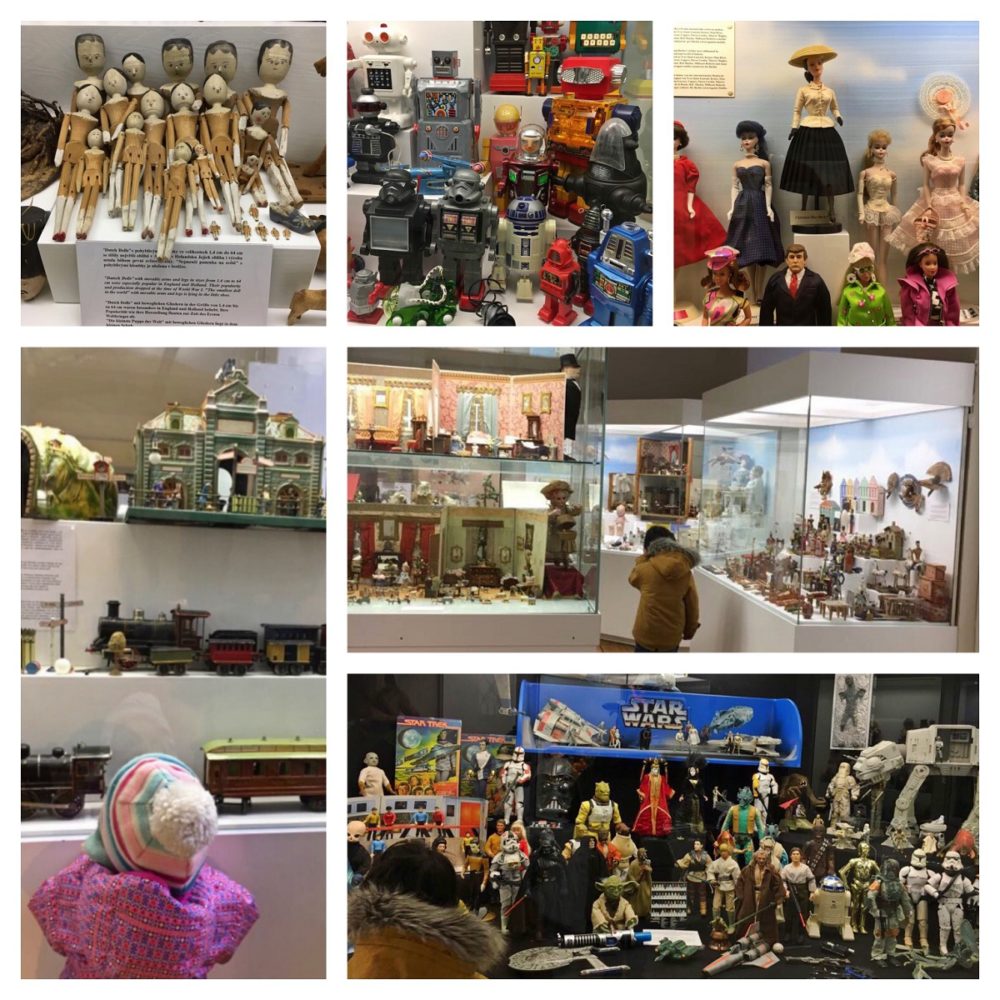 Things to know
A couple of bonus ones…
So, if you happen to be in the vicinity of Petrin Hill, then a short stop at the Ethnography Museum might be in order. The building and grounds are quite lovely, and there are a couple of children-friendly exhibits inside, including the chance to milk a model cow. The cafe here, is also a nice spot, and features a small play-corner with toys. You can also access the cafe separately from the museum, if you just want to stop for tea and cake.
Teenagers might also enjoy an hour spent in Prague's Museum of Communism, where they can get an insight into life in Prague during Communism rule, including a look around a classroom and an interrogation room.
And so, I hope you find at least one option which is to you and your children's taste. As I find with most things in life, expectations are everything – so I hope I haven't raised them too high – but I do think Prague's museums really contain some hidden treasures. And if you are in need of more indoor activities to brighten a cold or rainy day, do have a peek at this post. 
Pin it for later: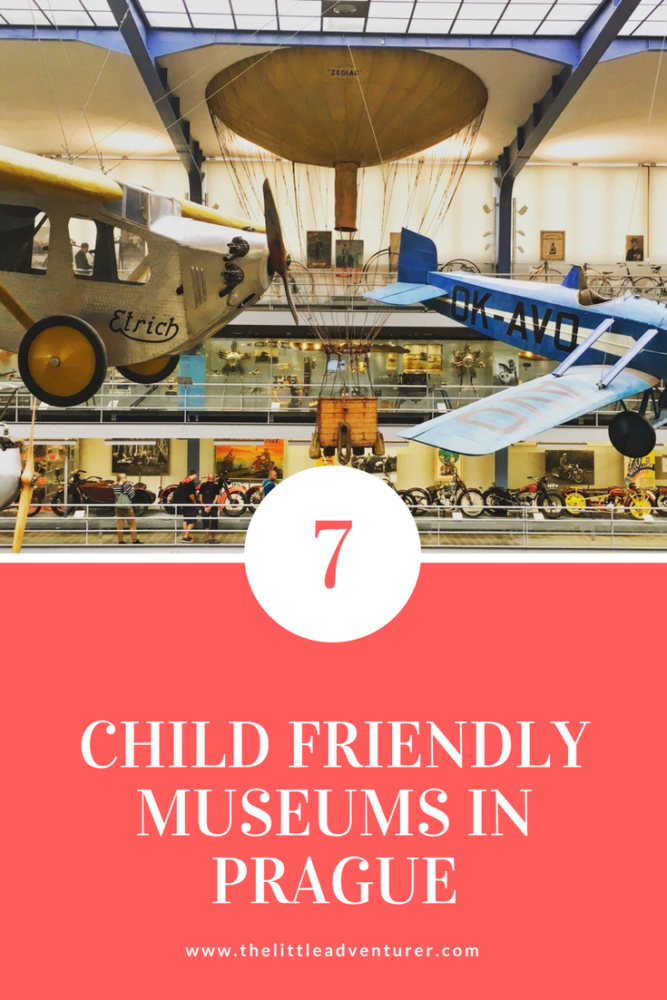 As seen in: