It is generally agreed that if you want to maintain and grow your blog's readership, you should focus on one specialist subject and post frequently. Well, not one to be dictated to, I laugh in the face of such wisdom – preferring instead to opt for a rather scattergun, sporadic approach. If you are one of my handful of regular readers – and I can only sincerely apologise if you are – I do offer you my upmost respect, you are evidently made of steely stuff. The thing is, I'm afraid, it is all probably about to get worse…
During the summer, like many expat families, we packed up our suitcases and waved a sad goodbye to Hong Kong, off to a new home in Prague. Now September is here, and my son – my first, and for a long time, only little adventurer – has just started big school and so is no longer my lively companion on our treks around the city. Instead, for the bulk of the day, I have the company of my hilarious and disarmingly cute nearly-one-year-old girl, whose main interests involve chewing on power cords, hiding all her brother's Lego and generally getting filthy.
And so life has changed. And by extension my blog no doubt will too – although in exactly what ways it is hard to say yet. I daresay there will probably be a bit more European travel, as well as some baby and babywearing stuff thrown in. Who knows, I might even start doing some arty crafty features or books reviews. Although not one to befuddle you completely, I expect I'll keep the irregularity of my posts a constant.
Anyway, whilst I puzzle it all out, and because in my heart-of-hearts I'm not quite done with Hong Kong just yet, I'm going to dust down one of the small, yellow folders that patiently sits in my laptop, waiting for me to finish the washing-up and stop faffing around on Facebook, and reminisce happily about some of Causeway Bay's finest icy desserts. Enjoy!
As a small child, the pinnacle of my ice cream sophistication was getting a slice of Vienetta from the freezer, whereas nowadays my son gets taken to cute little Japanese dessert shops to try stunning sesame and matcha soft serve! Being a traditionalist, mind you, he does normally opt for the creamy deliciousness of the Hokkaido Milk ice-cream. A good choice. With such tasty and beautiful desserts, it is little wonder that Via Tokyo has won three gongs in the 2016 Openrice Best Restaurant Awards. If you choose to eat in, you might get lucky enough to get to sit in the beautiful wooden swinging seat, or you can also opt for takeout.
Photo credit: Via Tokyo
Via Tokyo, G/F 123 Leighton Rd 123, Causeway Bay, Hong Kong
Opening Hours: 11.00 – 22.30
Several months later, my son still talks about this, as well he might. In fact, you'd be hard pushed to find a more child-pleasing treat than the amazing rainbow shaved ice desserts served at this cute little place on the very edge of Causeway Bay, in the well-worth-a-visit neighbourhood of Tai Hang. If you fancy something slightly less vibrant, you can sample the blueberry cheesecake, caramel or pineapple kakigori (a Japanese shaved ice dessert flavored with syrup). There is also a mojito version, which you can order with or without alcohol, depending on how your day is going. The portions are sizable, so sharing may be in order. Tucked just behind Hong Kong Central Library, this could be a hugely popular post-reading treat.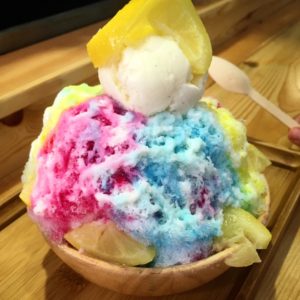 Echigoya, G/F, 27 Shepherd Street, Tai Hang
Opening Hours: 12 noon – 23.00
I only discovered Haven Street just before we were about to leave Hong Kong, which was a massive regret – especially because nestled among the other cute cafes and restaurants here (with special mention going to Café R&C) is the rather wonderful Shari Shari Kakigori House. Served on sweet little wooden trays, these gorgeous mounds of fluffy ice, come in a range of flavours and colours to suit pretty much everyone. Refreshing, not-too-sweet- and with some of the choices on offer containing fruit – it must be healthy, right?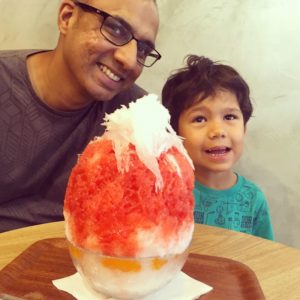 SHARI SHARI Kakigori House 氷屋, G/F, 14 Haven Steet, Causeway Bay
Opening Hours: 13.00 – 12 midnight
Elegant I Cremeria, does some very beautiful desserts – and its classic soft serve options make a visit to this this cafe, tucked at the back of Fashion Walk, well worth it. There is even a beautiful Japanese matcha tea set on offer. Yum.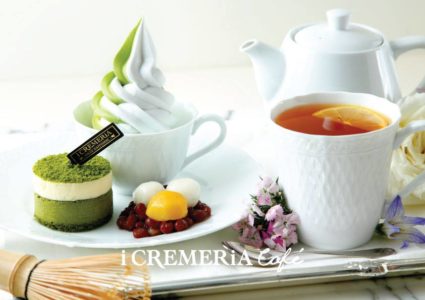 Photo credit: i Creameria
i Cremeria, 1/F Fashion Walk, 11-19 Great George Street, Causeway Bay (as well as branches in Sogo and WTC)
Opening Hours: 11.00 – 23.00
 An important note for parents
Right, it is fair warning that if you are thinking of heading to any of these places mid-afternoon on the weekend – don't! As all Hongkongers know, there is nothing young, free and single people like more than to join a food queue with the hope of getting some Instagram likes of their chosen dish. They are well-rested, they don't have nap time schedules to work around, or moody tweens to deals with, and they can outlast you – so don't try to compete. Go for opening time or try a weekday.
Also, if you have a boisterous toddler – I'm afraid these aren't the ideal places for you. Which sucks, right – as surely after spending all morning running around a playground getting bitten by sandflies, you need the sugar the most?  The thing is, there isn't a highchair in sight, and most of these places are pretty tiny, and would be a real struggle with a stroller (maybe with the exception of I Cremeria). Also, imagine your normally active toddler, on this kind of sugar-rush?! But if you are feeling brave, go for it – or even better, sneak off one day by yourself…
And if you are looking for some play options in Causeway Bay, for both big and small kids, you might want to have a quick peek at: 5 hidden play-areas in Causeway Bay.