It had been our first European winter for quite a while, and by mid-January, I was done with grey skies and below zero temperatures. I just needed a little bit of sun, and maybe some turquoise sea… It was then that I started to plot our half-term holiday to warmer climes… The Canary Islands could be a possibility, or could we maybe get a direct flight to Qatar?
I can't exactly explain then how it was that we came to be standing on a cold, drafty platform in mid-February about to board a train to Berlin. Clearly something had gone awry in the planning. Nevermind, though, I told myself – I love Berlin. The coolest of cool cities. We could wrap up warm and wander the streets and parks admiring the street art and testing out the playgrounds…
About ten minutes before our arrival into the city, the rain began to knock at the train window. I can honestly say that other than a fleeting hour over lunchtime on our first day, it didn't stop again until our train crossed back over the border to the Czech Republic four days later. It is true to say that not many cities can get away with that. Berlin, however, just might be one of them… Just!
Here were some of the rain-proof activities we all most enjoyed whilst we were there:
Exploring the Science Centre Spectrum
As soon as I saw the rainbow covered building, it was love at first sight. All the buttons, interactive experiments, friendly staff and opportunities for exploration, meant that the inside didn't disappoint in anyway either. We all loved it, and the group of teenagers who were there on a school trip, all looked to be having a blast too – so a real crowd-pleaser for kids of different ages.
Things to know:
Pretend play at MachMit! Museum
As much of the information online was in German, I wasn't entirely sure what to expect from this not-for-profit museum for children – but happily it really was a place of pleasant surprises.  Housed in a striking converted church, much of the current exhibition was dedicated to examining the stages of early childhood – beginning with experimenting how it would feel to be pregnant, to learning about how the baby grows in their mother, to then caring for the baby after birth. My baby doll obsessed toddler was in heaven, pushing a pushchair around, wrapping dolls in blankets, putting them in and out of cots and even taking a bath in lentils together. It had to be said, my 5 year old son was a little less taken with all the baby doll pretend play – although he was fascinated by the incubator, and as soon as he discovered the 'secret door' leading to a room of mirrors and the old-fashioned shop with the working till he began to really enjoy himself. Then, upstairs, both my children were delighted to find a yurt tent to hide in and a large climbing structure. My son also loved painting his own wall chart. A morning very well spent.
Things to know:
A pit-stop at one of Berlin's kindercafes
A network of cafes aimed at pleasing the most difficult of all diners – the rambucious toddler – why is this not a thing in every city, town and village across the Earth?! We visited two whilst we were in Berlin, and both provided us with the welcome chance to refuel, get warm and have a good play, before setting off on our adventures once again. Café Kreuzzwerg, in Kreuzberg, just close to the Spectrum Science Centre, serves a good range of sandwiches and pasta dishes, and has a plethora of toys, including a ball pit. It also offers a buffet breakfast at the weekend, although reservations are recommended for this. Kiezkind, in Prenzlauer Berg, was walking distance from Machmit!, and although it has a less extensive food menu, the giant indoor sandpit there made it a real favourite with my daughter. It also looked like it had a great range of outdoor toys and a nearby playground, if you are there on a warmer day.
Things to know:
An indulgent afternoon at Fassbender & Rausch Chocolatiers 
From the exquisite building to the amazing chocolate sculptures inside, everything about this place is tastefully decadent. Both my children loved perusing the shop, and my son delighted in picking out a chocolate bunny in preparation for Easter. Of course, we couldn't stay too long – as my little girl would have proceeded to pull every box off the shelves – but luckily we had seen the weather forecast and had made some reservations for the chocolate café upstairs. Although it is a smart place – the serving staff were attentive and helpful, and were obviously used to small children on a sugar rush. We all greedily enjoyed our holiday treats of hot chocolates, pralines and cakes, and not to be fobbed off by healthy snacks, my toddler got her first taste of chocolate too… and what a place to have it!
Things to know
If I'm honest, me and my husband have mixed feelings about the Legoland Discovery Centre, as it was one of the most expensive things we did, and the lack of natural light inside made everyone go a little crazy. Having said all that, both my children really enjoyed it. My five year old, of course, loved building cars to race down the loop-the-loop race track and also enjoyed the Merlin's Apprentice ride and Dragon ride. The trip into the mini Lego Factory also was a big hit. My 16-month old, on the other hand, loved all the soft-play, and charging around the Miniland models, pressing buttons to light up the buildings and set the model trains moving.
Things to know
For next time…
And of course, there were some things we didn't get to do, which will definitely be on our list for next time:
Anyway, I hope should you ever find yourself in Berlin on a rainy day with kids, this should provide you with a little inspiration. You might also want to check out Berlin For All the Family and Love Arts Berlin for lots of other great ideas of things to do in Berlin with kids. And if you would like more information about journey to and from Berlin by train from Prague, have a look here.
Pin it for later: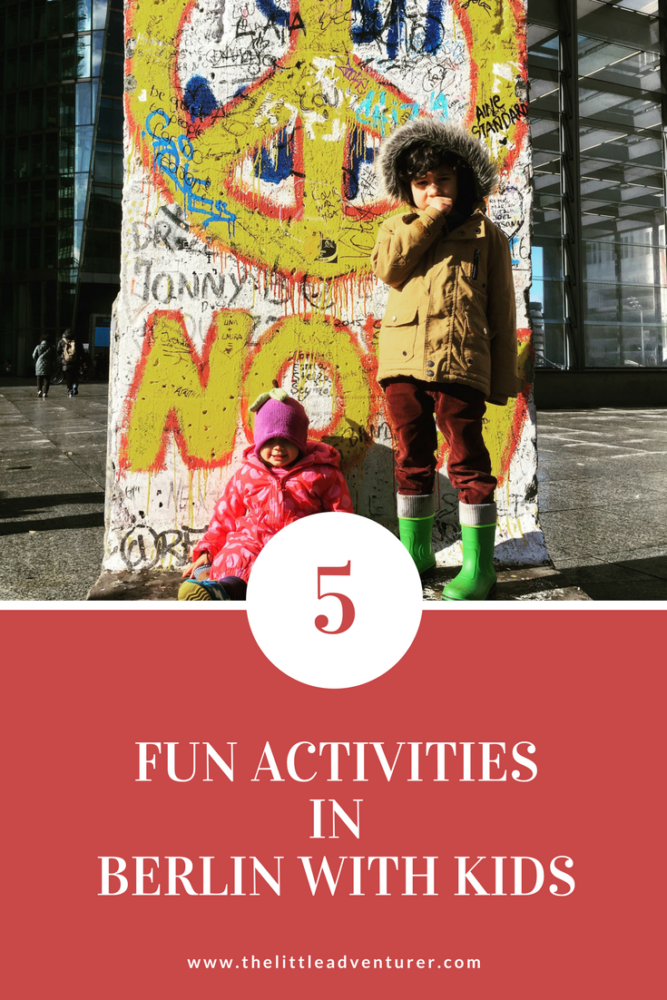 As seen in: