As I can be reliably trusted to injure myself whilst trying to fold up a beach mat, I think it is true to say that I very much fall on the 'buckles' side of the fence when it comes to babywearing. I like the convenience and safety of that clunk-click. I have even managed to acquire my very own little stash of Soft Structured Carriers (SSCs) to suit my mood and outfit. Except… At a recent babywearing meet-up, I started to find myself throwing jealous glances at my wrapping sisters with their long-flowing fabrics. My canvas carriers are pretty cool and everything, but there was something about those supple, beautiful wraps that enticed me. I worried both for my bank balance, and indeed my baby's safety in my bungling hands – was I about to take the long fall down the rabbit hole of woven wraps?
But then, I learnt of something that perhaps, for me, offered a perfect solution – the Wrap Conversion SSC! Huzzah! And so, when given the chance to test and review the Soul Full Buckle Carrier, I felt a little buzz of excitement – perhaps a new, different babywearing future beckoned?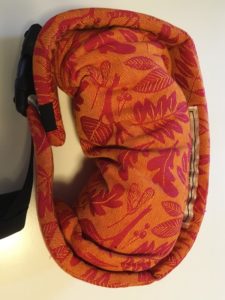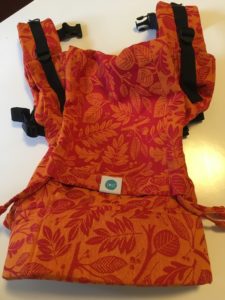 And then, it arrived. All rolled up and snug in its little box. I gently uncurled it and was immediately taken by it lightness, malleability and, of course, its beautiful, vivid leaf print design. And since then? It has become my most reached for carrier. But a bit more of that later, let's first get down to the nitty gritty…
Key Features
Suitable for babies from 15 to 40 lbs (so, that's 7kg to 18kg)
Made from 100% woven cotton jacquard wraps
A variety of designs and colours available – this one is the 'Sizzle'
Suitable for both front and back carries
Provides an ergonomic 'm' position seat
Softly padded shoulder straps and waist band, as well as thigh padding for the baby's comfort
Three-way adjustable shoulder straps, including Perfect Fit Adjusters (PFA)
Wide, adjustable hood (11" wide and 13" tall)
Weighs just under 600g, and can be folded down to fit in a mum-sized handbag
Passed ASTM F2236-14 safety testing
Machine washable at 30°C
Ships internationally – including Hong Kong!
Sizing and fit
Seat width – 15.5 inches
Body panel height – 17 inches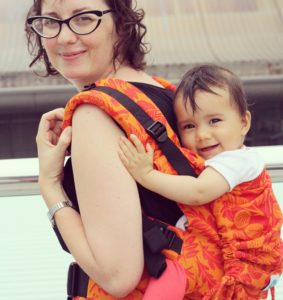 My very petite 8 month old, who is 7kg and roughly about 68cm long, just fits nicely in the carrier with plenty of room for future growth. I would imagine that for more averagely sized babies, the carrier would be suitable from 5 to 6 month olds, well into toddlerhood. As she is a 'hands out' type of gal, she normally wriggles one arm free, whilst the other stays by her side – and this is her style with every carrier we own.
In terms of adjustability for the wearer, I am just over 5ft tall and fairly petite and my husband is 6ft and pretty broad – and the carrier works well for both of us. There is plenty of webbing to tighten or loosen depending on your shape, and to keep everything neat, you can roll up any extra webbing and fasten it with the nifty elastic hoops. The PFAs are great for cinching everything – and also really help when trying to find the ideal breastfeeding position.
If you have a bigger kid to carry, you may want to check out the Full Buckle Toddler, which is recommended for 11 – 25kg.
Comfort and breathability
So, this is where I have found that the Soul Full Buckle really comes into its own.
Firstly, the jacquard fabric itself is lovely – soft and floppy, straight out of the box, with just a teeny bit of diagonal stretch and bounce. This means that, compared to my canvas carriers, my little girl has a deeper more ergonomic seat, that fits perfectly to her body shape. Cue, cute bum shot.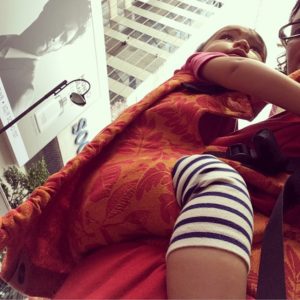 The body panel is made from a double layer of cotton – the secret behind its lightness and blessed breathability – but it also feels very strong and supportive. I also really like the thoughtful, soft padding at the side of the body panel, designed to protect my baby's thighs from rubbing, as this means I can wear her without having to put her in leggings – and as the Hong Kong summer begins to beat down, every extra layer is becoming a factor.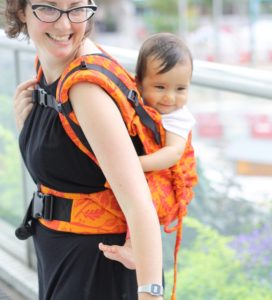 The soft padding of the shoulder straps and waistband has also been quite the revelation.  The padding itself is just over half an inch thick – fairly average for SSC, I would say – but it is the way that it molds to fit that makes it particularly comfortable, and quite different to the other carriers I've used. Although I'm a back-carrying novice – I have found that the fact that the waistband is so soft and pliable, makes it easier to achieve a comfy, high back-carry without anything digging in.
It is just worth noting that the shoulder straps are fixed and therefore it is not possible to cross the straps at the back when doing a front-carry, if this happens to be your thing.  I do rate the buckles on the carrier though – they have, of course, passed safety testing – but in addition to this they also feel of very good quality and snap smoothly in and out, without getting 'sticky'.
The Soul brand – what am I buying into?
Soul is a family-run registered Indian company and every Soul carrier is designed, developed, hand-made, checked and shipped directly from the Soul Studio. The Soul Team includes working mothers, many of them either single or the sole wage-earner in their families. Soul has made a commitment to provide a safe, happy and comfortable work environment, and employee benefits promote health insurance, personal savings and help with their children's education. Furthermore, having made a conscious choice to focus primarily on handlooms and hand-weavers, the fabrics are all sourced from small-scale textile mills and weaver cooperatives and are always regulated by fair trade laws.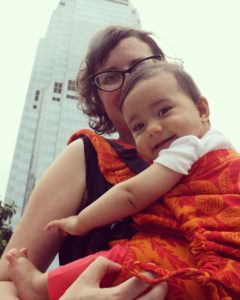 So, handmade with a strong ethical code? I suspect you are thinking that the downside must be the cost. But happily – no. Making babywearing affordable and accessible is also at the center of Soul's philosophy – and compared to many other carriers the Soul Full Buckle really does look like terrific value. In fact, the only thing to be aware of is that the fabric might have some cosmetic flaws, like skipped threads, knots, snubs and nubs, slight thread shifting or large floats, none of which affect functionality or safety. I have examined mine (which is a tester) and there are a few small nubs and one shifted thread, but nothing I would have noticed without close scrutiny.
And although Soul is a growing international brand, what is really lovely is there is still a nice personal touch – with a very friendly and supportive Facebook chatter group, where Chinmayie, the company founder, can still be found posting babywearing photos and replying to queries.
My verdict
So, I think you will have seen this coming, but I really am smitten. The softness and breathability of the cotton is ideal, and I also love that we are now a little dot of gorgeously-patterned fabric, in a city that is a largely dominated by bulky grey and black canvas carriers.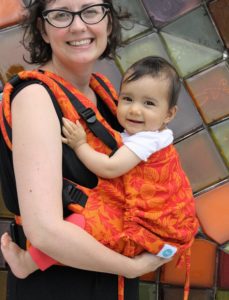 Perhaps my only slight quibble is that it doesn't have a pocket – although do I really miss it? Well, perhaps occasionally – although now I have children, the idea of leaving the house without a bag is a bit like suggesting to my Grandad he leave the house without a stockpile of emergency toffees – unthinkable, except in the most extreme occasions – so it really isn't too big an issue. Anyway, I like the fact the carrier itself is so light and compact, and a pocket would add to the bulk.
I was about to say that the Soul Full Buckle is a really good value carrier – but honestly, I don't think that's fair. The Soul Full Buckle is a really good carrier, period. It also happens to be both good value and ethical. And although I can't tell you that babywearing in the sweatfest which is the Hong Kong summer isn't hard work sometimes – my Soul carrier is really doing its best to make it bearable for both me and my girl. And let's face facts, in a city with so many steps and pushchair unfriendly pavements, not wearing your baby doesn't seem like a very good option either.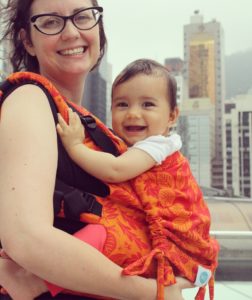 And so, at least for now, I think my itch to buy all the carriers has been scratched. Except… I have just seen that Soul are now selling some lovely wrap conversion Mei-Tais!
If you live in Hong Kong, and would like more information about babywearing, including the many benefits and details of meet-ups, do join the lovely Hong Kong Babywearing Facebook group.
I received no payment for this post. The Soul Full Buckle was very kindly sent to me for review, although as always, the views expressed here are mine.