Having once vowed never to get married or to have children, I am still sometimes surprised to find myself as a trailing spouse and full-time SAHM. In fact, now I come to think of it, I'm slightly horrified that I even know what the abbreviation SAHM means… And yet, here I am.
When my husband (then boyfriend) was offered his first overseas posting to Zambia, back in 2008, I was delighted. Terrified and clueless (yes, I had to google where Zambia was), but truly delighted. I couldn't wait to hand in my notice, leave behind my daily 2-hour commute and wave London-in-the-winter a less than fond goodbye. We had never got along and I felt in need of a change.
Zambia didn't turn out to be a love affair, but slowly both me and my husband developed a deep fondness for it: the bright purple jacaranda blossom, the startlingly starry nights, the first rains after the weeks of crescendoing heat, the hard-working Zambian women and their amazing array of hair pieces, the small expat community that sucked you in and treated you like their long-lost friend. We even developed a sneaking admiration for the wildly inefficient and, what would at times seemed like, willfully confusing bureaucracy. Going to the bank was like being stuck in a Monty Python sketch, but without the laughter. What we liked best of all, though, was our home – big and shabby, with a ridiculously beautiful garden. Oh, and our dog, cats, vegetable patch, and the thrill of collecting fresh eggs from our chickens in the morning. Yep, for a while there, we thought we were Tom and Barbara (except with a gardener to do the hard work and the occasional snake for added excitement).
Then in 2011, our son was born, and living The Good Life began to wear a little thin. There are only so many times you can bath your baby by candlelight (not as part of a cutting-edge sensory development strategy but because the power has gone AGAIN) or take a shower using a bucket in the garden after a night of almost no sleep (not because it was either rejuvenating or reviving but because the water has gone AGAIN) before it starts to lose its charms. In the meantime, our gorgeous house started to feel like a trap – having quit my teaching job to be a mum, and with no parks or child-centers to visit, and no baby groups to join – I was sleep-deprived and lonely. And so, when my husband got offered a new job in Hong Kong, just before our son's first birthday, I felt a twinge of sadness to be saying goodbye, but mainly a huge wave of relief. And, yep, I realise how hugely privileged I was (am) to have that choice.
And maybe it was the stark contrast in almost every way, but I loved Hong Kong almost instantaneously. There were pavements and streetlights and a public transport system! Riding on an escalator felt like the height of sophistication. And, of course, that iconic view of the sky-scrappers against the harbour wasn't too shabby either. Happily, the change in scene suited our little boy too – who by now was really showing what a funny, hi-speed, lovable little terror he was. He was thrilled by the playgrounds and theme parks and every new encounter was greeted by his gun-ho spirit; with the marked exception of green vegetables, and somewhat more strangely, aquariums.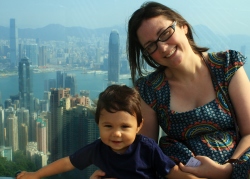 Four years later and I am still trying to keep pace, as we carry on our adventures together, although a good many things have changed. We are living in Prague now, and my son, who was once my constant companion, is at school for most the day. Instead, it is my funny little toddler girl who is always by my side, as I yet again try to get to grips with a new city.
I hope this blog will serve as a useful travel guide, as well as capturing something of the delights, frustrations and sometimes sheer exhaustion of our family life abroad.