If you ever find yourself with a spare sunny morning, I can't think of many better ways to spend it than wandering the beautiful baroque streets of Prague's Lesser Town. The only trouble being, this is an opinion widely held, as anyone who has battled their way down the sunny cobbled streets to Charles Bridge, dodging selfie-sticks and coach parties, will bear testament. But take heart – after exploring Prague's prettiest part of town with my young children and many a visitor over the course of the last year, I've discovered that it is possible to enjoy its historic charms without necessarily being swept away in the tourist bustle. So, come with me for a morning's stroll around some beautiful gardens and ancient orchards. For those of you who are interested, there are some hidden playgrounds enroute, and we may even get to pause for a cup of tea and some cake. So, who's in?
Stop 1 – Wallenstein Gardens (Valdštejnská zahrada)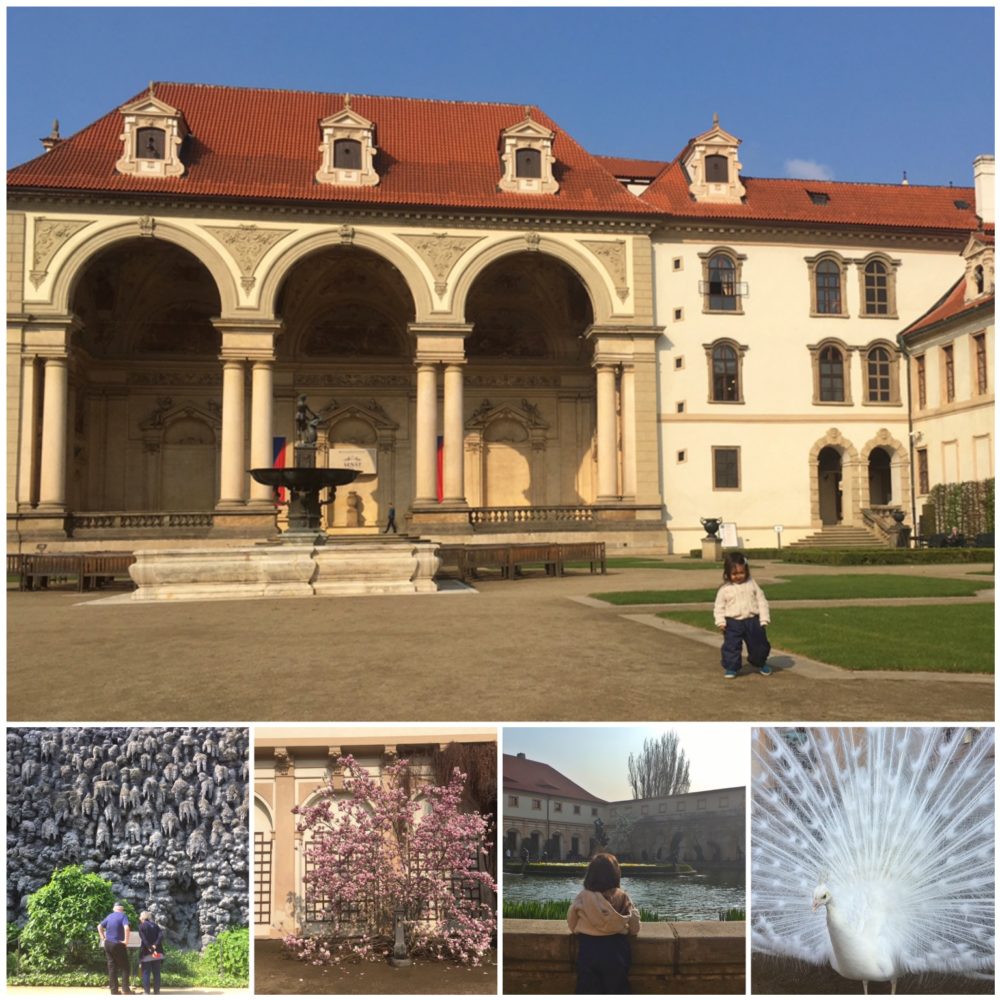 Letenská, Praha 1 – Malá Strana. Open to the public from 1 April – 30 October, Mon – Fri 07.30 – 18.00, weekends and state holidays 10.00 – 18.00, June – Sept until 19.00. Free.
If you are in Prague outside of the winter months, you should take the chance to visit one of the city's very finest gardens. Hidden behind high walls, this baroque gem, featuring calming fountains and gasp-worthy castle views, isn't entirely off the tourist trail, although if you arrive early you may well find that you have it largely to yourself. The gardens actually belong to the Wallenstein Palace, the home of the Senate, and if admiring the beautiful building from the outside isn't enough to sate your appetite, it is possible to tour the interiors too. Art lovers may also want to spend some time admiring the exhibitions curated by the National Gallery at the Waldstein Riding School, at the opposite end of the garden, although neither of these diversions are probably best suited to those with small, fidgety children in their party. Otherwise, just enjoy a leisurely stroll around the beautiful grounds.
Kids will love: For mini wildlife enthusiasts, there are carp and ducks to admire in the large pond here (although feeding them is off limits) and there is also a small aviary near the Senate, fittingly housing a parliament of owls. Even more excitingly, elegant Indian and white peacocks strut around the gardens, and if you visit in the spring you may well be lucky enough to spot some chicks. Keep on exploring, and the whole family will enjoy looking for faces and animals in the rather gothic imitation stalactite wall (grotto).
Hint: There are two gates to the garden: one is just by the side of Malostranska metro station, the other is an unassuming doorway on Letenska. For the sake of this tour, you are best walking in by the metro station and out the other way, although there is very little in it. Oh and there are public toilets and a baby changing facility available here, at a small charge.
Stop 2 – Admiring Charles Bridge whilst feeding the swans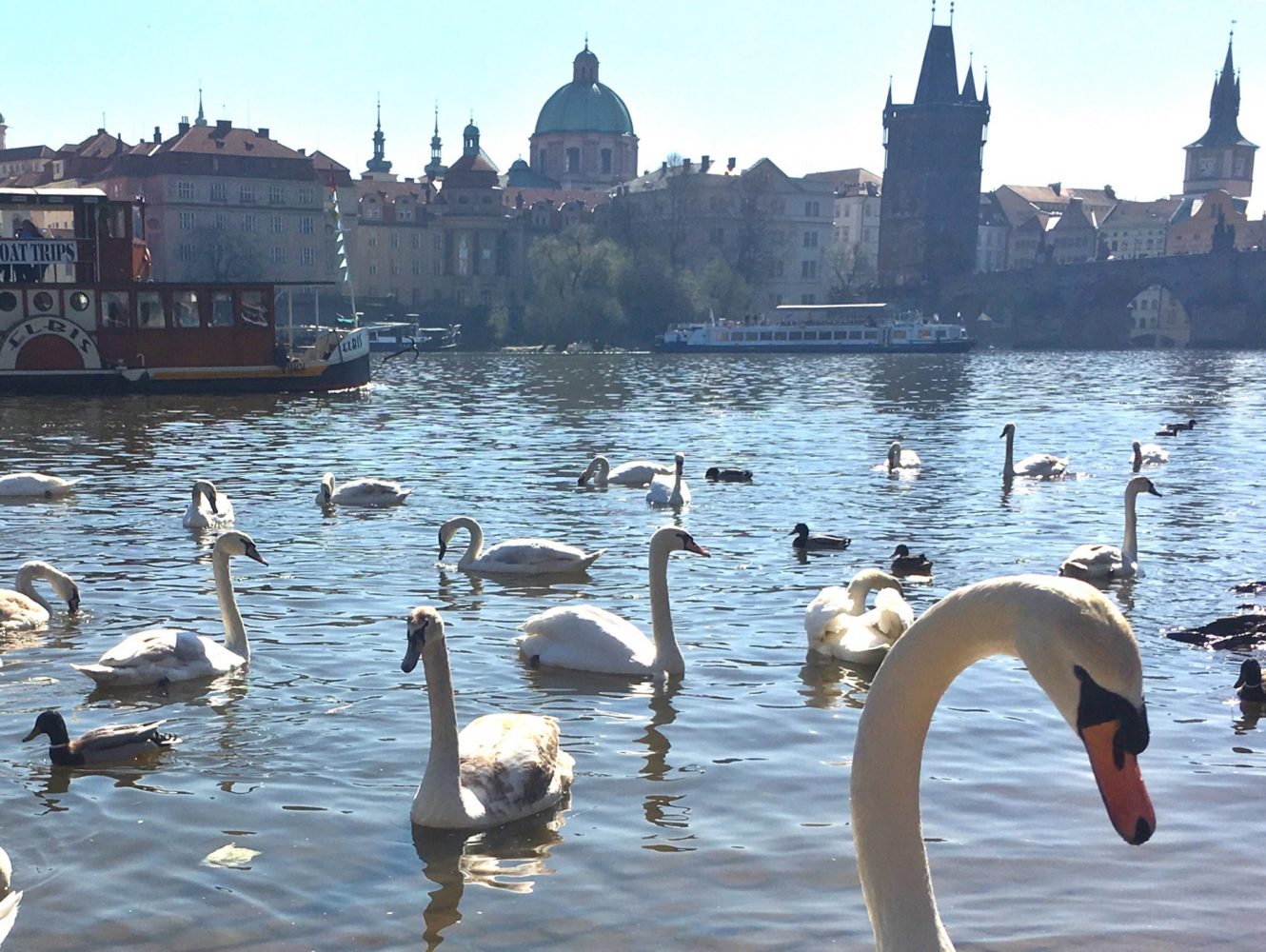 River bank, just down from Cihelna. Free.
If you want a wonderful view of the Vltava river, this is a good spot to pause for a moment or two. Although, the river bank here can get busy with both tourists and swans, it is almost too good a photo opportunity to miss (unless you don't like large birds, in which case skip onwards to stop 3).
Kids will love: If you remember to pack a few bird snacks (see here for suggestions about what they most enjoy), brave little ones will enjoy feeding the swans, ducks and pigeons that congregate here. During the summer, when the tourist groups ensure that the birds are all well fed, it is a pretty relaxed activity. However be warned, during the winter months the feathered friends can get a bit more competitive about getting your food!
Stop 3 – Vojanovy sady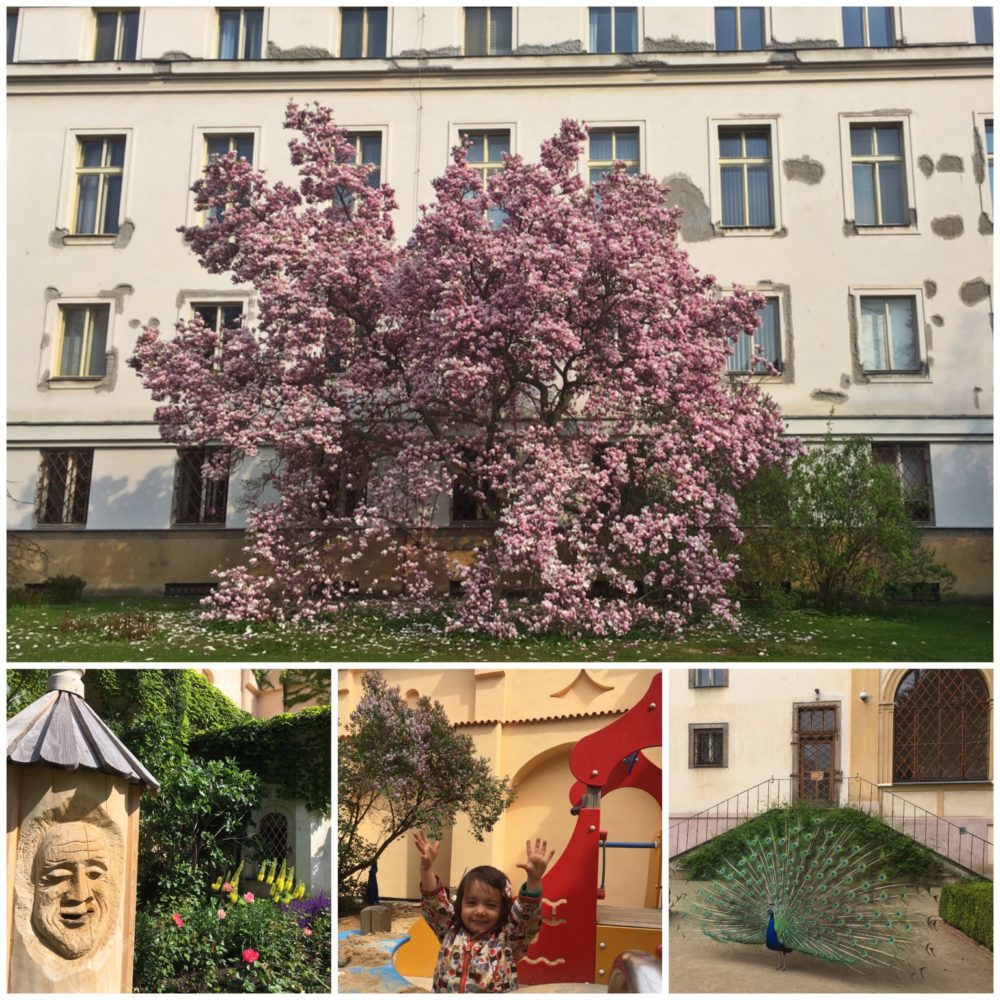 U Lužického semináře 17, Praha 1 – Malá Strana. Open April – October 08.00–19.00, November – March 08.00-17.00. Free.
In the very middle of the tourist trail, lies this haven of fading beauty, peace and tranquility. Unlike the Wallenstein Garden, this walled park is open all year round, and has the distinguished claim of being Prague's oldest garden, being founded in 1248 as a monastery orchard. During the spring, the blossom on the fruit trees is a sight to behold, whereas in the summer, the colourful blooms on display, complete with buzzing beehive and working sundial, are a delight. Keep on going to the end of the garden, you will come across steps leading up to a pretty terrace, where more often than not, some more posing peacocks will be waiting for you. There are toilets in the garden too, should you need them – at a small cost, as well as many white benches for resting weary legs.
Kids will love: If you follow the signs for the toilet, you will quickly come across a small playground with sand and a slide. Searching for the peacocks and visiting the small duck pond is also good fun.
If you would like to see a little more of this pretty garden, you can watch this short video:
Stop 4 – Tea break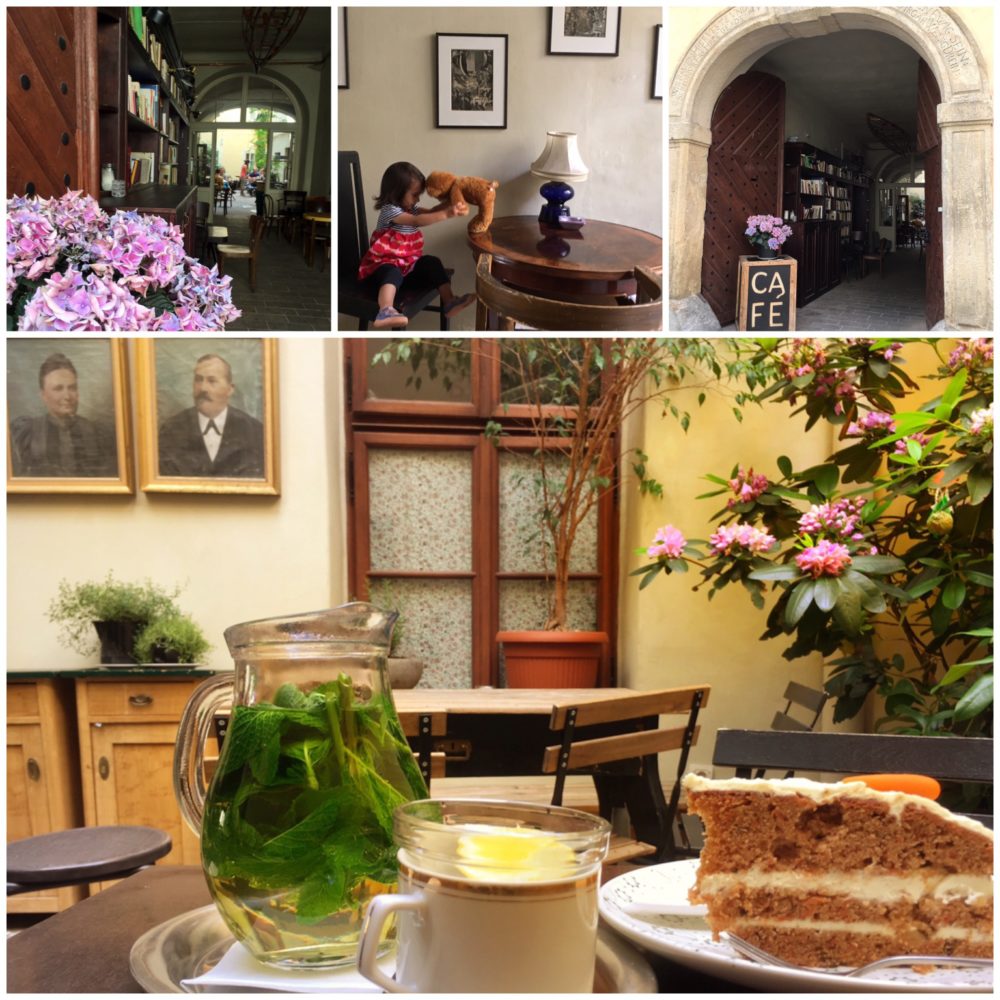 By now you must be ready for a drink and a snack? Although there are many cafes and restaurants in the area, finding one that isn't an over-priced tourist trap can be tricky. An excellent bet is to head to Café Club Misenska, for some quirky charm, a lovely courtyard and some reasonably-priced refreshments. In addition to the good coffee and fresh ginger and mint teas on offer here, you can also order some Czech beer, or a glass of wine, should the mood take you, and there are normally a selection of cakes and quiches up for grabs too. And although it comes highly rated, and is a lovely place to sip your drink, it surprisingly never gets too busy.
Kids will love: The cake, of course! And there is often chalk available too, for little ones to help decorate the courtyard. There are no highchairs here, however, and you may find other customers will smoke in the outside seating area, if this is something that would trouble you.
Hint: If your little ones are too restless to sit at a café, you can pick up some tea or coffee to go, as well as some sweet treats and sandwiches, from the Bakeshop Little Bakery at U Luzickeho Seminare 22. This is a pricier indulgence, but is very tasty all the same. Then take your goodies to Stop 6 and find yourself a bench in the playground.
Stop 5 – A little book browsing at Shakespeare and Sons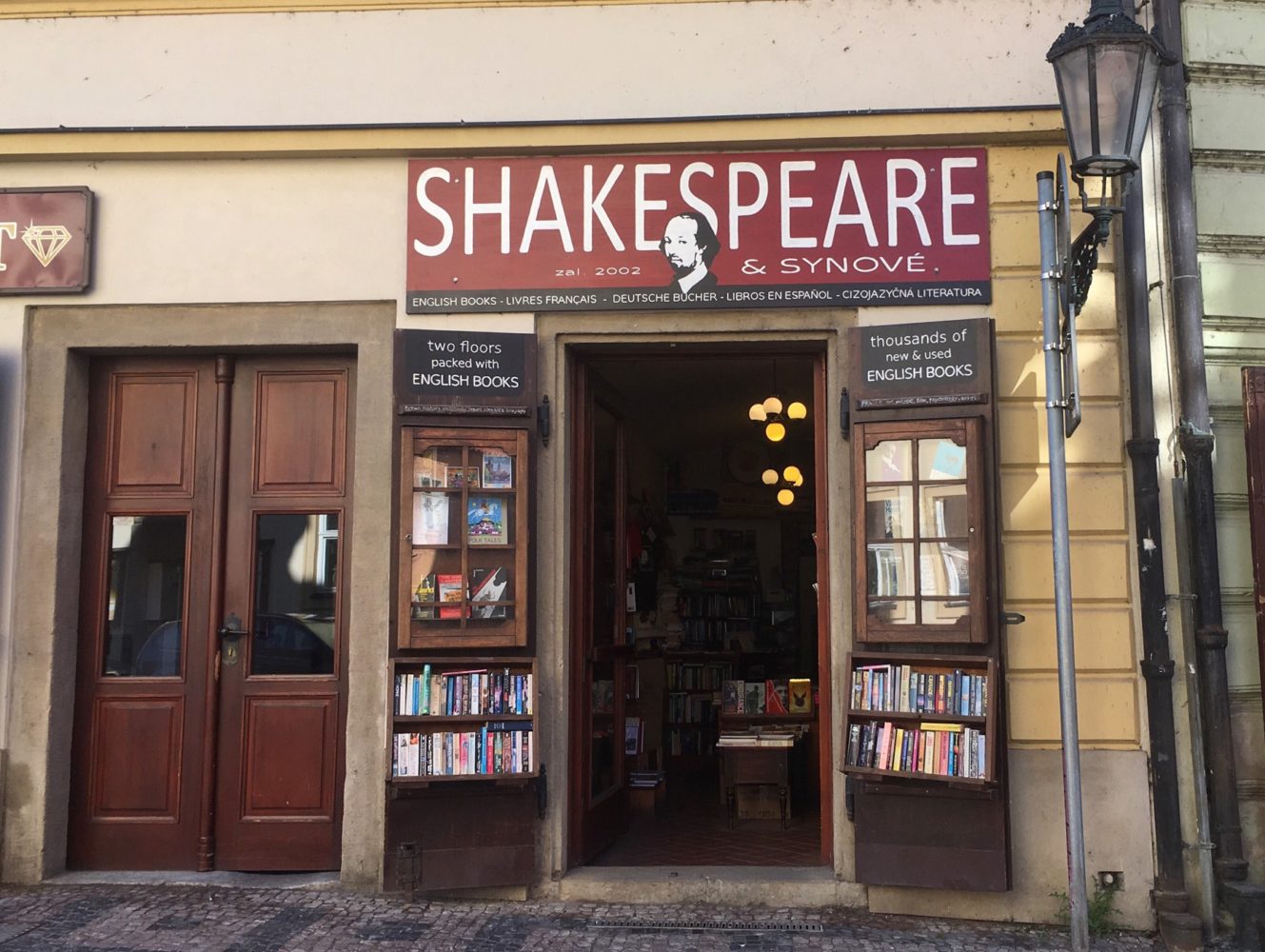 U Lužického semináře 10, Prague 1. Open 11:00-19:00 daily
Far from mandatory, you could skip by this lovely bookshop, if time is escaping you – but if you do fancy grabbing yourself a book in English for your return journey, this is a great place to explore.
Kids will love: There is a small but well stocked children's section, all in English.
Stop 6 – Kampa Island and the playground under Charles Bridge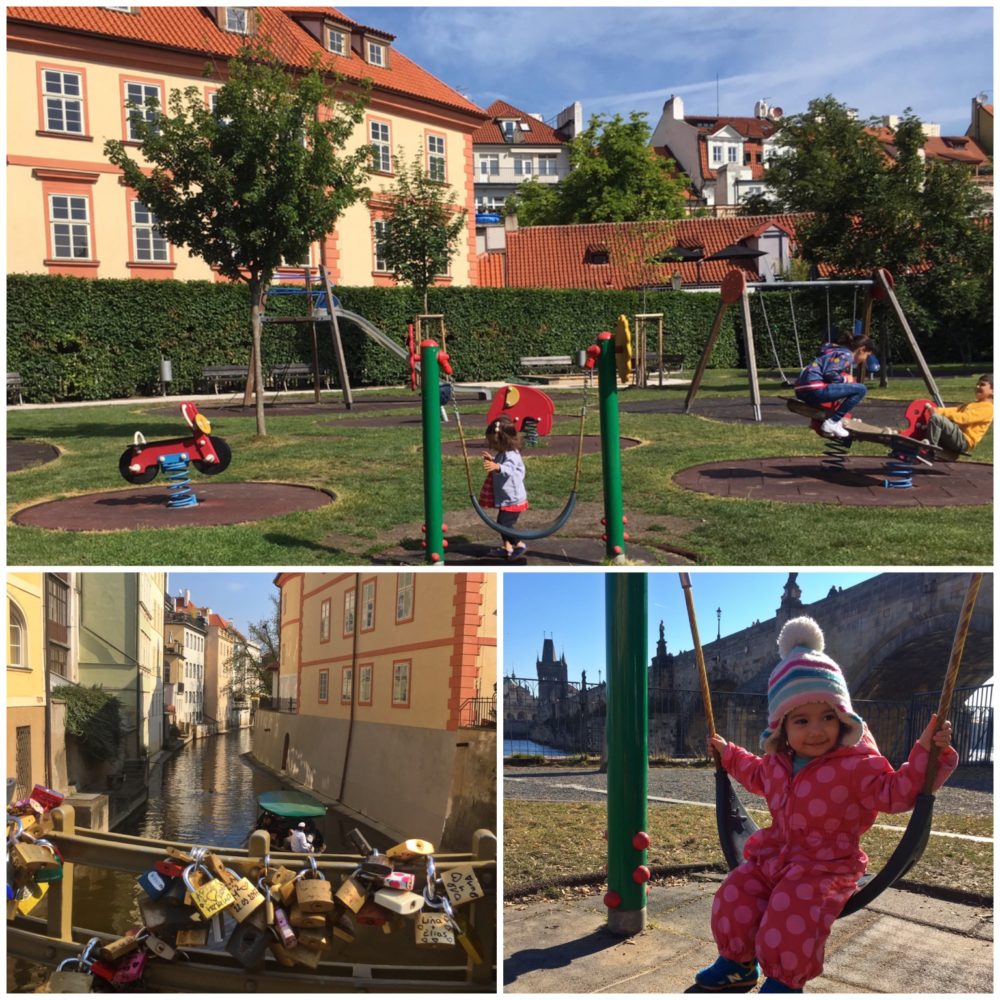 Playground: Na Kampě 8, Prague 1, Open April – October 08:00–19:00, November – March 08:00 – 17:00. Free
As you wander down towards Kampa, you may notice the tourist numbers swell a little as you get closer to Charles Bridge. All the same, it is worth braving the crowds, for a little wander around this very pretty area, stopping to admire the view at the little bridges that cross the Devil's Stream (Certovka), a man-made water way created in the 12th century to power the mills here, a couple of which are still in wonderfully picturesque working condition.
Kids will love: As you come from Shakespeare and Sons, walk around the corner then over the Devil Stream bridge, turning left after the restaurant (Cafe Marnice). Walk through the car park and you will come to a great little gated playground, which has play equipment for both little and big kids. You may be lucky enough to spot some more ducks and swans on the river from here. Parents, on the other hand, will no doubt be enjoying the magnificent views.
Hint: To find the playground, it is best to ignore GoogleMaps on this occasion and follow the directions above. The playground is just next to the Kampa Park Restaurant, if you are still having difficulty finding it.
Also, if you are keen to get to see Charles Bridge and Kampa before the tourist hordes arrive, start your tour in the early morning by crossing the bridge (no later than 9am) and make your way to the playground, then follow the above stops in reverse.
Stop 7 – Lunch
There are many restaurants in the vicinity, if you are getting peckish. Café Creperie Pod Vezi is a good nearby option, with its relaxed atmosphere, friendly service, yummy savory and sweet crepes and a highchair for smaller diners too. Alternatively, if you are keen to wander across Charles Bridge, you could follow this with a visit to Café Mistral, just off from the Old Town Square, which serves modern international food and has a children's menu, as well as a small play-area.
Alternatively, if just a drink, some soup or a snack will suffice – along with some Bohemian flair – a trip to beer garden of Kavarna Mlynska may be in order, just further along Kampa Island. Or of course, if you've planned ahead, a picnic on the grass here would be as excellent a way as any to round off the morning.
A helpful map
And so, I'll leave you here to plan your afternoon. A wander down Charles Bridge and around the Old Town Square would be an good option, although it may be a tad busy by now. Alternatively, you might want to continue on through Kampa towards the Kampa Museum, taking a look at David Cerny's Babies sculpture and the yellow penguins that guard the river there. There is even a second playground here, if you look hard enough, and you're also not far from the John Lennon Wall. Although, of course, no one would blame you either for just having a good old afternoon snooze.
Pin it for later: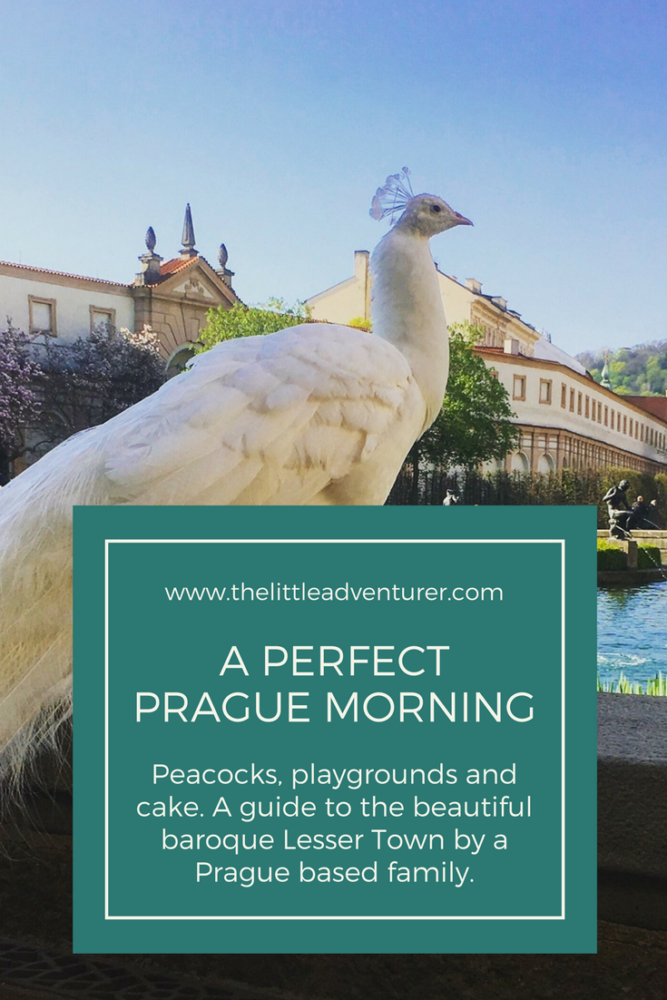 As seen in: