Amid the hard work, never-ending chores and exhaustion of the parenting, there comes the odd magical moment. You know, those wonderful hiatuses amongst the chaos that help get you through, and make it all worth it. We're talking first smiles, first steps and the like. Well, one such moment for us came on a flight to Bali just before my son's second birthday. Indeed, it is so sweet and precious a memory that I can't help but sport a soppy, Doris Day smile whilst thinking of it still now. It was the moment that my son – even without the aid of headphones – sat and watched the whole of 'Toy Story 2'.
And sadly, if I'm truthful, I'm only half-kidding. As my son sat there, with his little face transfixed on Woody and Buzz and the gang, we really did begin to realise that great things may indeed be possible…Like perhaps we could both get to eat our inflight meals – at the same time! Or maybe we could even read a chapter or two of that optimistically-packed book at the bottom of our bags. Or really throw caution to the wind, and actually watch something on the entertainment system ourselves! It was, quite frankly, a revelation.
So, as much as I would like to tell you that we survive all our long journeys by reading books, colouring pictures and making sticker collages (and to be fair, we do give that a crack now and again too), it has more often than not been the wonderful TV in the back of the chair and our iPad that have saved the day. And so, although this is in no way trying to be an original or definitive list, I thought that now, with the Easter holidays creeping closer, it might be useful if I shared the apps that have bought us the most time proven to be the most enjoyable and educational for our son during his toddler years:
LEGO® DUPLO® Forest by The LEGO group
In a move of sheer marketing genius, LEGO gifts away lots of excellent apps on both iOS and Android for free. The Train, Ice-cream and Circus apps have all proven big successes in our house, although as a toddler, my son's favourite was the Zoo app. However, about a week after I first wrote this post expounding the Zoo app's virtues, it became no longer available to download. Sigh. However, LEGO have now brought out a new Forest game which happily includes the same great story-telling and attention to detail. Although this new app is a little shorter and less involved than its predecessor, the difficulty level of the games are probably better suited for the 2-year old crowd, as the tricky puzzles have been replaced with simpler block building challenges, resulting fewer frustrated cries for help.
Available to download for iOS and Android
Cost: free, with no in-app purchases!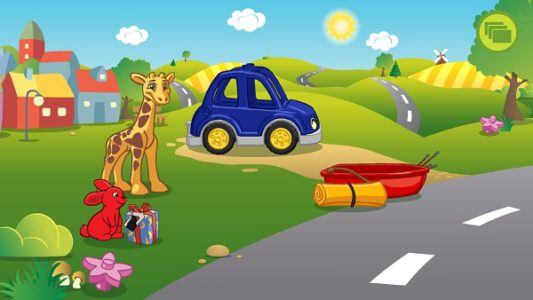 Tozzle – Toddler's Favorite Puzzle by nodeflexion.com
If your toddler loves a jigsaw puzzle, this may well turn out to be their favourite app, and yours! There are 44 puzzles to work through, each increasing slightly in difficulty as you go along. Once puzzles have been completed, by dragging and dropping pieces into place, there are often fun animations to play with – so, once you have built the space-craft, you then get to fly it around! This is great for helping with shape recognition and I am also a big fan of the help feature, where toddlers, who have struggled twice to find the correct place for a piece, are assisted by a big arrow – thus meaning fairly autonomous play. If you want to test it out before buying, you can download Tozzle Lite for free, although I would say the full version was well worth the money. My only slight disappointment is that they never brought out a Tozzle 2!
Available for download for iOS
Cost: £1.49 (roughly HKD $17), contains no in-app purchases
Lazoo Art Box by PBS KIDS
Until very recently Lazoo used to gift their lovely artistic apps away for free – although all good things and that… The app that Lazoo have just developed for PBS Kids is probably worth the modest price tag, and just like in the previous versions, this app encourages your toddler to squiggle and draw on pictures and photos, before bringing their creations to life! This is perfect for little ones who are just beginning to develop their fine motor skills, as it provides them with a base for their doodles and allows them to create really cool pictures, even with the most rudimentary strokes. This is a real crowd pleaser – and for us anyway – has never become old. If your toddler does become a fan, you can extend the fun by downloading Miku's Picnic (free), an interactive storybook app that again features the Miku and Bobo characters.
Available for download for iOS
Cost: £1.49 (roughly HK$17)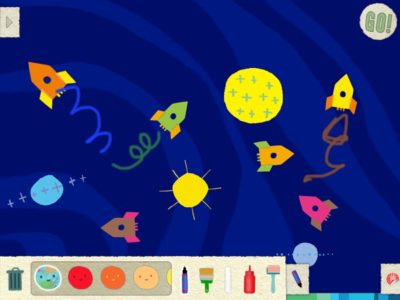 Tiny Airport – Toddler's Seek and Find Activity Book by wonderkind GmbH
I really like all the activity books produced by this developer, and the My Little Town app is particularly good for younger toddlers. However, if you are about to embark on an airplane journey with a slightly older child (I would recommend 2.5 years+), the Tiny Airport book seems a particularly apt one to go for. Children can explore three different airport scenes, and by tapping on the objects and characters on screen can make funny little animations appear – like a knight in full armour trying to pass through the security gates. Although it isn't exactly true to life, it also can be used as a useful tool to help talk to your toddler about travelling through an airport and explaining all the stages involved, from check-in, to the departure gates to the flight itself.
Available for download for iOS and Android
Cost: £2.49 (roughly HK$ 23) with no in-app purchases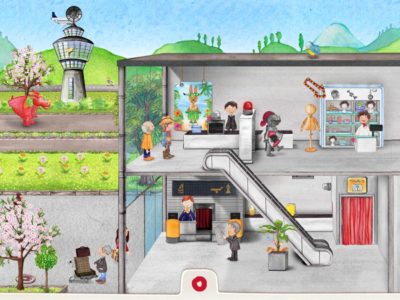 Toca Pet Doctor by Toca Boca AB
Again Toca Boca has produced a range of attractive, fun children's apps, but as a 2 year old, my son's sure favourite was Toca Pet Doctor. The game involves helping a gang of accident prone animals by cleaning wounds and applying ointments and plasters. Once fixed up, your toddler then gets to give the animal a treat, before moving on to the next creature who is having a bad day.  The animation is really cute and the difficulty of the 'problem-solving' is perfectly pitched for little people.
Available for download for iOS and Android
Cost: £2.49 (HK$ 23) with no in-app purchases
As you will have spotted, I've purposefully chosen apps that don't contain any annoying in-app purchases in order to unlock sections of the game, and none of these apps feature 3rd party advertising either.
Although not all might be to your small person's taste, I hope you find one that takes their fancy, and makes your next long journey a little smoother!  And if you've found a brilliant toddler or preschooler app, do leave a comment, I'd love to hear about it.