So, even the least observant among you, may have noticed that my blog has hardly been a hive of activity lately. I would blame this on the arrival of my baby daughter back in September – as I have generally found her to be a good cover for many of my failings – unanswered emails, frequent lateness, a slightly disheleved, bordering on unwashed, look – except to my horror, I keep on reading all these blog posts by mums who have newborns, as well as numerous other children, and are earning an income through freelancing whilst managing to keep their house clean and their children fed on something other than cereal and Ella's pouches. So, perhaps it is time to face facts, and accept I'm something of a procrastinator, or a lazer, or most probably of all, a bit of both.
And whilst I'm examining my weaknesses, it is time to confess to the fact I have been spending way too much time of late on Facebook buy/sell/trade groups drooling over baby wraps, slings and carriers. I'm not entirely sure where this came from – I'm not a fanatical shopper by nature, and my first baby was carried around in his unergonimical carrier for months, because although it was killing my shoulders and he was obviously uncomfortable, I never took the time to even check if there was another option. This time round, I'm learning about fabric blends and weights, wrap sizes and carrier dimensions.  I suspect I need help. Although in my defense, having invested in a few choice carriers has made getting out and about in hilly, step-laden Hong Kong, with two little whippersnappers, a little less of a struggle – so perhaps not time wholly misspent…
Anyway, to atone for my sins, and with the summer sweat-fest season almost upon us, I thought I would use my newly found knowledge to write a post about the best SSCs to wear in the heat and humidity. 'Cos that way, spending time looking a babywearing stuff is like proper research, right?
Lillebaby COMPLETE Airflow Carrier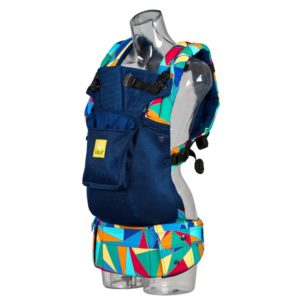 This is something of the Renaissance man of SSC, as there is very little that this chap can't do. Want to carry your newborn without one of those hot, cumbersome inserts? Check. Need to carry your bulky toddler weighing 20kgs? Check. Want to front carry? Back carry? Hip carry? Check, check and check. You'd like to carry your nosey nine month old forward-facing for a while? By all means! It evens come with a handy pocket to help you stow your keys and phone whilst out and about.
And all this functionality thankfully hasn't meant that comfort has been sacrificed – the padded shoulder straps and waist belt ensure an easy carry, although it is the lumbar support that has been the real savior for me – ensuring that I can carry my baby for hours at a time without my shoulders burning or a crumbling back. The neck support and sleeping hood are also great for allowing undisturbed naps on the go (in fact thanks to this carrier, my baby managed to nap for 2 hours straight during a four year olds birthday, no mean feat).
What makes this carrier so perfect for summer though is the mesh, cotton fabric – making it totally floppy and breathable – ideal for when the humidity starts to crank up.
Pros: Flexible and breathable, with lots of colours to choose from. The flexible torso panel makes it a great choice for taller babies (although it has been great for my petite baby too).
Cons: A tad on the bulky side (so you won't be fitting it in your handbag). Also, if you are smaller than my 5ft1, I would definitely try before you buy, as I have the straps as short as you can have them, and it just fits me.
Lillebaby COMPLETE Airflow carriers are available to rent and buy in Hong Kong from The Sling Collection.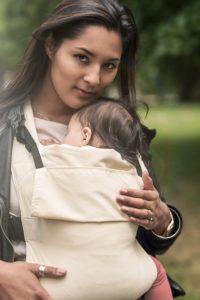 Connecta makes some lovely looking carriers using some beautiful fabrics and wrap conversions, but if you are after a good summer option, it is the Connecta Solar you need to hunt down. This carrier, made from Solarweave  – a sun-protective, breathabe fabric which blocks 95- 99% of the suns harmful UVA and UVB rays – is supportive, soft to touch and quick drying – so a great option for the shower, beach or pool (although obviously you should never actually swim in it with your baby on board). The design is simple and elegant, and I also can't but admire the optimisim of the British company that makes them. Imagine, someone living in the UK actually sat down to design something that would help with the problem of too much sun!
Again, the standard carrier can be used for newborns weighing 3.5kgs without a bulky insert, right through to growing toddlers, and there are toddler and preschool versions for bigger kids too. They all feature a sleep hood and allow you to front (inward facing) and back carry.
Pros – Protective, breathable, super lightweight, affordable and compact (think stash in your bag compact). Can be used in water and the slightly padded shoulder straps can be crossed for good weight distribution.
Cons – There is no supportive waistband – which some people  argue is a real plus as it is this that makes it so light weight) – however, this does mean that it might start tiring your shoulders if you are babywearing for very long periods of time. Also, there is no pocket for your stuff.
Connecta Solars can be a bit tricky to find, although they are currently available to rent, and soon available to buy in Hong Kong from The Sling Collection.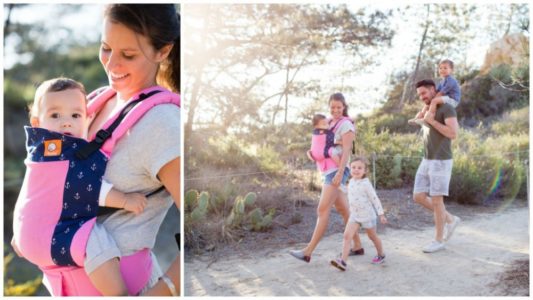 Tula carriers are just a thing to behold. They are supportive, easy to use, comfortable for both baby and parent, and come in a range of quirky, beautiful and elegant designs. Don't believe me? Just have a quick browse around the old interwebs and you'll find everyone falling over themselves to give them awards and sing their praises, with it generally agreed that they achieve the perfect balance between being comfortably padded but not too bulky. Imagine the excitement then, amongst babywearers in hotter climes, to discover that Tula is now producing a new line of breathable mesh carriers. They only just went on sale this month, so I haven't been able to see one in the flesh – but if they are anything like their sister carriers, they'll be the bees knees (and of course should anyone want to send me one to test out and review, I may very well try and find the time to oblige… hint hint).
These carriers come with a sleep hood, nifty pocket and allow for both front inward-facing and back carries. The baby carriers can be used from 7 – 20kgs and the toddler carriers can be used from 11 – 27kgs
Pros – the queen of carriers just got airy and breathable, nuff said.
Cons – not suitable for newborns without an insert (that would negate the airflow factor), also pretty hard to find…
So, these carriers can't be bought in Hong Kong. For a list of retailers, you can take a look here. Happily, if you're quick, Singapore retailer, Bumwear, currently has stock of the mesh carrier and ships to Hong Kong. Hurrah. And if you are keen to see what all the fuss is about, The Sling Collection rents out the standard Tula.
And if these three lovelies haven't got you reaching for your credit card, you can always check out the Manduca SSC or the iAngel Rainbow 2 Four Seasons, for some more good summer options. I'm afraid I haven't first-hand experience of either of these carriers, although I hear good things about both their versatility and breathability, and both are available from Bumps to Babes as well as online stores. Other popular, breathable choices, are the sporty Ergobaby Ventus and the new Ergobaby 360 Cool Air, which both get great reviews – although, for me, the lack of a handy pocket, and the fact they need to be used with an infant insert for little babies, makes me think they don't quite have the edge on the Lillebaby carrier, but still worth a look. And if gorgeous fabrics are more your thing; ethical, Indian based company, Soul Slings, make beautiful full buckle carriers out of soft jacquard cotton or linen, which are great for hotter climes, and rather handily, they ship to Hong Kong too. Have a look here at my full review.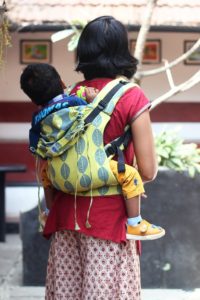 And so, good luck to you my friend. Hong Kong in the summer with small children is not the easiest of places, but hopefully armed with one of these carriers, it perhaps just got a little less sweaty…
Oh and just to say, I am in no way affiliated with any of the brands or companies featured here, and I have received no payment for this article. #sucker #doingitfortheloveofit #wearallthebabies