Prague is happily chockablock of indoor play options, so although this exhibition has now closed, you can still find lots more inspiration here. Also, the child-friendly restaurant options given at the end of the article are still current as of summer 2017.
Outside of eating sweets and dancing to 80s pop music, it is probably true that me and my five-year-old son don't have many shared enthusiasms. While his idea of a good morning, is one spent simultaneously practicing parkour off the furniture whilst screaming, if I'm honest, I prefer a cup of tea and a good book. And equally, whilst I can be quite easily persuaded to go for a dip in the local pool, I generally opt not to spend my time there splashing water about wildly and bombing into the deep end. Vive le difference and all that. But then, just sometimes, we find a mutual interest, and boom – we are a truly joyful team. And so it was, when we first arrived in Prague last summer, and discovered the Retro exhibition at the National Museum.
Not that it began all that promisingly… Being dragged out of the August sun into the hush of the National Museum, hadn't put my son in the best of moods. However, as a long-time fan of anything kitsch and vintage, I was determined to be buoyant in the face of his apparent skepticism – enthusiastically reassuring him, as we bought our tickets, that I'd heard there were games to play.
"What kind of games?" he interrogated. He knew me too well, and had been dragged around too many museums and galleries to be so easily placated.
"Oh fun ones, I expect," I said brightly. He didn't look convinced.
As we made our way into the small exhibit of gorgeous vintage fashion, my perky optimism began to wane under my son's withering stare.
"Ooh look," I foolishly tried, "aren't these dresses wonderful?"
"They're boring," came the understandable response, "now where are the games?"
I fretfully looked around. There was no sign of anything remotely child pleasing. I also knew I was on borrowed time until my little 10-month-old began to join the protest. I was beginning to feel a little panicked. But then, following a final desperate search, I spotted a second door at the back of the hall. I kept my fingers firmly crossed and led us all through it, and our afternoon – with the welcome appearance of colourful toys, giant wall puzzles, puppet theatres and 1980s video games – was saved. And just like that, we both relaxed, and began to revel in the retro world together.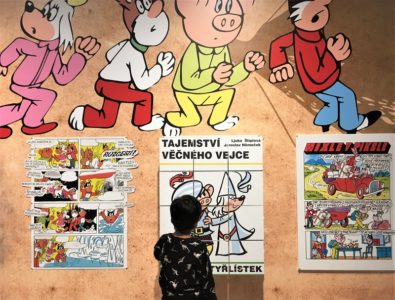 So, even though the child-friendly part of the exhibition isn't huge, as nearly everything in there is  available for fiddling or tinkering with, we happily spent over an hour playing, and in the end, it was me that was dragging my son away.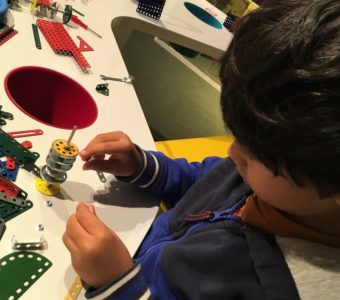 In fact, although the photos may suggest that we kept of having Madonna-esque costume changes, the truth is, we have actually been back many times, often with visitors, and none of us have ever got bored. The constant draws for my son have been the magnetic football game (possibly the best, yet simplest, game we have ever played), the Meccano set and the addictive 1980s computer game, involving a frog crossing a perilous river (I suspect we would still be there now trying to get our final frog across, if a queue of forlorn-looking children hadn't gathered behind us).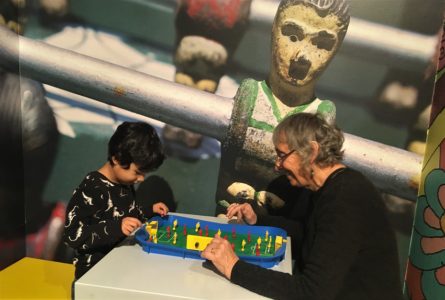 But aside from the obvious child-pleasing stuff, we also all loved the chance to tip-tap on an old typewriter, croon in front of a big band, as well as have our pictures taken with some Czech film stars from a bygone age. Quite simply, vintage heaven.
In addition to all the beautiful aesthetics and fun to be had, the exhibition also gives some lovely glimpses into life in the Czech Republic in the First Republic, right through to Velvet Revolution, as well as highlighting some modern continuations.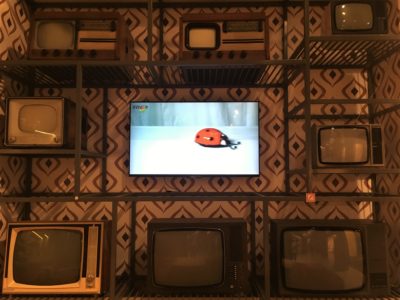 It is probably fair to say, however, that the finer points of history, design and functionality were a little lost on my toddler girl. Nevertheless, she was still happy to totter about admiring the puppets, examining the toys and generally trying to cause as much mischief as she could.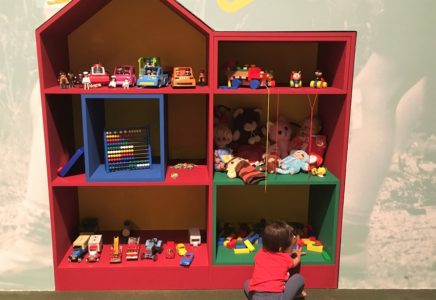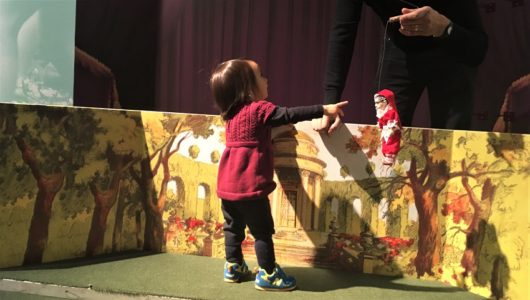 Once her interest had peaked, and she made a break for it, we also discovered a lovely little playroom on the other side of the exhibition space, which featured a colourful doll's house, a small slide and a good smattering of other toys. Perfect toddler fare.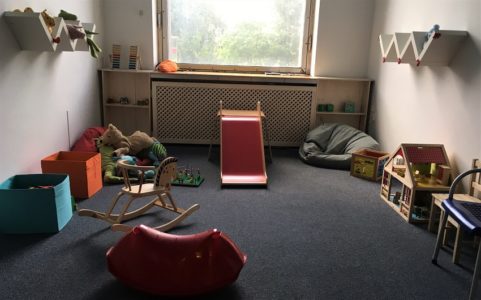 And so, although perhaps we all love it for our different reasons, we have all found a place we all want to be, and no doubt, we will be sneaking back again before the exhibition closes at the end of April.
Extra Stuff
If your bags and coats are weighing you down, there is a free cloakroom, where you can also borrow a stroller
There is also changing table available in the small playroom
As you would expect, there is a nice little museum shop on your way out, where you can also buy some of the featured toys.
If you are looking for even more museum-fun, there is also a long term exhibition at the museum, entitled, "Noah's Arc', that showcases the diversity of animal kingdom. We haven't checked it out yet, but with lots of animal dioramas to explore, it sounds fairly kid-friendly.
Hunger Pangs
The new restaurant attached to the museum – SMIK – does has a small play-area and a highchair, if you are travelling with young children.  I am yet to eat there, although I'll update you with my thoughts when I do.
If you are with toddlers and younger kids – who still have a little energy to burn – you could satisfy your hunger by jumping on the Metro one stop to Namesti Miru (or take a 10 -15 minute stroll), and enjoy at meal at Vinohradsky Parliament, or the next door restaurant, Bruxx, whilst your little ones enjoy their shared playroom, which features a climbing structure, small baby area and a TV. The Czech food at Parliament is of a decent quality, whereas Bruxx offers good Belgium fare. Both restaurants have a kid's menu and highchairs, and the playroom is open from 10.45 – 21.00 Monday to Friday and 11.30 – 17.00 at the weekend. The only slight problem here is that you can't see the playroom from the restaurants – although to help negate this, there is a free babysitter on duty at the weekend, and you can apparently download an App which allows you to watch the playroom on your phone!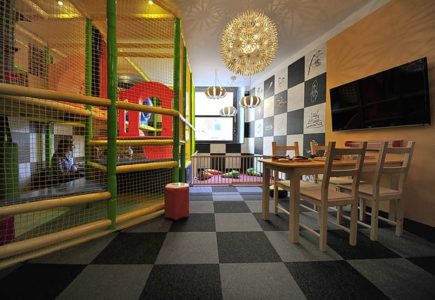 Also, at Namesti Miru is a branch of the Italian restaurant, Grossoto (Vinohrady branch). Here there is a small outdoor playground, just next to the seating in the courtyard – and the pizzas on offer are generally very good.
On Vaclavske Namesti (Wenceslas Square), just a couple of minutes walk from the museum, you can grab a drink and light snack at the cafe of Hotel Julis, which has a children's playroom. Just be warned that the cafe is closed on Saturday afternoons and all day Sunday. Alternatively, there are lots of good options on or around the square for a quick bite to eat, including a Paul bakery.
Narodni Muzeum
National Museum New Building
Vinohradská 1
110 00 Praha 1
Open daily 10.00 – 18.00, except the first Wednesday of the month the hours change to 10.00 – 20.00, and on other Wednesdays to 09.00 – 18.00.
To check for any special closures and directions, please visit the museum website.
The Retro exhibition runs until the 31.05.2017. A full price adult ticket costs 120CZK, family tickets are available for 200CZK, and children under 6 can visit for free.
If you are interested in other culture-filled trips, we are linked to some other great family bloggers via