When I was younger, I would quite happily fill all my weekends aimlessly stalking through crowded town centres in search of a bargain. There was a giddy pleasure in hunting through muddled sales racks and pursuing the signs that deceptively promised they knew the way to the fitting rooms. Even waiting in the chaotic Saturday queues contained a certain thrill of anticipation. Arriving home, feet throbbing, but with the satisfaction of having accumulated heavy bags which were just waiting to be rivaled through, felt like the ultimate prize.
I find it simply unfathomable now. Even the thought of a thronging shopping mall, all soulless fluorescent lighting and polished floors, makes me feel a little nauseous. Thank goodness then for the advent of online shopping – even if it occasionally ends up in me owning a skirt that my 9-year-old niece would have trouble squeezing into.
However, I do make one exception. I still take absolute pleasure in wasting a happy half an hour in the warm glow of a bookshop. And now that I have children, getting to legitimately spend time in the picture book section, leafing through large beautiful books filled with extraordinary illustrations, is a particular delight.
It was a welcome discovery then that Prague has some of the most charming bookshops I have ever had the pleasure to mooch around. Hardly surprising perhaps, for a nation who reportedly spends more time reading than any other in Europe.  But what was particularly exciting, for me and my British ways, was to find that many have a good number of English titles, both for adults and children. And although I must admit that we do from time to time buy some of our books online, it is a huge treat to know that a short tram ride to town can allow me the opportunity to leaf through the pages, feel the weight of the paper and inhale that new book scent.
U Lužického semináře 10, Mala Strana, Prague 1
Opening Hours, 11.00 -19.00 (also has an e-shop). Books in English, and with a  section of French books too.
Tardis-like, brimming with old and new English books, and with friendly, knowledgeable staff: this could be my archetypal perfect bookshop.  The shelves are chocked with everything from classic literature and poetry to travel writing and graphic novels.  Follow the spiral staircase down to the cobblestone basement, and here you will find even more titles to search through, as well as a cosy reading area where you can relax on the decidedly vintage seating, thumb through some potential purchases, and maybe even play a game of chess.
Those of you looking for children's books will find those back upstairs, in a small but well curated section. Here there are  a good range of picture books, a smattering of activity books, as well some shelves dedicated to chapter books and teen fiction.
Oh and if you are looking for some more things to do in the vicinity, you might want to have a peek at my perfect Prague morning.
Wenceslas Square 41, Prague 1
Opening Hours, Monday – Friday 08.00 – 20.00, Saturday 09.00 – 19.00, Sunday 10.00 – 19.00. Czech language bookshop, with an English section and a small selection of books in other major European languages.
Neoluxor has branches across the Czech Republic, including a fair few scattered about Prague, but it is the one on Wenceslas Square that can lay claim to being the biggest in the country. The beautiful tiled floors here lead you down aisles filled with books, stationery, maps and souvenirs. The good sized English language section on the lower floor also has a great selection of fiction and non-fiction titles, as well as a whole rack of fashion and lifestyle magazines. And if roaming through this huge store has made you in need of a little sit down, there is a small café on the first floor where you can enjoy a coffee or indulge in a glass of wine, before riffling though the nearby vinyl section.
Again, the selection of children's books in English isn't comprehensive, but with a whole wall of picture books, chapter books and teen fiction to choose from, you should be able to find something to suit most ages and tastes. Back upstairs, near the café on the first floor, you will also find lots of puzzles, games and a good selection of Lego.
Opletalova 5/7, ​​Prague 1
Opening hours, Monday – Thursday – 09.00 – 13.00 and 14.00 – 18.00, Friday closes at 16.00 (also has an e-shop). Foreign language books (largely English) mainly with an academic focus.
If you walk out of the back of Neoluxor Palace of Books, and follow the steps up through the glamorous arcade, you'll find this quieter, more studious bookshop which houses a wealth of foreign language titles. Alongside some books in French, Spanish and German, there is a decent English fiction section, as well as academic texts, and English Language learning material.
What makes this a favourite bookshop for us though, is the large children's section which has a good variety of picture books, as well as a smaller section of chapter books. If you are looking for something to support schoolwork, you'll also find a selection of phonics, spelling and maths workbooks – but it is the large number of fun colouring, sticker and activity books on offer that always pique's my children's interest. Well, that and the assortment of toys which are available to help occupy restless tots, whilst their parents explore the shelves. Always a useful place to stop and gather some child-pleasing resources for a long journey.
Wenceslas Square  34, Prague 1
Opening Hours, Monday – Friday 08.30 – 20.00, Saturday 09.30 – 19.00, Sunday 09.30 – 18.00. Czech language bookshop, with a small English section
This bookshop, belonging to the oldest publishing house in the Czech Republic, doesn't have a huge English section, but with a corner of fiction titles, and a smattering of kids books, there should be something on offer here to fill a plane or train journey. It is also a good stop-off point if you are looking for a book about the city itself.  But interesting guide books aside, the main reason I mention it here is for the charming building and the lovely café upstairs, where you can enjoy a book and a coffee by the window, as well as use the free wifi. I also recently discovered on one of the Honest Guide's fabulous videos that you can order your drink and then sit on the small terrace overlooking Wenceslas Square in the summer. A truly perfect spot.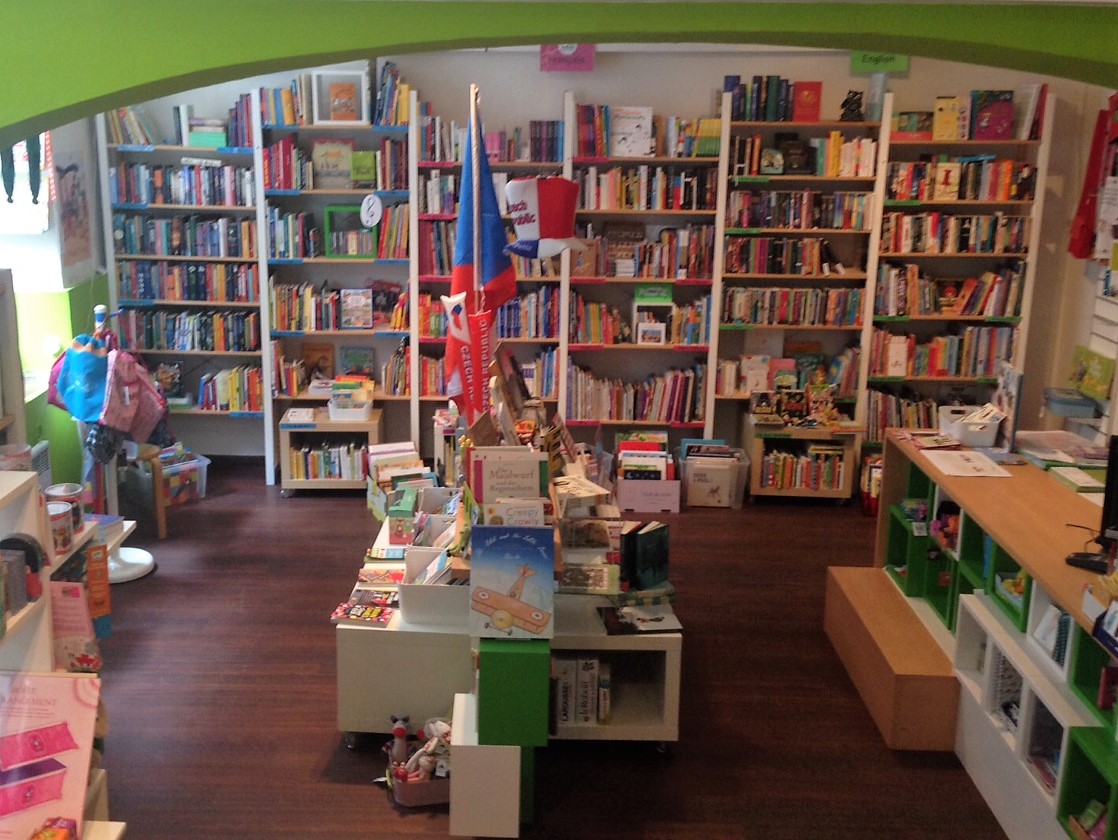 Photo courtesy of Amadito & Friends
Fričova 11, Praha 2
Opening hours, Tuesday – 12.00 – 17.00 and Thursday 09.00 – 13.00 (also has an e-shop). International bookshop with titles in English, French and German for 0 – 14 year olds.
This option is less central than the others, and has limited opening hours, but this international children's bookshop is still worth mentioning because of the range of beautiful publications it has on offer, as well as the knowledgeable staff. In fact, with titles in French and German, as well as English, which range from the sweetest of picture books to the funniest of tween literature, this shop is definitely worth a visit should you want to expand your children's bookshelves.
Pstrossova 6, Prague 1
Opening Hours, Monday – Friday 10.00 – 00.00, Saturday and Sunday 09.30 – 01.00. English bookshop.
Perhaps the most well-known English bookstore in Prague, this shop and café and is something of an expat institution. The shop itself is welcoming and well organised, with a good range of fiction and non-fiction sections, including a number of titles about Prague itself and some international newspapers. The children's section is fairly modest, but you will find some modern classics and fun picture books on the shelves.
The large café at the back serves up hearty American fare, and their weekend brunches always draws a large crowd, so to be sure of a table it is normally best to make a reservation.  Just be warned that the service can at times be slow and not always up to American customer-service standards. Parents may well be happy to overlook these slight foibles though, in order to take their kids along for Storytime Sunday – where a storyteller is on hand between 11.00 – 13.00 to read to your kids whilst you are waiting for your food to arrive, or as a bit of post-brunch entertainment. There is also a special children's brunch menu available at this time, as well as highchairs and pots of crayons. If your children are little, it may well be worth reserving one of the few tables out in the bookstore so they can easily move back and forth between the stories and their food.
If you are looking for more grown-up events, the Globe hosts regular reading groups, as well as happy hours, special events and karaoke nights.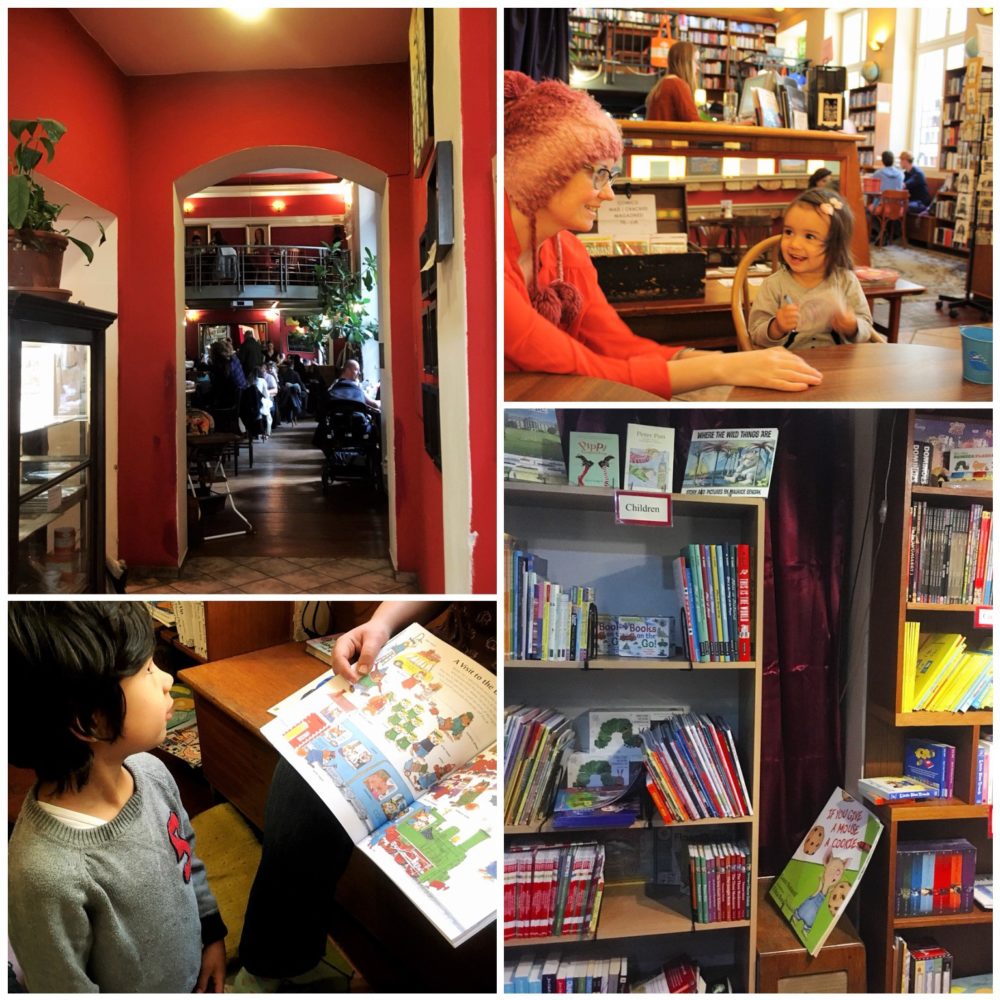 And so, should you ever find yourself in the frightening state of being bookless in Prague, I hope one of these inviting stores will come to your aid. Should you know of any good bookstores in Prague, or would like to recommend a trip to your favourite bookshop somewhere else, please do leave me a comment – I always adore having this type of information up my sleeve.
Pin it for later: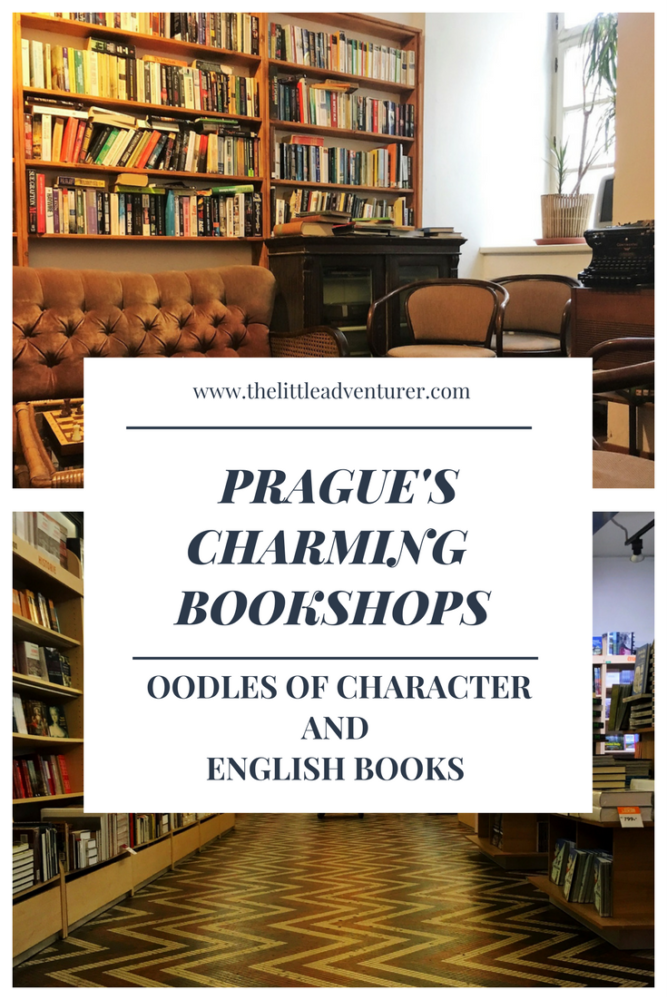 As seen in: