Since becoming a parent, I often find myself in the midst of a frantic search for something: my daughter's sock, my keys, and more often than not, my sense of proportion… And as I can't say that this is time I particularly savour, I  find it slightly surprising how much my son enjoys pawing through the pages of seek and find books. Although, I suppose when you stop to consider it, searching for a hippopotamus with an accordion or a cute mouse with fairy wings, does sound much more fun than wading through piles of mess in the search of a missing umbrella.
Anyway, with my son having broken his leg a few weeks back, we have been spending a bit of time revisiting some old favourites , as well as exploring some new ones, and my two-year-old has been muscling in on the act too. A perfect way to develop visual perception skills, as well as have a little hide and seek fun whilst stuck on the sofa. So, I thought it might be useful to compile a list of the ones we most love and seem best suited to younger detectives. I hope at least one one of them may see you though a long journey, a restaurant trip or just provide your tikes with some entertainment on a wet Sunday afternoon, whilst you try and work out where your toddler may have hidden your smartphone.
Please just note that this post contains affiliate links, which means if you decide to purchase any of these books by clicking through the provided links, you will be supporting the blog, at no additional cost to yourself. As I know many of my readers are based internationally, I have included links to the Book Depository, as they deliver worldwide for free. As always, the views expressed here are entirely honest and my own.
The Bear's Song by Benjamin Chaud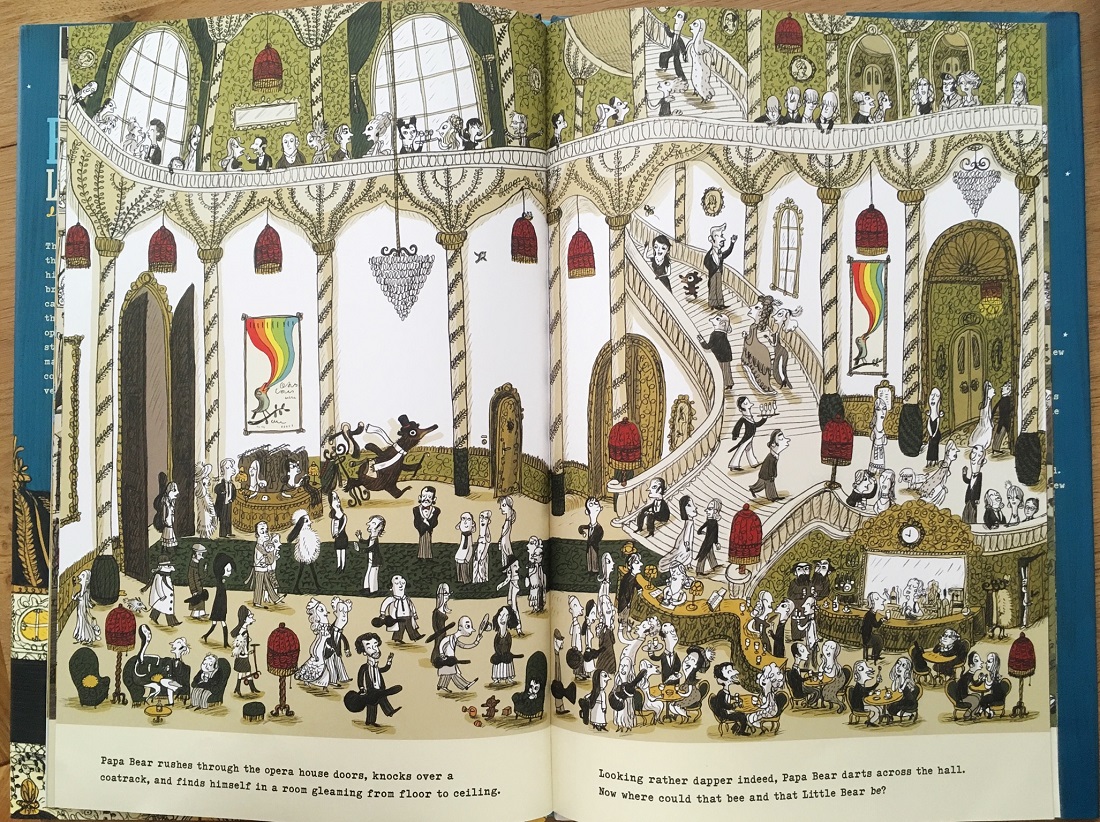 When a restless little bear hears the buzz of a bee and decides to steal away from the family cave in pursuit of honey, Papa Bear wakes with a start from his hibernation and starts a search for his cub that takes him into the city, through the doors of the Opera House, before crashing down on the stage! Eek!
This big, beautiful book is easily my toddler's favourite, and is packed full of humorous detail and charm. What makes it a particular delight, however, is that although there is much fun to be had seeking out Little Bear on each double page, at its heart, this is an adventure story – which makes it perfect for repeat explorations. It may just be worth noting though, it is definitely not handbag sized, so might be best enjoyed at home.
Searching difficulty: Easy
Buy at Amazon.co.uk or at Book Depository
Find Me: A Hide and Seek Book by Anders Arhoj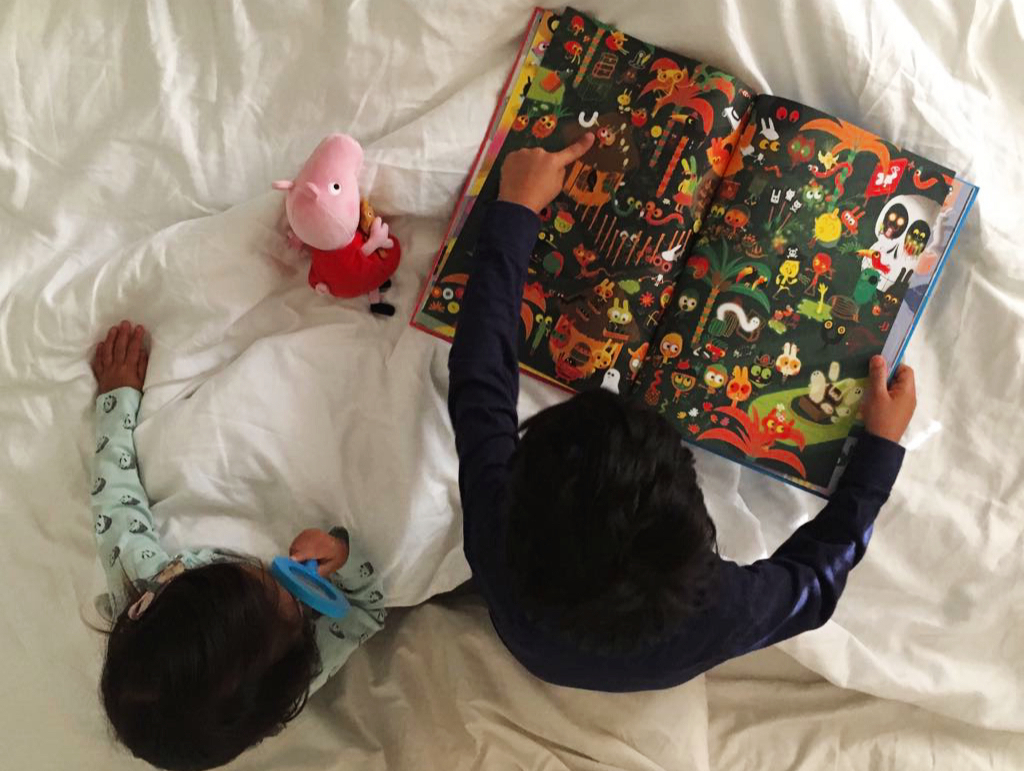 This is another large, visually stunning book – although this time, rather than cityscapes, you are encouraged to explore a quirky, colourful world inhabited by roller-skating worms, cute neon monsters and pink sea monsters. There are ten weird and wonderful double-paged scenes to study in total, but what makes this a real favourite with my two (other than the amazing die-cut eye cover pictured at the top), is that once you have completed your search for the girl with the flower in her hat, the monster friends decide to play hide and seek again, and you get the chance to go backwards through the book, this time finding the little chap with the pointy hat. Double the seeking fun!
Searching difficulty: Moderate – although the illustrations are big and bold, the characters' chameleonesque colour changes add to the seeking challenge.
Buy at Amazon.co.uk or at Book Depository
Mr Tweed and the Band in Need by Jim Stoten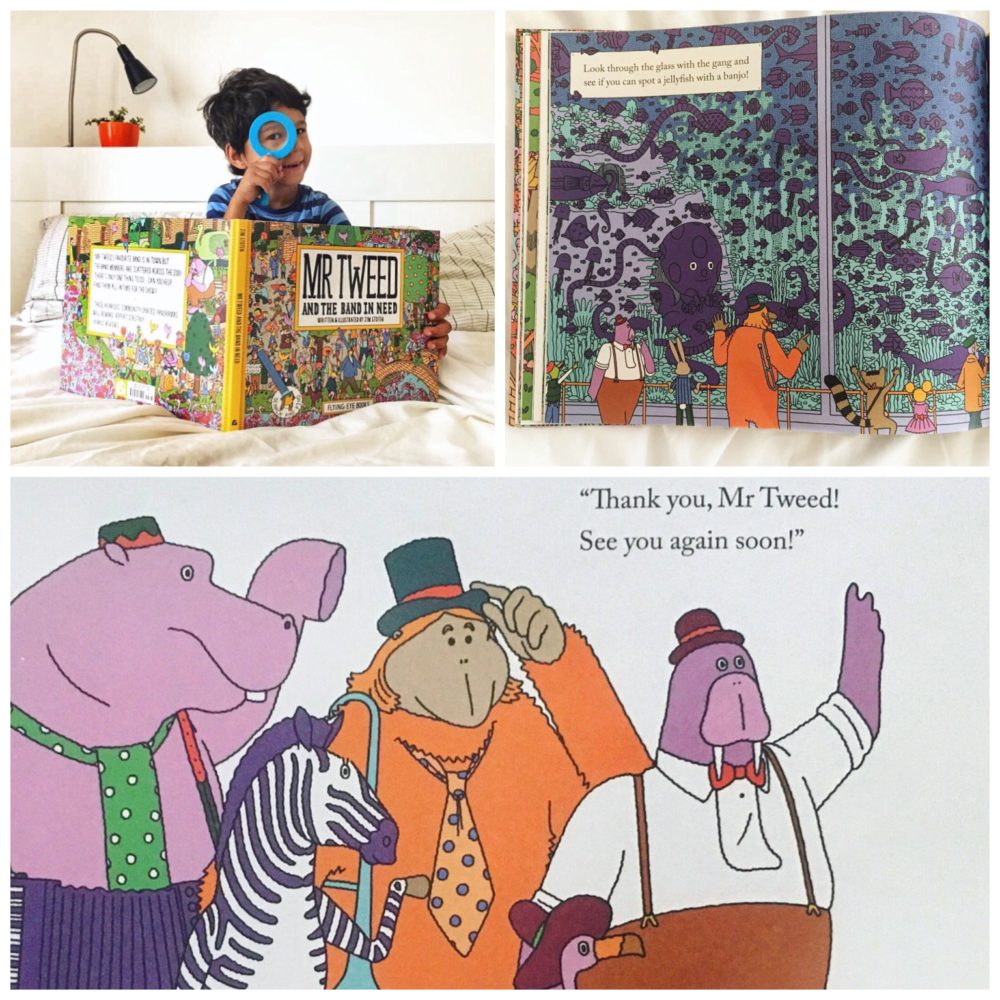 I am really not sure picture books come any cooler than Mr Tweed and the Band in Need. Well, who doesn't like searching the zoo for the lost members of an animal jazz band, alongside a dapper chap with an impossibly tall top hat? There are ten dioramas to explore in total, and these are interspersed with pages of simple, fun dialogue. The quirky, retro illustrations are a delight, and the searching difficulty is perfectly pitched for older preschoolers and reception aged kids. Oh and as an added bonus, it has even taught my son the names of some new musical instruments. All in all – a pretty groovy read.
Searching difficulty: Moderate
Buy at Amazon.co.uk or at Book Depository
Let's Find Mimi at Home by Katherine Lodge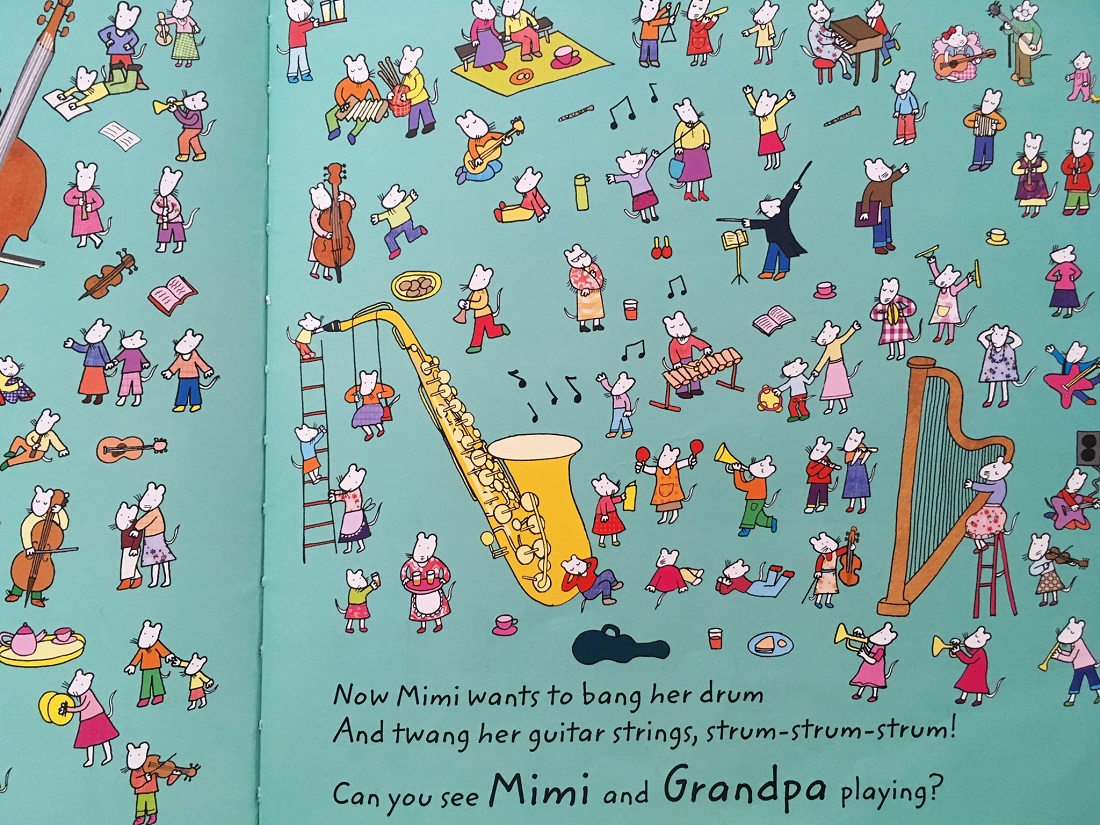 This bright, cheerful book was for a long time one of my son's favourites, and now my little girl is fast adopting it as her own. There are twelve scenes in total in which to spot Mimi and her family, with lots of very sweet details to enjoy. What makes this a particularly great book for holidays is that it also comes with a double page of stickers, as well as a game of snake and ladders. Just make sure you pack a dice and a couple of counters.
Searching difficulty: Moderate
Buy at Amazon.co.uk or at Book Depository
1001 Wizard things to spot – Sticker book by Gillian Doherty and Teri Gower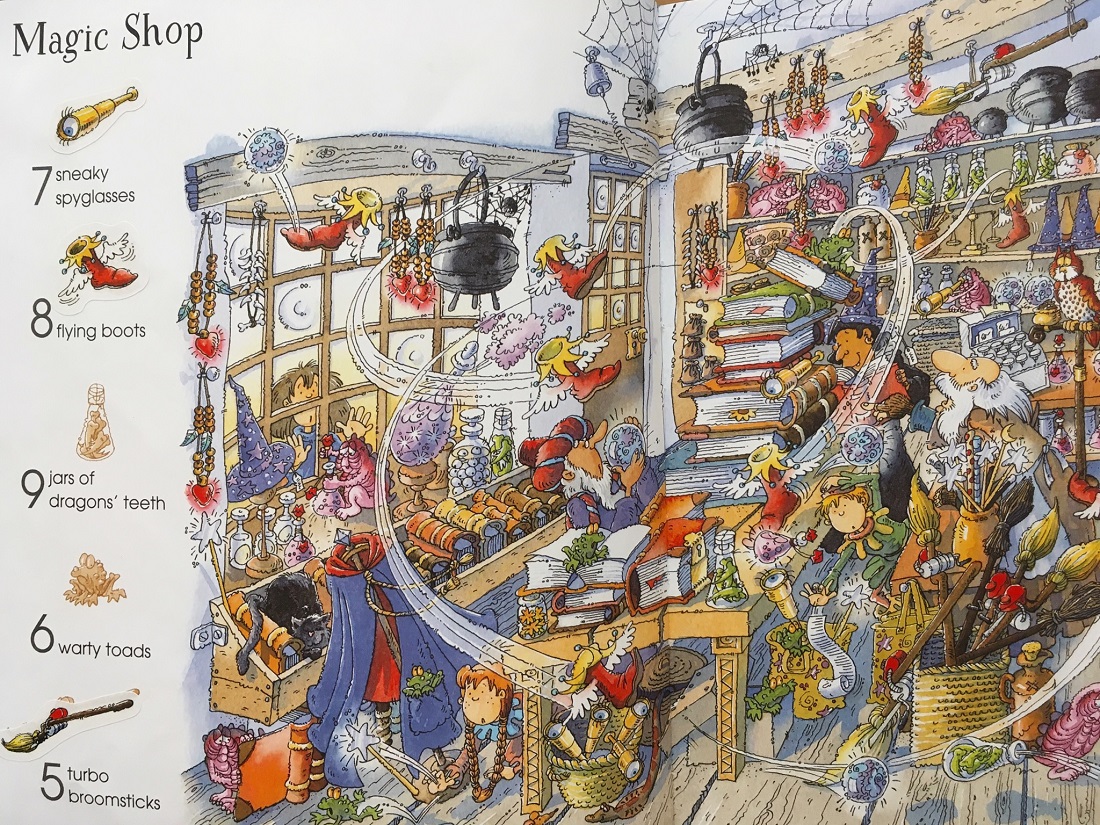 This book is part of a series of seek and find sticker books by Usborne – although it is this one depicting magical worlds and extraordinary creatures that is by far and away my son's favourite. With elaborate scenes and many different things to spot in each of the fourteen settings, this is definitely the trickiest book on the list. But children aged four and up will love adding stickers to show which creatures they have found, and the opportunity to hunt down eight shrieking squalls and ten pixie pirates is surely too good to miss?
Searching difficulty: Hard
Buy at Amazon.co.uk or at Book Depository
And so, just to say, my difficulty ratings are based on the fact that these are books for younger children. I suspect most children aged seven and up wouldn't find any of them too difficult – although, of course, this is clearly an individual thing , and there are even one or two spots that had me stumped for a while! Hopefully the photos here give you a good idea of what to expect, so you can make a judgement about whether they are suited to your children.
That all said, I do hope that they provide your little ones with some fun games of hide and seek, without too many wails of frustration! And if you know of any really great seek and find books, I'd love it if you'd let me know about it in the comments.
Pin it for later: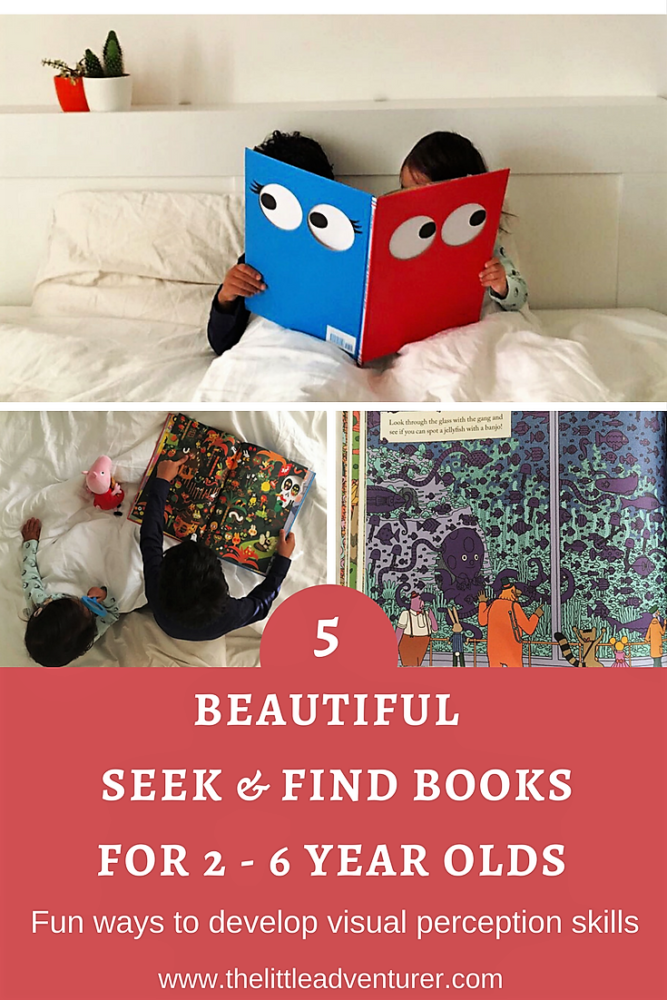 Connected with other family bloggers over at: